Celebrate
"Celebrate every day like a birthday." ― Jordan Hoechlin
Did you know that when we celebrate special occasions we boost our well-being? Planning a party gives us something to look forward to. We feel more optimistic when we are mindful of these happy events – both large and small – and that makes us feel good. I hope the ideas below will help you celebrate life in all the big and tiny ways!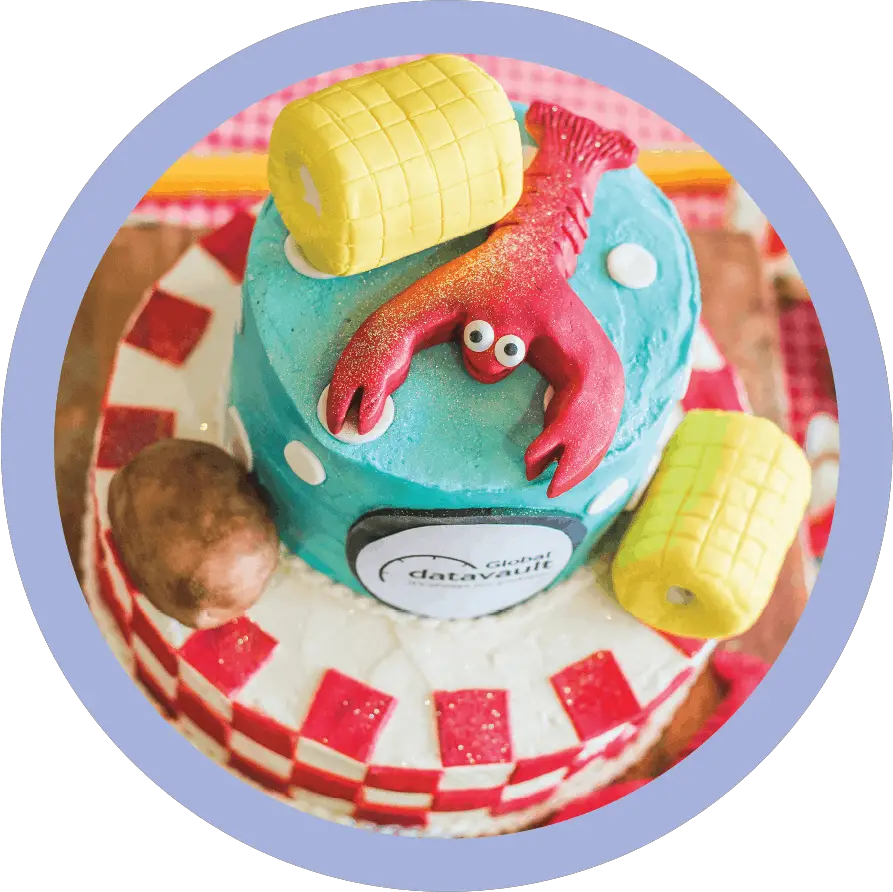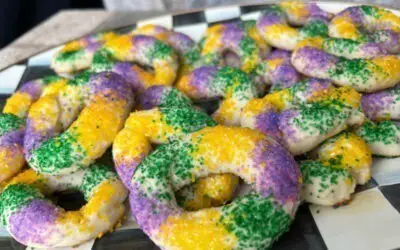 This is a recipe for cream cheese spritz cookies, but I'll give you a little backstory on this. I made the dough for these spritz cookies that I wanted to make at Christmas time but when I loaded it into my cookie gun and it was so stiff that it just basically broke...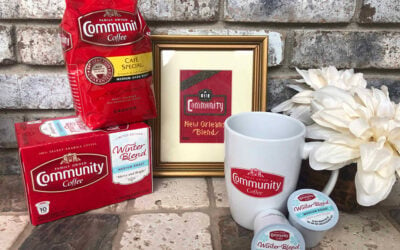 This post is sponsored by Community Coffee, however all opinions are my own.Red bags. He always gave the red bags of Community Coffee at Christmas. That's my dad. When he moved to Louisiana, he immersed himself in the culture. And being the professor/avid coffee...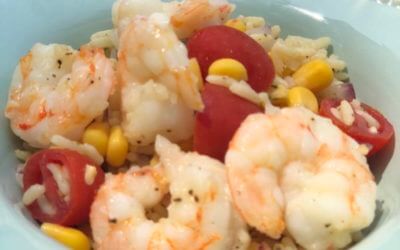 This super easy recipe uses Zatarain's Cilantro Lime Rice mix as a base, which makes it super easy, fast, and tasty. Make most of it ahead so weeknight prep is a breeze!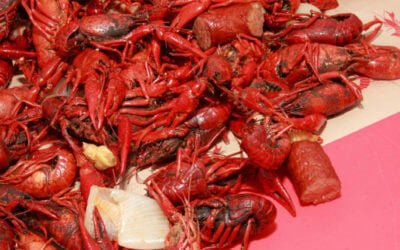 If you've ever lived in Louisiana – and then somewhere else – there are a few unique experiences that you will miss deeply after you've left the state. No matter how hard you try to recreate them elsewhere, they will pale in comparison to the real thing in the real...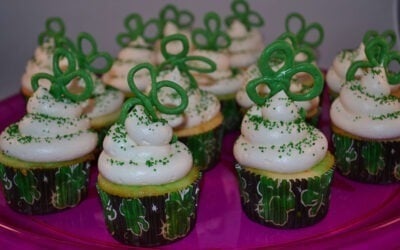 So the hubs comes home from work one night and says he has to take cupcakes to the office. "Say what? Why?!" "Because I've been bragging on your cupcakes and it's time to put up or shut up."Oh goodness. The pressure. What was I going to make? We had already past...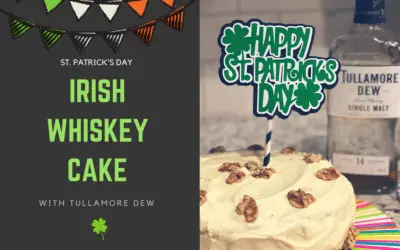 First world problems: our liquor cabinet is overflowing at the moment, and we have an impending move looming on the horizon. My job is to purge all unnecessary items from the house -- and while the hubs would argue that whiskey is COMPLETELY necessary and should be...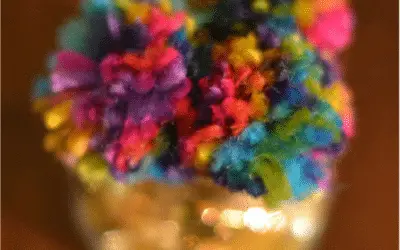 Well blimey! We got visited by a lucky leprechan who left us a pot of gold at the end of the rainbow! How cute are these tiny pots of gold??? I may have mentioned around Valentine's Day, how much in love I was with these little apothecary jars? Yes, well, they come in...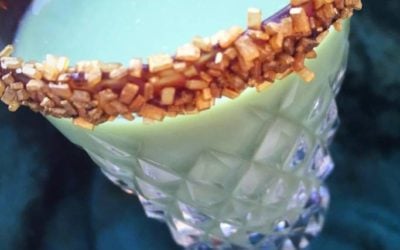 Happy St Patrick's Day! If green beer isn't your thang today, how about you try my "Lucky Leprechaun cocktail?" It's the perfect drink to cheer your Erin Go Bragh spirit! And besides, if you're carrying this lovely around, no one will pinch you -- they might steal a...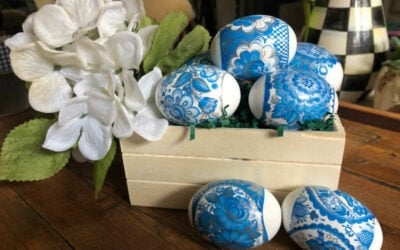 Here's a quick and easy Easter egg decorating hack. No paint or water involved but the eggs come out beautifully. Click through to see how.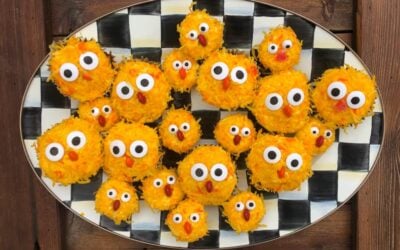 Are you looking for a fast and easy Easter cupcake idea? All you need to make these cute chicks are the basics: a little food coloring, canned frosting, yellow cupcakes, coconut, some edible eyeballs, and M&M's. It's a quick one, that you can do on the fly at...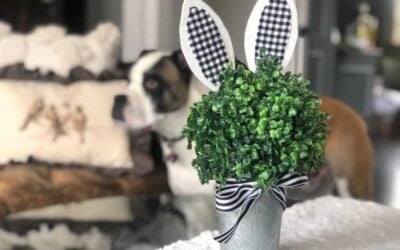 This simple, super cute boxwood Easter bunny with gingham ears is perfect for Easter and is as about as easy a project as you can get! It comes together in minutes! Feel free to substitute whatever colors, fabrics, or ribbons, to match your decor. This was inspired by...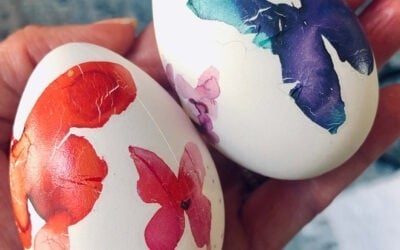 Decorating eggs is a mess. Easter eggs and stained hands go hand in hand, right? Whether you're dyeing real eggs with food coloring or you are decorating fake eggs with decoupage or paint, or my favorite, alcohol inks.Is there a Mess-free Easter Egg hack? Is there a...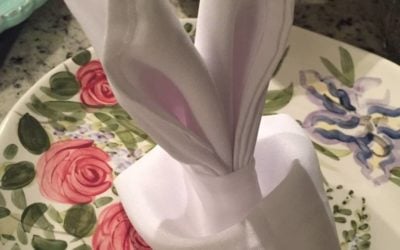 Girl, you know it's Easter this weekend! Are you ready? Are you? I was on KTEN in Denison this morning with anchor Gregg Watson and we were getting the low-down on last minute bunny issues. Specifically, how to step up your Easter entertaining game.  In case you...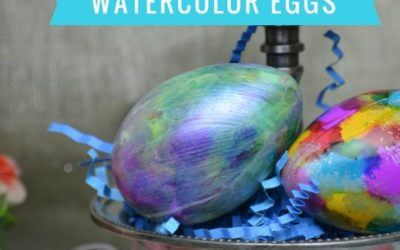 The thing about Easter eggs is this: No matter how you dye them, it's a hot mess. The more fancy you want the design to be, the messier they are, right? Oh, and they're BREAKABLE. So there's that. And how about the massive number of hard-boiled eggs you then...
Teacher Appreciation Week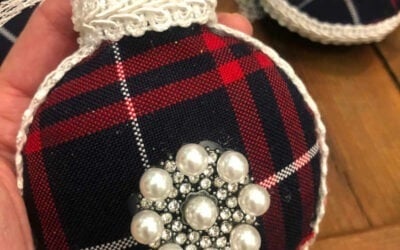 Teacher's gifts do not get more fun or meaningful than these gorgeous DIY upcycled school uniform ornaments.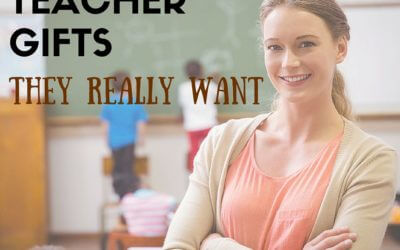 When it comes to Teachers' Appreciation Week, I emphatically agree with my BFF of a thousand years, Molly who said, "I'm not giving teachers lotions and soaps and food crap anymore!". Molly recently had the opportunity to spend a couple of days in an elementary school...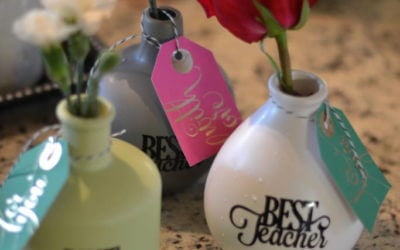 SOMETIMES teacher giving sneaks up on you. Even when think you're prepared, there's something about May that tosses chaos into the planning for absolutely anything. It's also times like these when I am so glad that I am a crafter and keep supplies on hand. If you're...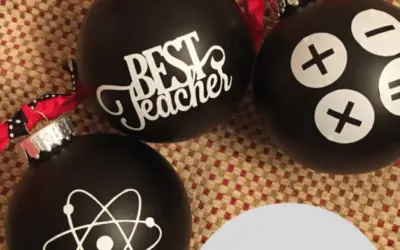 Are you making your shopping lists for the teachers this year? It's so hard to give them something memorable, right? While I typically resort to gift cards, I like to add a little something personal as well. Last year, I made these simple ornaments to go with their...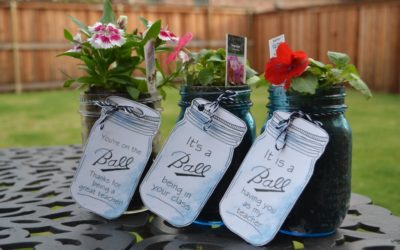 Y'all. It's Teacher Appreciation Week. You need gifts! With cute tags. Because we all know that the packaging is what makes a gift, right? I've got your back because we are all so last minute and we are in this together! Here's a roundup of my favorite free download...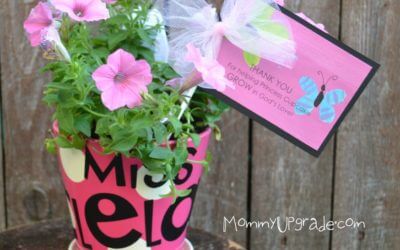 Flowers for Teacher Appreciation Week are a fat-and-calorie-free way to say thank you. They are cute for sure, but if you'd prefer something that is cute and sweet, take a look at my apple cupcakes.Sometimes, the Princess Cupcake and I don't see eye-to-eye on our...