First world problems: our liquor cabinet is overflowing at the moment, and we have an impending move looming on the horizon. My job is to purge all unnecessary items from the house — and while the hubs would argue that whiskey is COMPLETELY necessary and should be packed and moved, I also know a Saturday liquor store run to restock is one of his favorite pastimes. I'm also confident the hubs would voluntarily "take one for the team," and set off to day drink the excessive bottle problem away, I'd rather take a more sensible approach and bake down that booze. What better plan than a whiskey cake for St.Patrick's Day, amiright? No, I can tell you what's better — TWO whiskey cakes and send them both to the office for the hubs St. Patrick's Day luncheon. Done, and done. 😉
A friend posted a recipe for an Irish whiskey cake on social (originally from A Spoonful of Thyme) and I've adapted the recipe slightly, using one of our  favorite Irish whiskeys, Tullamore Dew. The hubs loves the taste of this triple distilled, triple blended Irish whiskey, and I love the history of the family behind it, "true craft comes from true character." And the fact that our neighborhood faces one called Tullamore Meadows doesn't hurt either.
Here's the recipe for this delicious spiced whiskey cake. It is chock full of plump raisins and walnuts, and the icing has Irish whiskey in it too, so it's sure to make your favorite Irishman smile. Happy St. Patrick's Day!
Yield: 10 - 12 servings
Tullamore Dew Whiskey Cake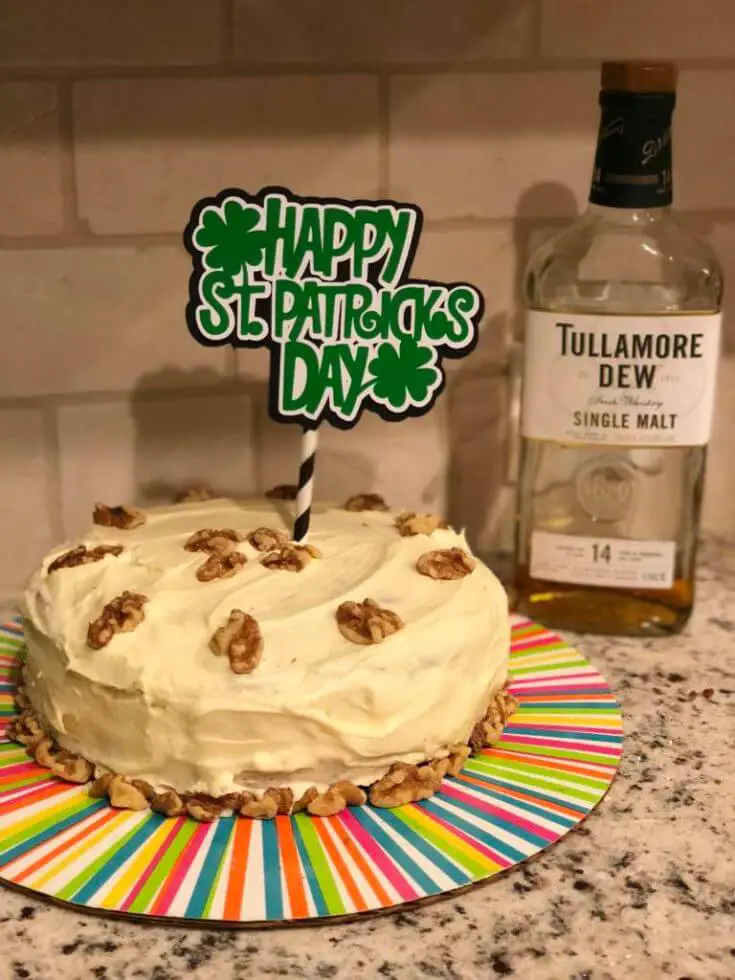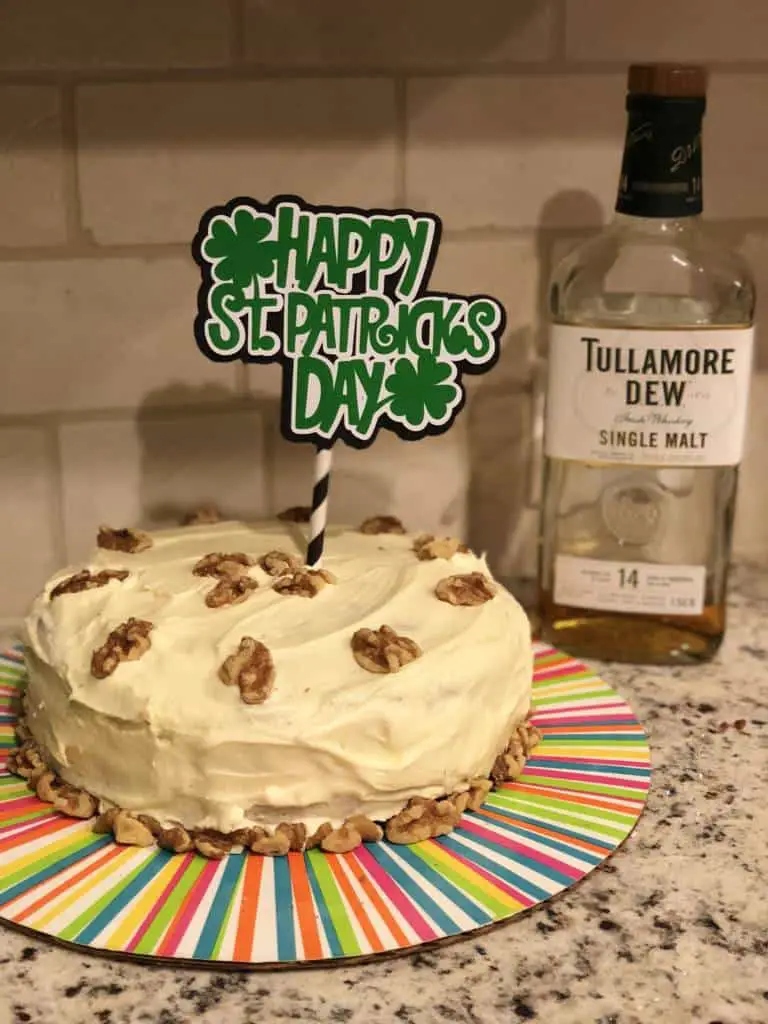 Additional Time
35 minutes
Ingredients
For the cake
1 cup golden raisins
1 1/2 cup water
1 1/2 cups all-purpose flour
2 tsp baking powder
1 tsp baking soda
3/4 tsp nutmeg
3/4 tsp cloves
Dash allspice
1/2 tsp salt
1 stick (or 1/2 cup) unsalted Kerrygold Irish butter - room temperature
1/2 cup granulated sugar
1 cup chopped walnuts
1/4 cup Tullamore Dew Irish Whiskey
For the Icing
6 Tbsp unsold Kerrygold Irish butter - room temperature
3 1/2 cups confectioner's sugar
1 large egg, beaten
1/4 cup Tullamore Dew Irish Whiskey
Decoration
Instructions
Prepare the cake
Preheat oven to 350 F.
Prepare two 8-inch cake pans with either Bakers Joy or butter, parchment paper, and butter again.
Combine raisins and water in small saucepan. Bring to boil over medium heat, then reduce heat and simmer for 20 minutes. Reserve 1/4 cup of liquid, draining the rest. Set aside to cool.
In medium bowl, sift together the drug ingredients: flour, baking powder, baking soda, cloves, nutmeg, allspice, and salt.
In the bowl of a mixer, beat the butter and granulated sugar until light and fluffy. Add egg and beat until smooth.
Alternately fold in the flour mixture with the reserved liquid and liquor.
Stir in raisins and walnuts.
Pour mixture evenly between prepared cake pans and bake for 30 - 35 minutes or until a tester comes out clean. Remove the pans from the oven and cool in pan for 15 minutes. Invert the pans onto a wire rack, remove parchment (if used) and allow to cool completely right side up.
Prepare the Icing
In a mixer bowl, beat the butter and confectioner's sugar for 2 to 3 minutes, or until smooth.
Add egg and whisky and beat until combined.
Spread 1/3 of icing on first layer of cake. Place second layer on top of 1st layer and continue icing to cover sides and top of cake.
Use whole walnut pieces to decorate cake on top and edges.
Let icing set for 20 minutes before serving.
Notes
Adapted from http://aspoonfulofthyme.blogspot.co.uk/2016/03/jameson-irish-whiskey-cake.html
Recommended Products
As an Amazon Associate and member of other affiliate programs, I earn from qualifying purchases.