If you've ever lived in Louisiana – and then somewhere else – there are a few unique experiences that you will miss deeply after you've left the state. No matter how hard you try to recreate them elsewhere, they will pale in comparison to the real thing in the real place, like: Cafe Du Monde beignets and café au lait, LSU Tigers football on a Saturday night in Death Valley, a Mardi Gras parade down St. Charles, and an old-fashioned spicy crawfish boil.
But the good news is that you can have the next best thing if you pull together the right crew and resources, even here in North Texas!
Last weekend we hosted our 12th anniversary company crawfish boil, (the best yet if I do say so myself), and I think we Louisiana ex-pats just about have this figured out. In case you're considering hosting your own fete, I'm about to take you on a tour of our party with links to resources that you can use to throw your own epic crawfish boil!
First, you have to start with the venue. Crawfish boils are outside, hopefully with some shade because crawfish season is during late spring when the weather is starting to heat up. Fortunately for our planning purposes… we have an incredible backyard available which is the perfect setting. Having a Louisiana native at the helm helps, because he has not only does he have the gigantic boiler on this perfect venue to accommodate several hundred pounds of crawfish, he has the tables with the hole in the middle that sit on top of the trash cans.
Not a requirement though, it's completely kosher to just throw the crawfish on the tables.
Chef Brignac happens to be an expert at boiling the crawfish so there's that convenience as well.
But have no fear, if you don't have a resident Cajun chef with an amazing backyard, hire one! (I got you covered, keep reading…)
Next most important? The crawfish. You'll want to get them flown in live from Louisiana. We've used the Cajujn Crawfish Company for the past couple of years – and that means they're good because Louisiana people are discriminating when it comes to their mud bugs. The crawfish come in 30 pound sacks and you pick them up the day you want to boil them. Cajun Crawfish Company has done an awesome job, they're super reliable, AND they can cater your event as well (even host it!). If you prefer to try your hand at the boiling, they'll even rent you a pot and burner if you want to DIY. Don't forget that there are actually some Texans who don't eat crawfish and you'll have to feed them something else. Werid, I know. Who wouldn't love crawfish?! I mean seriously, check out my kid: first to the table to dig in!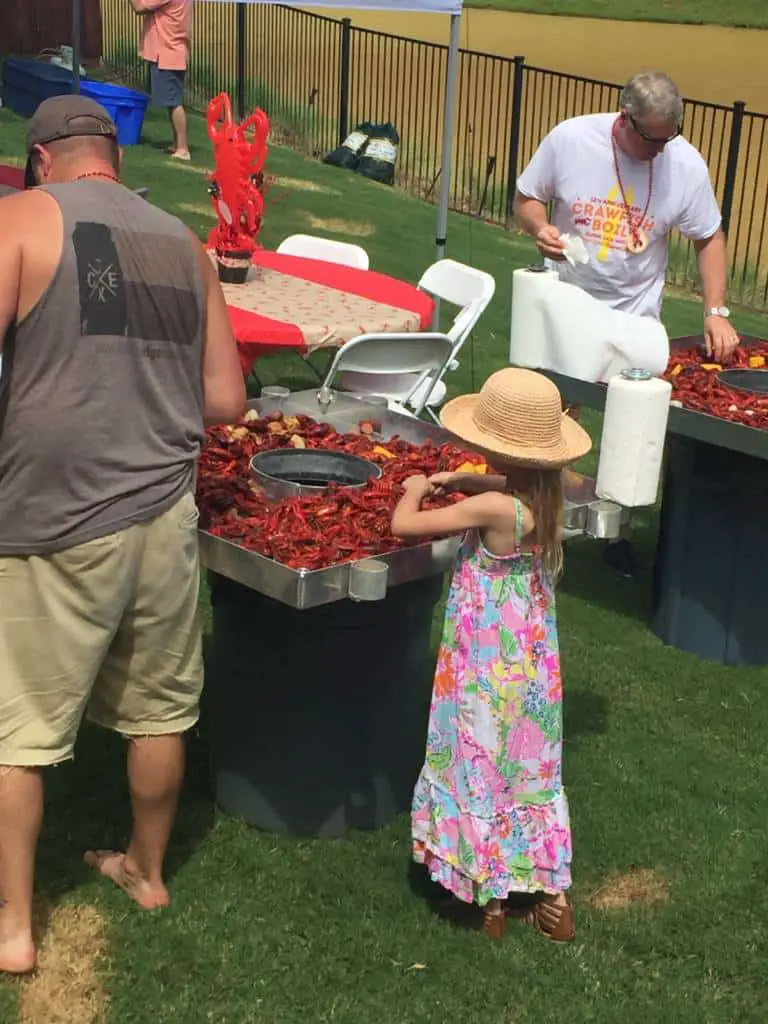 While cake is not a requirement for a crawfish boil, is cake ever a bad idea? NO. Cake is always a good idea. We got our cake for the grown-ups and cupcakes for the kids from C-Star Cakes in Allen.
Adorable and so delicious, everyone was talking about dessert. They almost… almost… stole the show. No surprise, I have featured Christy's amazing talent previously here and here, and many other times! She's a little bit famous for her Vera Bradley replica cakes.
Now that you have the essentials, let's get on to the other fun stuff.
Music: You need a great auditory backdrop to set the mood. I've hired DJ Bernadette with Awesome Parties & Events twice, and both times this girl delivers! (See the Alvin & the Chipmunks party here.)
She mixes a dance-worthy playlist, keeps the sound level to "we can still hear each other talk" but loud enough to get the crowd on their feet. She's super easy to work with and very professional – and she has fun. I wish I had video of her jamming at her turntable. Totally recommend Awesome Parties and Events for kids parties AND adult parties. Visit her website here.
It wouldn't be a south Louisiana party without party beads! I had my graphic designer create this logo for the event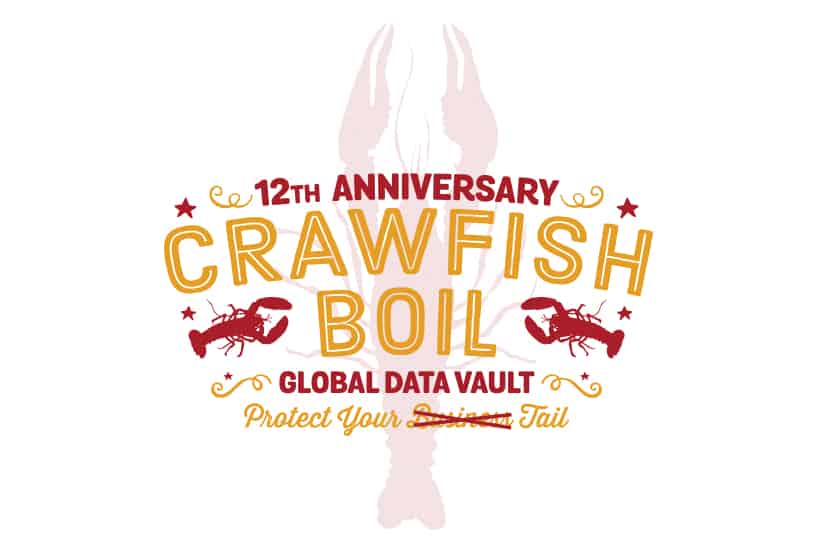 And then had custom beads made with the logo on them.
This is the company I ordered them from: Mardi Gras Custom Beads. They did a bang up job, great communication and lots of options for all your medallion bead needs. We hung them on these crawfish beaded necklaces from Mardi Gras Outlet.
While you're on the Mardi Gras Outlet site, you'll want to order the Kraft Paper Roll to put over your red plastic table cloths that you'll pick up from Party City, along with some paper poofs and tableware.
The custom t-shirts were made at Groggy Dog — my go-to for shirts for a number of projects both corporate and non-profit. They're professional and really fast.
They have graphic designers on staff or you can provide your design to them (which I did). Their growing number of locations in the north Dallas/Denton area make it even easier for picking out shirts and picking up your finished apparel.
I made our table centerpieces, (see the how-to here) but if you're not interested in an DIY, a mason jar with white or yellow daisies would be just as fun – and a LOT less work!
Last and certainly not least, you'll want a photographer for your event. We hired Kelly Olivares of Kelly Olivares Photography (website here). She did an expert job grouping people together, and making sure that everyone had their photos taken. I know our guests will love seeing all the party photos!
Most important ingredient to your crawfish boil is fun! I hope yours is a blast. Until next year y'all!