(Written on the first official day of our UK trip, this post sets the stage of our overseas adventure.)
The best things in life are worth waiting for. 24 hours of traveling and we are rewarded with a beautiful Scottish morning.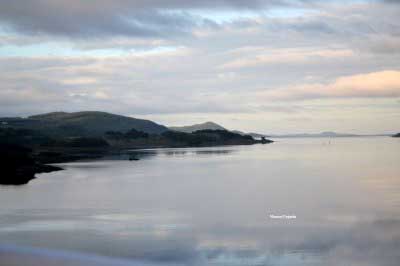 Setting Off – The Adventure Begins
As I sit here on the Caledonian MacBrayne ferry floating across a Scottish loch, I'm reflecting on how far we've come since Thursday at 3:30 when the car picked us up in North Texas.
Leaving Dallas, I had great hopes of wrapping up a work project mid-flight and then officially disconnecting for days — but guess what. There was no wifi on that international flight (whaaaa???). Sitting on the plane prior to take-off, sweating my predicament in more ways than one, it genuinely felt like they were pumping the 100 degree Dallas air through the cabin just to make us appreciate the necessity for a 10 day respite.
Those two inconveniences aside, our journey was off to a great start, even more so when we were able to visit with our friends and former neighbors Tammy and Jonathan, who by some weird twist of fate, chose our flight to begin their babymoon adventure to Paris and London.
British Airways, or "BA" as  veteran travelers call it, is plus plus in my book. Dreading the overnight flight, we were pleasantly surprised to find privacy touch screen TV's in every seat, loaded with on-demand new releases including kids entertainment, all of which fanned the flames of my desire for all things on BBC TV.
I know you've heard that the Brits get a bad rap for their food, but our coach seats felt like first class with full-on tasty MEALS for both dinner and for breakfast. Oh yeah, and for free. Even the wine was free. As much as we wanted.
(I was liking the start of this journey.)
If you ever fly BA with your children, you must reserve a kid's meal. My little booger got mac and cheese, broccoli, chicken nuggets, carrots and celery with ranch dip, potato chips, a whole wheat roll, a Kit Kat bar AND vanilla pudding! (Hashtag happy camper.)
We offed the plane at 9:30 a.m., caught the Heathrow Express to Paddington Station, and then navigated our way through London in a classic black cab to catch a Virgin Train from Euston Station(pronounced nearly like "Houston").
Here's where we start to really notice the difference in traveling in the US and in the UK. When buying tickets for a train, they don't tell you the platform until roughly 8 minutes prior to departure. This means everyone congregates in the middle of the station, obsessively looking up at the screens, and then madly dashes to the platform once it's announced. Um… okay.
Once we got over our thorough analysis of how to make UK transportation more efficient, we boarded the Virgin train for our 4.5 hour journey. Catapulting through Britain's beautiful countryside on smooth rails, with continuous beverage service, yes more complimentary adult beverages, (I may not leave this country), and another really tasty meal. Why do we keep saying British food is terrible?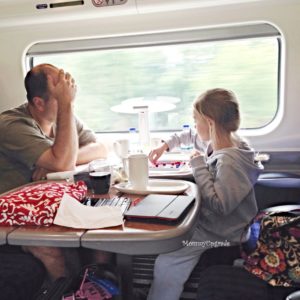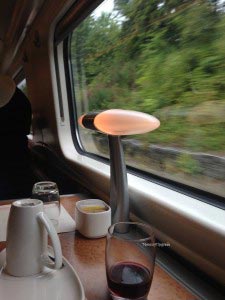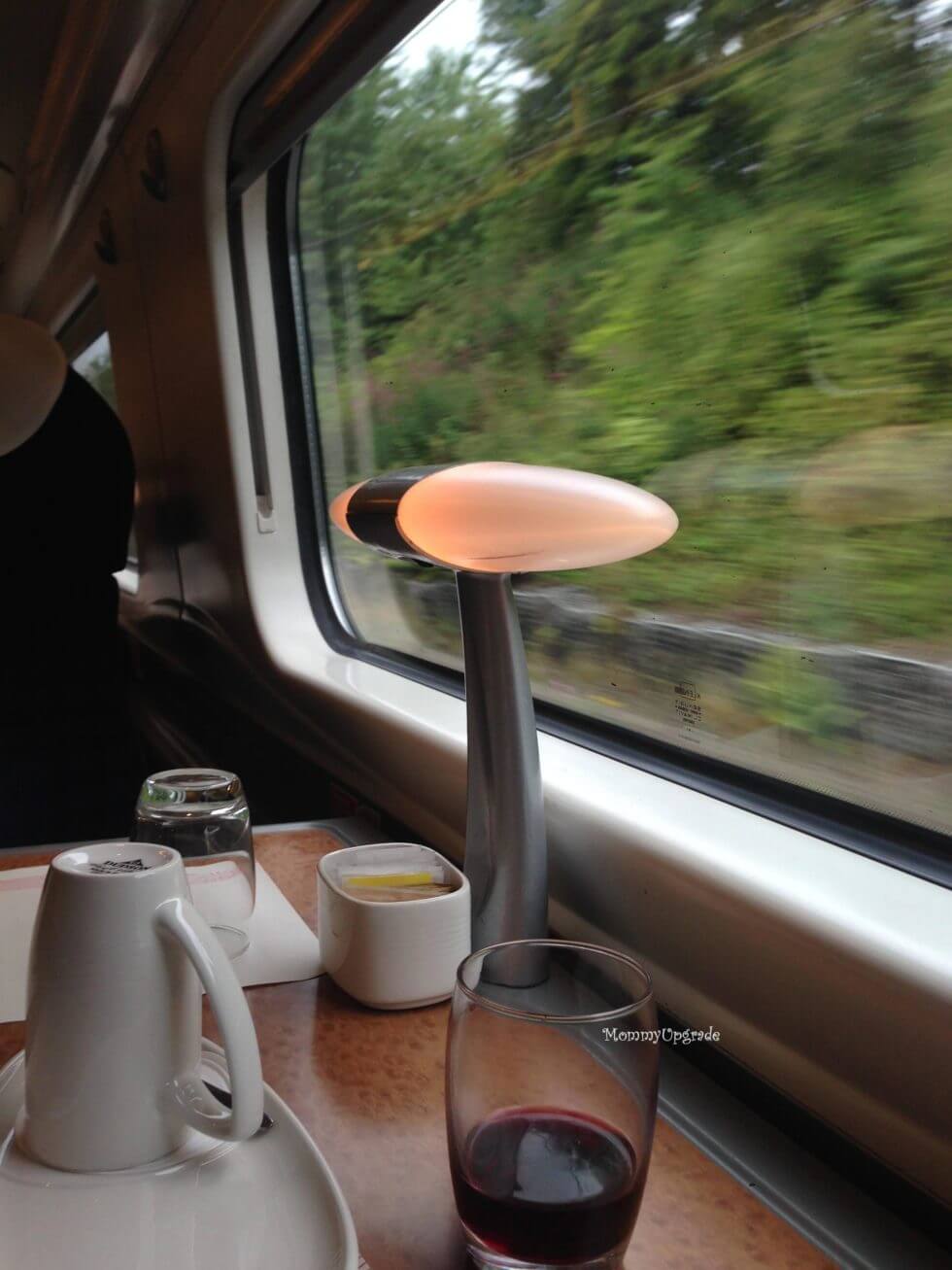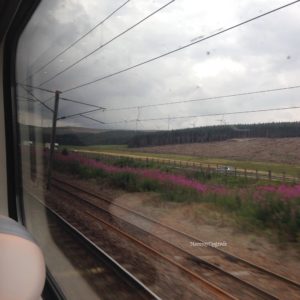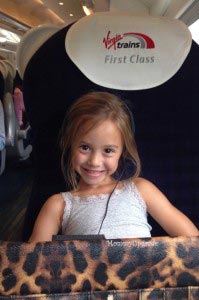 Even the bathrooms were awesome. Yes, I took photos of the loo!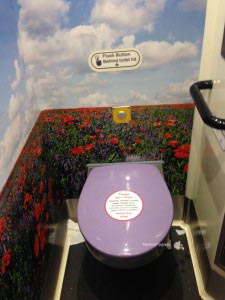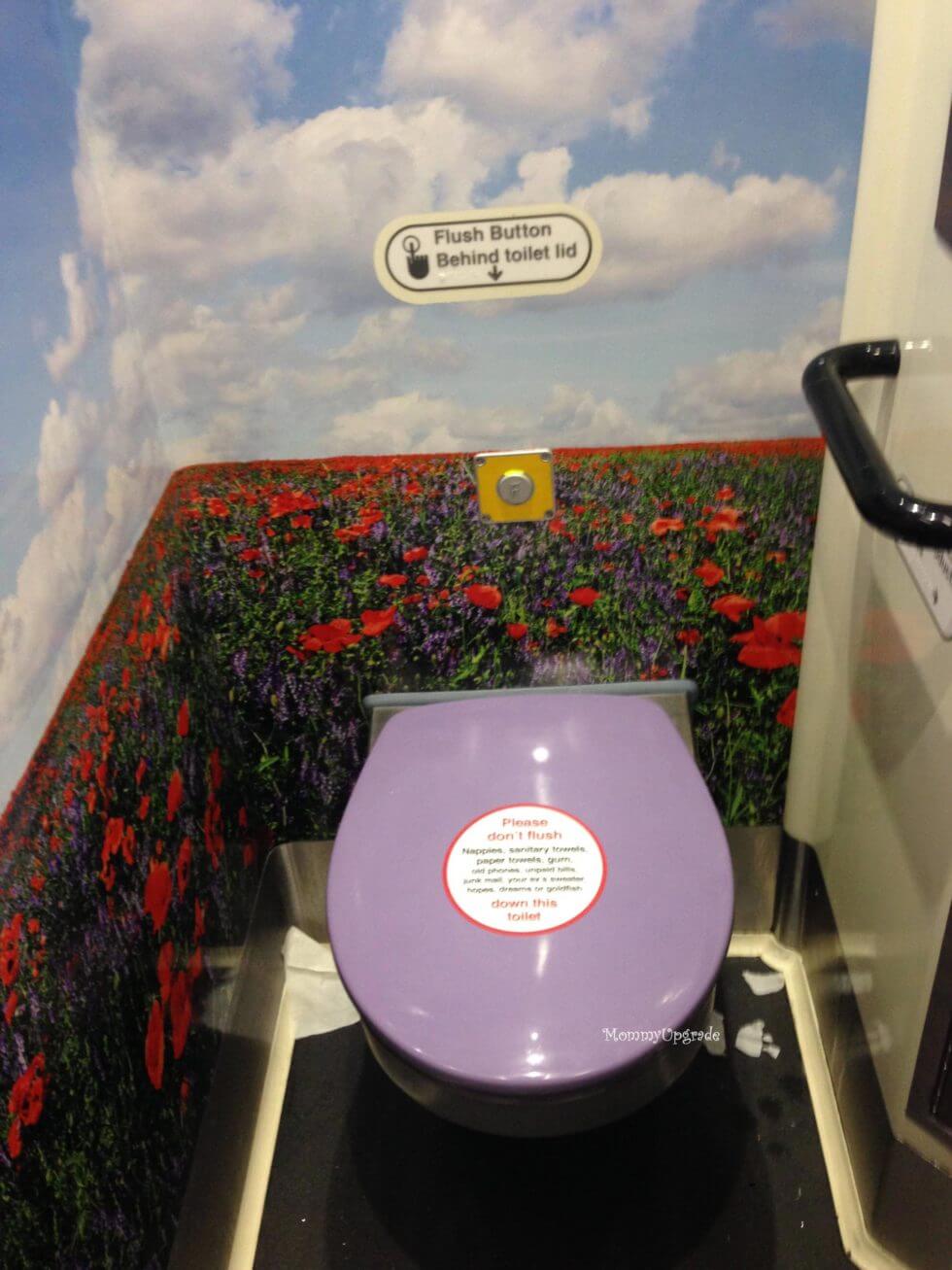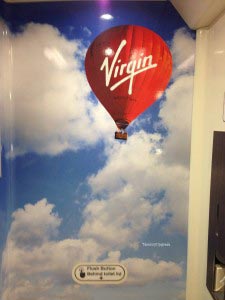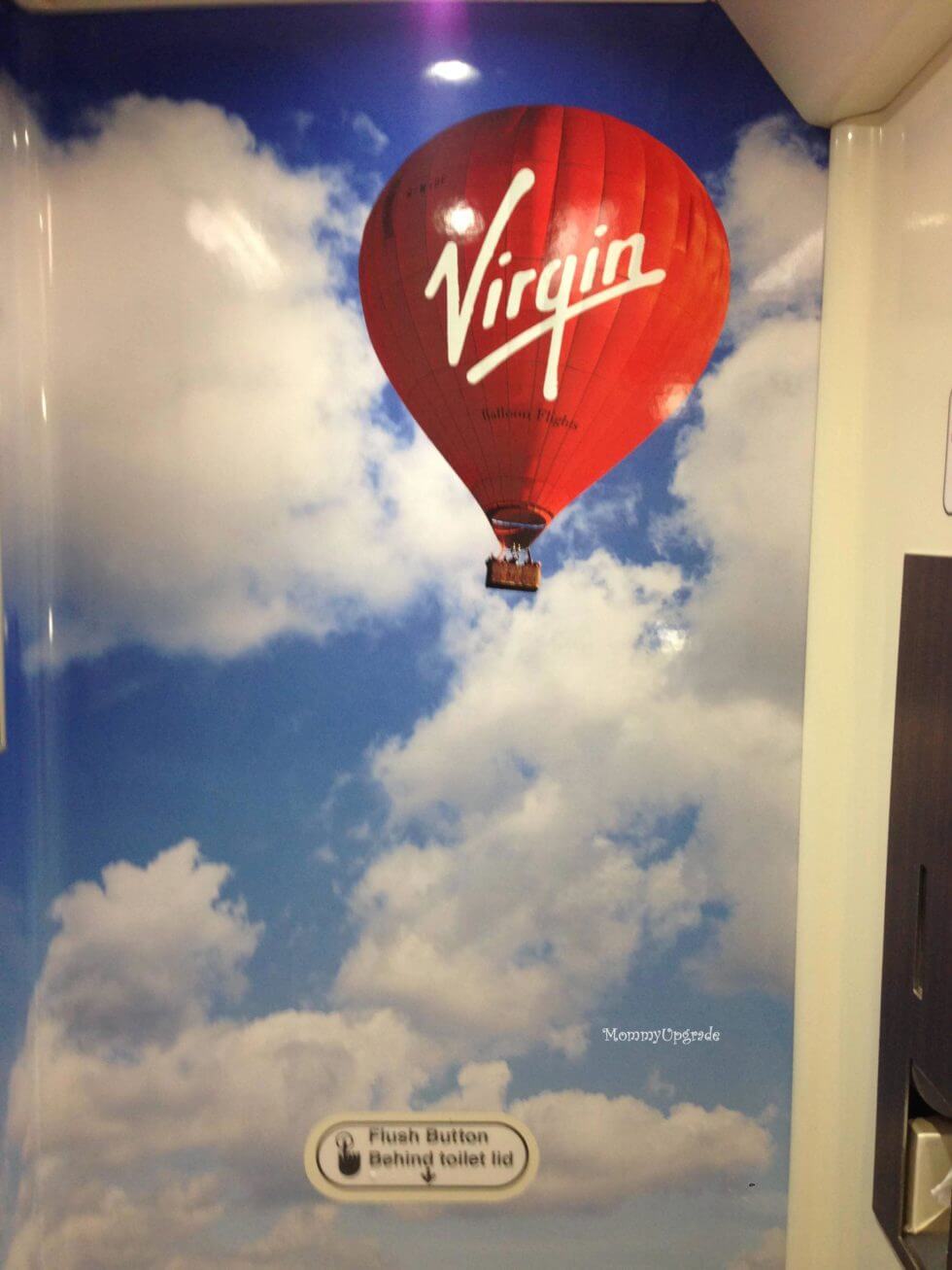 After several naps between us, we arrived in Glasgow, Scotland where my parents "collected us" for the next and last leg of our journey –for that day anyway… Can you tell we're happy?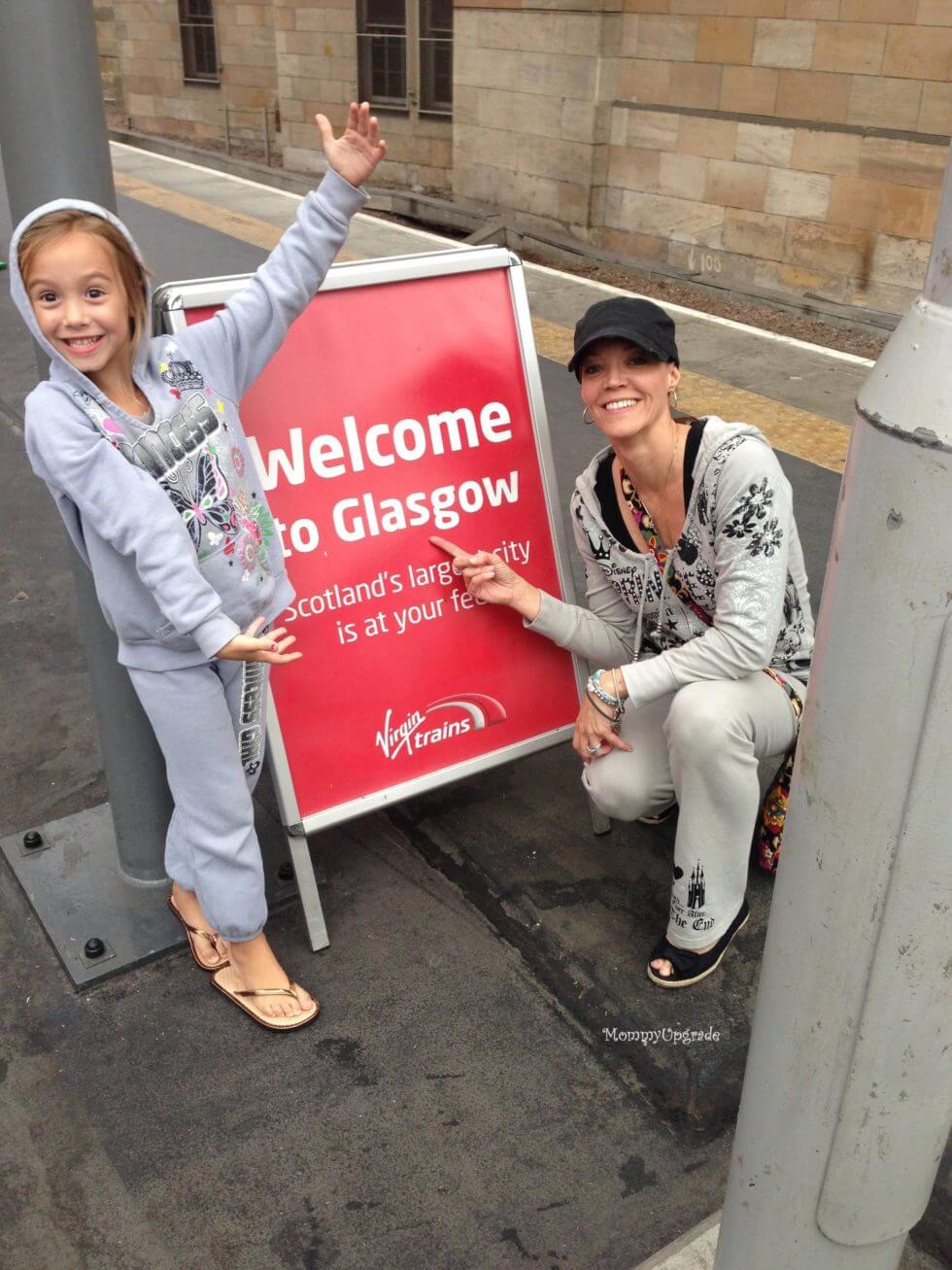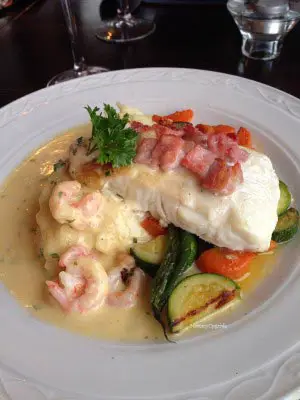 We shuttled along curving roads that were at times only one lane, in the pouring rain, for the 2 hour ride to the Grey Gull Inn in Ardrishaig. Making it just in time for last call for dinner, I give two thumbs up for the roasted Halibut. Again, Brits FTW on the meal action.
Having a window seat overlooking Lock Fyne didn't hurt either.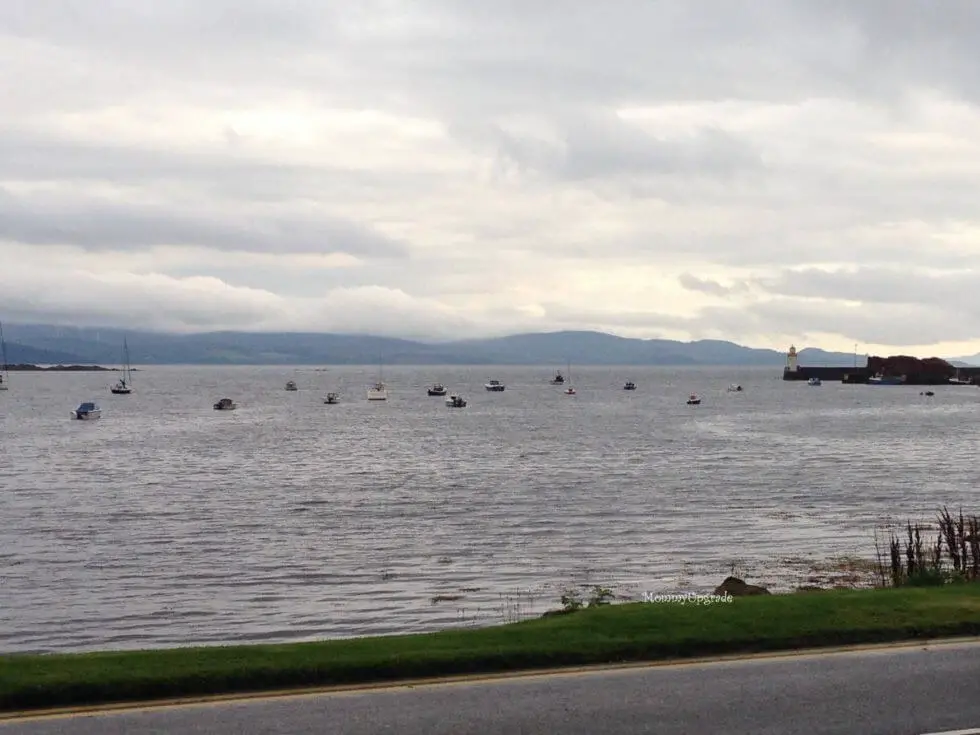 In true Collier form, my Dad had us up and on the road at 5:45 (curses) AM to catch the mini cruise ship, aka "Ferry" to Islay on the Caledonian MacBrayne. ("CalMac" as the locals call it.)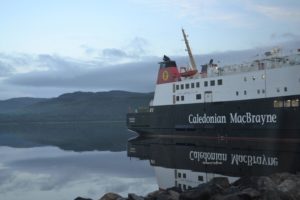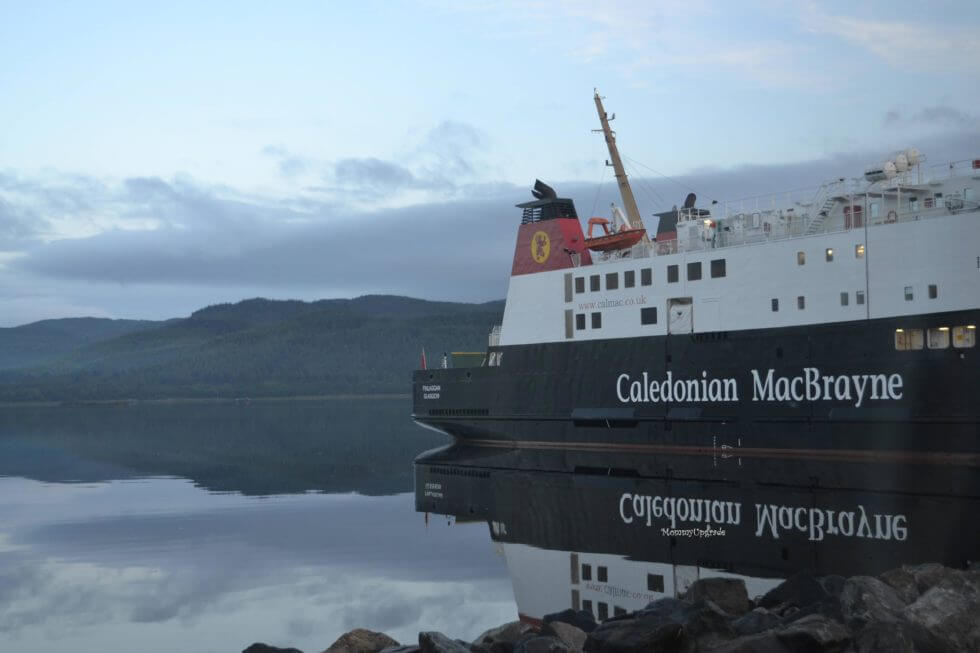 The plus-side to rising before dawn when you're not sure what time zone you're in? Feast your eyes on this amazing sunrise over Loch Fyne.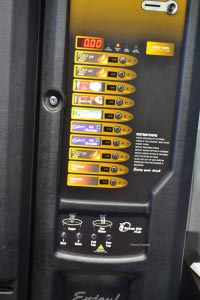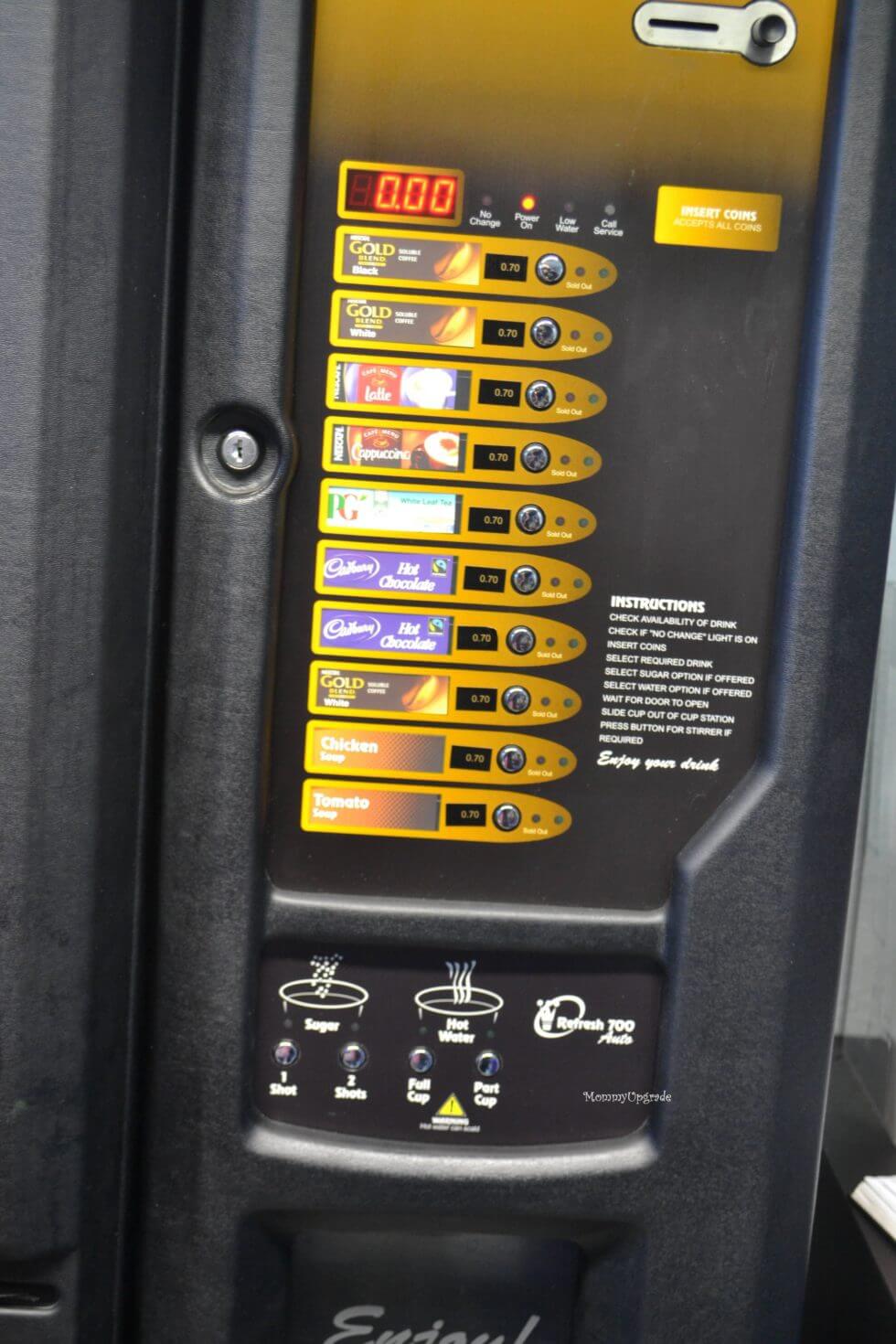 Totally worth the lost zzzz's!
At that hour of the morning — at least I think it was morning — I don't find a lot of things funny, but this was. The self-serve coffee machine in the ticket office has chicken soup, and tomato soup as well.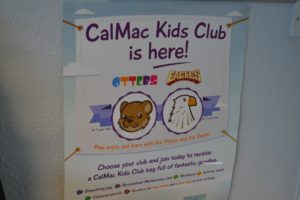 And this poster for the CalMac Kids Club reminded the Princess Cupcake of Eagles teammates at home – same font and everything!
It struck me as so odd to see the 4 companion dogs on board that it made me forget I hadn't had any breakfast yet. This guy, a rescue named Fergus, stole my heart in a nanosecond.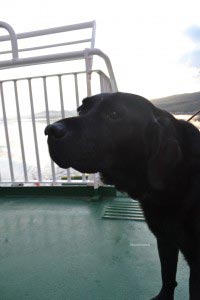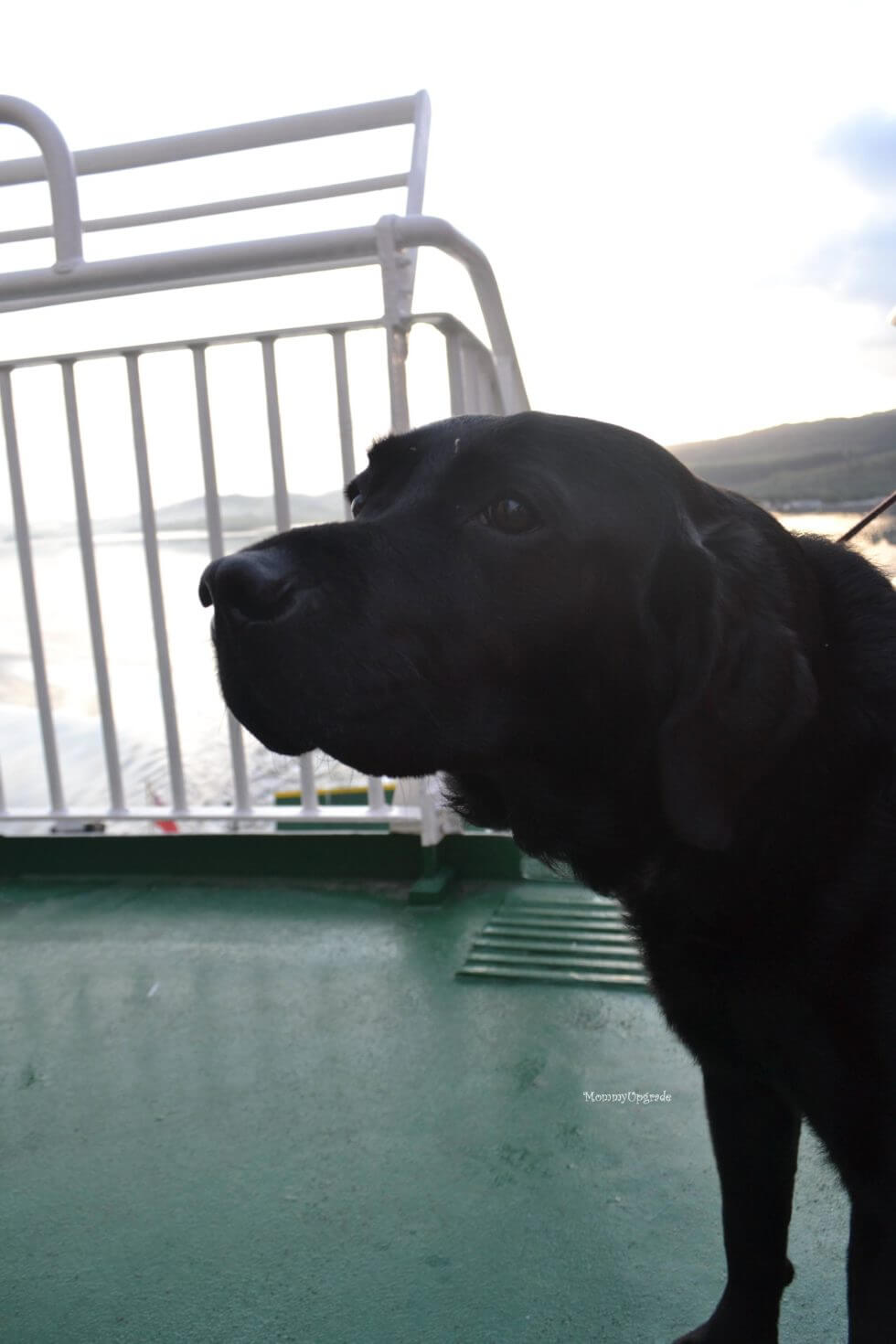 I'd have given anything to find a cushion and snuggle up with him for a day or two to catch up on my sleep.
We are docking at Port Ellen, Islay, where my husband and dad are going to try their own form of immersion therapy. Their mission is to make me a love scotch before we leave the island. Will they succeed? You be the judge.
More photos from Islay, our distillery tours, and meeting the Whisky Hall of Fame inductee Jim McEwan to come.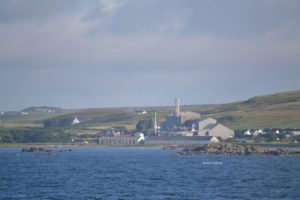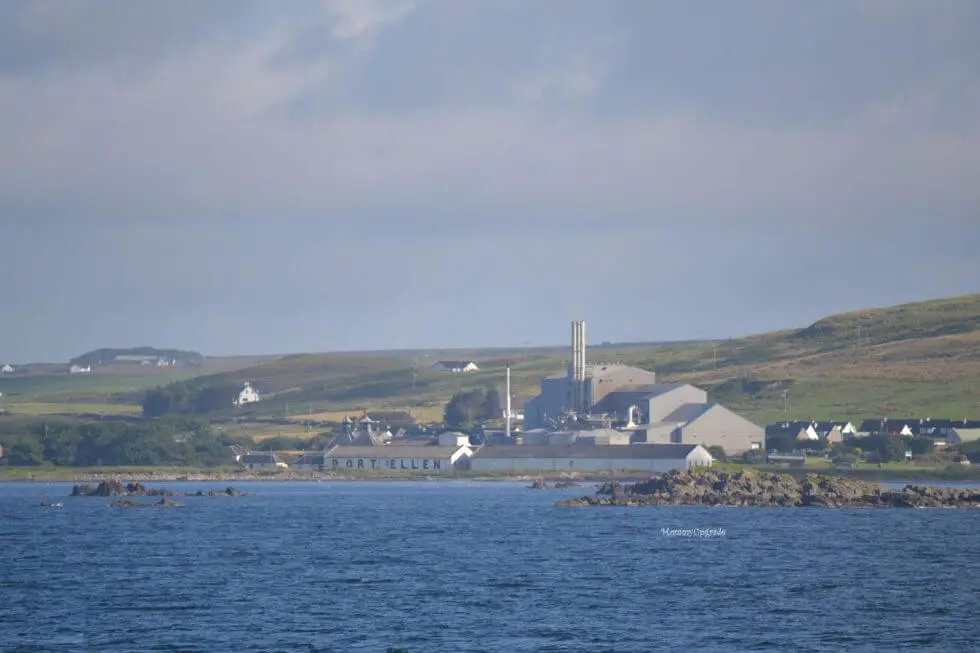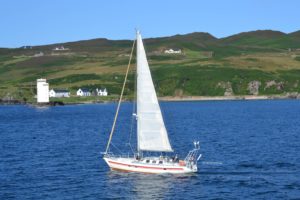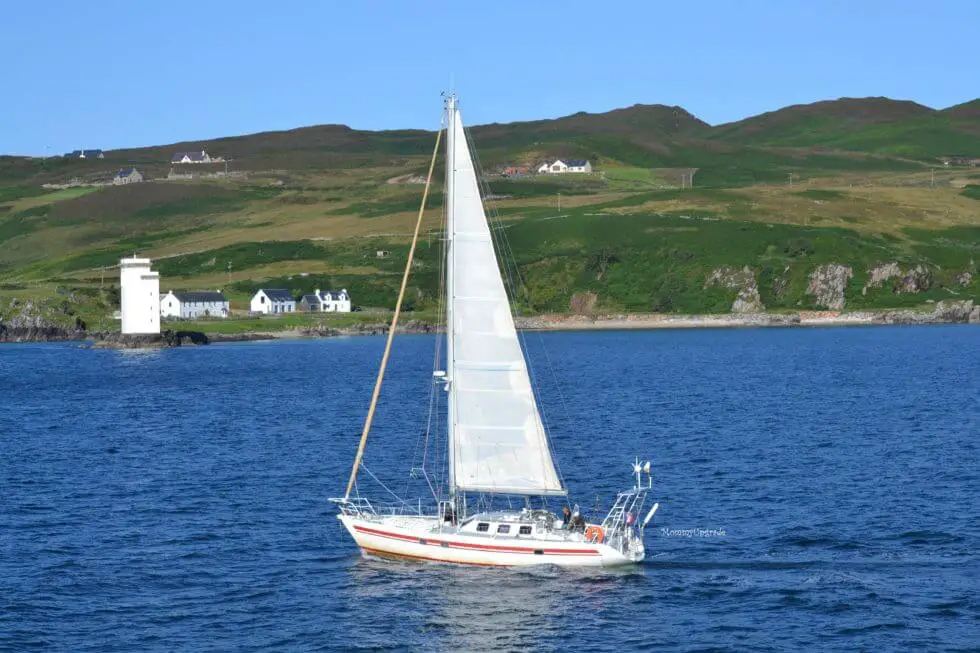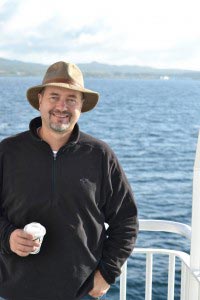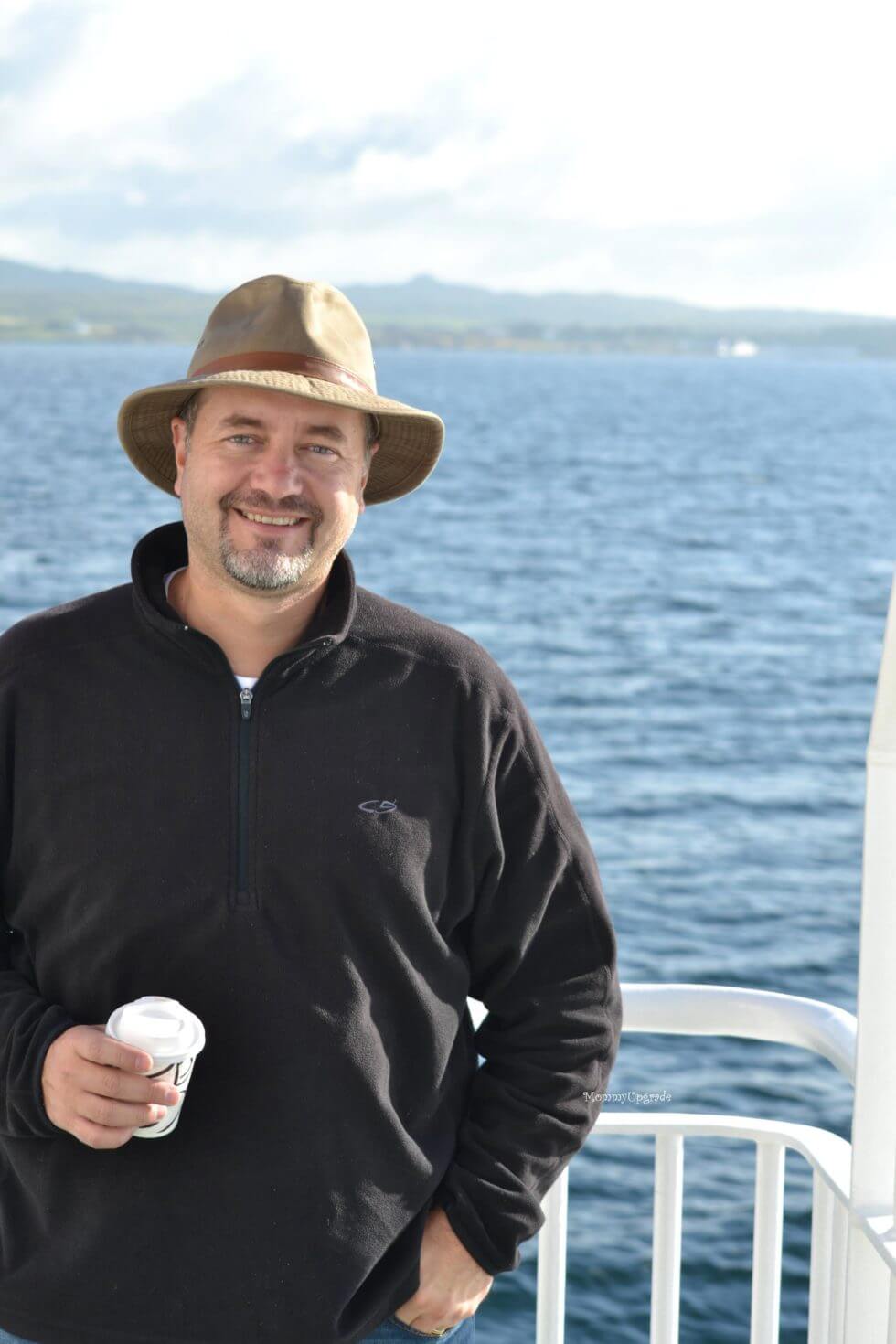 Can we say Sláinte (cheers) to this new adventure?