I took a girls' trip with my then 10-year-old to Southern California. It wasn't really planned to be just the two of us, but it happened to unfold that way and turned into one of the best vacations ever! We hit up the usual parks (Disney, Universal Studios) and while those are great destinations, I want to share a day trip idea that I'd recommend to everyone headed to the Southern California coast.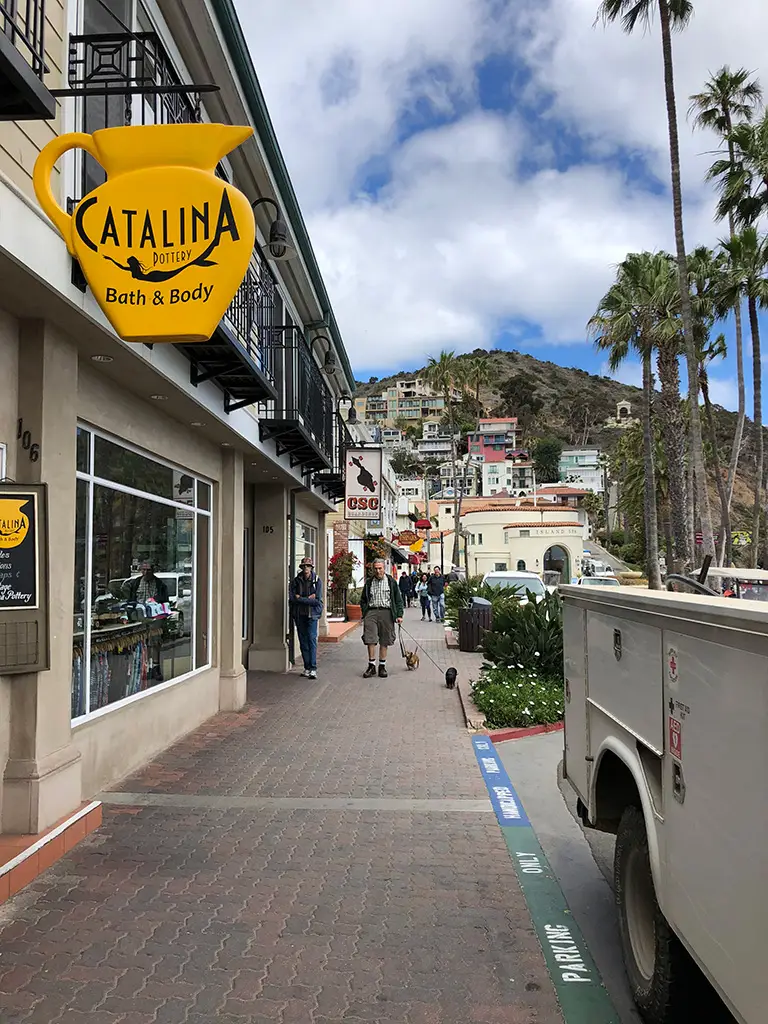 Historic Catalina Island
If you associate Catalina Island only with the Catalina Wine Mixer from the movie Stepbrothers, you're only partially right and a little misguided as this island gem has so much more to offer than a drinking party. Yes, the movie inspired an actual wine festival, but our day trip couldn't have been further from that Hollywood storyline.
Santa Catalina Island has been around forever, if 8,000 years classifies as forever (I think it's close enough). Earliest records say that the first European contact with the island was in 1542, when the Pimungans (Native Americans living on the Island) greeted a Spanish explorer to its shores. In the years following, it was an outpost for otter hunters, smugglers, and ranching, mining and military operations during WWII,.
It was during those military operations when a not-yet famous young girl lived there with her soon-to-be ex-husband. It's fair to say that the Marilyn Monroe we know, was born of its shores. It was here that she was discovered by a photographer, divorced Jim Doughtery, and changed her name. I suspect Catalina Island has that effect on some people.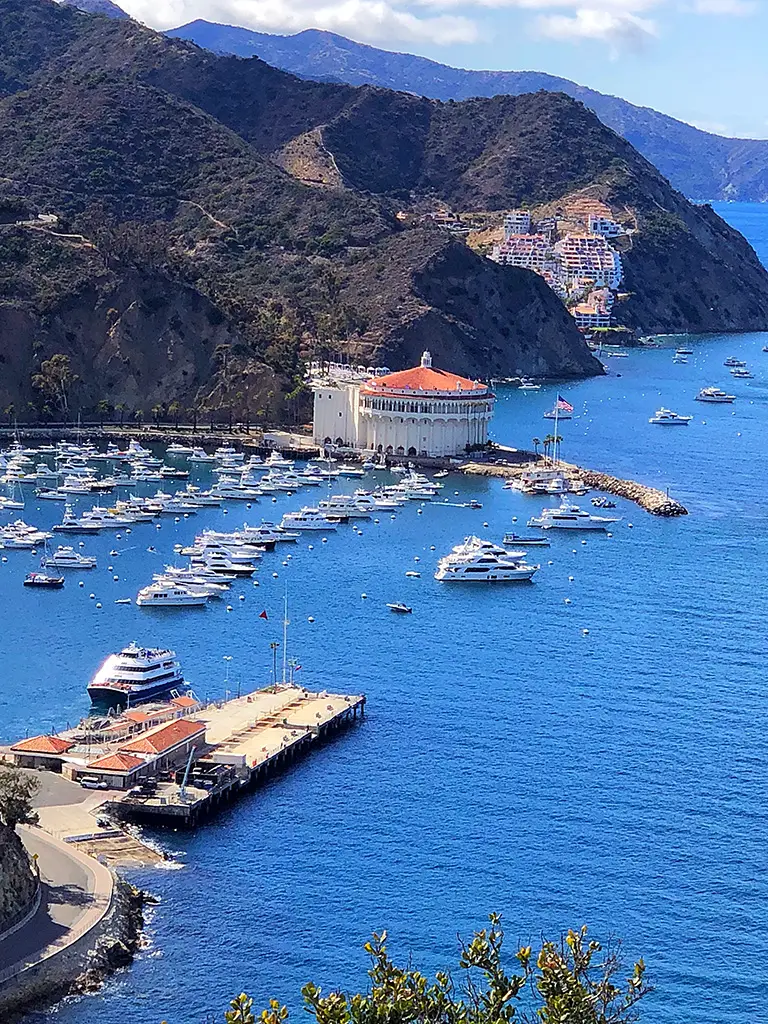 That's hardly the end of Catalina's love affair with the big screen set. It's been the backdrop of movies and television since 1920. The heard of roughly 150 bison and roam the interior of the island, and are the descendants of a cast of 14 bison that were part ofthe silent film version of Zane Grey's Western tale, The Vanishing American.(Yes, you can take jeep charters to see them.) 88% of the island is protected as the Catalina Island Conservancy and will remain undeveloped and wild. This is thanks to another famous resident, William Wrigley, Jr. Yes, the same Wrigley gum and Chicago Cubs. He once owned and developed the resort destination island, attracting the rich, famous, and world leaders. Wrigley also owned the Cubs which explains why it was the home to Spring training for the Cubbies from 1921-1951, with the exception of the time when the island was a military hub during WWII.
Wrigley's estate is perched on the top of a mountain on the island, offering the best views of the ocean and the city of Avalon below. Yep, you can stay there. It is currently a hotel and restaurant. Even if you don't go inside, there are some truly spectacular views from the road it sits on.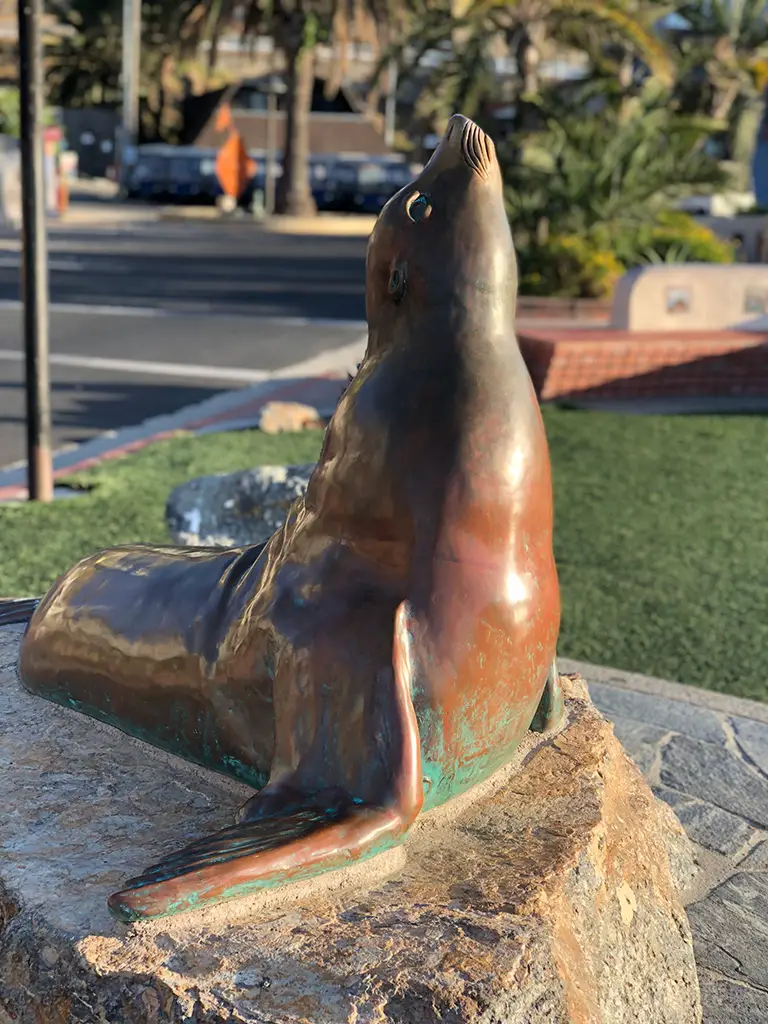 Catalina Island has a rich and colorful history, documented SO well in the island museum. My girl happens to be a museum junkie and at her request, we immersed ourselves in the many stories this unique island holds. She (at 10) was so impressed – mostly with Harry Houdini, Jaws, and the island mascot Big Ben a ginormous seal — asked for a DVD to be able to relive the experience at home (BTW, they don't have one). You really, really do yourself a disservice if you visit Catalina Island and don't take the time here. To learn more, visit the Catalina Island Museum.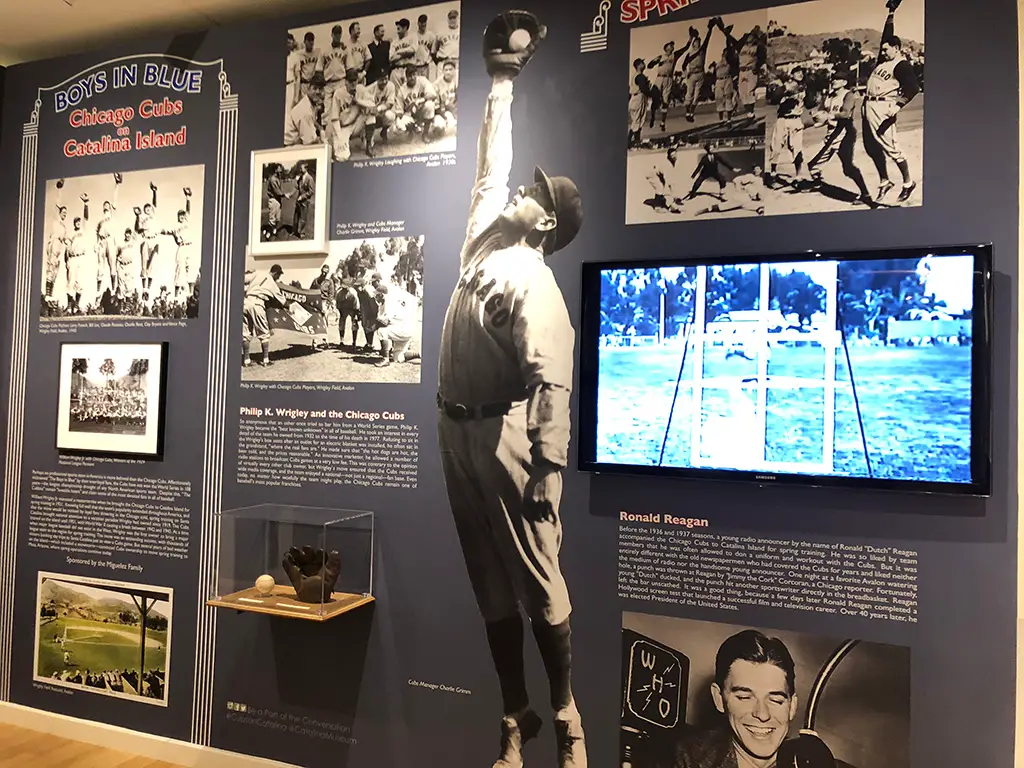 Aside from being a cool seaside destination, Catalina Island has so much to offer. From zip-lining over the tree tops to charter boats, rental bikes and golf carts, dining, spa-daying, beaching, jeep tours, exploring. It has plenty to keep a family busy for a weekend.
We spent just one full day on Catalina Island, but we made the most of it.  As soon as we docked, we did a quick survey of the heart of Avalon and what was on our bucket list. There were three must do's: a speed boat tour to view the marine life (which I had pre-arranged), renting a golf cart to explore wherever we wanted, and visiting the museum. We accomplished all that plus eating on the dock, finding a cool coffee shop, and of course, plenty of shopping.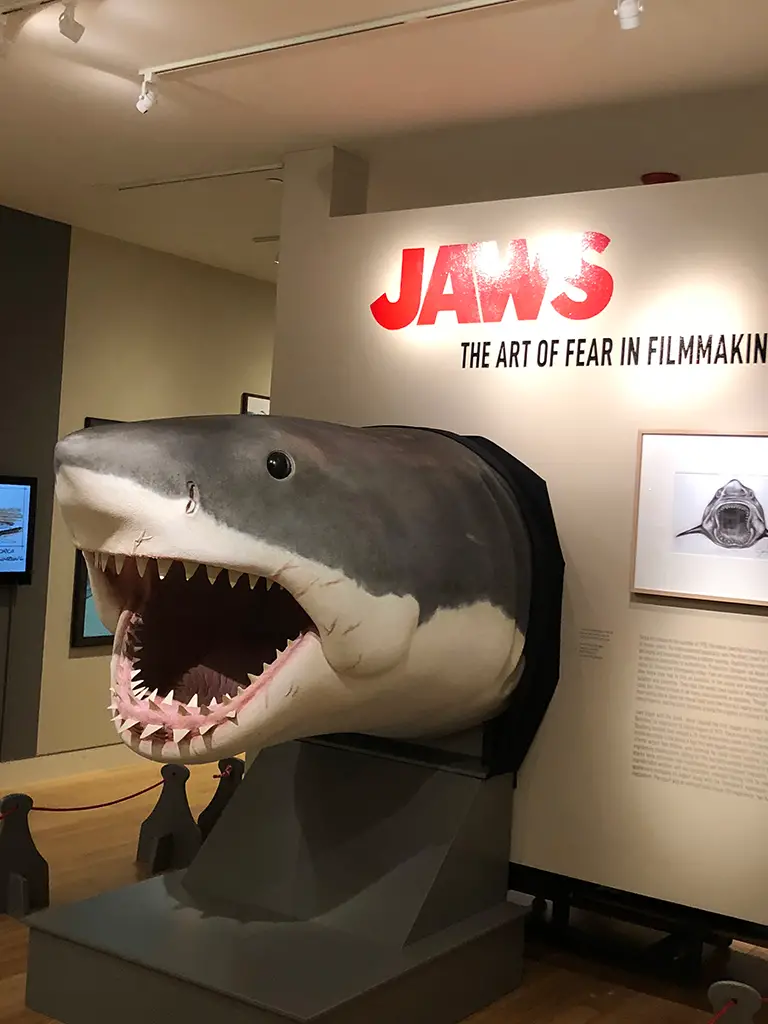 GETTING THERE 
Because Santa Catalina Island is 22 miles off the coast of Southern California (near south Los Angeles), you must take a ferry, helicopter or chartered transportation. There's no freeway in or out.
We took the ferry, and I'll tell you right now, I upgraded our tickets to the top deck and I'd do it again. The upgrade gets you priority boarding, a free beverage (of any kind, including the adult variety) and a small snack. It also had tables to sit at, and the best view on the boat. You can sit inside or enjoy the view outside. Depending on where you embark and land, the travel time is roughly an hour. Here is a link to regularly scheduled passenger ferries which leave from Long Beach, San Pedro, Newport Beach and Dana Point.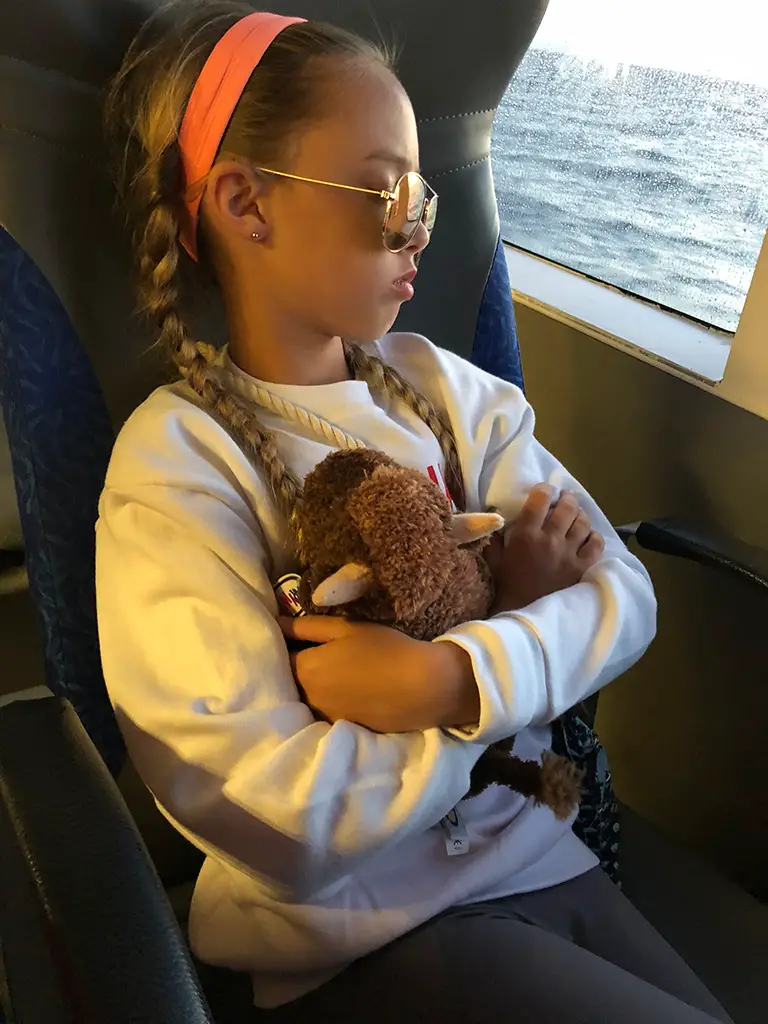 Once you dock at Catalina Island, you can easily navigate the town of Avalon or the village of Two Harbors by foot or you can rent bicycles or golf carts to explore the local residential communities and outskirts of town. Taxis and shuttle buses can also take you to your destination.
We booked our ferry through Catalina Express.
HISTORIC LANDMARKS
With an island as old as Santa Catalina, you can only imagine how many historic landmarks dot its landscape. You can find the full write-ups herebut of iconic to Catalina are:
The Catalina Casino Buildingis Catalina Island's most recognizable landmark. Built in 1929, the Casino – which is actually not now a gambling hall but "place of entertainment" – played host to dozens of Big Bands through the 1930s and 1940s. The Casino Ballroom still attracts crowds for celebrations of all sorts. It was restored just a few years ago and is available for private functions, and is a very popular spot for weddings and special events. Daily walking tours are also available.
The Chimes Toweroffers a beautiful reminder of the quarter-hours between 8 a.m. and 8 p.m.  Built in 1925, the Chimes Tower was presented as a gift to the town of Avalon by Mrs. Ada Wrigley. The chimes have been tolling since 1925.
WHAT TO DO
Catalina Island offers many activities and adventures for all ages including zip line eco tours, diving, golf, hiking, biking, art & museums, beaches, fishing, scuba diving, jet ski rentals, kayaking, parasailing, paddle boarding, camping, glass bottom boat tours, Hummer or Jeep tours, sightseeing, shopping, spa days, etc. Detailed information and links: https://www.catalinachamber.com/things-to-do/
Two Harbors
Two Harbors on Catalina Island also offers fun activities, lodging and adventures. Available amenities include boat mooring, camping, hotels, kayaking, diving, hiking, biking, snorkeling, disc golf and more.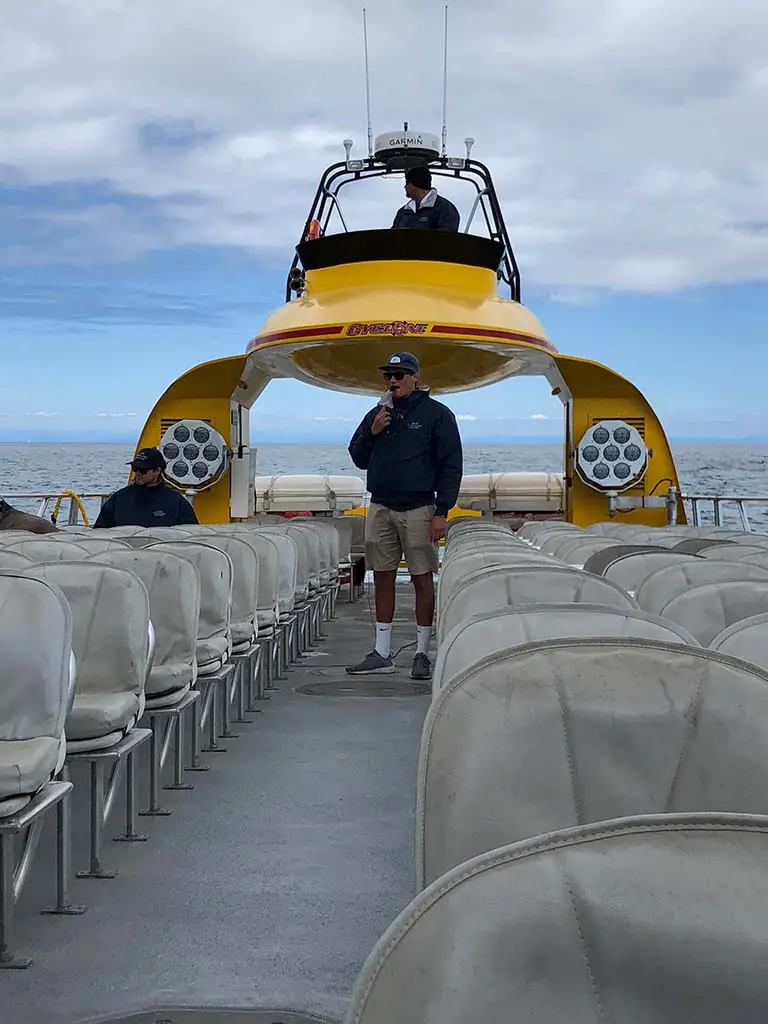 We took an ocean runner boat tour of the coastline, and I'd recommend this for the speed junkies in your life. My girl had a smile plastered across her face and giggled the. whole. time. When we slowed to see the many seal on the beaches, it only grew bigger. The waters were the most gorgeous shades of blue green, I wanted to capture it into a paint swatch so I could come home and paint my walls with it. This was a win. The tour company we booked through was Catalina Island Company and they had great customer service and a LOT of different experiences available.
Santa Catalina Island is a special place, one that she's already asked to come back to. Ironically, I visited the first time when I was a little older than her, and have come back to as an adult. It was really cool to be able to see it again through grown-up eyes and share the experience with her. Of all the places we went on our whirlwind vacay, it stands out as a favorite day.  
I get my dose of Catalina Island everyday by following this Instagram Account. You can learn more about Catalina Island on Facebook at the Chamber of Commerce website: Catalina Island Chamber of Commerce Facebook Page.