Taos, New Mexico was a bucket list trip for me. Having spent some time in Santa Fe, I had a hunch that Taos would be a similar win for the Perot Family vacation. I already knew that it was a pet-friendly town – which was important as we were traveling with ALL of the Perot Palooza, but I did very little research before arriving to plan out our days. While it worked for us, I'd recommend putting a little more effort into research before you go. The following is a list of what we managed to do on the fly, given we didn't arrange for a lengthy stay in Taos (read about the cool Hotel Don Fernando here), and leaving the puppers in the room alone was a terrible idea (if you knew them, you'd understand). So all the things to do in Taos that I recommend below are things that are even endorsed by the fur family.
Depending on how you arrive into Taos, there's a good chance you'll be traveling along Hwy 64. We arrived at night, so we drove straight over the Gorge Bridge without fully appreciating its significance. This is worth the double-back. In fact, we visited twice in daylight. Why? It's architecturally cool, and geographically significant.
Rio Grande Gorge Bridge
The Rio Grande Gorge Bridge is the second-highest bridge on a US Highway. It's a steel deck arch bridge with the canyon river running roughly 600 feet below it. It's about 10 miles outside of town to the northwest. Definitely go here during the day or better yet, at sunset (we did both), because it's magnificent. There are make-shift parking lots to keep you off the highway as you make your way to the pedestrian bridge. Warning though: It will give you the willies if you are afraid of heights (raises hand). I couldn't bring myself to walk to the middle of the bridge and even thinking of it now makes my heart beat a little faster. Still, I recommend checking this out but hang onto your phone. You do NOT want it to go over the edge!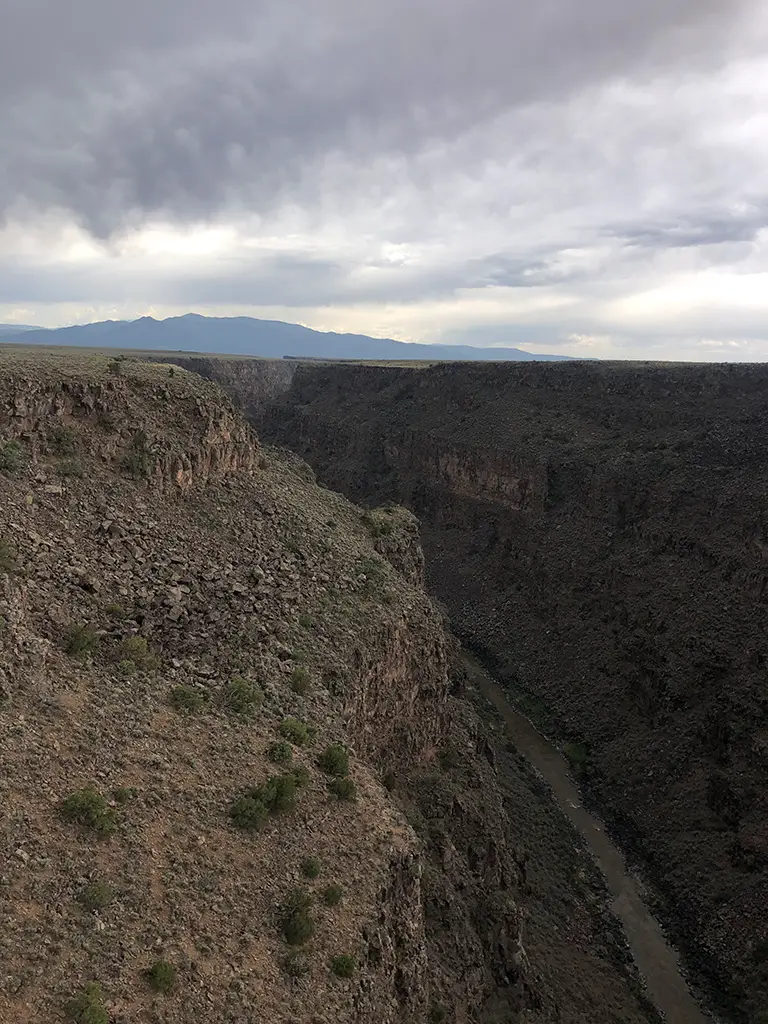 San Francisco de Asis Mission Church
Another destination on your Places to Visit in Taos list  is the historic San Franciso De Asis adobe church. Built in the 1800s, it is the only church remaining intact in Taos, and rightfully holds its place on the National Historic Register.
It may look familiar to you as it is a church made famous by Ansel Adams and Georgia O'Keeffe for its distinctive architecture and historic value. It's actually still to this day, a working church, and one that is a pillar of the community. So much so that every year, parishioners and volunteers gather to "remud" the church.
On the day we visited, the sky was crystal clear, to frame an already picturesque view. But don't stop at the outside! The church is open for visitors and definitely worth going in. The stained glass and interior is striking and it's an incredibly peaceful place to be. There's a bit of a secret element of the church as well, and sadly I didn't read about the mystery painting until after we'd left. You can bet that now I 100% need to return to experience this phenomenon of faith.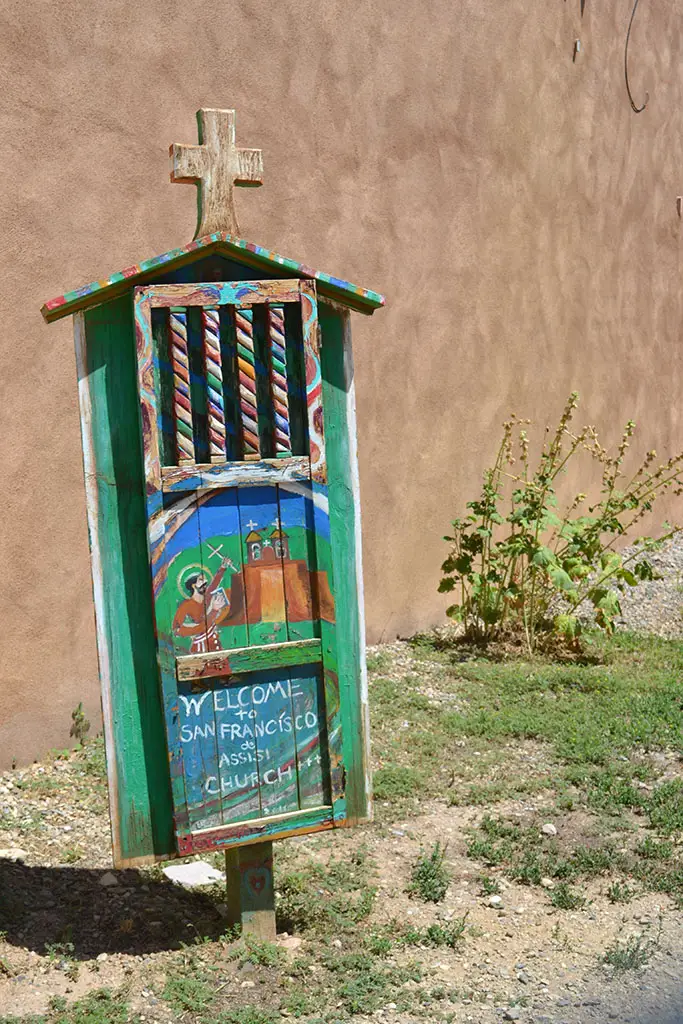 On the day we visited, the sky was crystal clear, to frame an already picturesque view. But don't stop at the outside. The church is open for visitors and worth going in. The stained glass and interior is striking and it's an incredibly peaceful place to be. There's a bit of a secret element of the church as well, and sadly I didn't read about the mystery painting until after we'd left. You can bet that now I 100% need to return to experience this phenomenon of faith.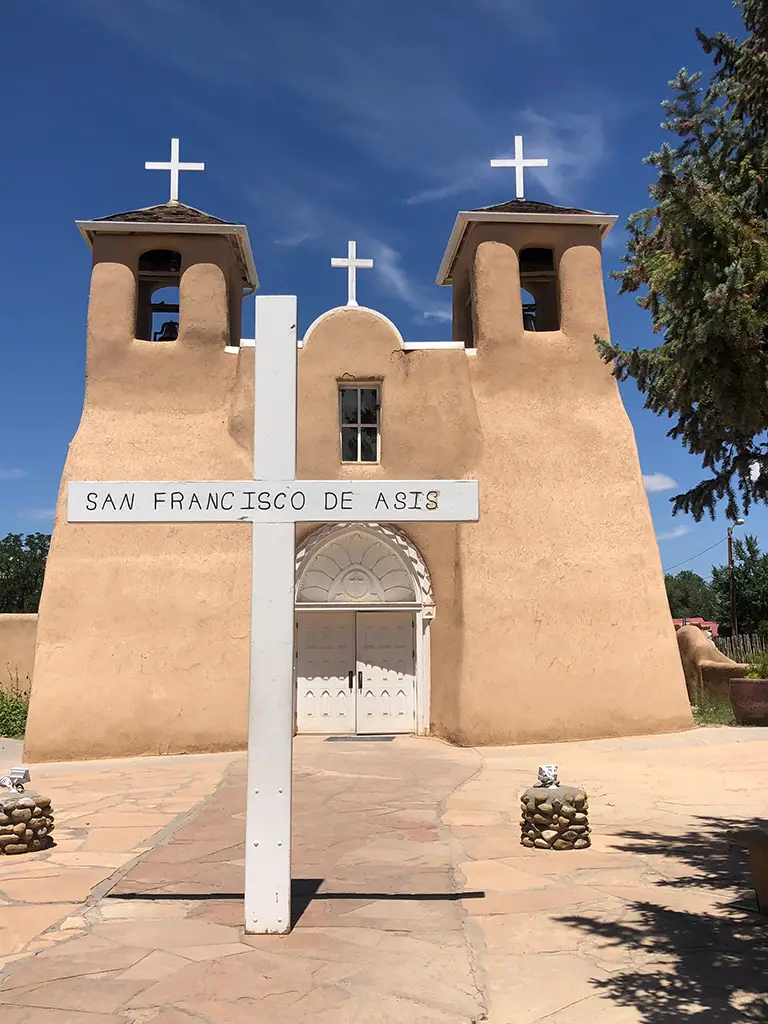 While you're visiting the San Franciso De Asis, make a point to stop into the church shop next door, which is in the previous military garrison area. From there, you can purchase a six-day candle, bring it into the church vestibule, light it, and say a prayer from someone in need. We also picked up a number of other meaningful gifties while we were there. If you're interested in churches and history, you can check out this Guide to the Historic Churches of Taos.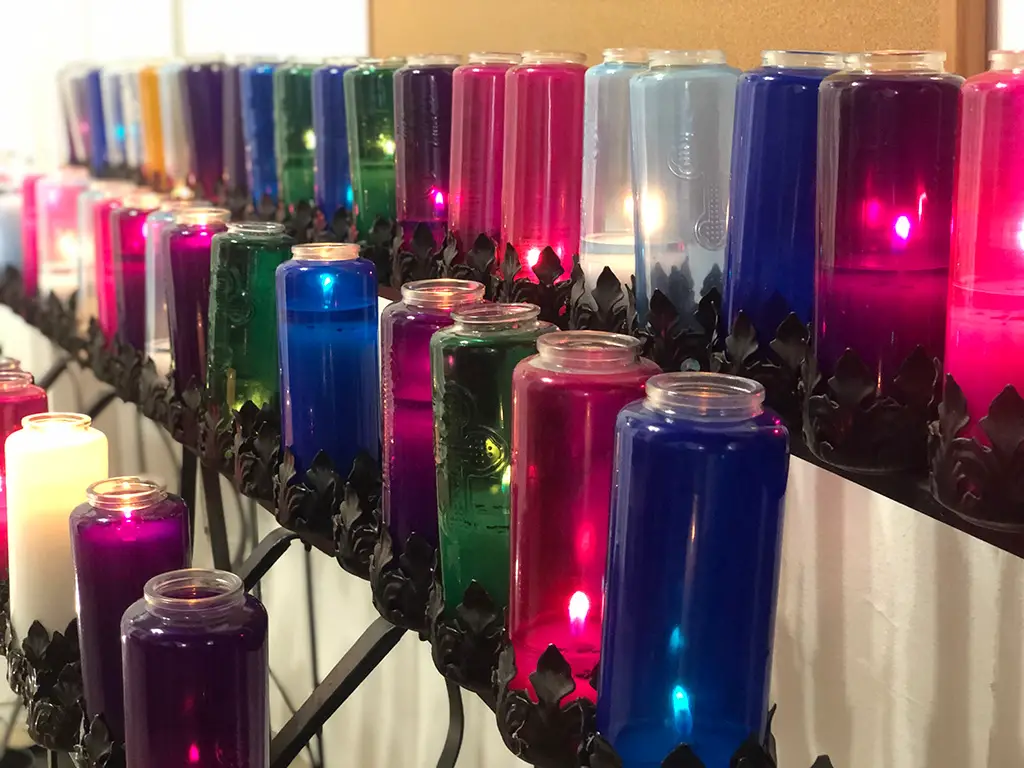 Hacienda de la Martinez
From the San Francisco De Asis, we went to another site on the National Historic Register, the Hacienda de le Martinez, built in 1804. This is NOT a dog-friendly place, and was difficult to find despite being so close to the Taos Plaza.
We found ourselves driving through an area with lots of graffiti on the homes, so that may have set the stage to lower our expectations. I sent the hubs and daughter through the adobe fortress-like building to explore while I kept the doggos company in the car.
The Hacienda once served a home and important trade center for the area. There are 21 rooms and 2 courtyards which all depict the rugged life that the Martinez family endured, so I was prepared to sit for a bit. However, my people toured it all in about 9.5 minutes – and it cost them $20. All they told me was that it was, "really dusty." They brought me a free brochure dated 2017, but it was full of the history of the house. We obviously missed the traditional demonstrations that they offer, so if you are intrigued, definitely plan ahead so you can get the full value of your admission fee. I suspect visiting on a day with demonstrations would be more interesting for my crew.
Taos Pueblo
Another disappointment for us was our attempt to visit the Taos Pueblo, which was closed due to Covid concerns. The Pueblo is considered to be one of the oldest continuously inhabited communities in the US with 150 families living there full-time. It's said that people have lived in this area for 1,000+ years, with the main part of the pueblo likely built between 1000 and 1450 AD. The multi-story buildings are all adobe, made from earth mixed with water and straw. In normal times, the Pueblo offers tours every 20 minutes, so that you can get a glimpse of this historic, living Native American village. Find out more on the Taos Pueblo website, and get updates on when they'll accept visitors again.
So those were a couple of missteps, but we made up for it by exploring the gallery area of Taos. If you know me, you know that I like to find the art whenever we're traveling and Taos does not disappoint.
Parking in this area is… a little bit of a challenge, but we found a great street spot and learned that many of the galleries were very welcoming to the dogs (admittedly a couple seemed off-put that we'd even ask if they could come in so my advice is to always ask first). I particularly enjoyed the galleries along Kit Carson Road – (check out the Kit Carson House & Museum too), the Bryans Gallery in particular. I discovered an artist's work that I fell instantly in love with and tortured myself by NOT buying a piece of Gregory Lomayesva's art. The black and white longhorn bull did it for me. I still think of it months later.
We eventually made our way into the heart of Taos to the historic plaza. I found the Taos Plaza area to be a bit more touristy, (I mean, the wool pillow covers that I considered weren't even made in the Southwest) but we did enjoy the statues (and the Taos at Home store – it's a fun boutique).
Speaking of shopping, when in Taos, you MUST visit the Overland store, established 1973. If you're unfamiliar, trust me when I say your winter weather dreams will come true here. Still a family-owned business, it carries apparel, accessories and home goods inspired by the American West. Basically, anything in the store is on my Christmas list, but to visit the flagship location at the base of Taos Mountain is an experience. If you go, tell Kim I sent you in.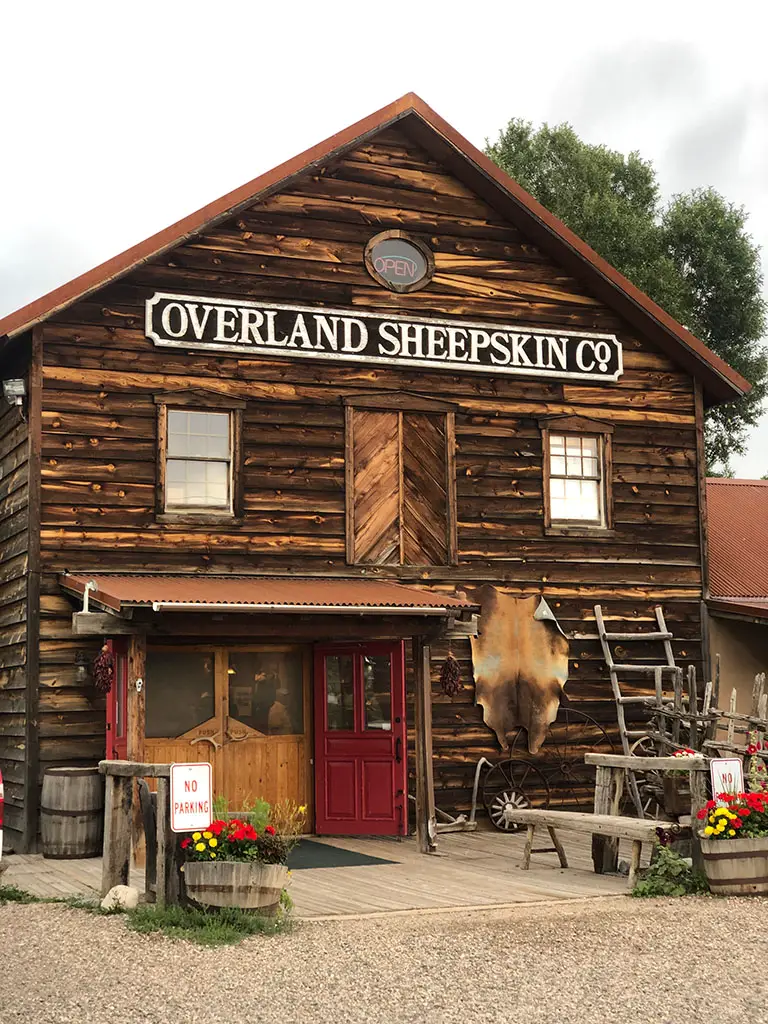 Dining in Taos
Actually, it was Kim who told us about the Medley Restaurant (and wine bar/shop), that on our own, we'd have never found.  All three of us were blown away at how delicious it all was from appetizer to dessert. It was trying to rain while we were there so patio dining was a commitment (again, dogs) but the staff was kind and quick and the patio was charming and my tummy longs to go back there. I did sneak a peek into the dining room and it's quintessential southwest from table to chandelier.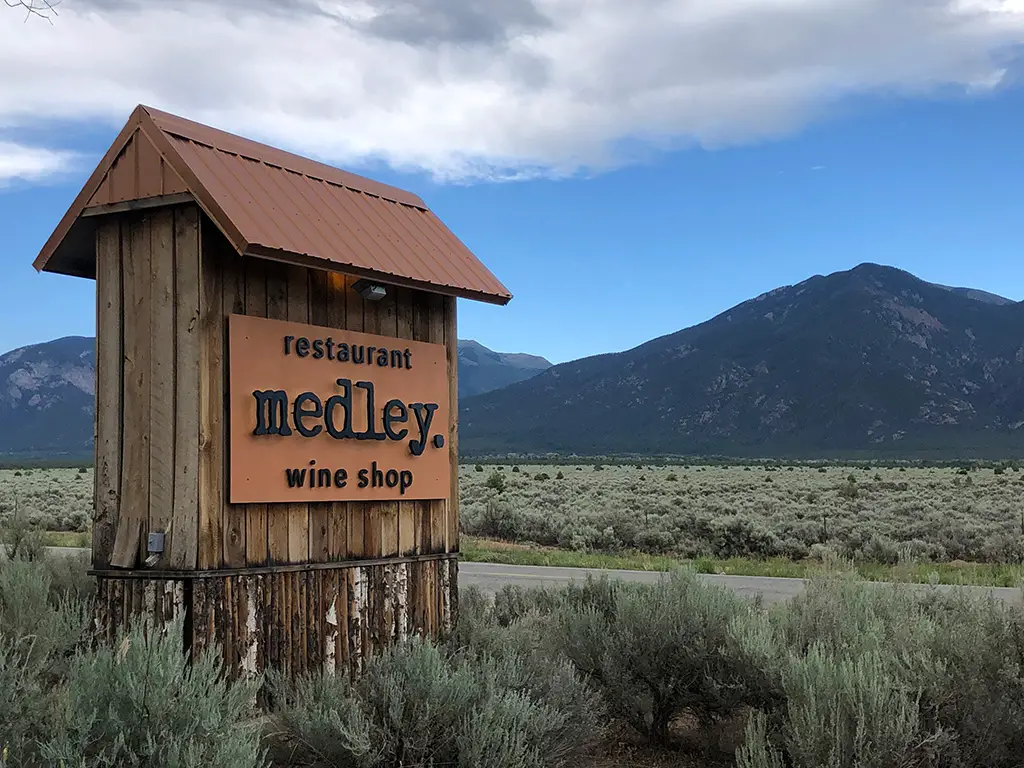 Medley wasn't our only meal in Taos – but it was definitely the BEST meal. For breakfast, I'd recommend the Taos Diner (there are two locations), where we were able to eat on the patio. I was really happy with the meat-free options and my keto husband found food he liked, as did my carb-loving teen. Everybody wins! Next visit though, we're making plans to try the Taos Mesa Brewing Company.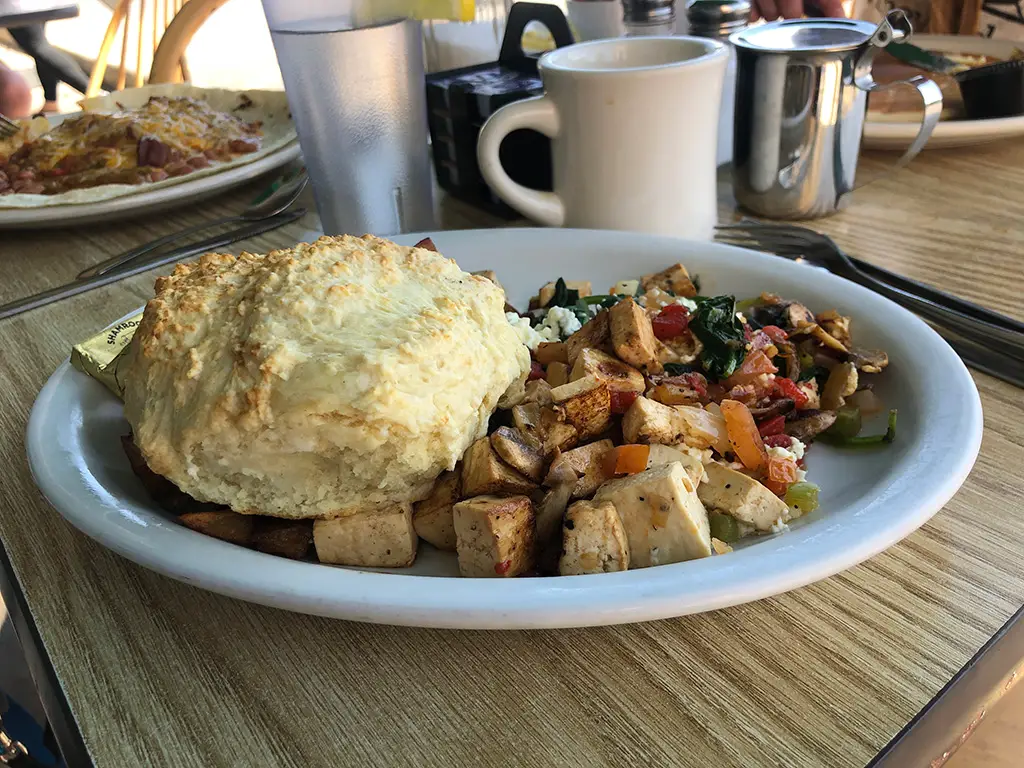 More Suggestions for Things to Do in Taos
Here are a couple of additional suggestions that our hotel offered but we didn't have time to do. These are on our bucket list when we return:
Enchanted Circle Drive – touted as the best scenic drive near Taos! The route takes you to visit the Veterans Memorial in Angel Fire, Eagles Nest Lake, and Red River. The route is from Taos Plaza, HW 64 north to HW 522 north to Questa; Highway 38 east to Red River, then south to Eagle Nest and Angel Fire. Highway 64 west to Taos. This is an 84-mile drive and takes 2.5 – 3 hours.
Taos Trolley – We saw the trolley as we were looking for the Hacienda. This is the way to tour and learn the history and culture of Taos.
Earth Ship Visitors Center – This is a fully-functioning earth ship designed to provide education about earth ship biotecture. You'll be greeted by a staff member who will give you the information for a self-guided tour.
High Road to Taos – A 56-mile scenic, winding road through the Sangre de Cristo Mountains between Santa Fe and Taos. It winds through high desert, mountains, forests, small farms, and tiny Spanish Land Grant villages, as well as Pueblo Indian villages. Scattered along the way are galleries and studios of traditional artisans and artists drawn by the natural beauty.
Have you been to Taos? I'd love any suggestions you have on places to visit. Please offer them in the comments below or TEXT ME at TextTrista.com.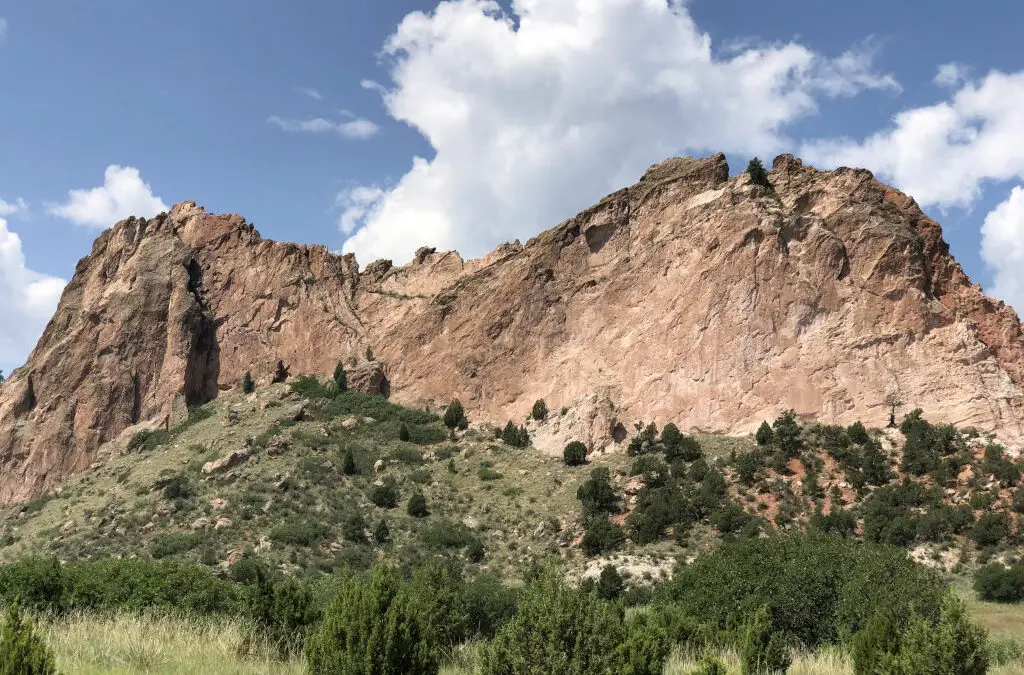 Click here for dog and family friendly activities you can enjoy in the Garden of the Gods Nature Park in West Colorado.
read more