Anyone who's driven through west Texas via Amarillo, likely knows of the infamous Cadillac Ranch.
Built in 1974 on the historic Route 66, as a public tribute to the evolution of the Cadillac tail fin, these 10 Cadillac's were half-buried, nose first into the dirt belonging to Stanley Marsh. The Cadillac's face west, oddly breaking up the panhandle horizon with their collection of cars from the 1949 Club Sedan to the 1963 Sedan de Ville.
Cadillac Graveyard
Over the years, people from all over the world have stopped to gawk and contribute to this curious art installation, tearing away bits and painting others. These days, their iconic Cadillac-ness is gone, but the fun remains with hoards of people stopping daily to leave their mark on the graffiti-wheeled landscape.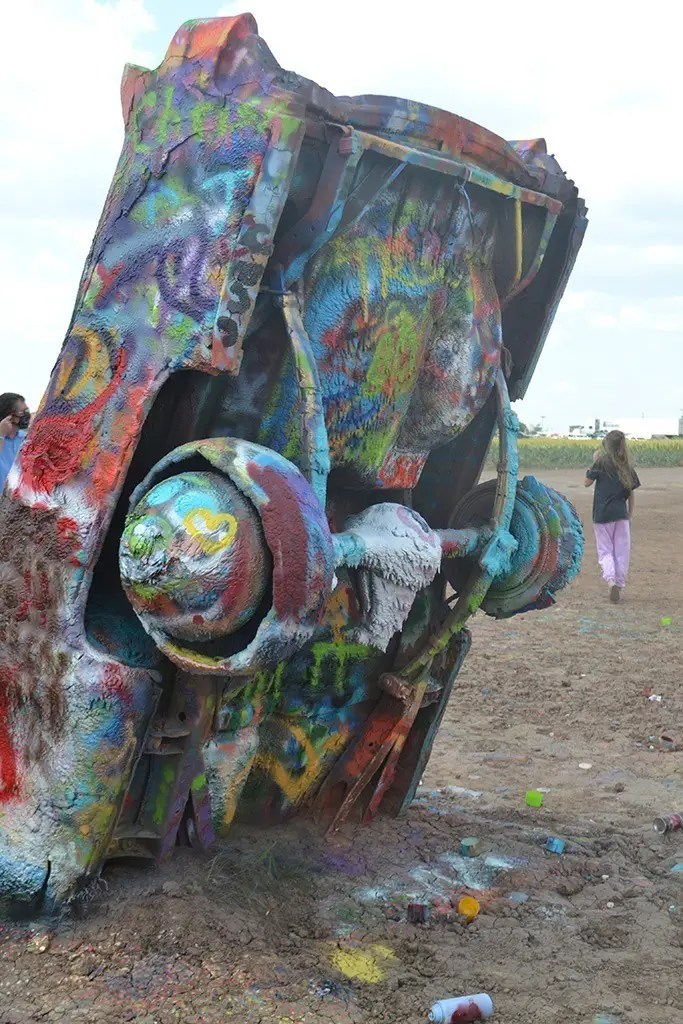 If you're traveling along I-40, west of Amarillo, you must stop between exits 60 and 62,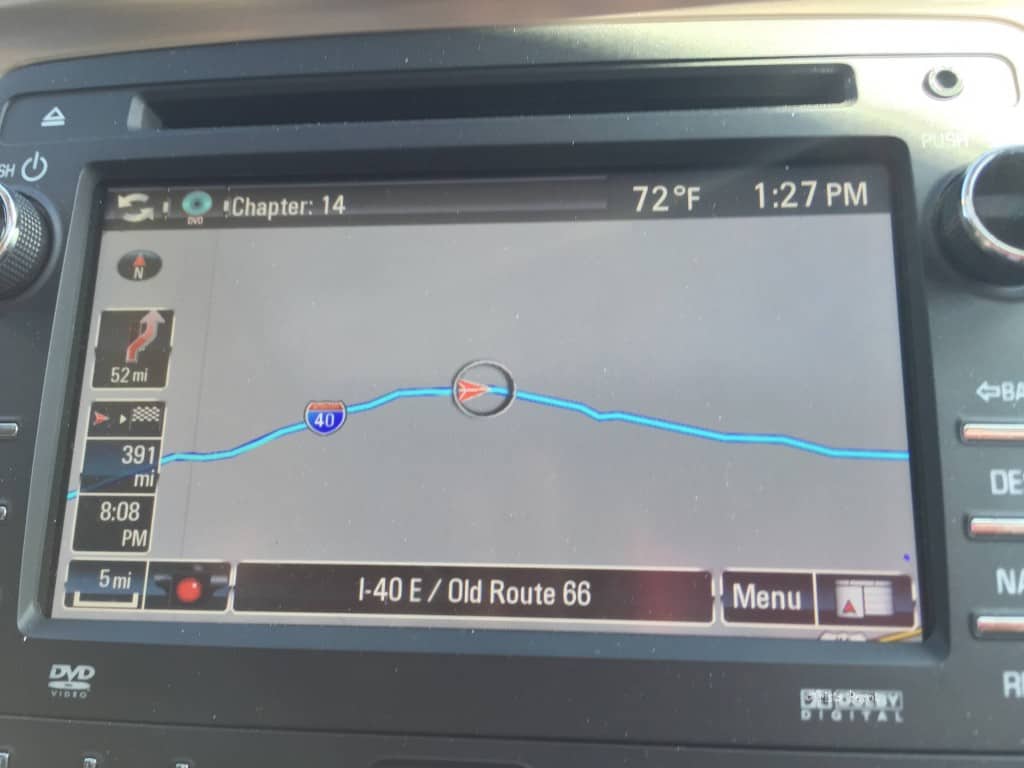 but keep in mind these simple tips before you barrel out of your car to join in the fun.
Cadillac Ranch, Amarillo – Tips 
1) Don't leave your wallet in the car. Aside from the obvious thieving opportunities, now you can actually purchase coffee, soft drinks and snacks (you'll be there a while), souvenir t-shirts, and at long last —  paint! What was once JUST a field with bring your own fun now is set up and ready for tourists! Because Cadillac Ranch is literally in the middle of a long road to almost nowhere, the whole family will want to get in on the fun. Painting the cars is encouraged, which makes this the ideal traffic stop to stretch and spend. If you're not really committed to a whole aerosol's worth of creativity, search around and you'll likely find a number of abandoned but still somewhat full spray cans just waiting for you. There are always lots of partial paint cans littered about the site and visitors have a strong sense of community sharing and likely have some to offer. If you don't use your can in its entirety, offer it to someone just arriving or leave it for someone to find and use. PS – The coffee is GOOD!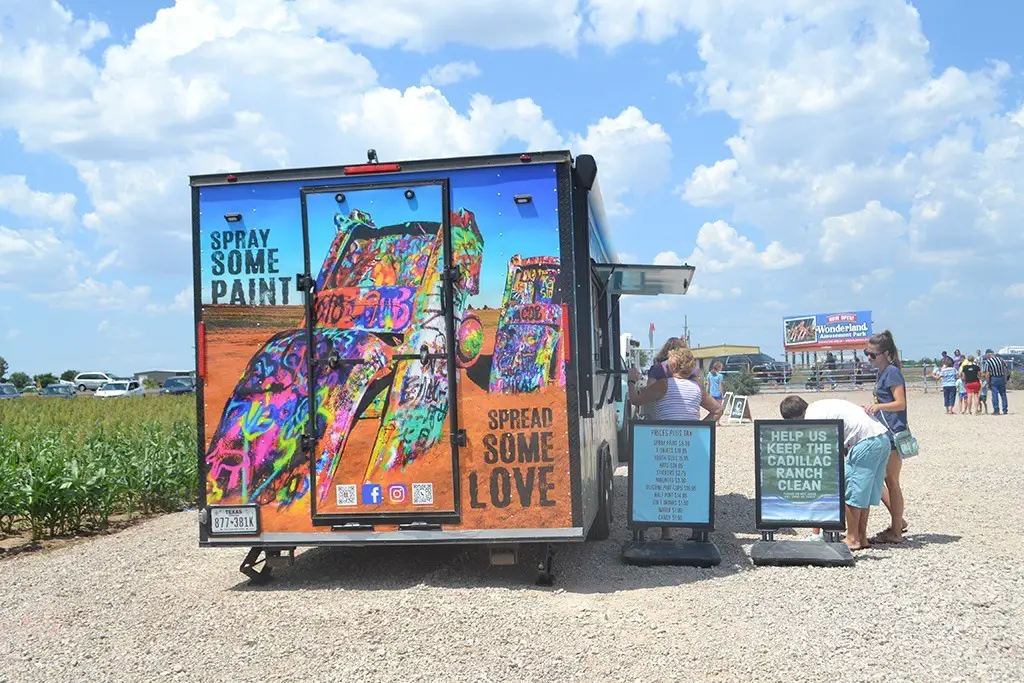 2) Don't leave your camera in the car. Really, don't. The colors are amazing and how often do you get to pose with a Cadillac sticking out of the ground? Another thing you don't leave in the car? Your dogs. Cadillac Ranch is absolutely pet-friendly.
3) Be prepared for mud or dirt. Cadillac Ranch is in a field. A big dirt field. There's no grass in the area from the parking to the cars — which is a little bit of a walk, see? This wasn't even at the entrance.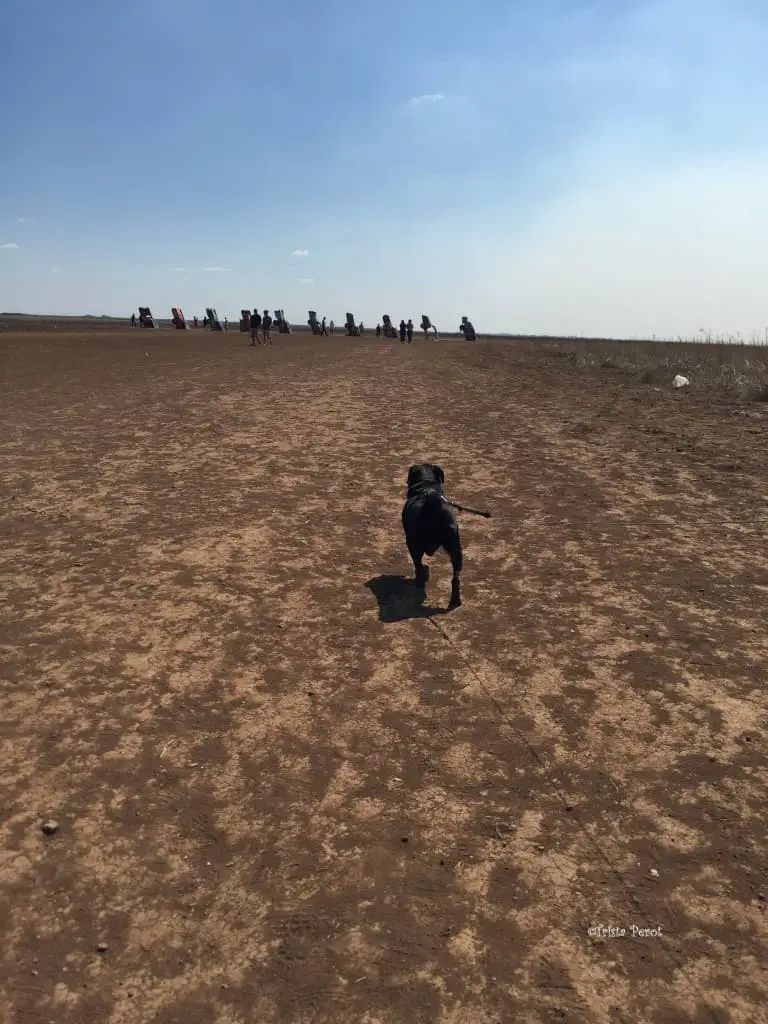 So your feet are going to get a little messy. Luckily we don't have a lot of rain in Texas so the mud is kept to a minimum but if you do hit it during rainy season, you're going to want some towels for your shoes.
4) Stand downwind. Remember, this is the panhandle so there's lots of wind and nothing to slow it down. Mix that with a bunch of aerosol cans spraying neon colors and if you stand in the wrong spot, you're likely to come home with a paint splattered wardrobe that looks like you just finished a color run. Oh yeah, and remember that the paint is wet when you go to climb in those caddy cabs for the perfect Instagram shot.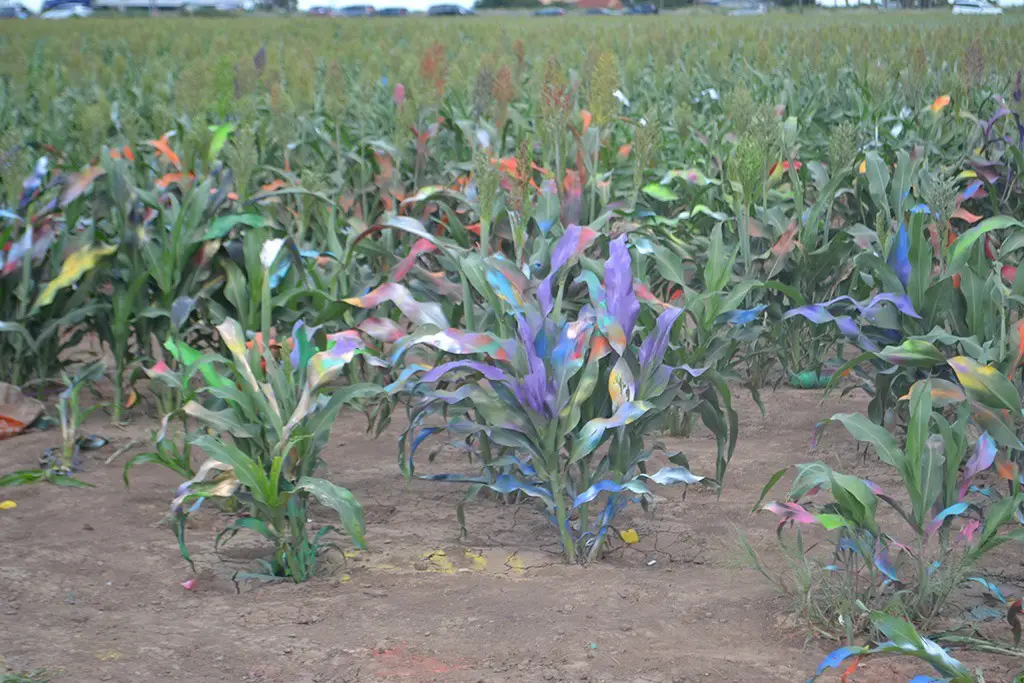 5) Don't fall in love with your painting. There are streams of people armed with Krylon coming through those gates. No matter how much effort you put into your masterpiece, there's a 5 year old waiting to cover it up with his name right behind you. If you love what you made, take a picture (see #2) to memorialize it.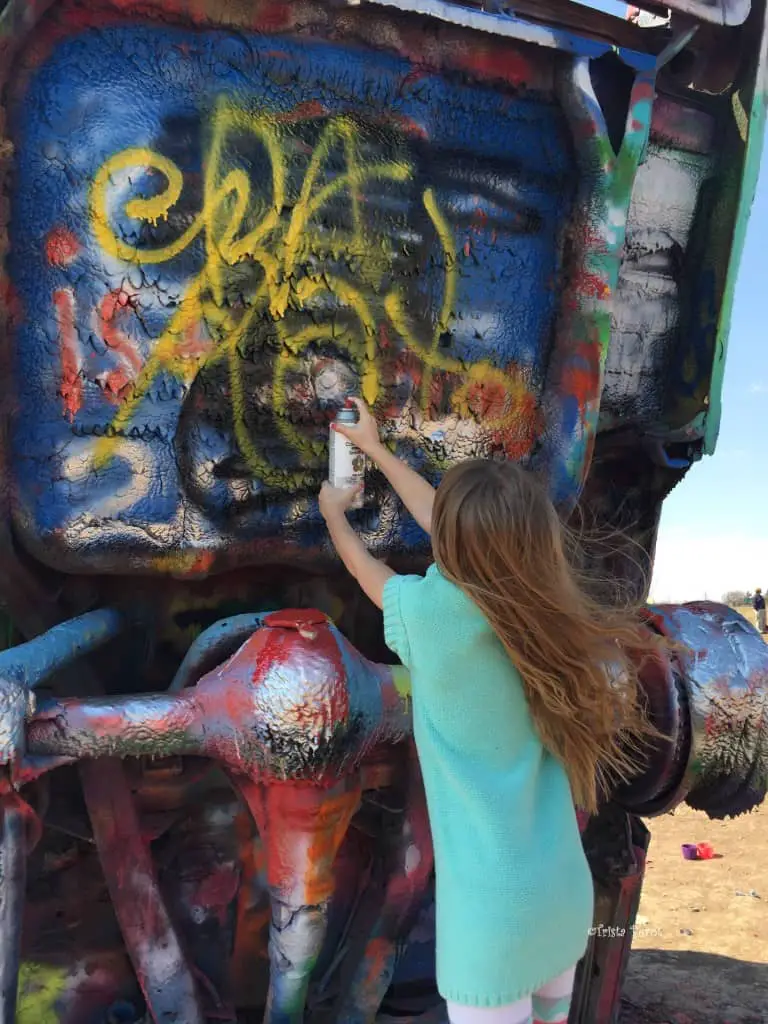 6) Take your trash with you. There's no "attendant," no one working at Cadillac Ranch to clean up after you. Taking your trash helps keep the litter at bay, and it's just good manners. If your cans aren't empty, it's a nice gesture to leave them, but no one likes sorting through a graveyard of empty spray cans to find one that works. If your paint runs out, take it with you and put it in the garbage when you leave.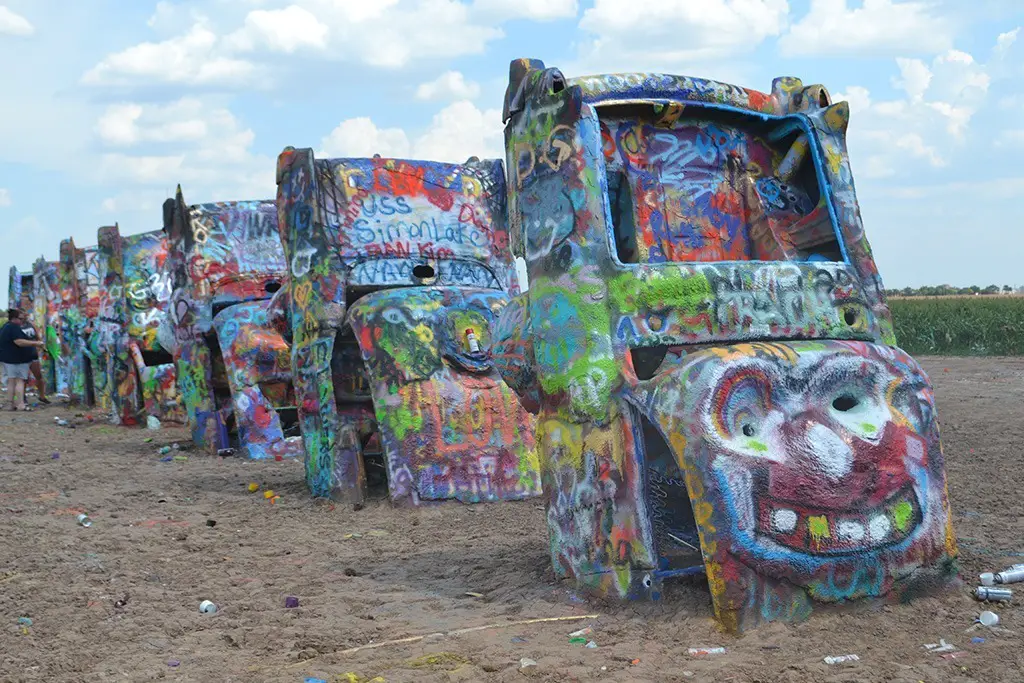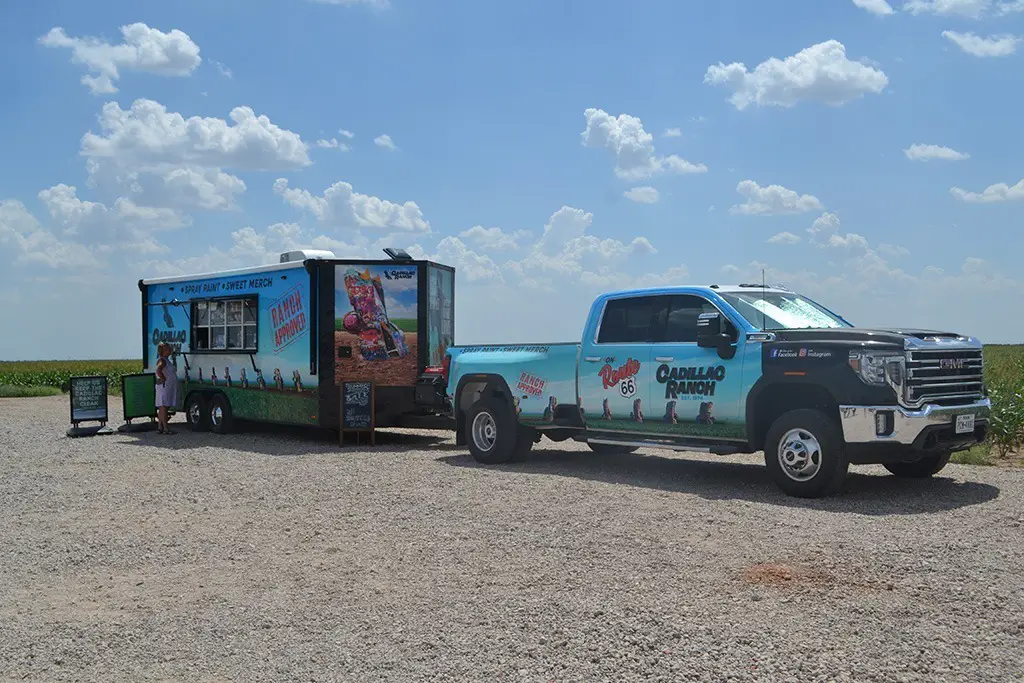 There's two more great things about Cadillac Ranch. It's free, and stretching your legs with a dose of creativity breaks up the monotony of that long patch of highway. P.S. Kids LOVE it!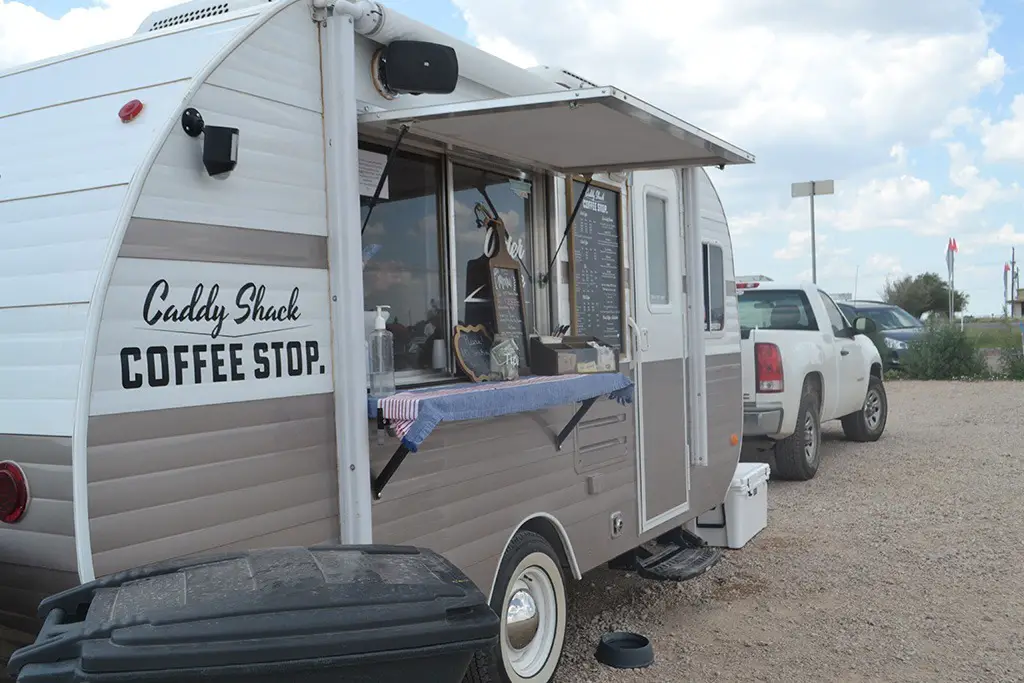 How far are you from Cadillac Ranch?