Sometimes we take the speed dating approach to travel. Being so close to Santa Fe while we were visiting in Colorado was literally just too much to bear. The hubs had never been and it had been eons since I had visited this Southwestern gem.
A quick 5ish hour drive from Littleton and we found ourselves meandering the historic Southwestern plaza of Santa Fe.
One Day in Santa Fe
Since we only had about 20 hours total to spend, it was a fast immersion into the local scene. We splurged and chose the recently renovated La Fonda on the Plaza Hotel as our home base because of the promise of a museum like experience inside.
This hotel was beyond our expectation! Aside from the 5 star treatment from all the employees, we fell fast for the historic building crammed with local art and Southwestern flair in every nook and corner.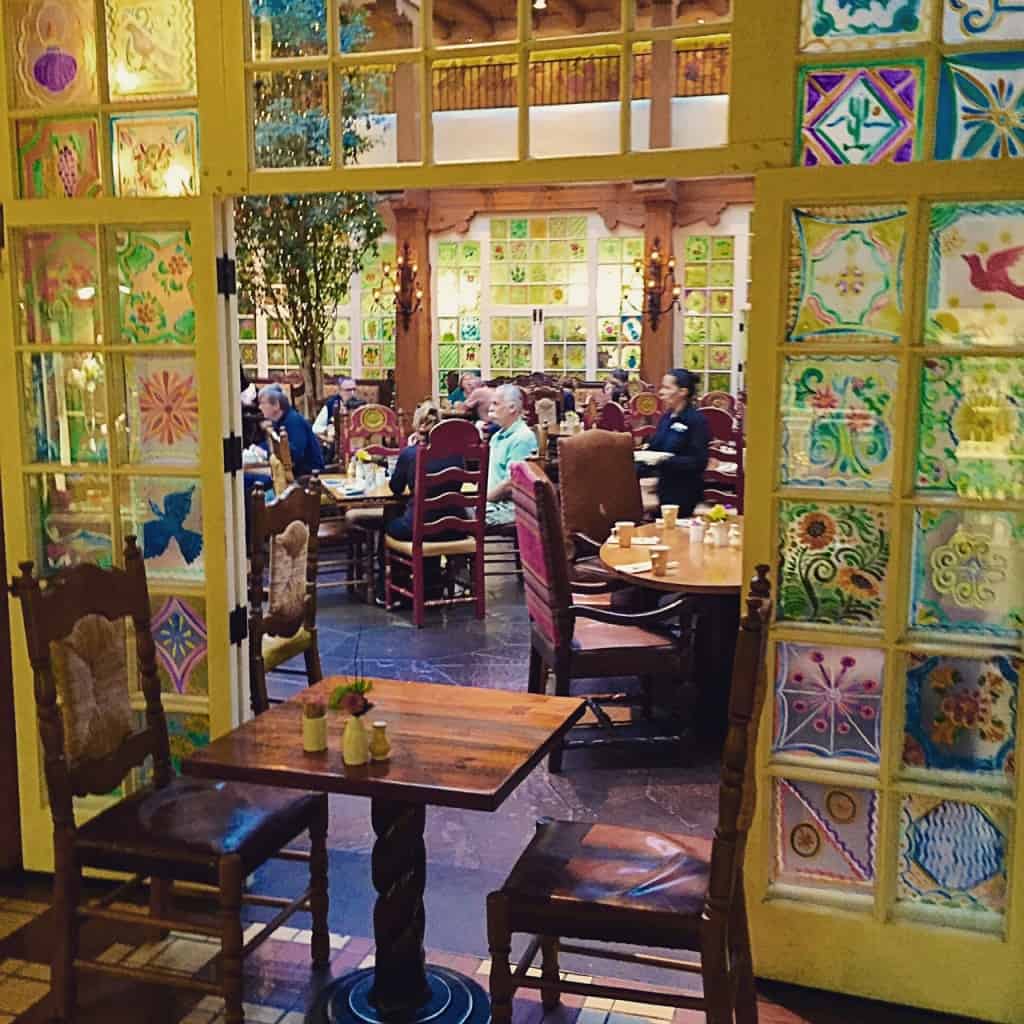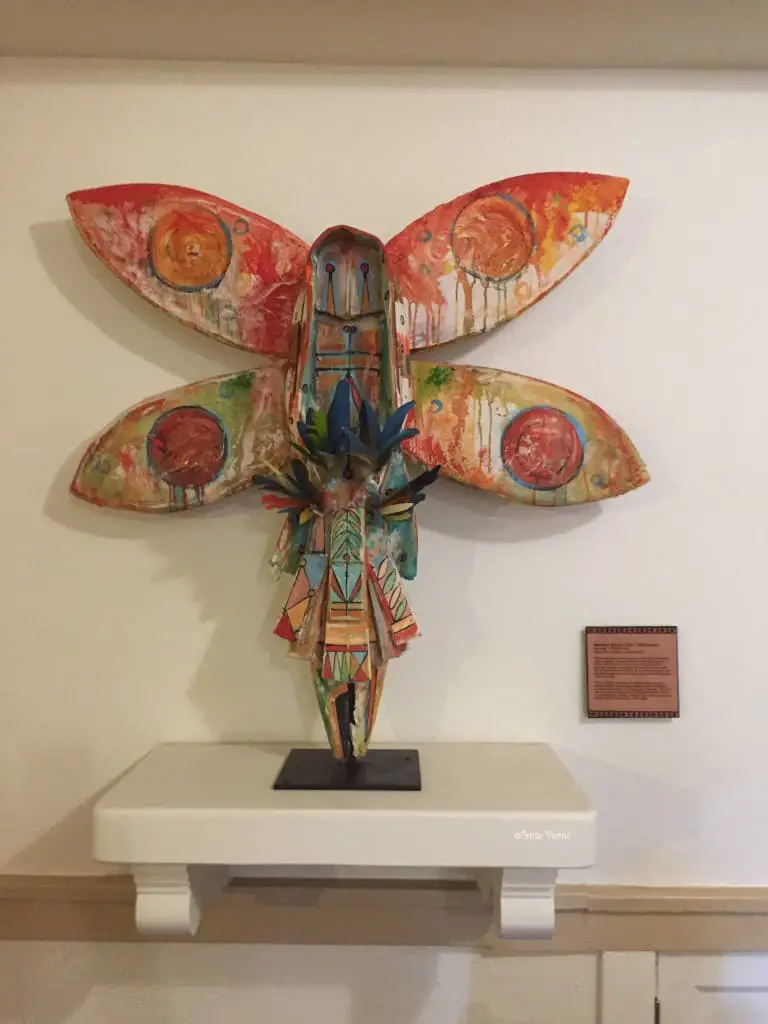 There are more than 400 hand-painted windows throughout the property!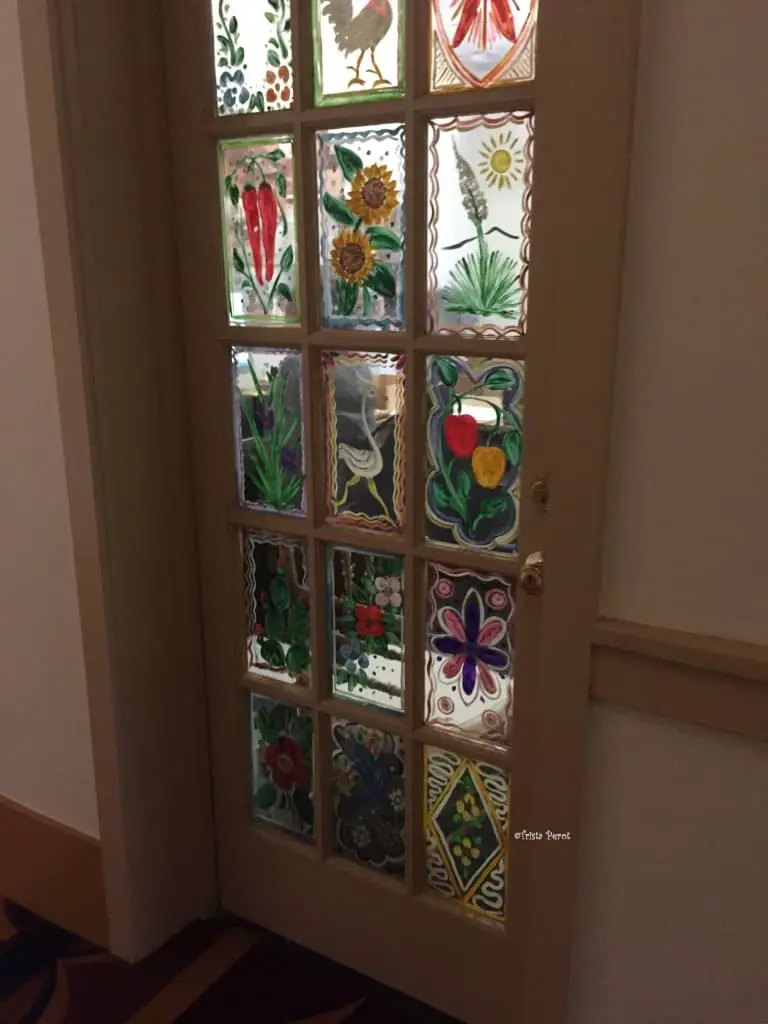 We literally made our pet-friendly reservation while en route, so I was a bit skeptical of what type of room we would get. I needed not worry. Not only did the puggies each get their own goodie bag of gourmet treats and plush toys,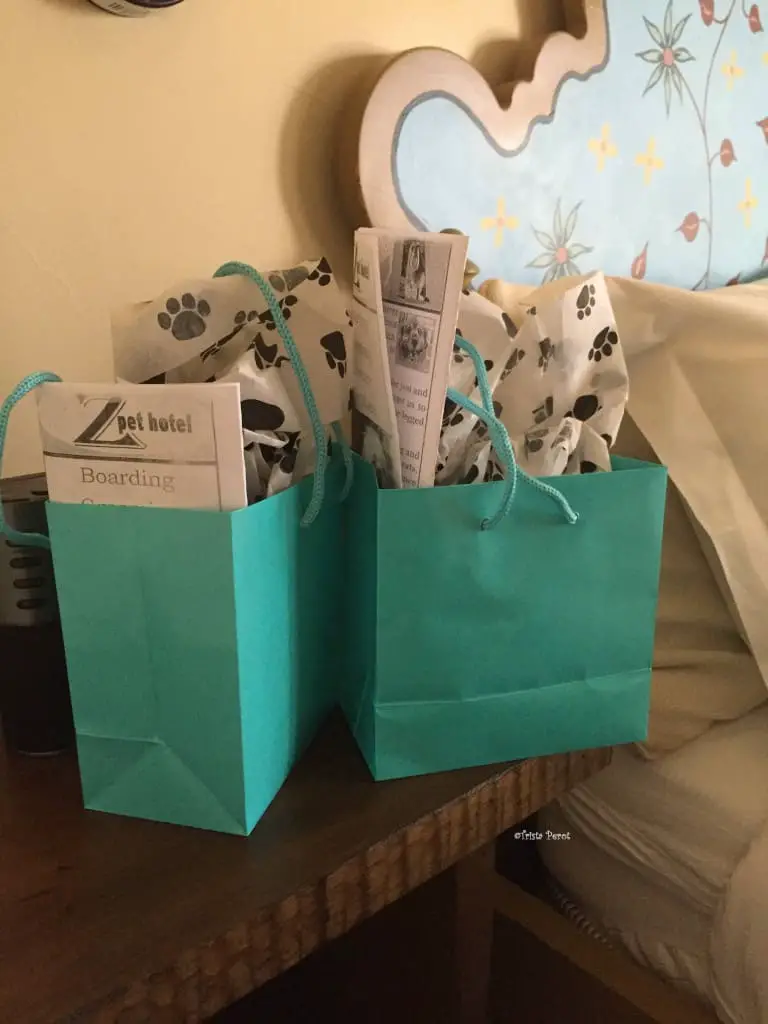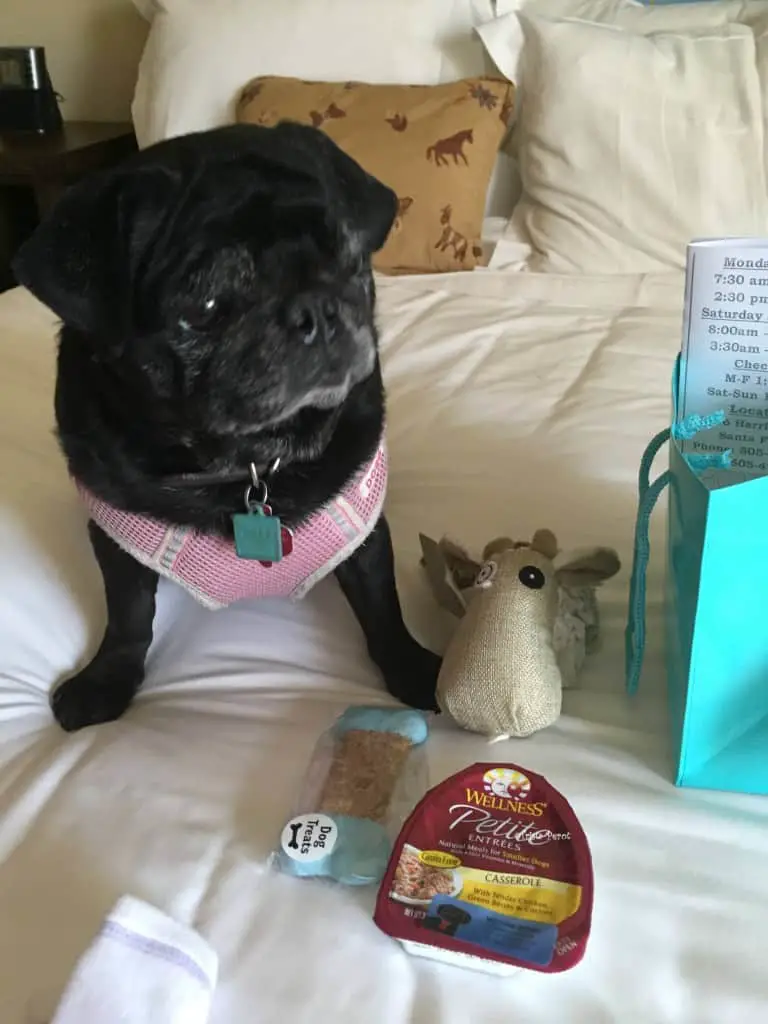 our somewhat smallish room was overflowing with upscale charm and southwestern flair.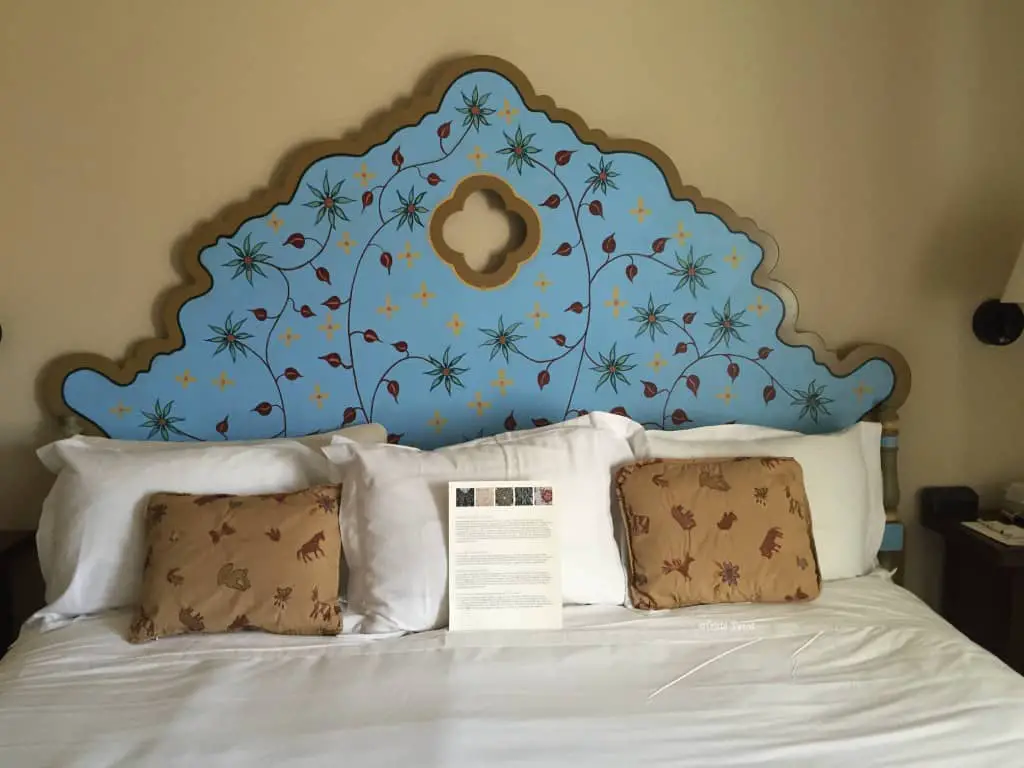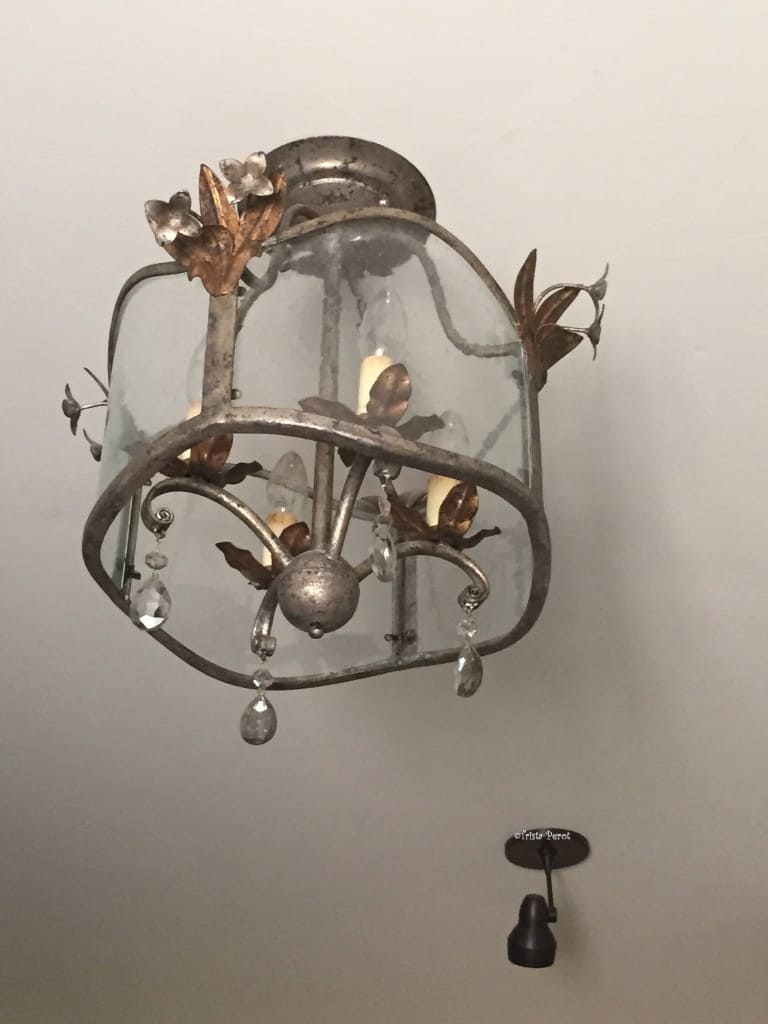 The mini bar and refrigerator were hidden behind here.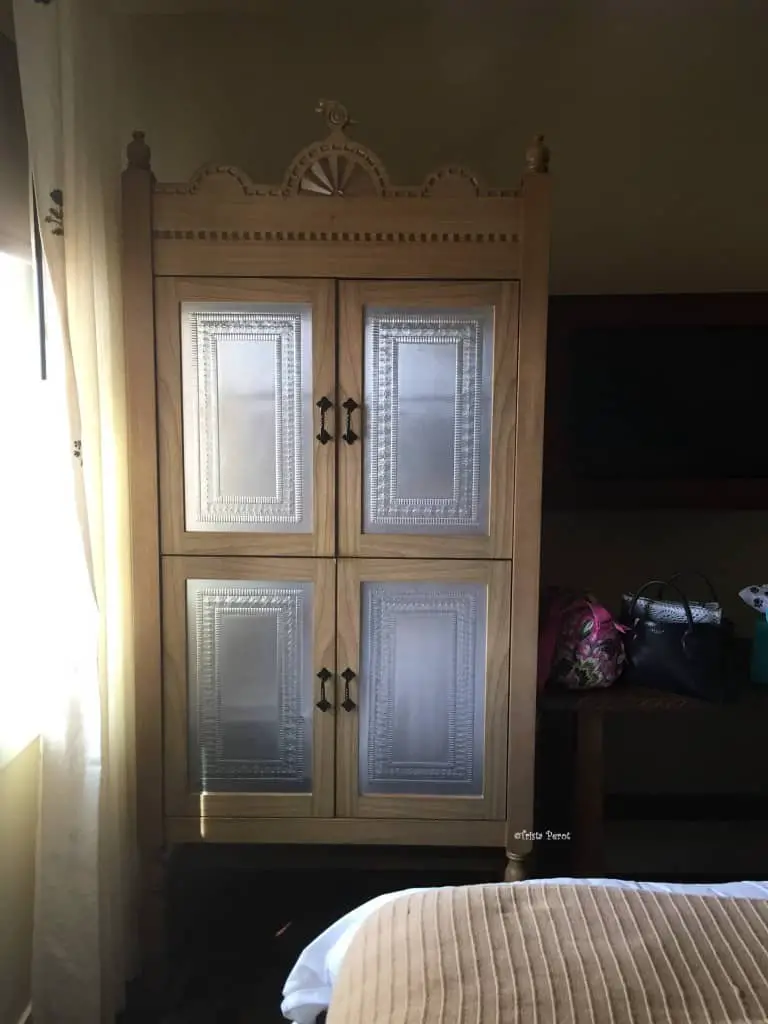 The shower had a custom tile feature.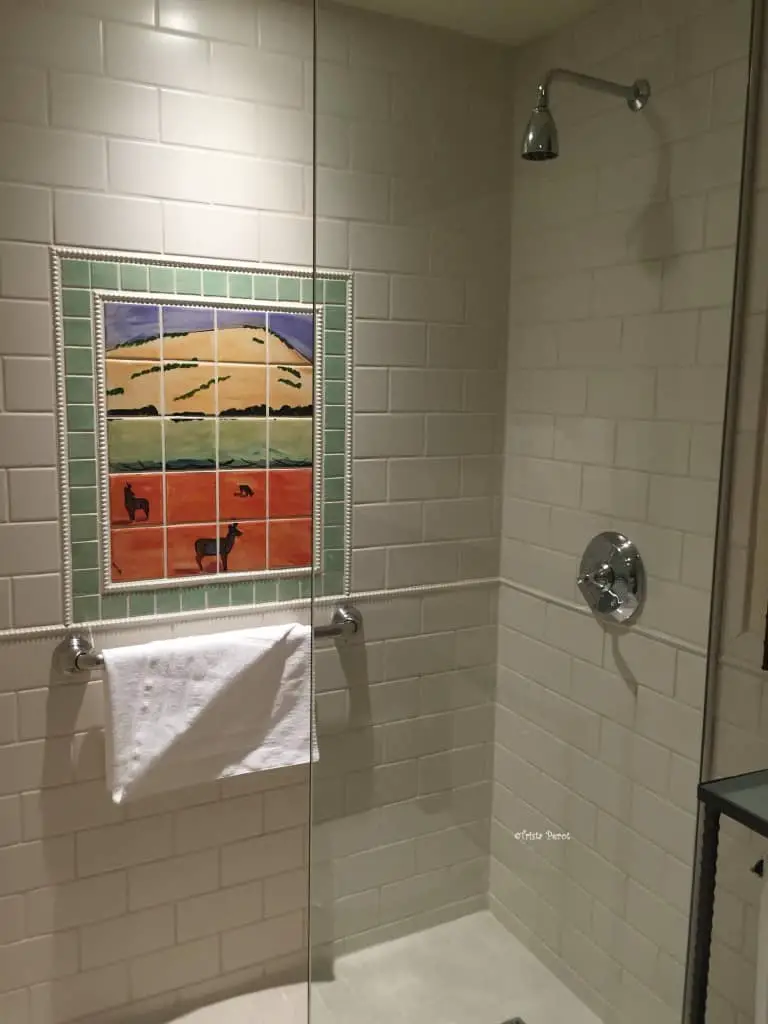 Beautiful custom towel racks.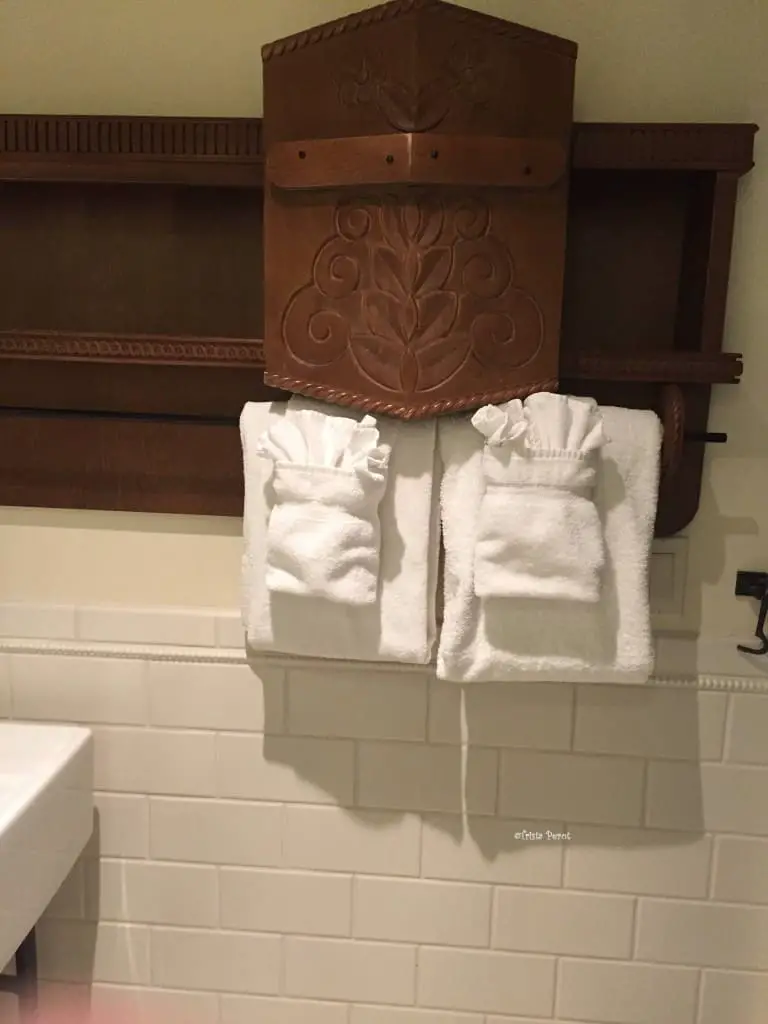 We could have explored its many boutiques (one of my favorite displays),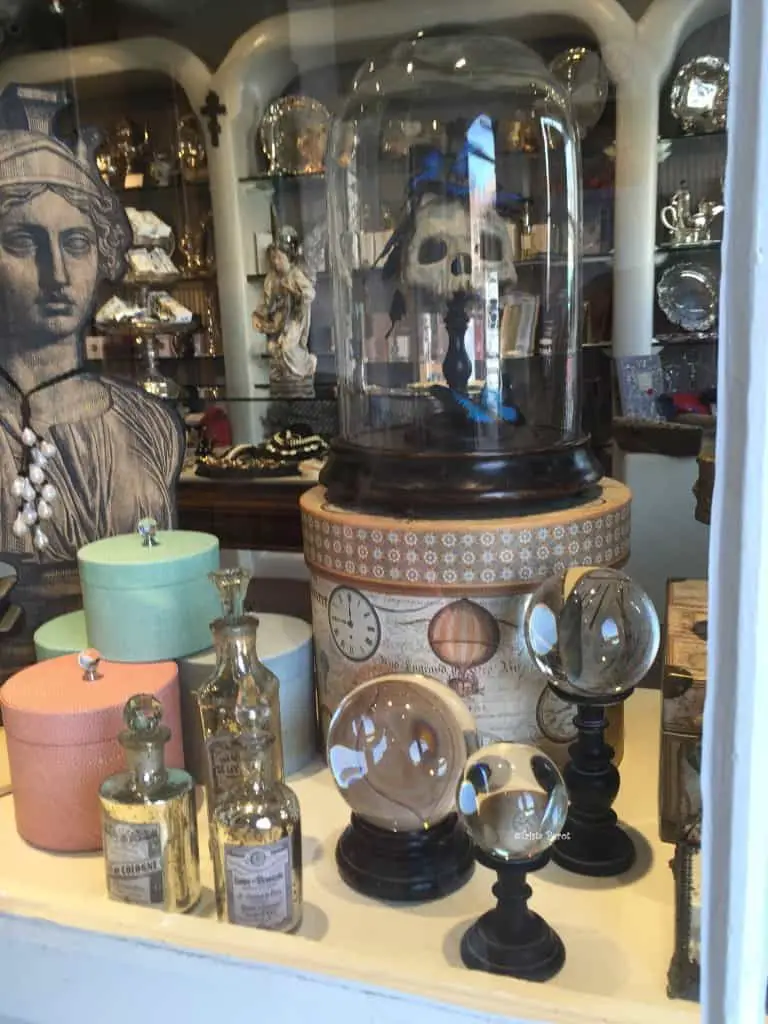 and Indian art all day, but again… speed sightseeing… so we ventured straight out to the plaza with the puggies to have a looksie. It was a bustle of activity considering it was a Wednesday afternoon, and thankfully (since I had been talking it up the whole way), the Indian market was open for business so we could purchase handcrafted jewelry.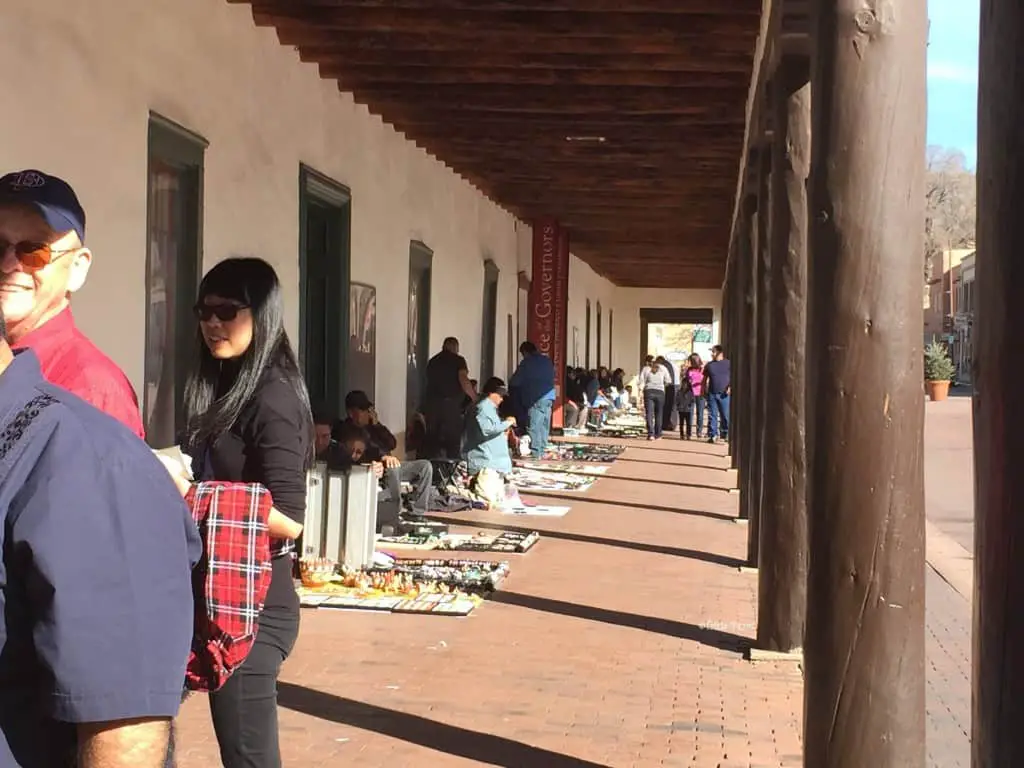 Weekends are the best days and most crowded to shop the beautiful artisan treasures as the blanket stalls are all full, but we had plenty to look at even mid-week. One Native American artist explained that in an effort to be fair during the tourist packed weekends, the sales spaces are drawn by lottery, and that each family is allotted one number only.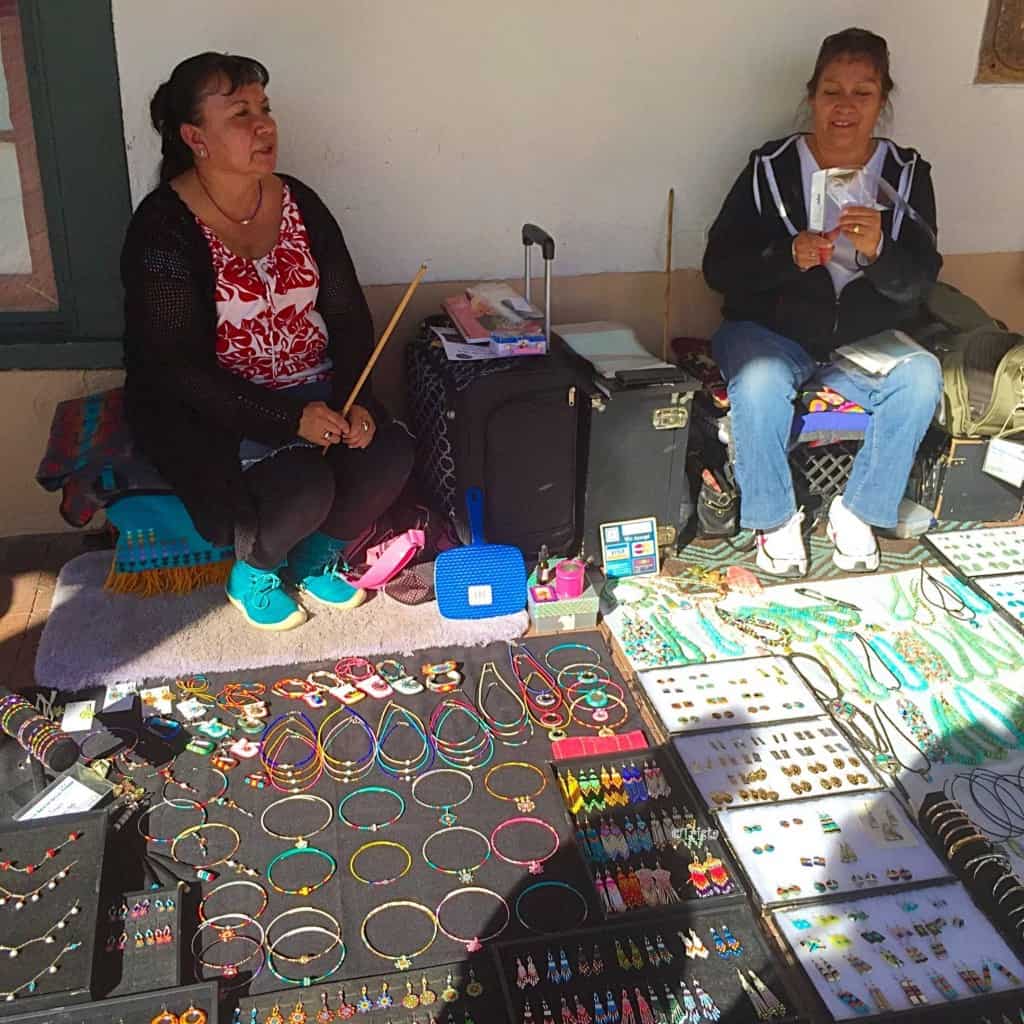 The plaza and streets leading out from the plaza are surrounded by countless boutiques and open air markets — and every one of them welcomed our puggies inside, some even offering bowls of water and dog treats. This Texas fur family is accustomed to splitting up when shopping, but I can attest to say that it certainly benefits the local economy when our 5-pack is encouraged to shop together!
The weather couldn't have been any prettier which makes the puggies' potty trips fun for all of us. While we didn't hit gallery road this trip, we did soak up some of the surrounding architecture and statues.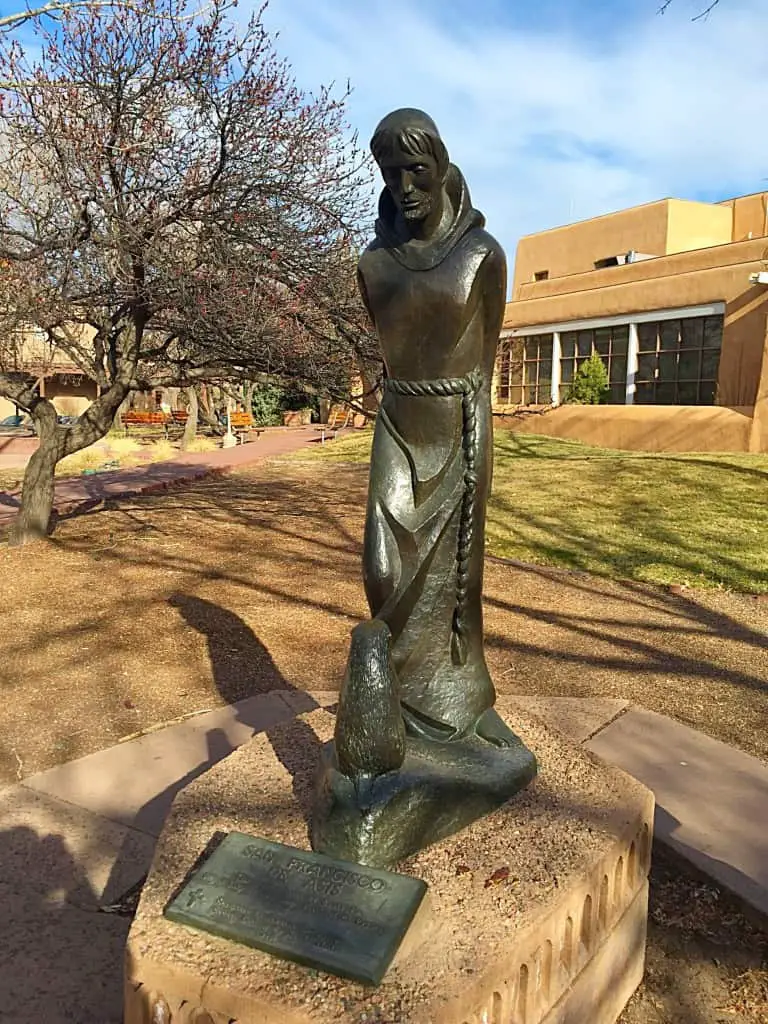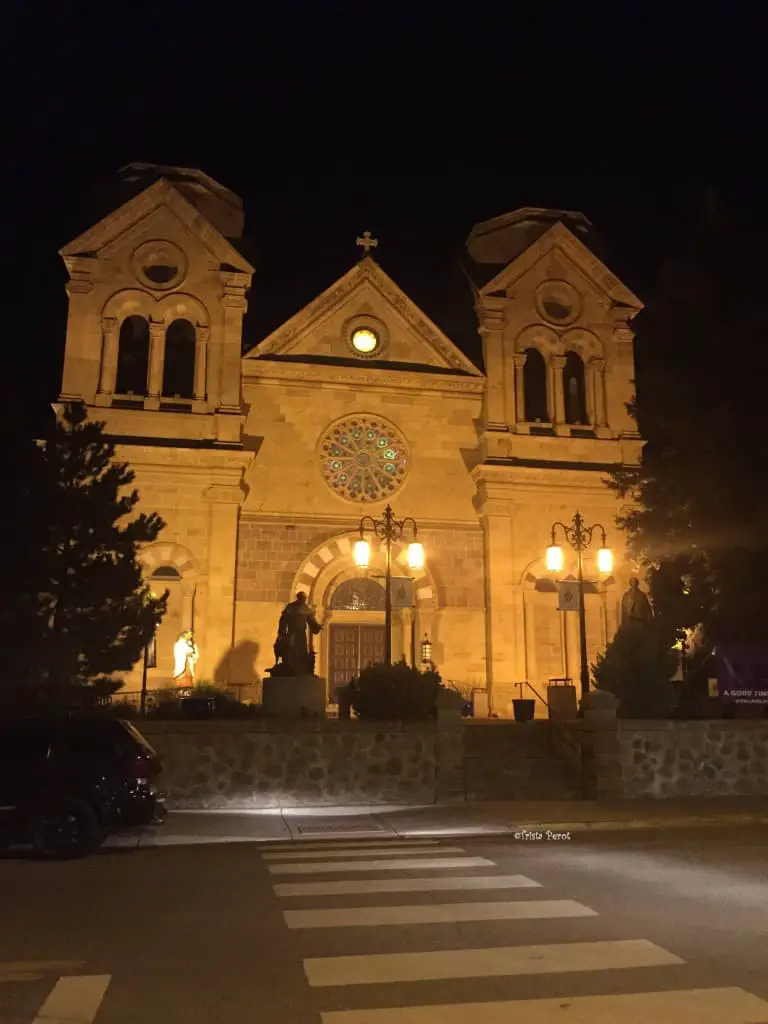 As dog-friendly as Santa Fe is, sadly the indoor restaurants still couldn't allow them in (lots of patio seating available for everyone though). Our concierge recommended The Bull Ring Prime Steakhouse for our steak-craving Cupcake, so the fur babies napped in luxury and waited patiently for the left-overs.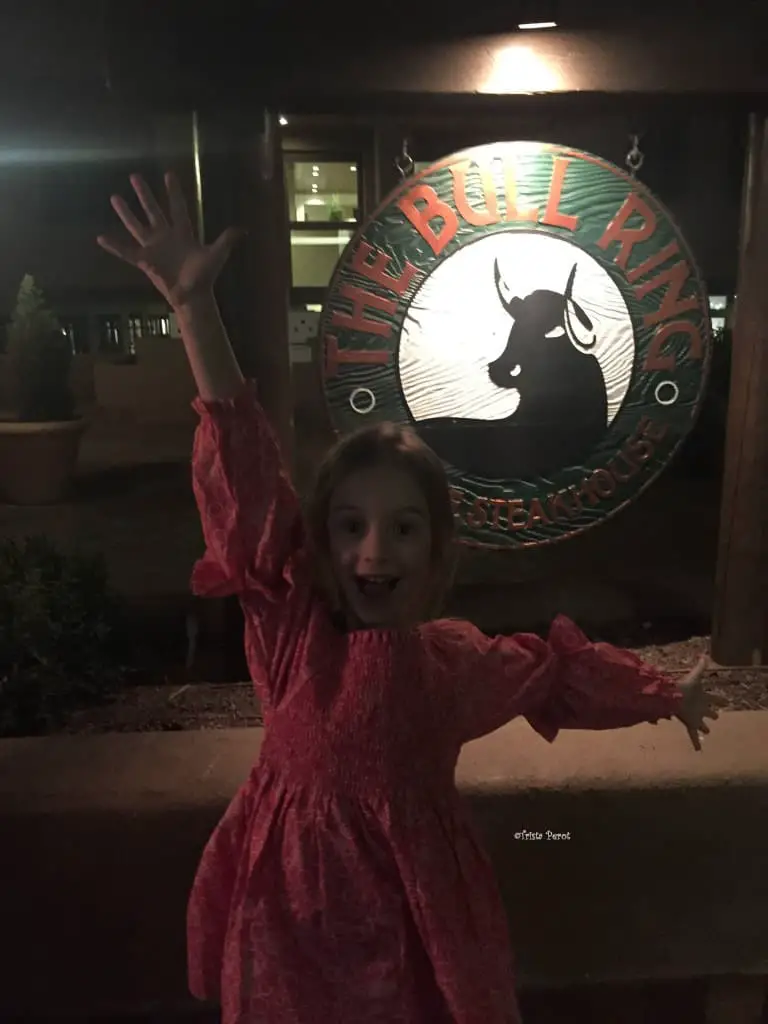 You'd THINK there would be leftovers from a porterhouse this size,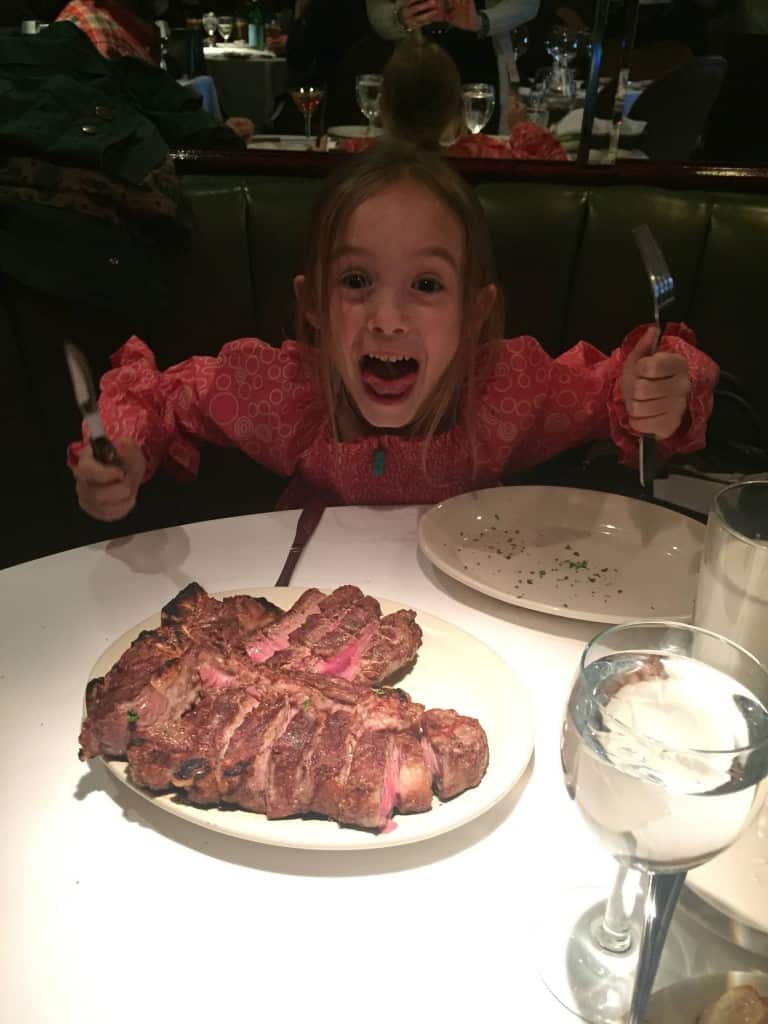 but if you can believe it, the bone was about all that was remained after Big Daddy and the Princess Cupcake got a hold of it. She somehow managed to find a second stomach for the decadent chocolate mousse, and I crammed a slice of heavenly peach raspberry pie into my face. Coincidentally, we sat next to a family from just outside Fort Worth, further proof that the 9ish hour drive from home is totally worth it.
The next morning, we found this great Beestro (get it? so funny) where the puggies got the rockstar treatment, and we got some killer pastries and espresso.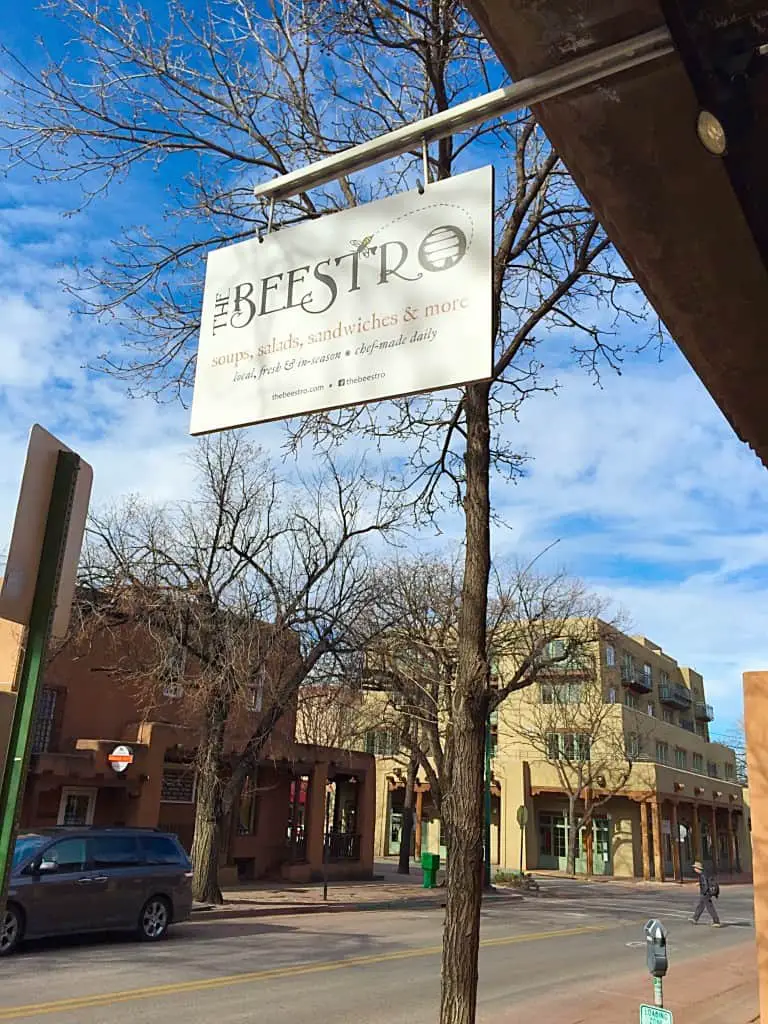 Shame on us for being belly up to the table when we missed Santa Fe's infamous sunset the night before. I know, I know… But we'll be back. I promise Santa Fe, all FIVE of us will be back!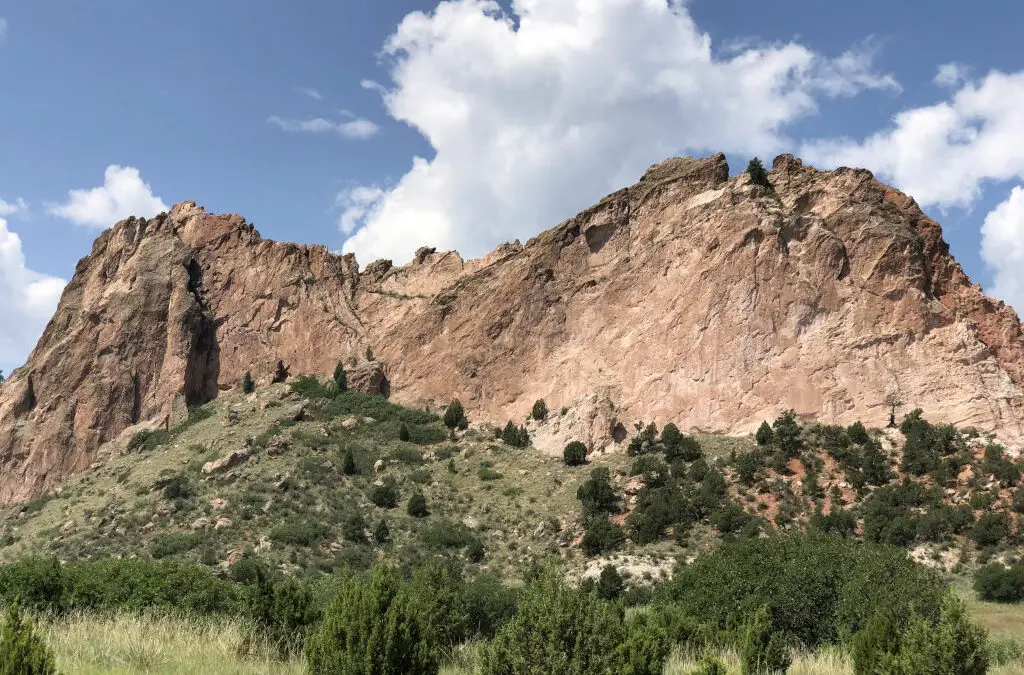 Click here for dog and family friendly activities you can enjoy in the Garden of the Gods Nature Park in West Colorado.
read more