This post is co-written by my talented, artistic friend and architect, Laura Davis, Vice President and Principal of hpd architecture + interiors. 
As dedicated crafters, we know how important it is to have a designated space for all my creative supplies. Let's face it, dining rooms can only handle so much glitter and glue.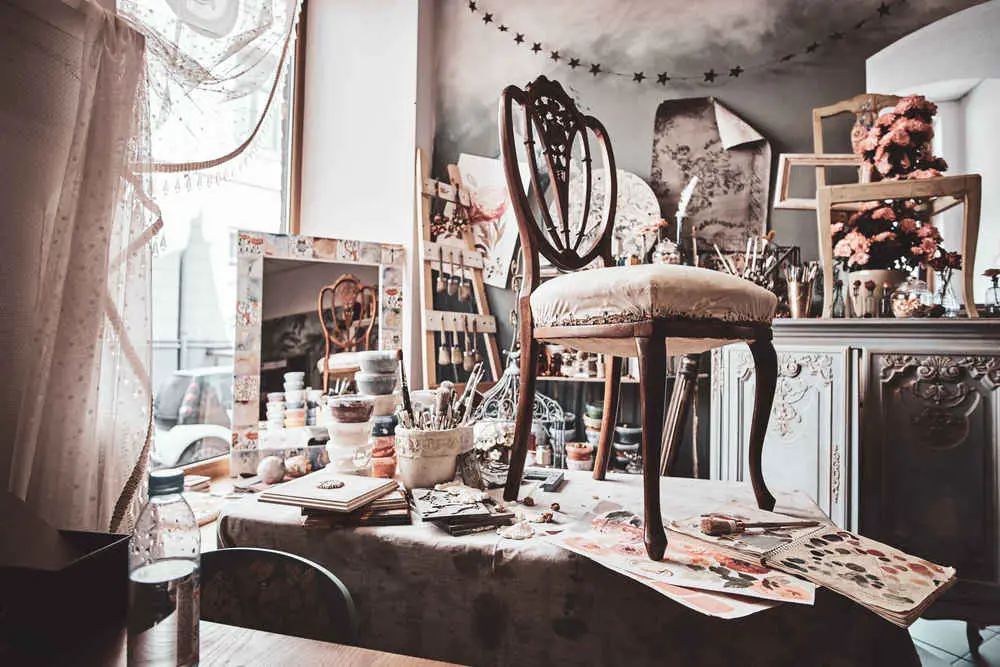 So, to get from craft room chaos to storage supplies serenity, what's a crafter to do? Here are some tips for creating a craft room or storage space in your home:
Crafting Closets and Cabinets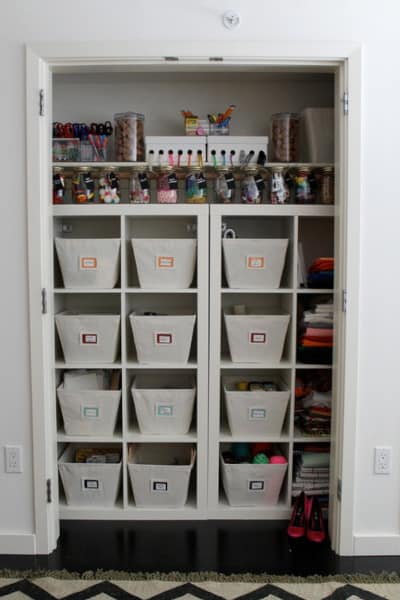 Closet craft space by Encinitas Closet Designers and Professional Organizers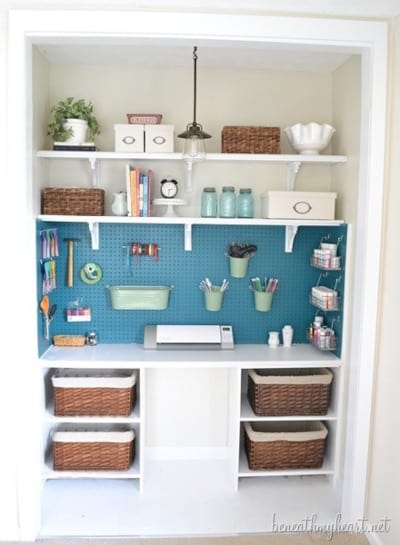 Clean Cut Closet by Beneath My Heart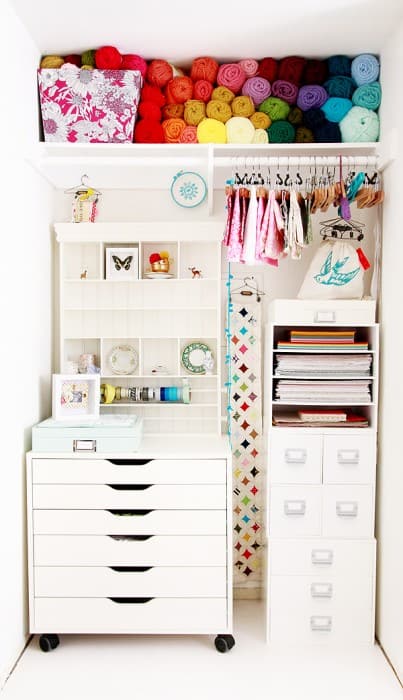 Closet craft space by Debee Campos
Limited on space? No problem! A crafting closet or armoire can be a lifesaver. Add some shelves and a desktop, and voila! You've got yourself a cute and functional craft station that can easily be hidden away when guests come over. Check out some of these inspiring closet craft spaces by Encinitas Closet Designers and Professional Organizers, Beneath My Heart, and Debee Campos.
Sewing Cabinets and Craft Carts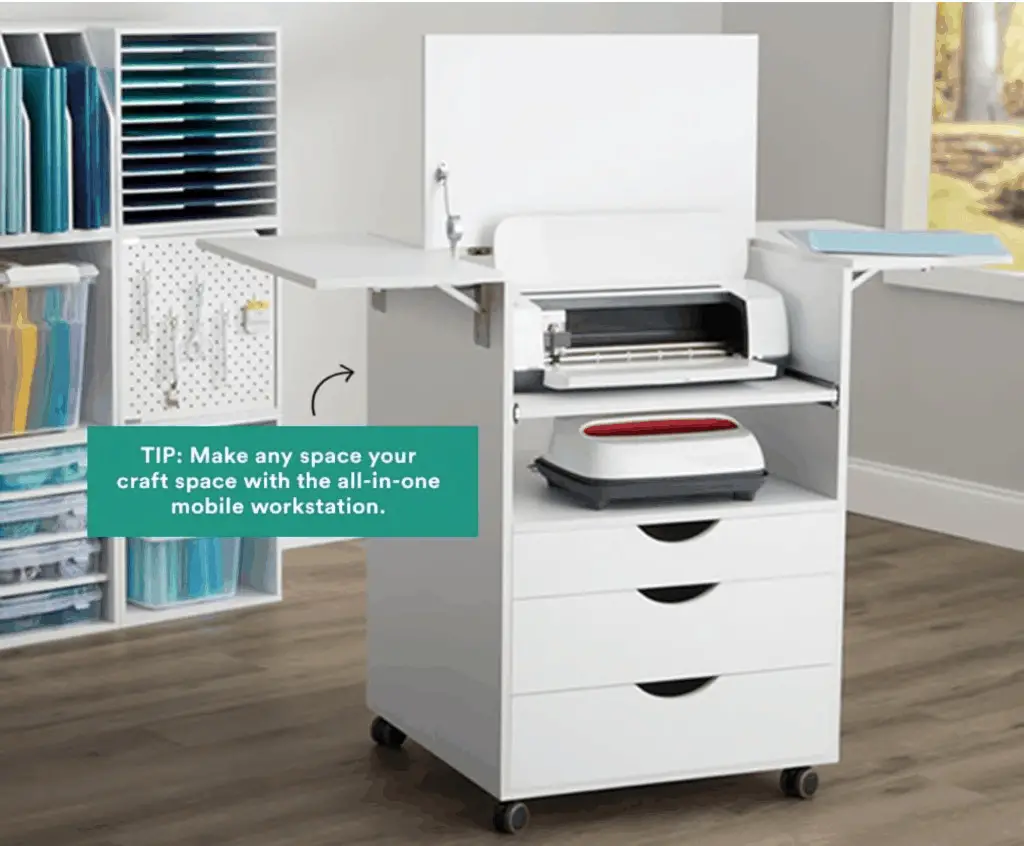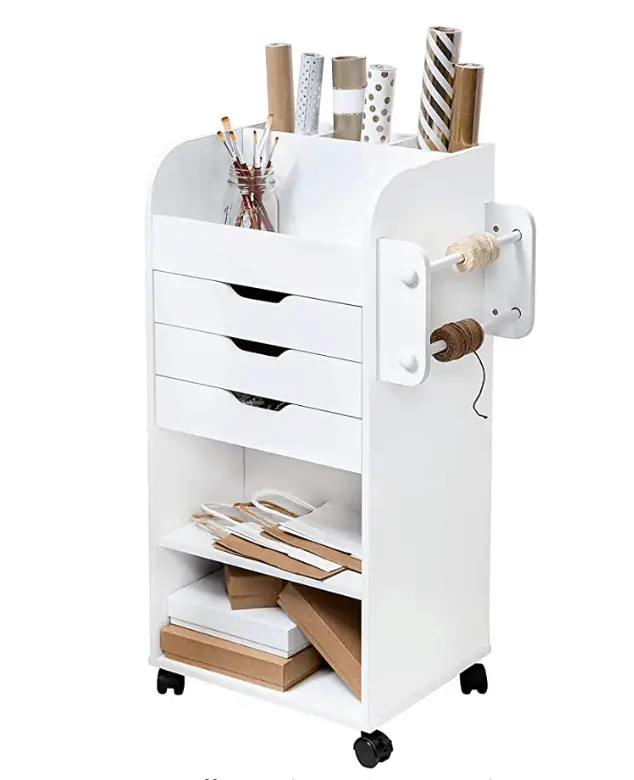 Crafting and sewing hobbies require a lot of supplies and equipment. Small open spaces can quickly become cluttered and distracting, but repurposed cabinets and rollaway carts can be the perfect solution. Michaels has an impressive line of rollaway craft organization that can easily be stored in a closet when not in use. You can also find craft and sewing cabinets and carts on Amazon. And if you're feeling adventurous, why not repurpose an old TV cabinet or armoire? Check out some examples of creative armoire craft storage by Design Improvised and Maple and Magnolia.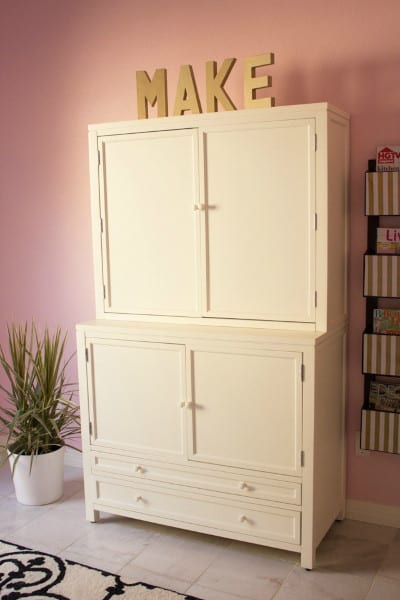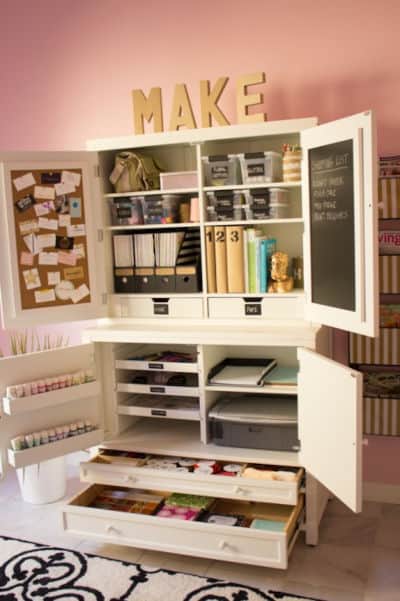 Armoire craft storage by Design Improvised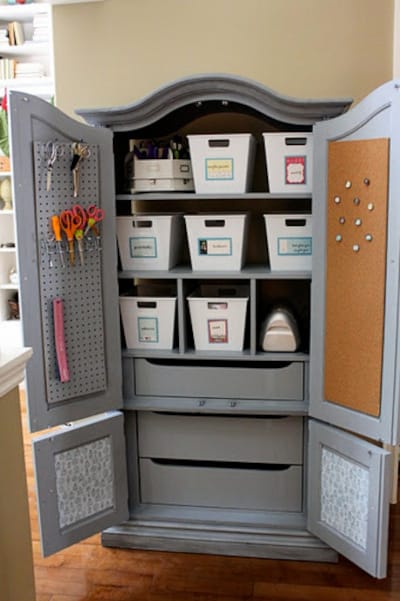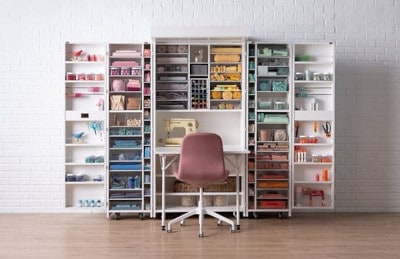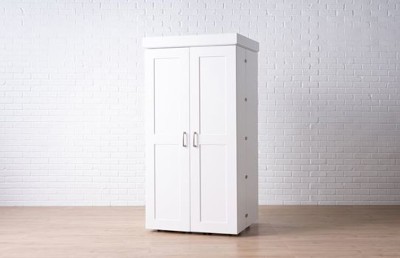 Craft Storage – The Nook Under the Stairs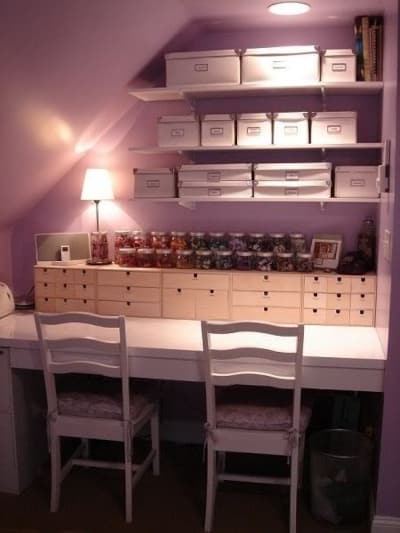 Closet craft space by Indulgy.com
If the space under the stairs was good enough for Harry Potter, it's going to be good enough for a crafting nook. Add a lock to the inside of the door to keep kids' sticky and curious little fingers out of your fat quarters and pinking shears, and incorporate an ergonomically correct chair for comfort. Check out some creative under-stair spaces on Indulgy.com.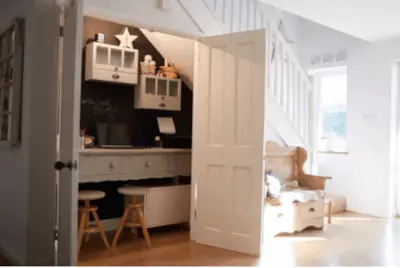 Craft Storage Spaces in Attics, Lofts, or Basements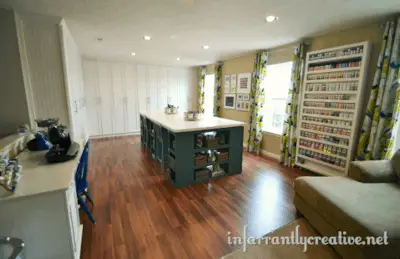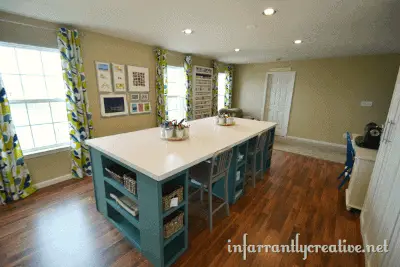 Basement space by infarrantlycreative.net
If you're lucky enough to have a larger space like an attic, loft, or basement, consider creating a craft island in the center of the room. This island should have shelves and cubbies underneath for storage. Lazy Susans with buckets and bins are handy for commonly-used tools, glues, and tapes. Check out some inspiring basement and attic spaces on infarrantlycreative.net, Wonderland Homes (shared on Houzz), and by @javabere on Instagram.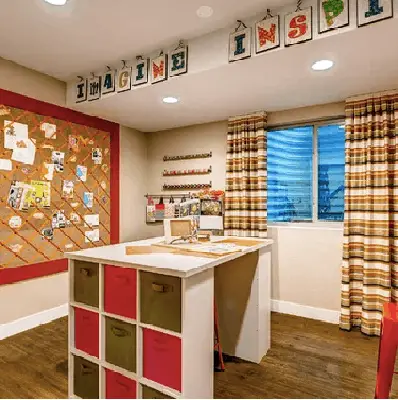 Basement space by Wonderland Homes & shared on Houzz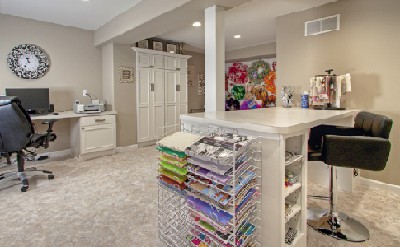 Basement space by Wonderland Homes & shared on Houzz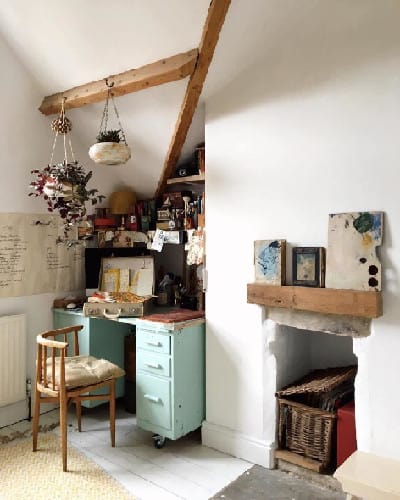 Crafty Attic space by @javabere
Dedicated Craft Storage Space in the Garage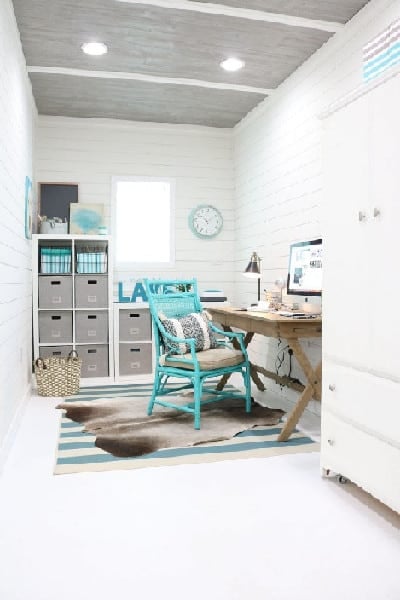 Who says the garage is just for cars and tools? Debbie Westbrooks from Refresh Restyle mapped out a 154 square foot section of her garage (after making sure there was still room for a car), built a wall, added shiplap, and hired an electrician to add lights and outlets. Check out her functional and aesthetically pleasing crafting space in her garage.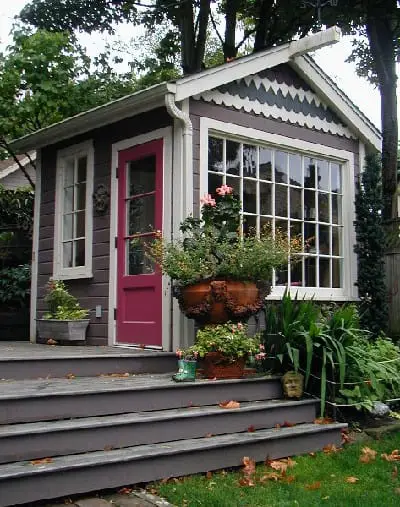 She Shed by Involvery in Residency Style
Last but not least, why should men have all the fun in their man caves? Ladies, it's time for a "She Shed"! Whether you purchase one ready-made from Amazon or build your own with plans found online, She Sheds are the perfect retreat to escape, relax, and create. Check out SheShedLiving.com for more inspiration.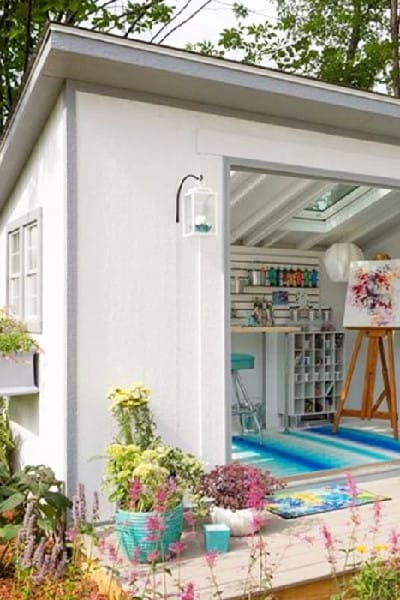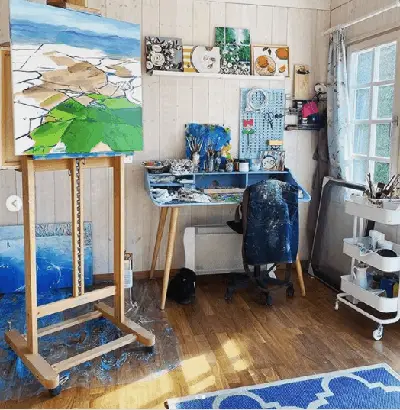 by @sophiesoyer.art 's studio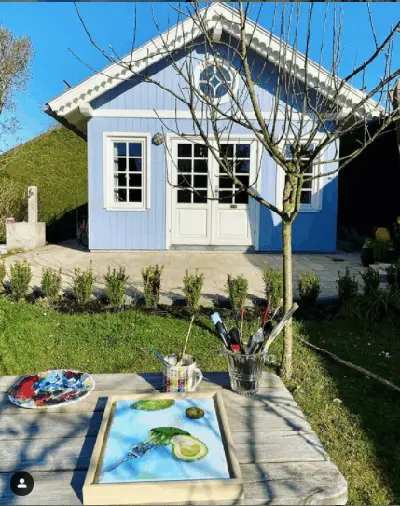 by @sophiesoyer.art's studio
In conclusion, getting a grip on craft room chaos can be challenging, but it's totally worth it. Get creative with craft storage and make the most of your space. And remember, just because it's a craft room doesn't mean it has to be boring – add some personality and style to make it uniquely yours!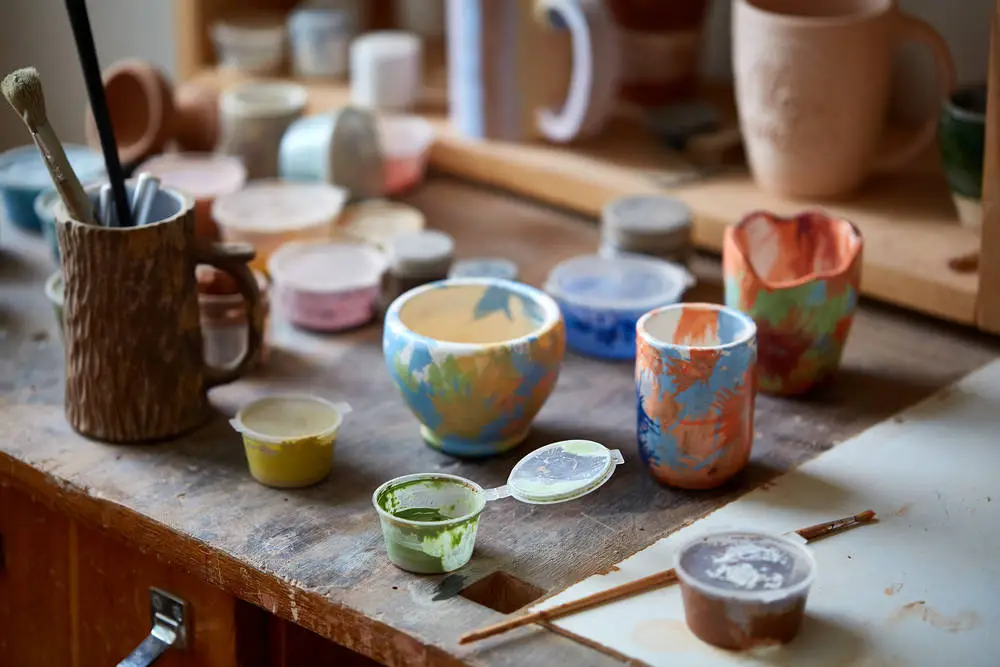 Depending on how dedicated a crafter you are, these craft room ideas may help you plan and organize your perfect workspace.
read more