The last stop on the 2021 Perot Family Vacation was to Taos, New Mexico. This has been a bucket list city for me after spending a few visits to Sante Fe. This creative old town held the promise of great food, amazing art, and as much old adobe that my heart could handle.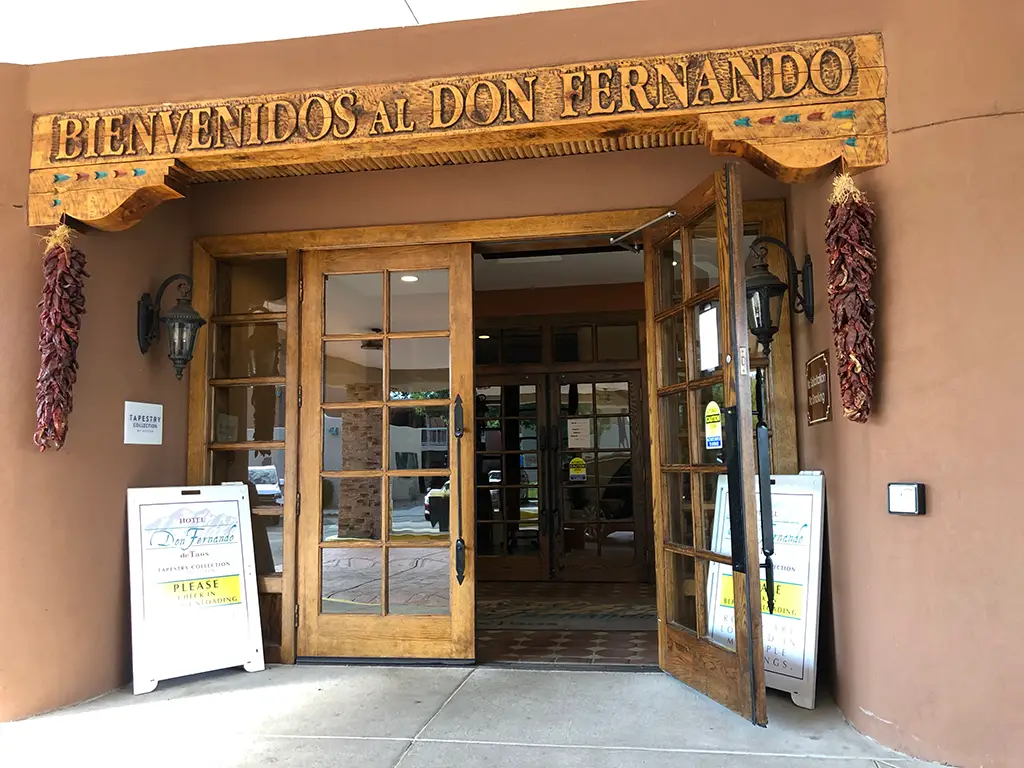 Arriving at night in Taos is a little bit of a fail. The quaintness of the city is lost under the shadow of darkness, and like many "mountain towns," Taos also shuts down around 8 p.m. We pulled into the Hotel Don Fernando at almost 9 p.m. on a Thursday evening and were greeted at the door with a sign stating they appreciated the guest's patience as they were extremely understaffed. The front desk staff, (oddly un-uniformed), quickly apologized that the restaurant was closed and the bar was wrapping up within minutes. 
So my expectations were lowered, disappointed even because we were on the verge of hangry. But, she made up for it by offering a printed list of restaurants (again, all closed for the evening) and sites in the area that we would enjoy the next day. 
How did I find this hotel? Thanks to the Google, I searched online for specific criteria and this one checked every box: 
a) in Taos,
b) a Hilton property so I could get points,
c) a Tapestry Collection Hilton hotel which is a Hilton brand of hotels that have a unique experience and independent character,
d) pet-friendly,
e) decent room rate, and
f) it was relatively central to everything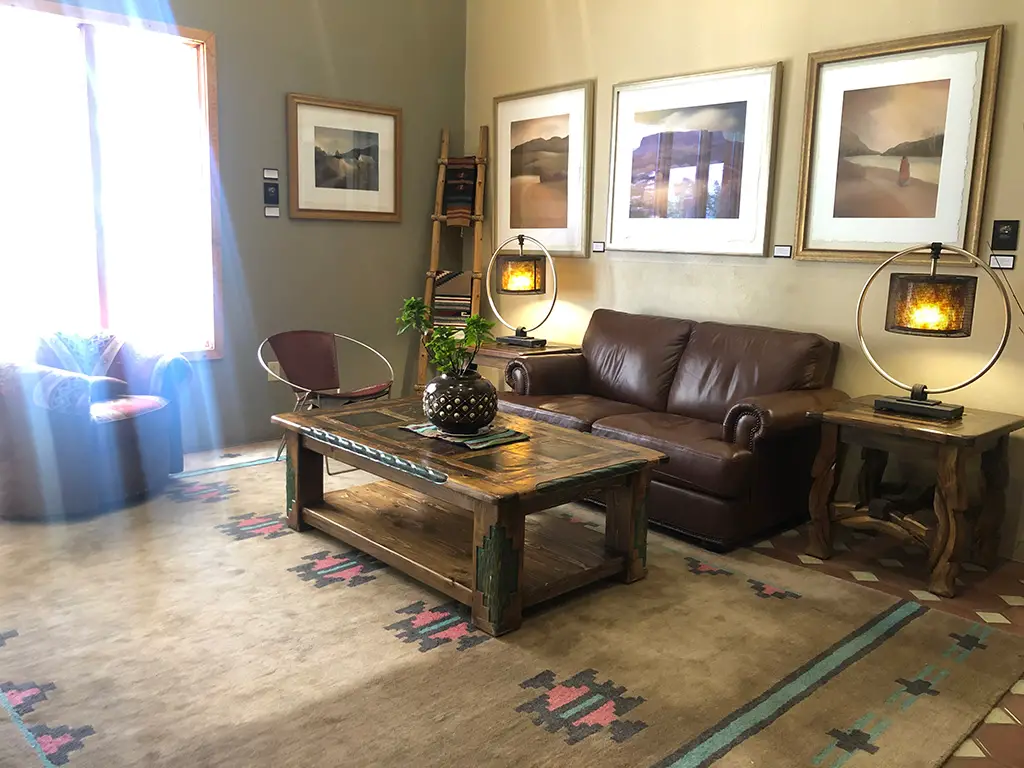 Once I got past the shock of no food or drinks, I could see that their multi-million dollar renovation in 2019 was a great investment. The hotel bar was quintessential upscale cantina and was buzzing with happy travelers, the lobby a veritable southwest gallery begging you to curl up in a serape chair with a copy of Cowboys and Indians. The space was incredibly inviting and I desperately wanted to unwind from the drive in that very space.
But…. I had a teenager and two dogs with me so the hubs and I weren't lucky enough to sneak in a last call. 
I was pleasantly surprised however, at the building layouts. There are 6 of them, no more than 2 stories each. The interesting manner in which they are laid out is that each building has an interior courtyard, and the parking is only steps away. There are indigenous flowers and bushes nested with southwestern-style benches and distinctive statues throughout the property. It was nice to stroll among the buildings each morning.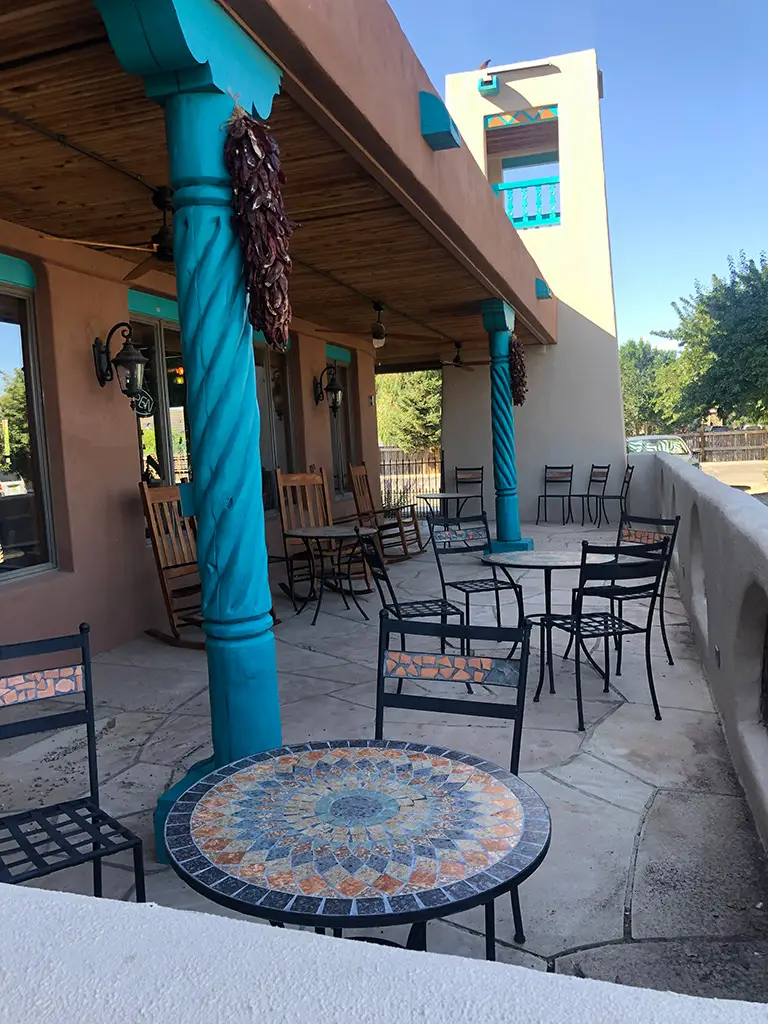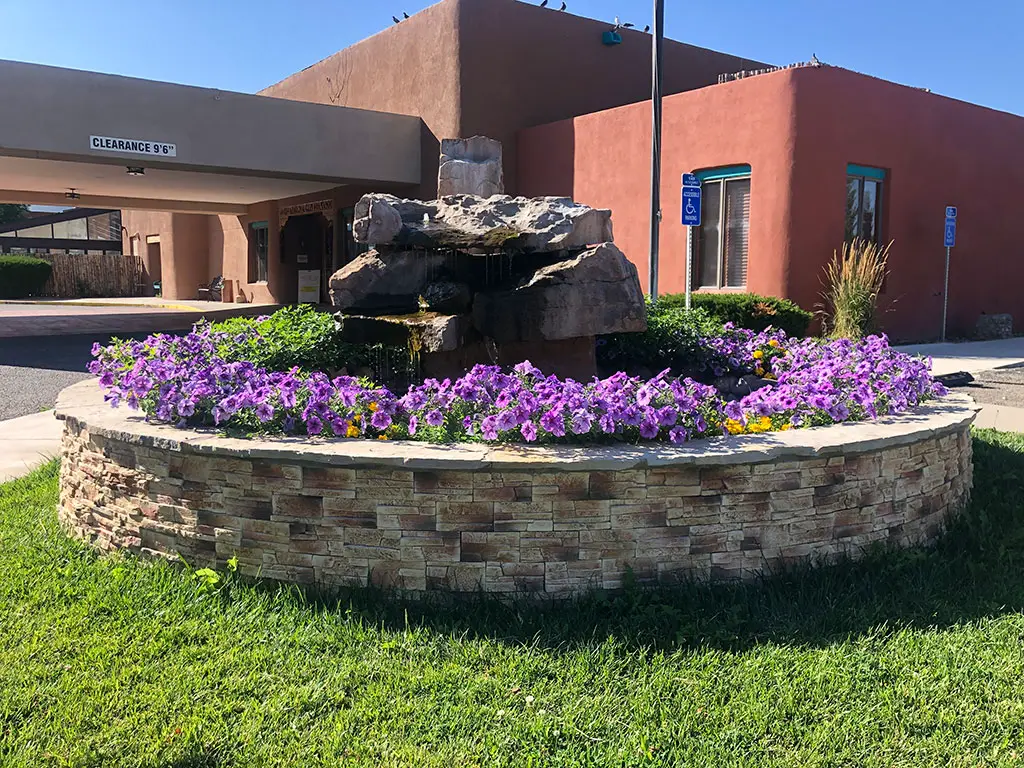 We had a bottom floor room, and interestingly enough, the rooms were not in parallel like a typical hotel. It almost seemed that they were positioned like a jigsaw puzzle so that no one had shared bedroom walls. I can't confirm that, but it was an interesting layout.
When we opened the door, we were greeted with a dramatic photo mural of a collection of clay pots. The fixtures were all copper tone and contemporary. The chairs were hacienda-style with distinctive serape cushions. The beds were on lower platforms with no box springs – perfect for the dogs to hop up on, and us to fall into. And the mattresses were very comfortable and the pillows not too hard and not too limp.
The bathroom though. It had this super cool faux brick tile in the shower, faux wood tile floors and a hammered copper sink – which was so chic, but ultimately I found it to be a bit messy. I loved the super large counters because when you have three people and 2 dogs traveling together, you need a lot of counter space. I wasn't mad about the Crabtree and Evelyn verbena and lavender toiletries either.
Dog-Friendly Hotel in Taos
I mentioned earlier that being dog-friendly was one of the prerequisites of our choice of accommodation. So, did Don Fernando tick that box? Look at the pics of my four-legged friends chilling in the room and let me know what you think.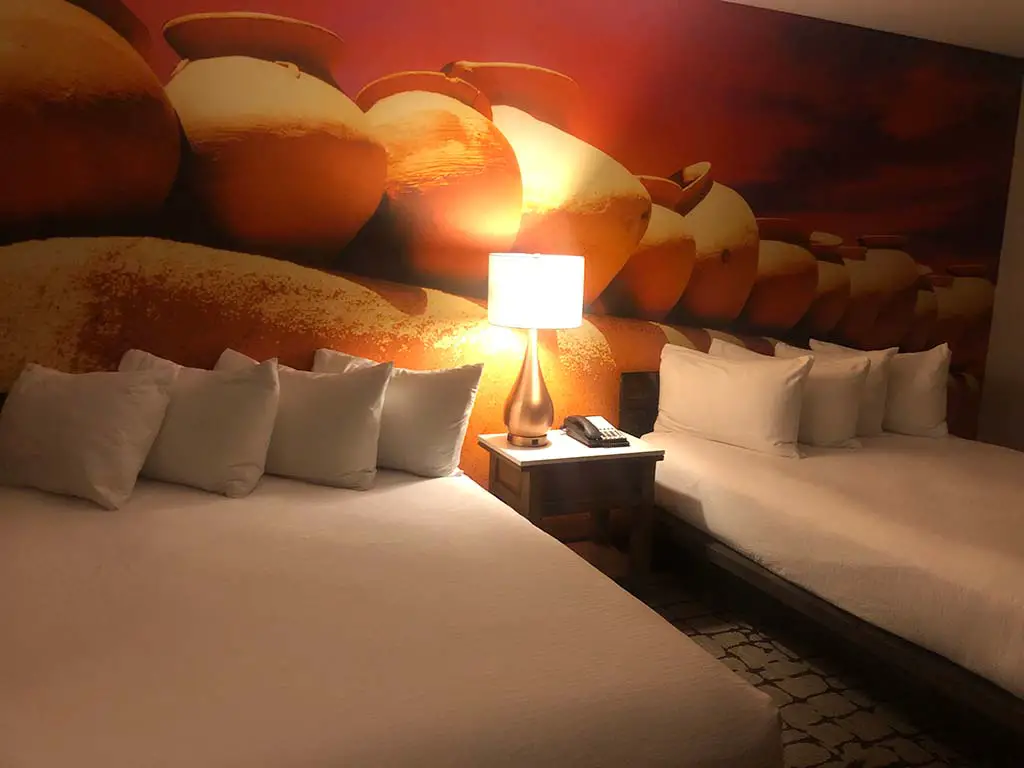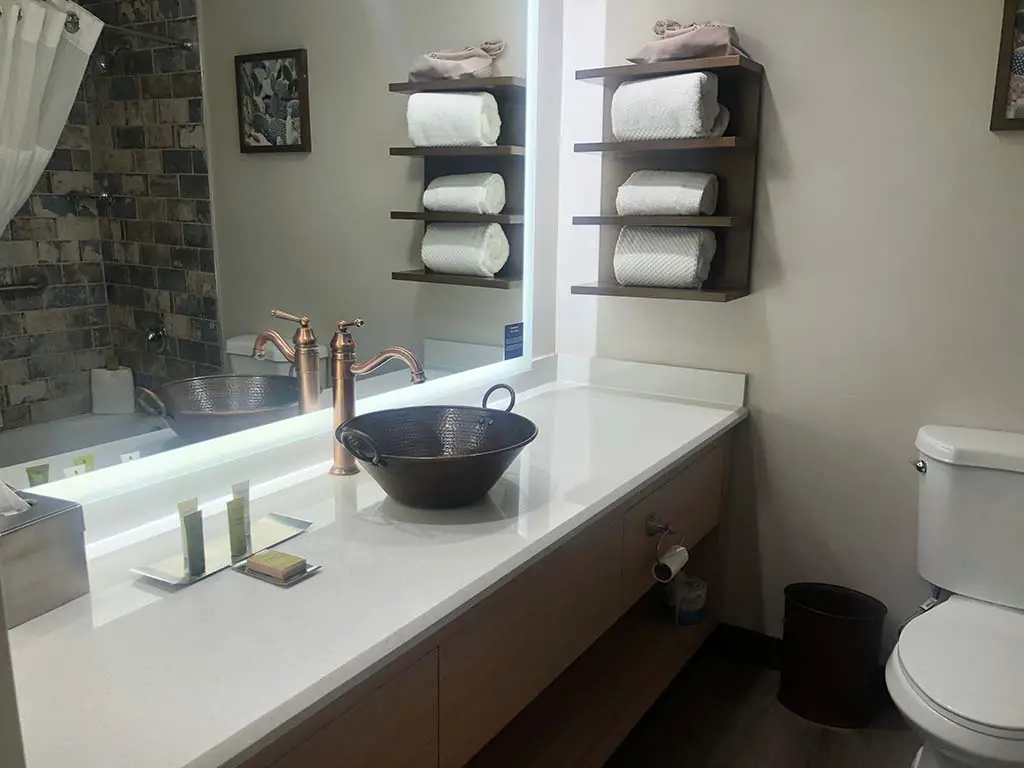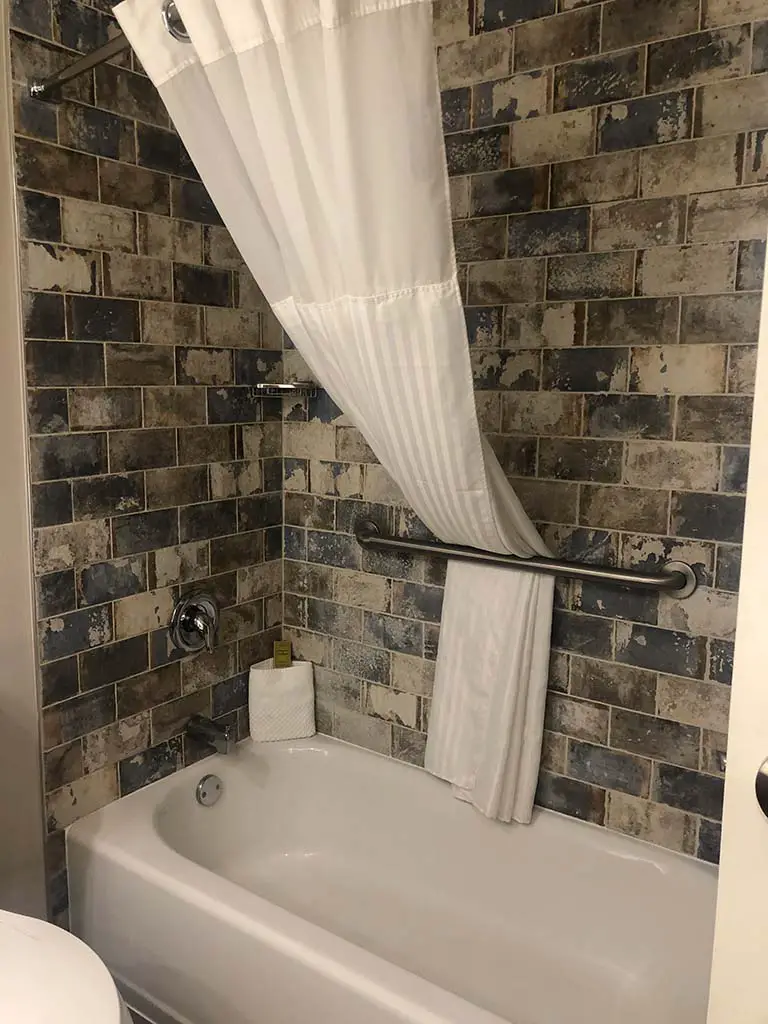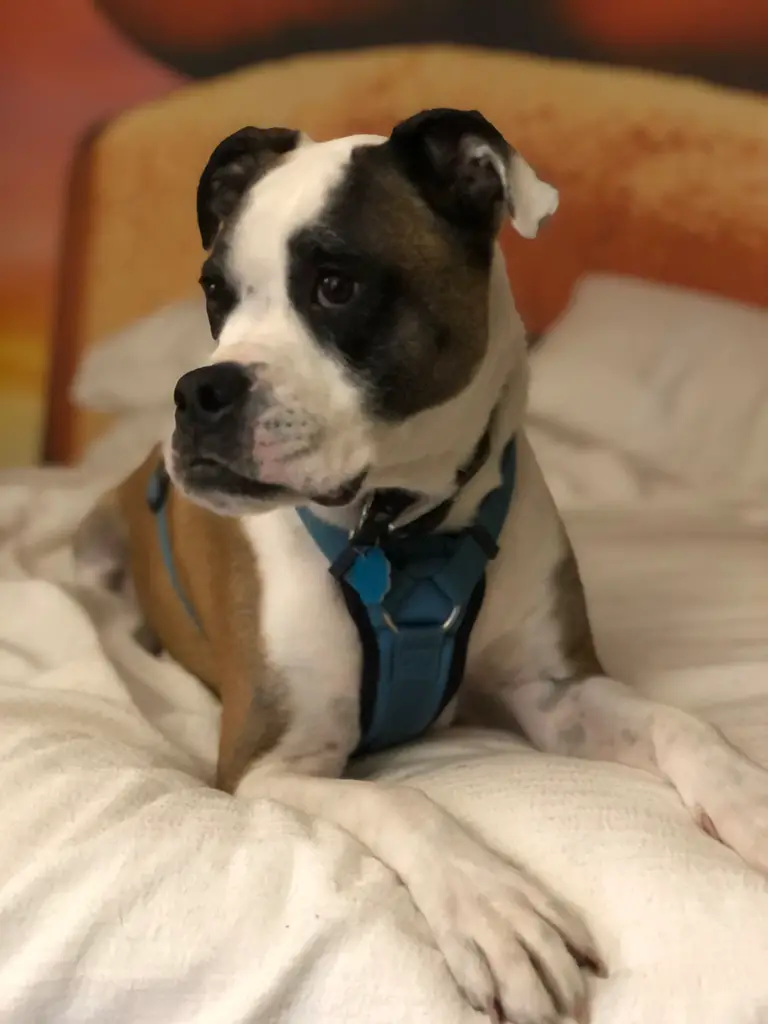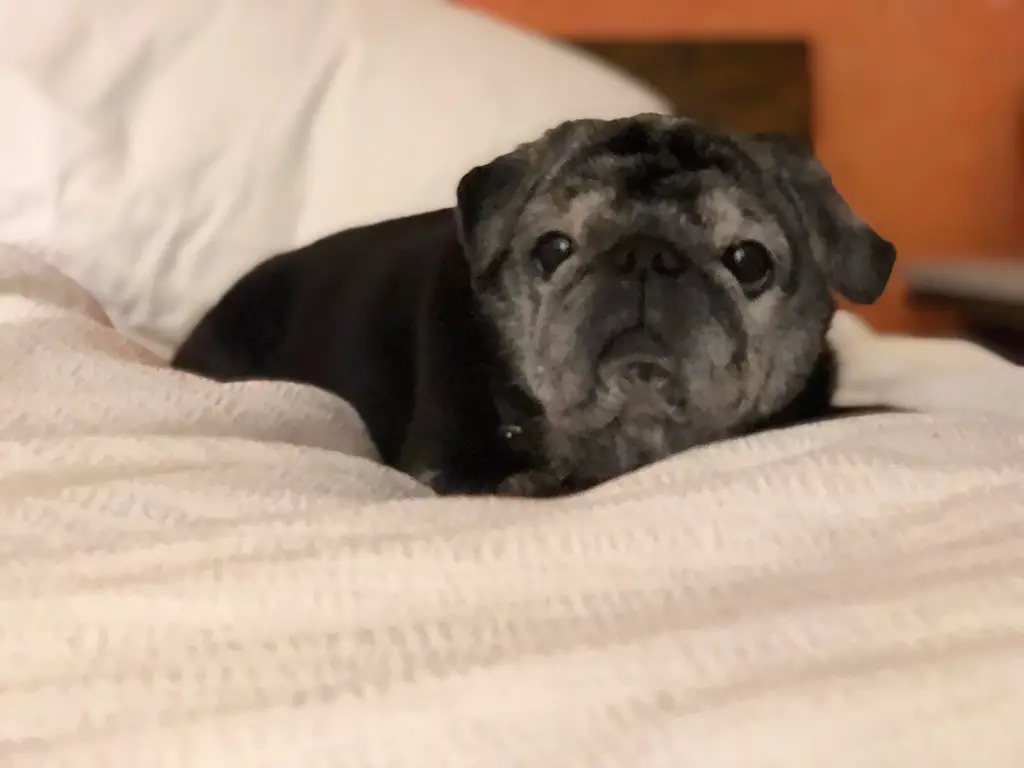 Bonus for the pups was that there was a pet station at the back of the property. The landscaping throughout was mostly rocks so they weren't keen on that, but we managed to find a patch where the clover was peeking through enough for them to think it was grass and take care of their business. Other amenities that they couldn't participate in? The indoor pool and workout room.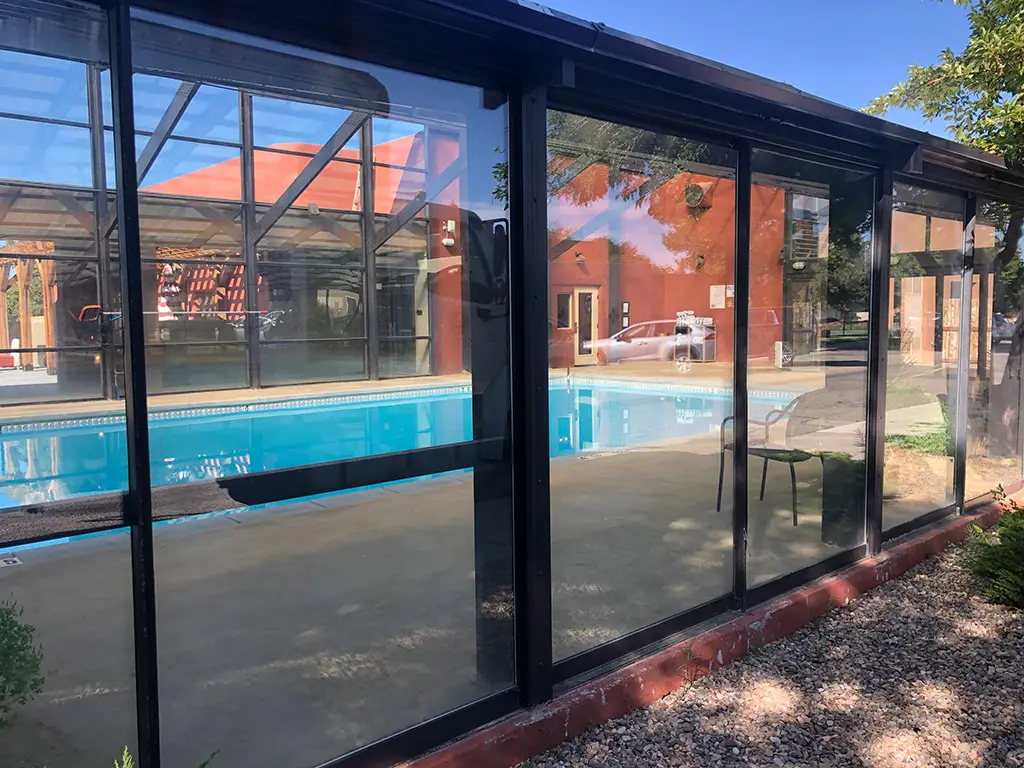 Of course you want to take your pup with you when you are going out. Click here for a list of dog-friendly establishments in Texas that let you bring your four-legged best friends with you for the day.
As far as the other amenities, Hotel Don Fernando gets BIG props for having air conditioning (a concern after our Breckenridge stay), microwave, coffee station, and fridge. Let's not forget the mega flat-screen TV that we binged the Olympics on during our downtime. There's also an indoor pool and exercise room.  I could easily stay here a week. 
So was it all perfect? No. But my complaints all fall onto housekeeping issues and 100% forgivable considering the circumstances: When we arrived, there was a bag of dirty laundry outside our door, we didn't have enough of the bath sheets, there was a stain on the bathmat, and the body lotion was previously used. 
 Would I stay here again? Definitely. Would I recommend it? Absolutely. I found the front desk to be very helpful, the rooms comfortable, and the aesthetic authentic for Taos.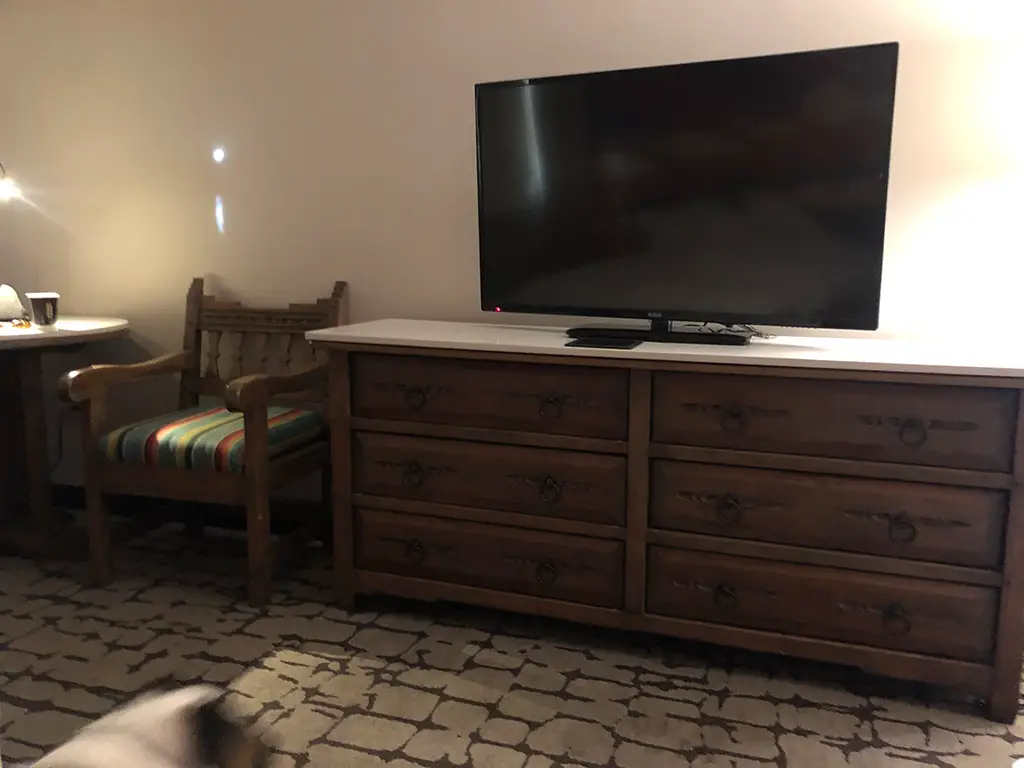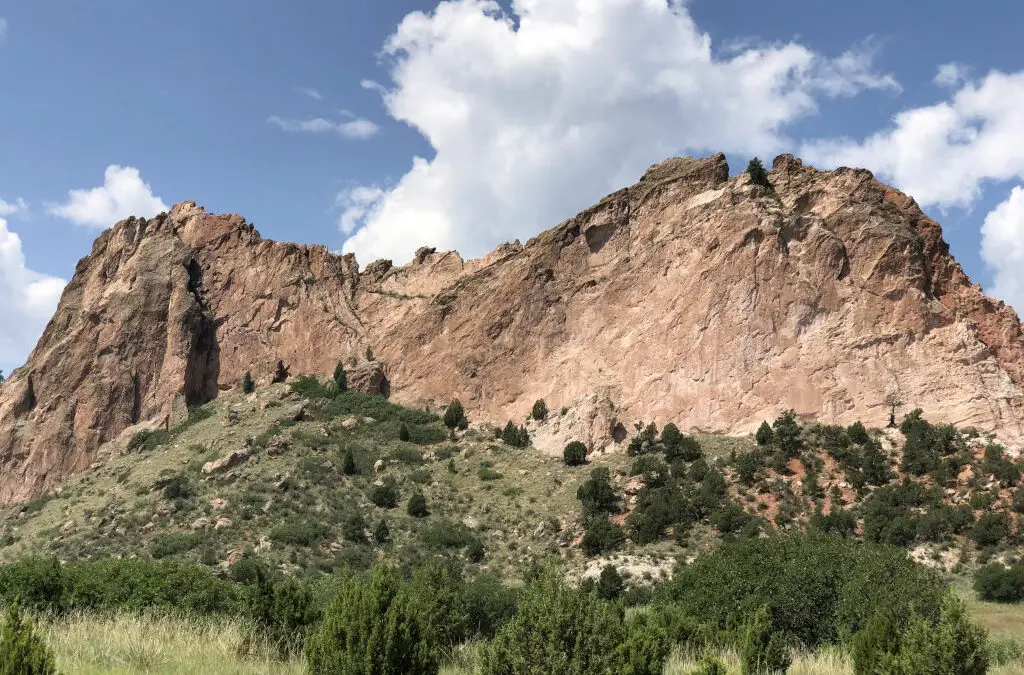 Click here for dog and family friendly activities you can enjoy in the Garden of the Gods Nature Park in West Colorado.
read more