In our house, Mardi Gras is a holiday. It has a dedicated storage bin in the attic solely dedicated to it alone. We've even been known to decorate a tree for it.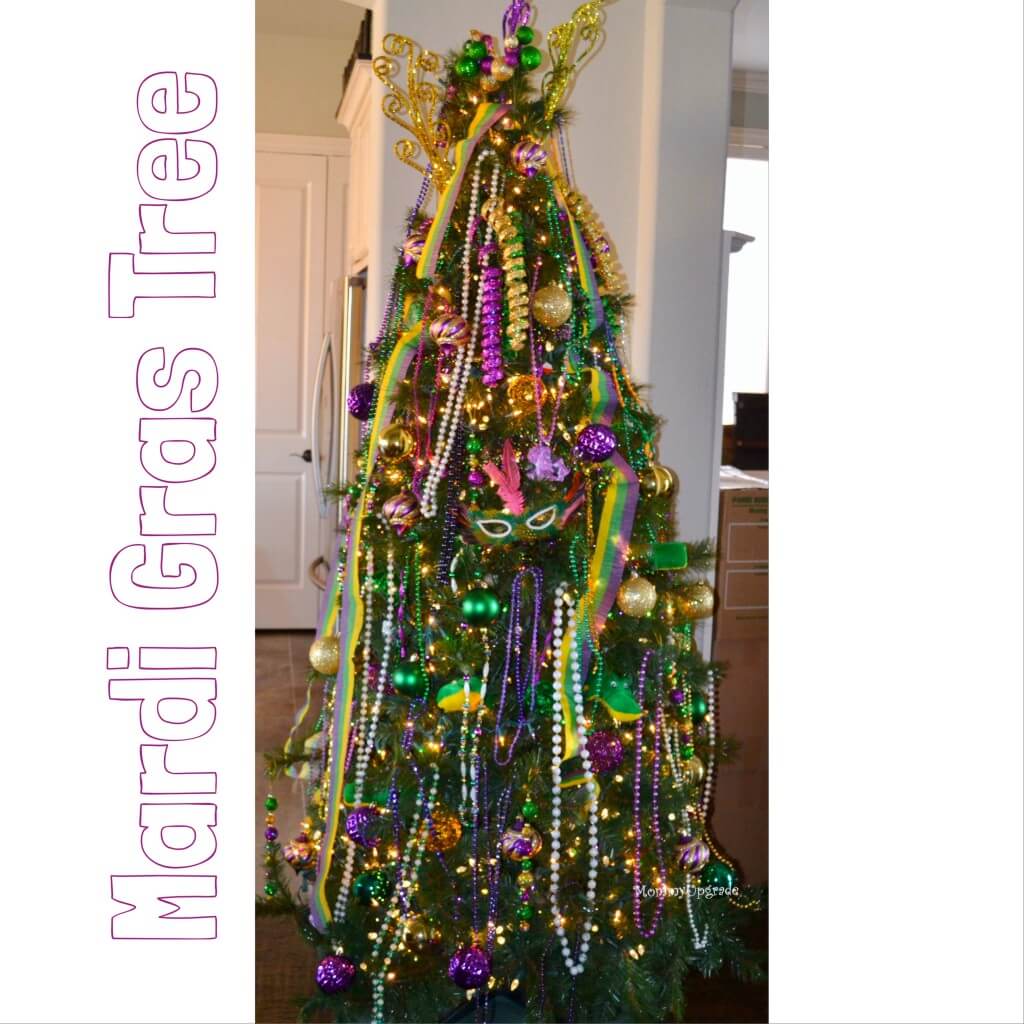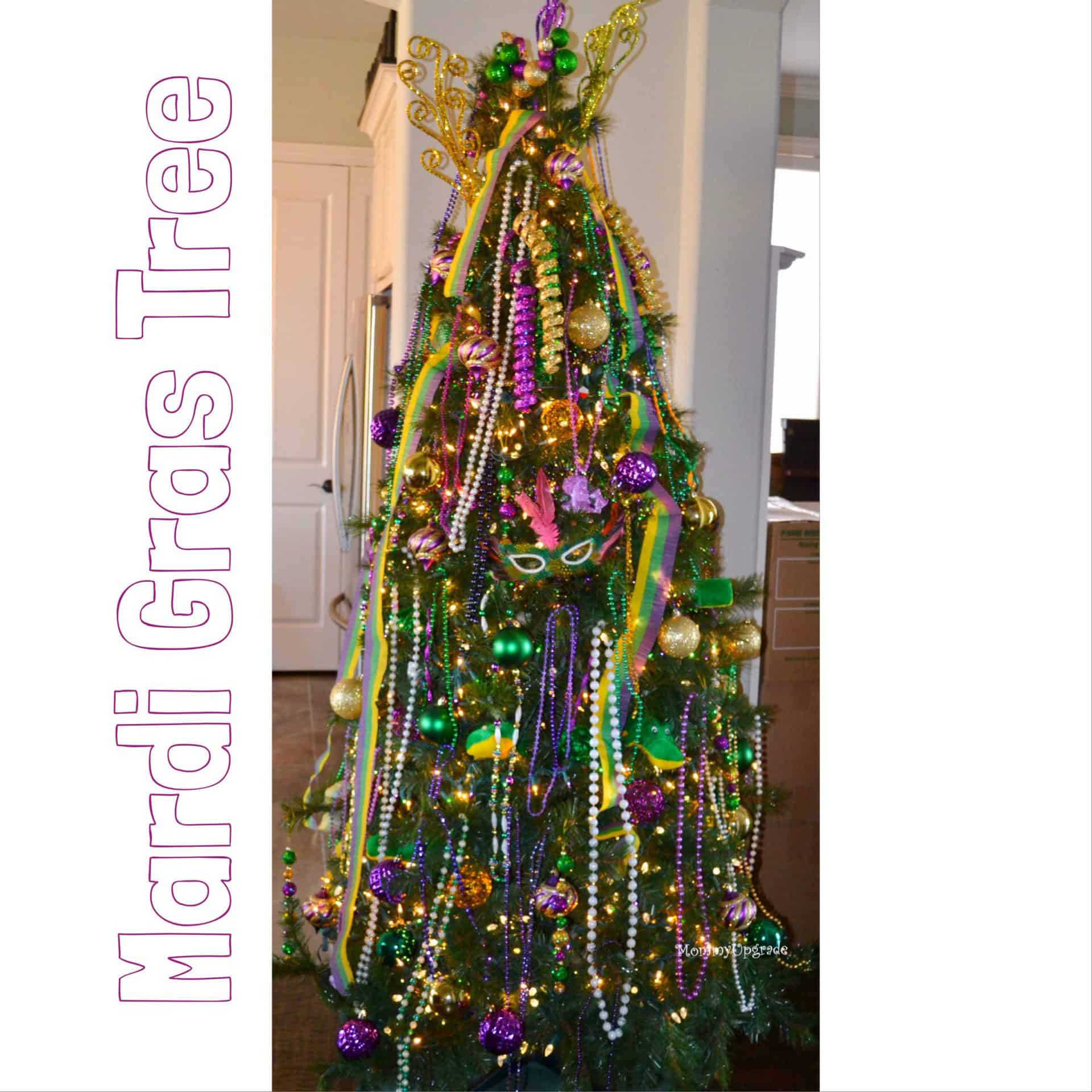 We may be too old and lazy to drag ourselves down to St Charles Street to claim optimal bead catching real estate, let alone stay up all night drinking hurricanes on Bourbon, but there's one tradition we carry straight through to our North Texas suburban lifestyle:
Mardi Gras King Cake.
Come hell or highwater, we'll have King Cake during Mardi Gras, even if we have to get those tasteless excuses for it from the supermarket! Or make those sorry bars that — while good — are NOT a "fun twist" on this New Orleans classic. That's just downright insulting.
There will be King Cake in our home. With baby. And beads.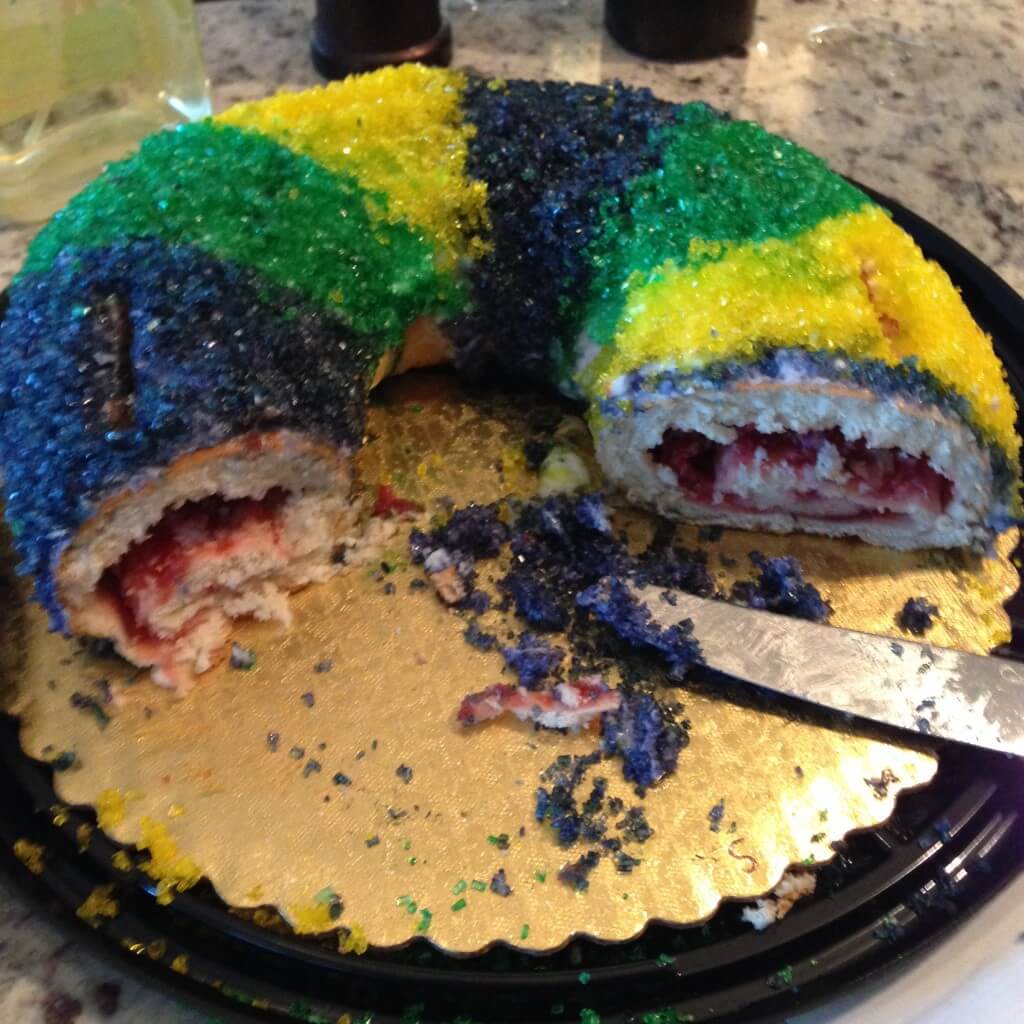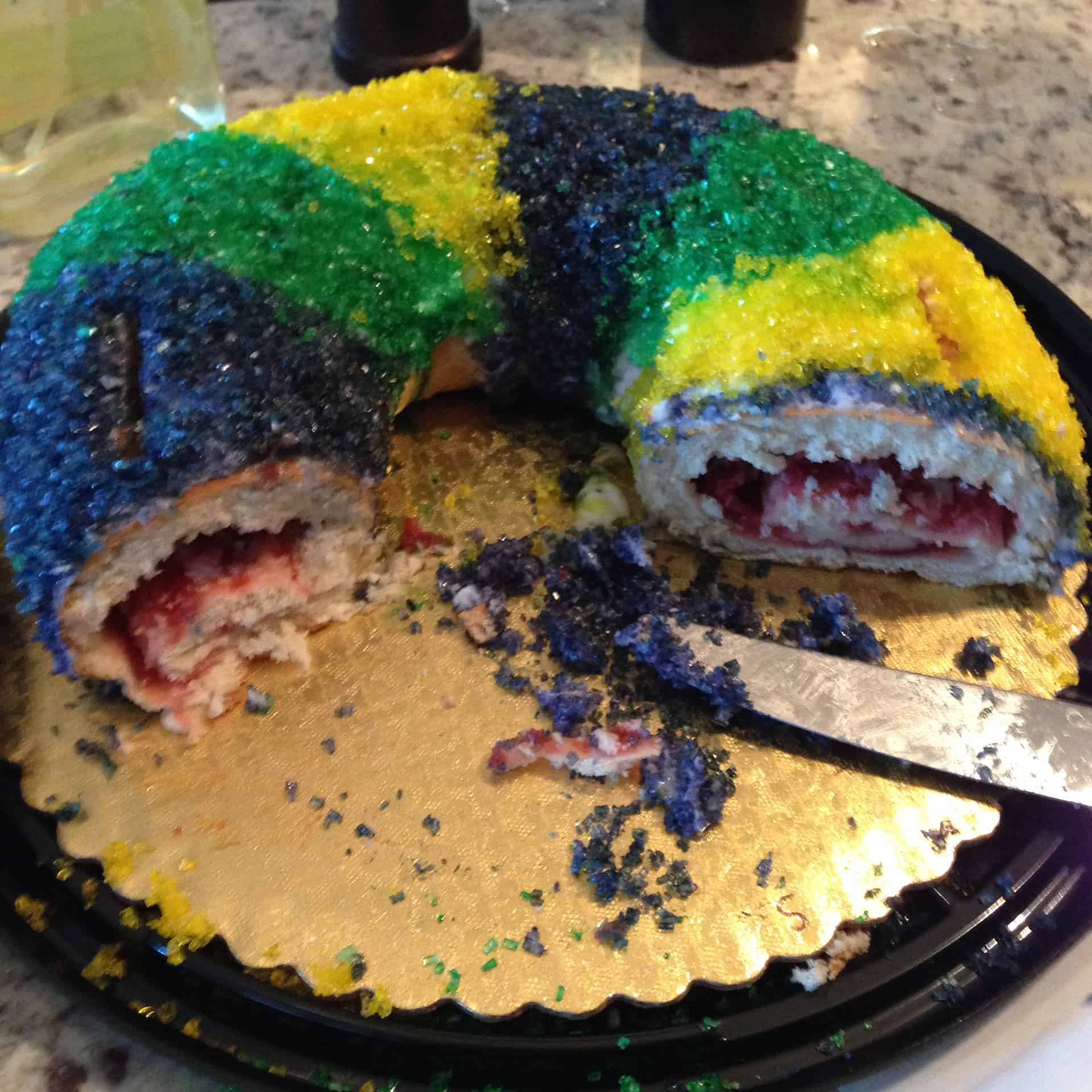 When I saw my neice posted a photo on facebook of a MAPLE BACON King Cake from Lilah's bakery, I knew it was our destiny. We've been burning up I-49 every weekend, so the detour to this tiny Shreveport bakery was – we hoped – worth the extra few minutes.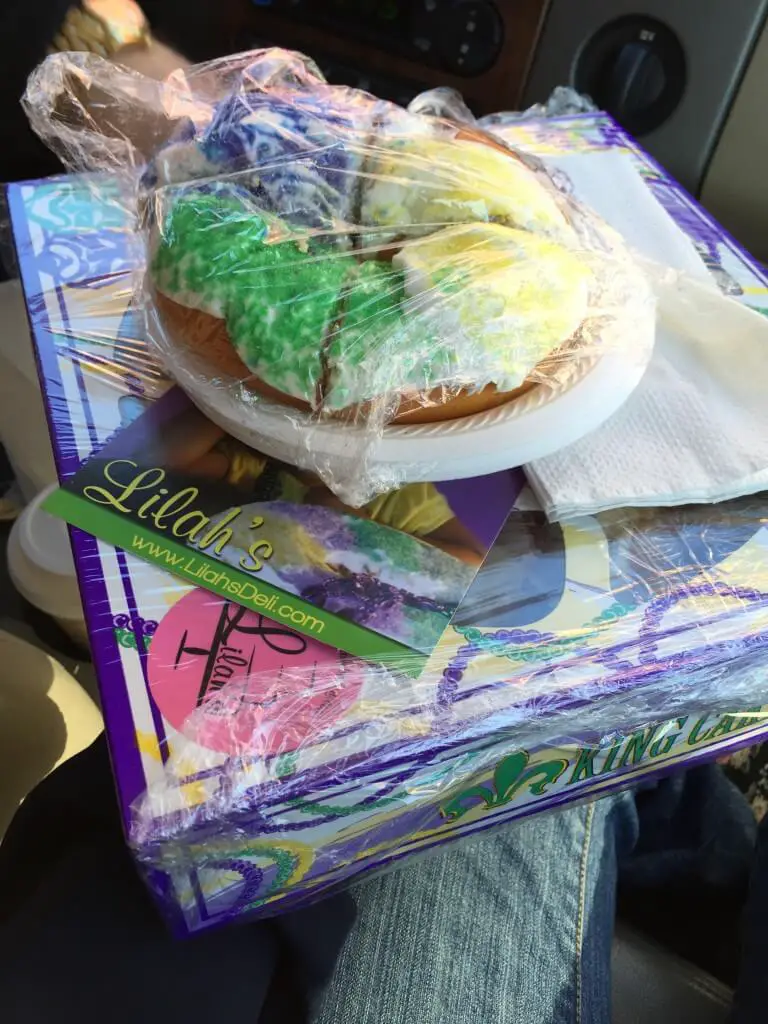 Holy Hannah. We loved it so much, we returned to buy a stack of cakes on our way back through the next day. Lilah's even modified it for Big Daddy, replacing the maple syrup (too "yankee" he says) with pure cane syrup.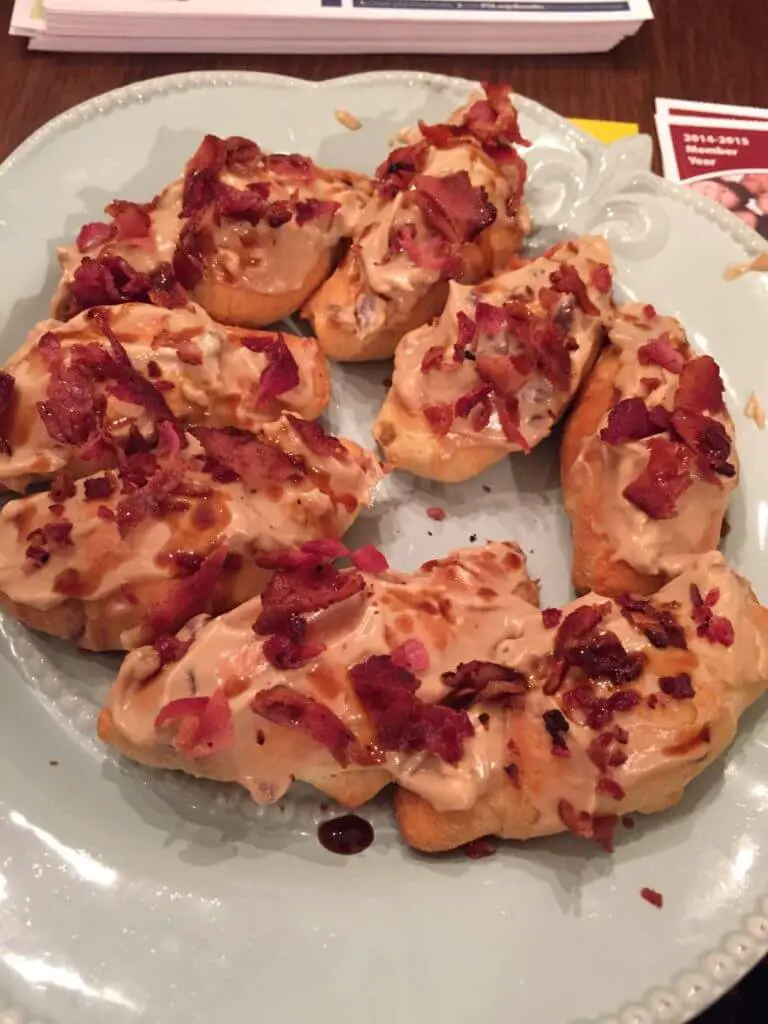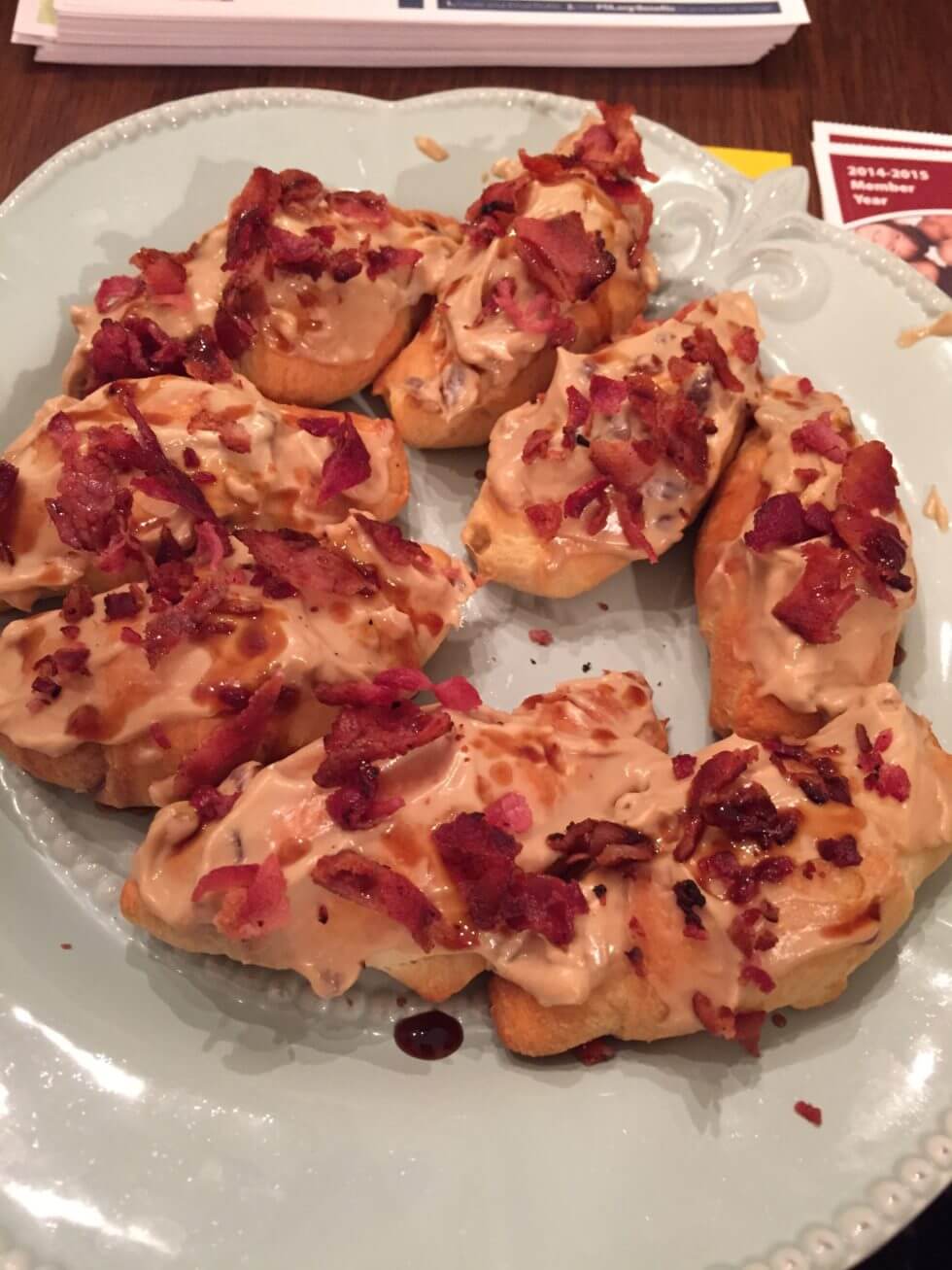 It was dang good.
And we've been thinking about it ever since.
There's no way us mere mortals could replicate that awesomeness at home, but Big Daddy concocted a fix to get us through to our next Shreveport-bound road trip. It's super easy.
Big Daddy's Bacon and Cane Syrup Mini King Cakes
What you need:
Cresent roll dough (in the tube from the refrigerator section)
Philadelphia honey pecan cream cheese
Maple flavored bacon
Steen's 100% Pure Cane Syrup, 16fl. oz" target="_blank">Steens Pure Cane Syrup (use maple syrup if you can't find it)
What you do:
Mix a little of the cane syrup into the cream cheese. Just a little, but not enough to greatly modify the consistency.
Assemble the crescent rolls according to package, but spread the cream cheese on the inside layers, covering it completely so it doesn't ooze out.
Bake according to directions.
While the rolls are baking, fry the bacon in cast iron skillet (or cook it however you like).
Cut into pieces.
Remove rolls from the oven and let cool slightly.
Spread more cream cheese on top.
Sprinkle the bacon on it.
Drizzle the cane sugar over the top.
Eat while warm!
DEEE-LICIOUS! When you have to have a maple bacon king cake and you can't get to Shreveport fast enough, this is the fix to get you through.
Happy Mardi Gras!
Lilah's Bakery ships. Here's their Facebook page, and here's their website. If you want the authentic cane syrup version, you'll have to request it. 🙂