Oh yes I did.
I finally won the battle of the beads. I convinced the hubs to let me leave up the Christmas tree and decorate it for Mardi Gras.
It didn't hurt that he has a low opinion of our current tree and its "pre-lit" status.
Or that he was not on board with shoving said tree through the little attic opening to store it for next year.
Or that we don't really understand the bulk pickup trash rules in our new community and that's the only thing that's prevented him from tossing it entirely.
So delaying the inevitable was just fine with him.
And great for me!
Hellllooooooo Mardi Gras tree!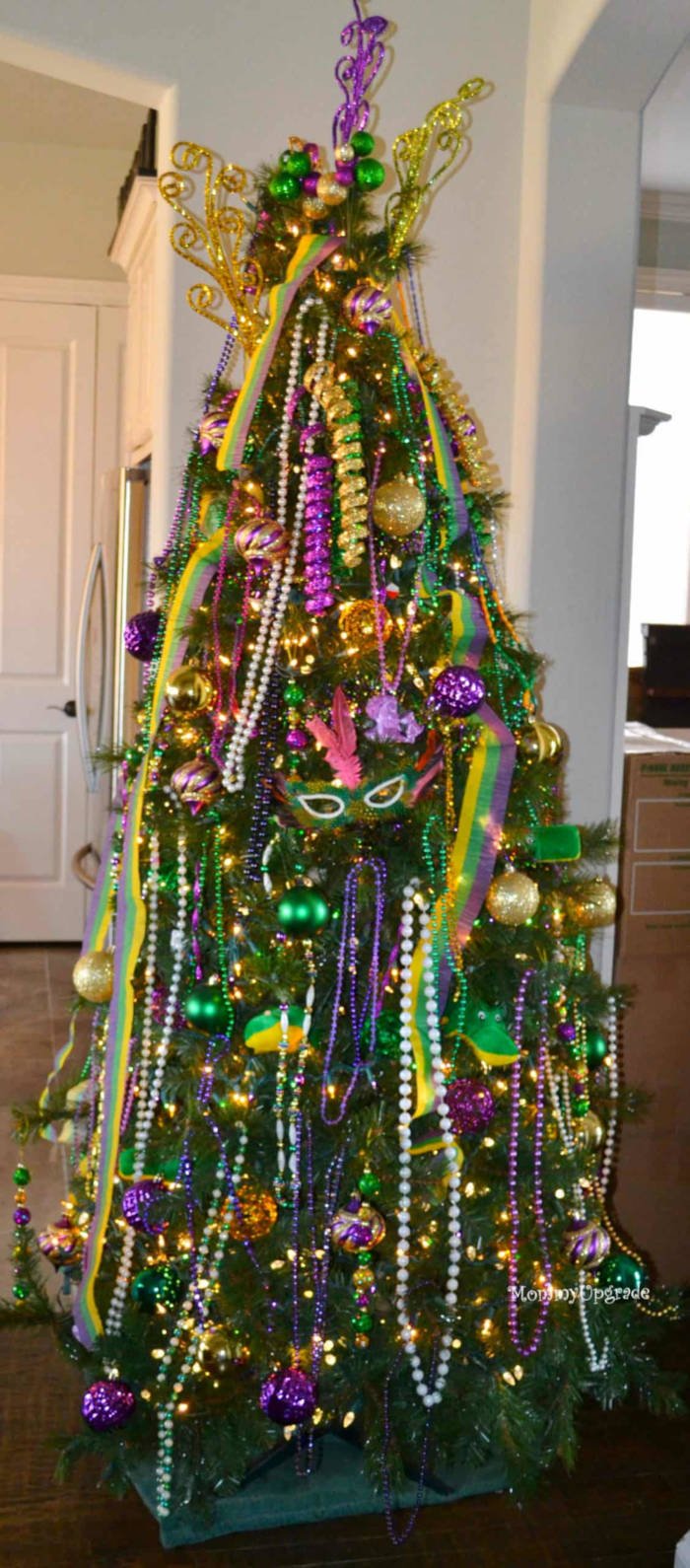 I KNEW there was a reason I kept all those beads! Beads that I actually caught on Canal and Bourbon streets back in the day… you know, "in the day" before getting married and actually taking on a French last name that makes us legit crazy enough to have a Mardi Gras tree. 😉
But just a bag of old beads do not make a Mardi Gras tree. I was able to repurpose some of our Christmas ornaments to get started, but thanks to my friends at Mardi Gras Outlet, I was able to properly transform the previous Christmas tree into a vision of green, gold and purple. Check out the wire balls, the "ribbon" crepe paper streamers hanging down, the string ornaments, the glitter sprays and the lights! Oh the lights make it perfect! I should have doubled the lights.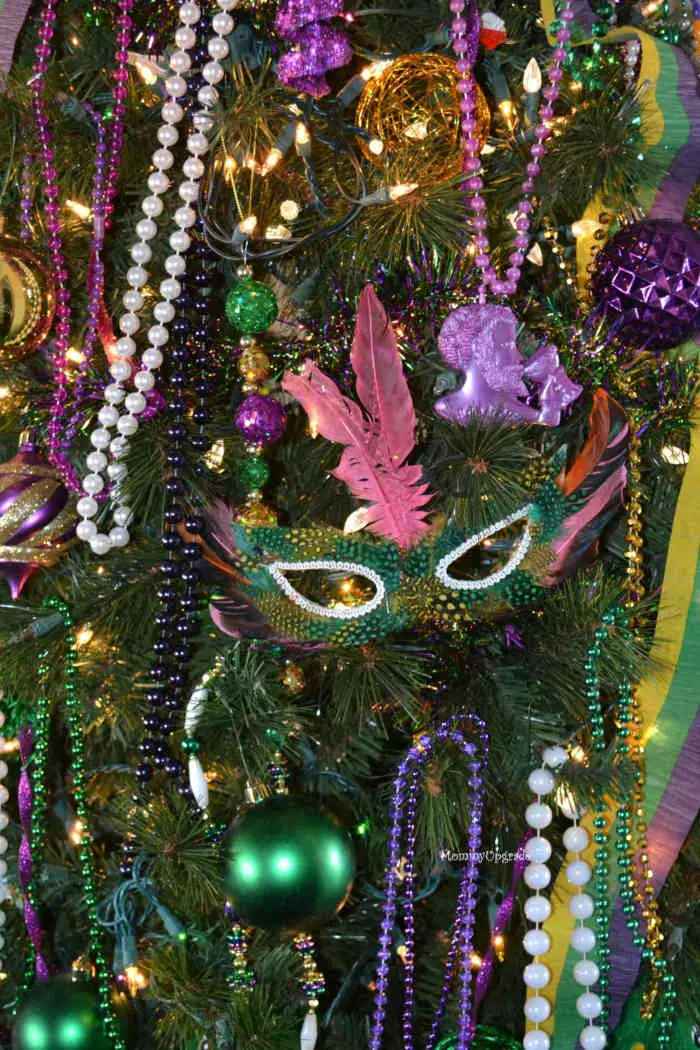 One of my absolute favorite parts about our Mardi Gras tree is the alligators peeking out.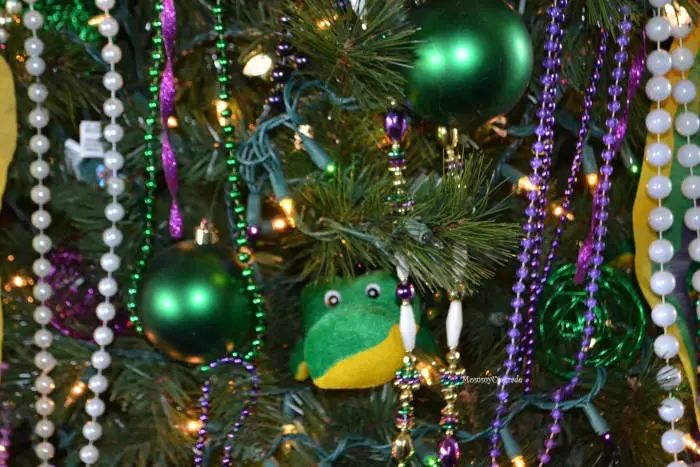 Every time I walk through the room, look up, and see this, I smile.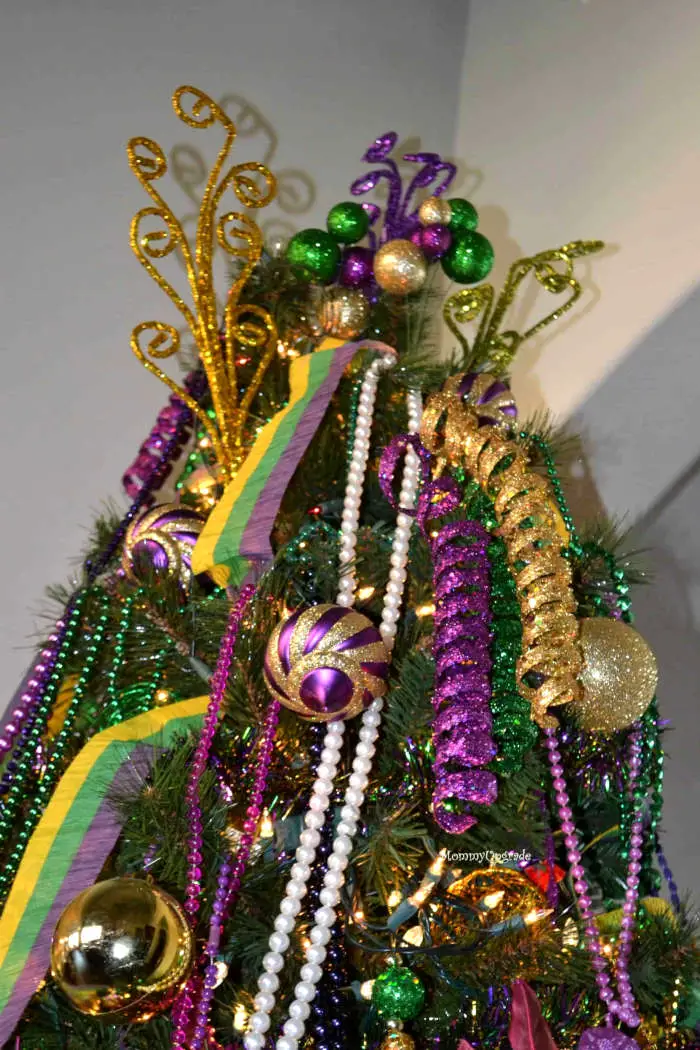 Now if I could just find a tree skirt…
It's not too late to put your own Mardi Gras tree up. Fat Tuesday is March 4th and Mardi Gras Outlet delivers crazy fast with regular shipping. I've found them to be the best and most affordable resource for all things Fat Tuesday – and beyond (love their deco mesh selection). I love that they're located in Baton Rouge where I lived for 5 years and my family for much longer. It makes me feel like I have a little care package from home.
There are links above to each of the items I received from MGO. Here's the current cost if you were to purchase them:
Crepe paper streamer $1.39 each
10 inch ball string ornament $1.75 each
PGG Glittered Ball Spray $2.95 each
28″ Metallic glitter curly tubes sprays $4.95 each
Glitter Curls Spray $5.50 each
Mini Mardi Gras lights 100 count $8.50
Plush Alligator – Pack of 6 $8.50
3″ wire balls – pack of 6 $6.95
All opinions are my own. While MGO sent me product to use and display on my site, I initially found them on my own years ago and fell in love with their selection and fast customer service. I continue to be a happy customer.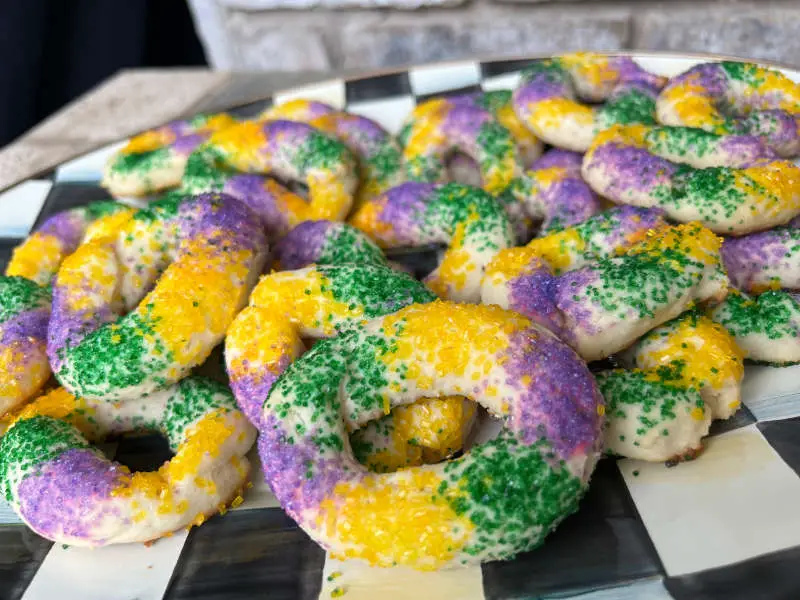 This is a recipe for cream cheese spritz cookies, but I'll give you a little backstory on this. I made the dough for these spritz cookies that I wanted to make at Christmas time but when I loaded it into my cookie gun and it was so stiff that it just basically broke...
read more