This is a recipe for cream cheese spritz cookies, but I'll give you a little backstory on this. I made the dough for these spritz cookies that I wanted to make at Christmas time but when I loaded it into my cookie gun and it was so stiff that it just basically broke the cookie gun. So I was like, all right, I'm going to pivot. What else can I do with this? And that's when I decided to make these into Mardi Gras cookies because I could shape the dough before it got too soft. And what's easier to make than King Cake shape?
So for these cream cheese spritz cookies you are going to need:
one cup of butter or margarine, softened
one eight-ounce package of cream cheese, softened
two-thirds of a cup of sugar
one teaspoon of vanilla extract
two cups of all-purpose flour,
a dash of salt,
and decorator sugar crystals
I just use colored sugar for cookie decorating in purple green and yellow. Okay, so the first thing you need to do after the cream cheese and butter are softened, is to cream them together in a large bowl. Gradually add sugar and beat it until it's light and fluffy. Definitely taste it at this point because I love it. Stir in the vanilla. Then in a separate bowl, combine the flour and the salt, and then gradually add that into the creamed butter, cream cheese, and vanilla extract.  Beat until it's really well blended, then shape it into a ball and then chill it thoroughly. I usually chill it overnight, because I'm doing a thousand things and I don't get to it until the next day. So go ahead and do that.
​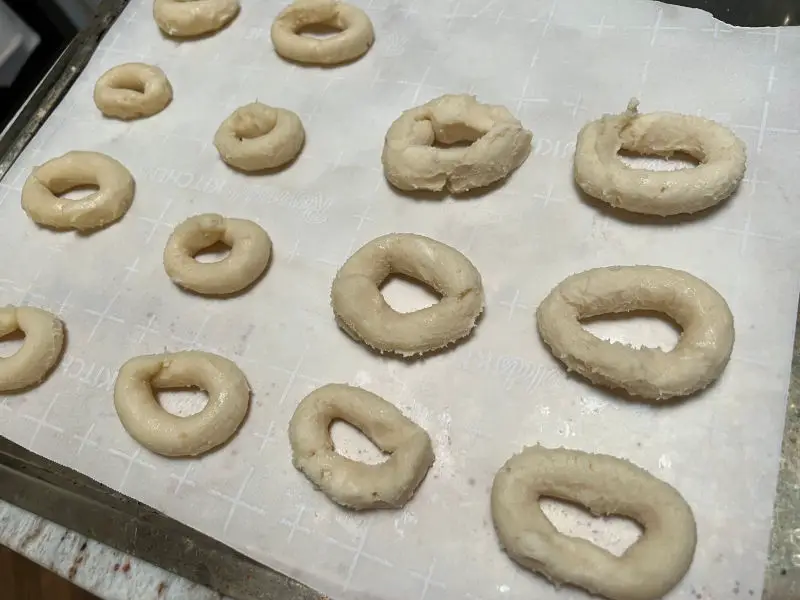 Once you take it out of the refrigerator,  pinch off enough for a small, approximately two-inch ball, and roll it between your hands like you are making a little snake with Play-Doh. Do that until you have used up all the dough. Now you can pinch the ends of the snakes together, turning them into circles, and lay them all on a cookie sheet. 
Decorate each one with colored sprinkles in an alternating pattern. You don't, you don't have to keep it consistent, but I think it looks nice if you do. So I used green sugar, and I decorated two opposite sides of all the King cake-shaped cookies first.  Then I went back and did the same with the yellow, and then finished with the purple so that each cookie was fully covered in the traditional Mardi Gras colors.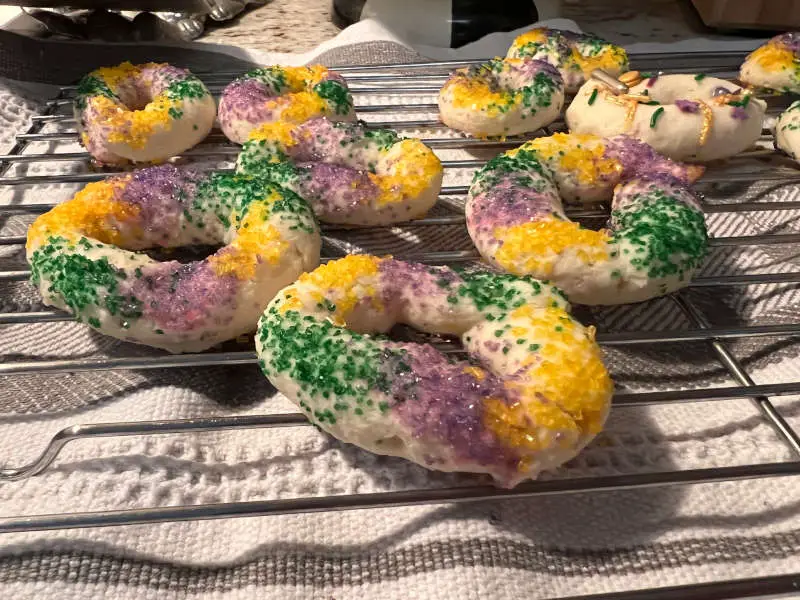 ​Finally, bake in the oven at 400 degrees for eight to 10 minutes, or until the cookies are very lightly browned, then remove from the oven and cool on a wire rack.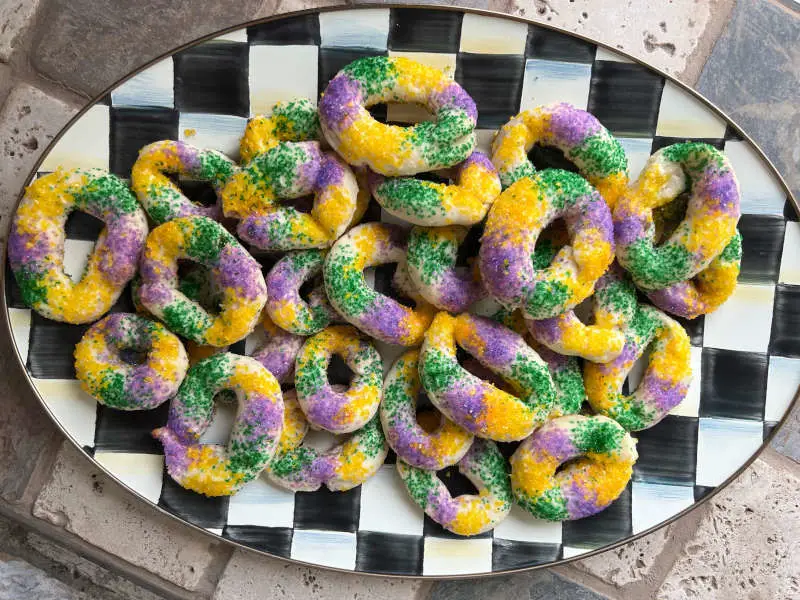 And then you're going to gobble them all up because they are delicious. Now, this is not a real sweet cookie, which is probably why they are such a big hit around our house, but they are definitely good. And they're so festive. So I hope you try this Mardi Gras cookie recipe and let me know what you think.
Yield: 2 dozen
Mardi Gras Cream Cheese Cookies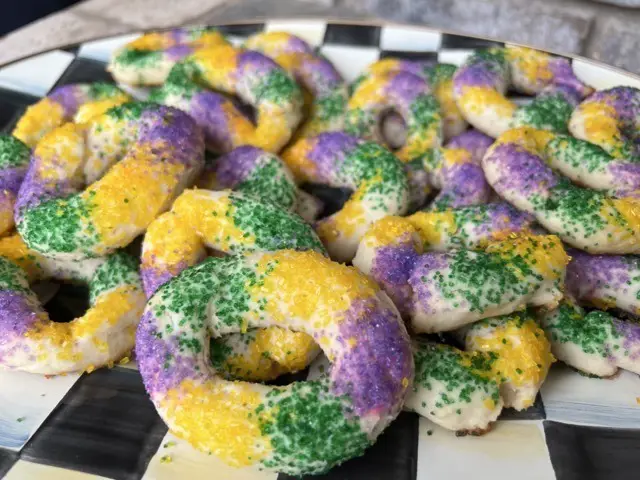 Ingredients
1 cup butter or margarine – softened
1 8oz package of cream cheese – softened
2/3 cup of sugar
1 teaspoon vanilla extract
2 cups all-purpose flour
Dash of salt
Colored sugar in green, purple, and yellow
Instructions
Cream together butter and cream cheese in a large mixing bowl.
Gradually add the sugar, beating until light and fluffy.
In a separate bowl, combine the flour and salt.
Gradually add the flour and salt mixture to the butter and cream cheese mixture.
Beat until well blended.
Chill thoroughly.


Preheat oven to 400 degrees.
Pinch off a 2 inch (ish) ball of dough and roll between your hands to make a snake.
Shape the snake into an oval and pinch the two ends together.
Place on cookie sheet.
Repeat to fill the cookie sheet. They don't spread a lot so you can put a number of them on the sheet.
Sprinkle the colored sugar in alternating patterns on the cookies.
Bake for 8 to 10 minutes or until very lightly browned.
Cool on wire racks.
Enjoy!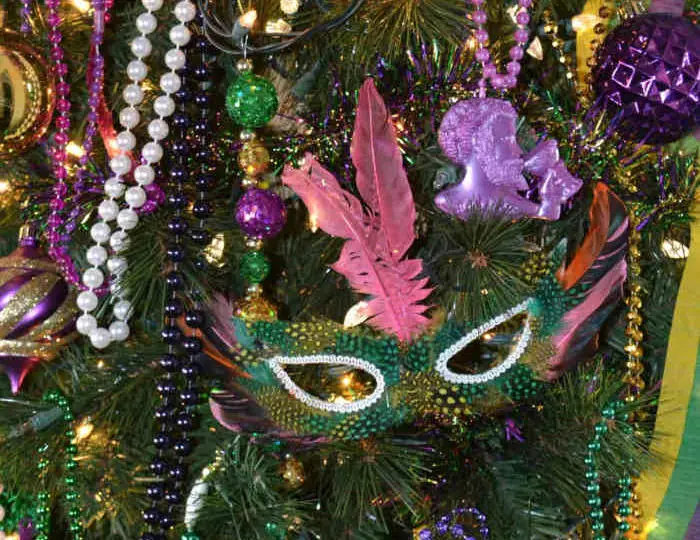 Oh yes I did. I finally won the battle of the beads. I convinced the hubs to let me leave up the Christmas tree and decorate it for Mardi Gras. It didn't hurt that he has a low opinion of our current tree and its "pre-lit" status. Or that he was not on board with...
read more