My girl likes to give homemade, crafty Valentines each year. This year, she announced that after she retires from the US Women's National Team (soccer), she will be a geologist, so *of course* she wants to give geodes for Valentine's Day. I'm like, "GEODES? Mmmmmkaaaay."
This is likely her last year for class Valentines so there's no way I was saying no, but I'll admit it was really worried how we were going to pull it off. We had a trial run by trying a YouTube video involving rock salt and nail polish remover and nail polish, but it didn't work out nearly as good as I'd hoped. (There are a few photos on my Instagram feed) And there was the whole problem of finding rocks that had craters in them. There were a few other failed brainstorms which I'll spare you from,  but we settled on this, and she loved it! We paired it with a package of Pop Rocks (because rocks) and put a different punny rock joke on each one.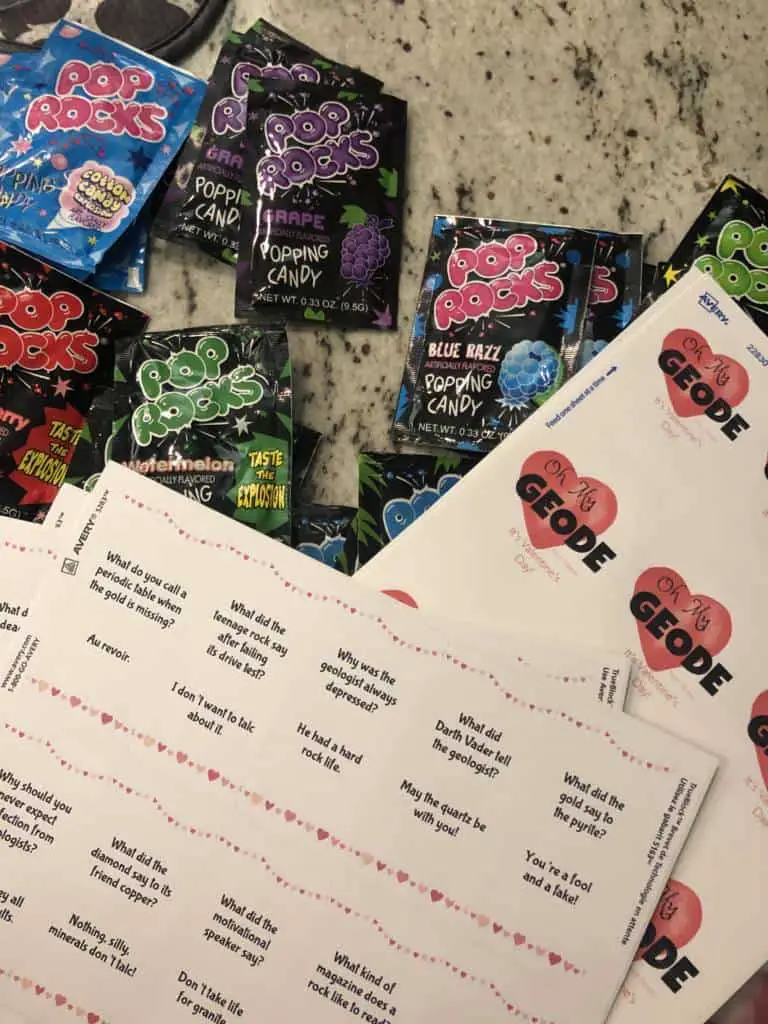 The bag has a tag that says, "Oh my Geode! It's Valentine's Day!" as I was under strict instructions, "NO LOVEY-DOVEY!" Sadly, "Hope you'll be mined!" was off the table. (Special thanks to my Facebook friends who came up with both of those. ?)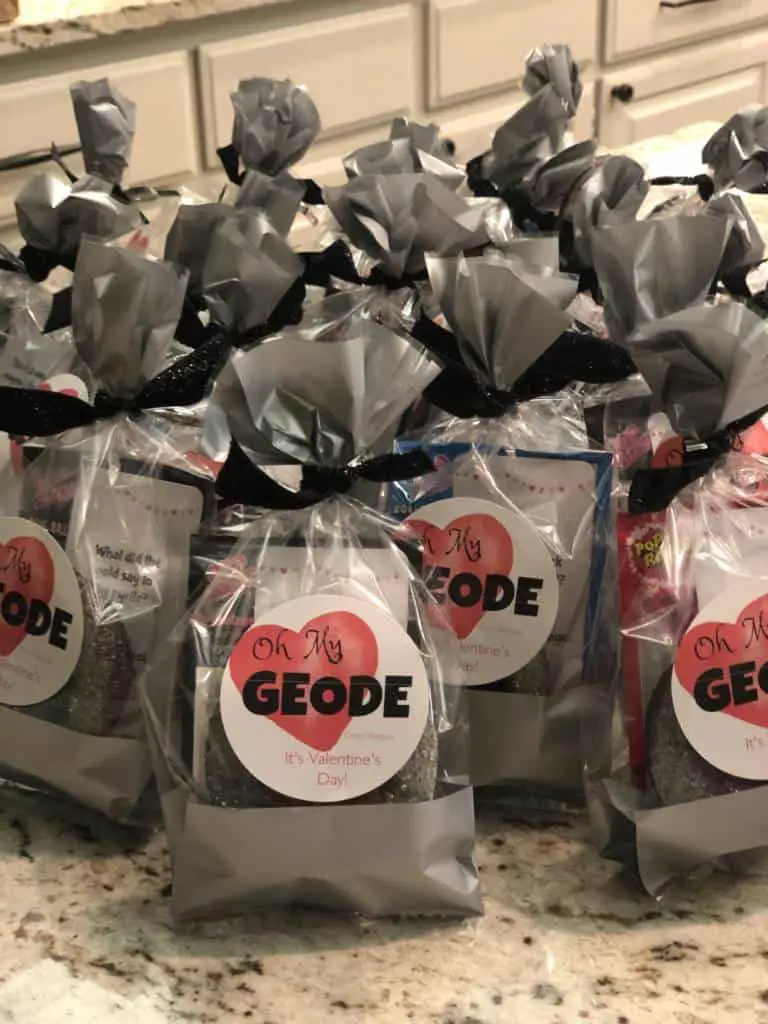 These were actually quite easy to make. Here's what you need to make exactly what we did, and I've even included the free downloads below. (Click images to shop for the products on my Amazon affiliate link.)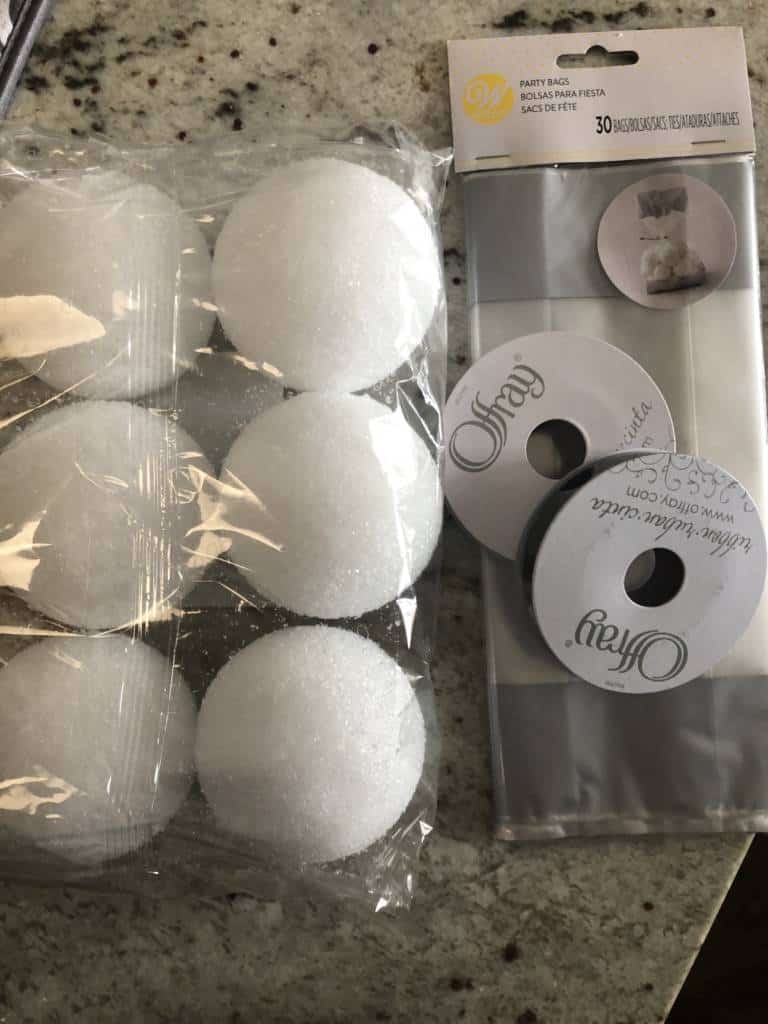 3" white Styrofoam balls – the ones with texture
Serrated knife
Small knife
Black matte spray paint
Grey spray paint (can be metallic or silver)
Here's what you do to DIY your own Valentine geodes: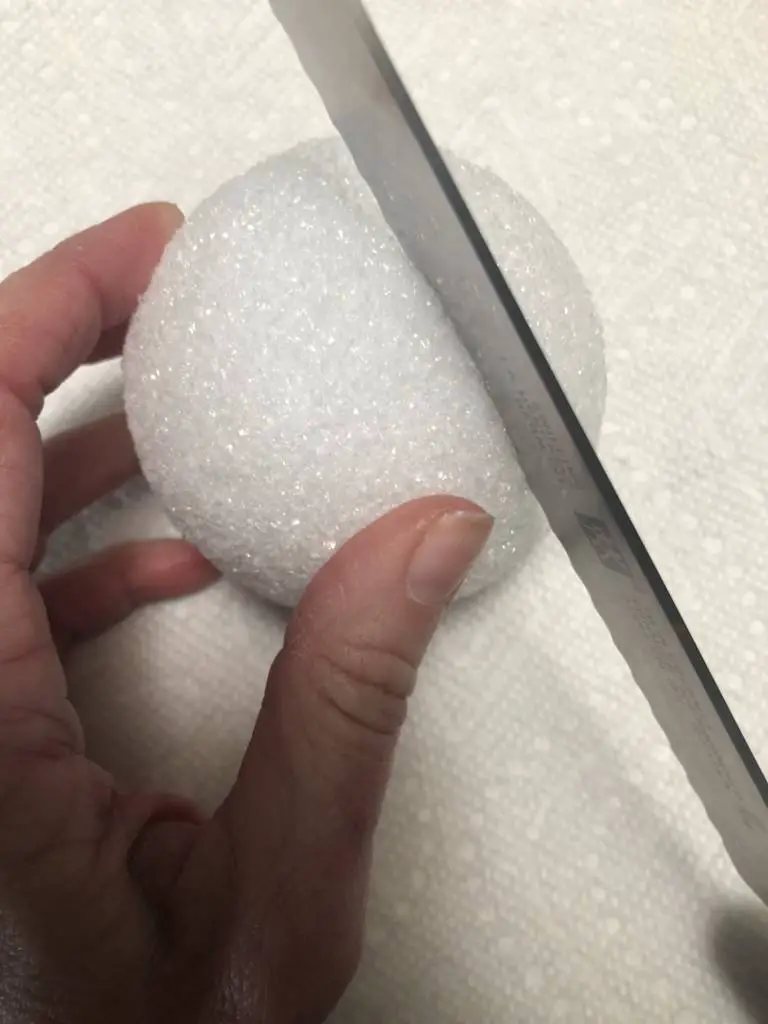 Use the little knife to dig out the middle of the half of the ball. The more uneven the better so don't try and make it neat.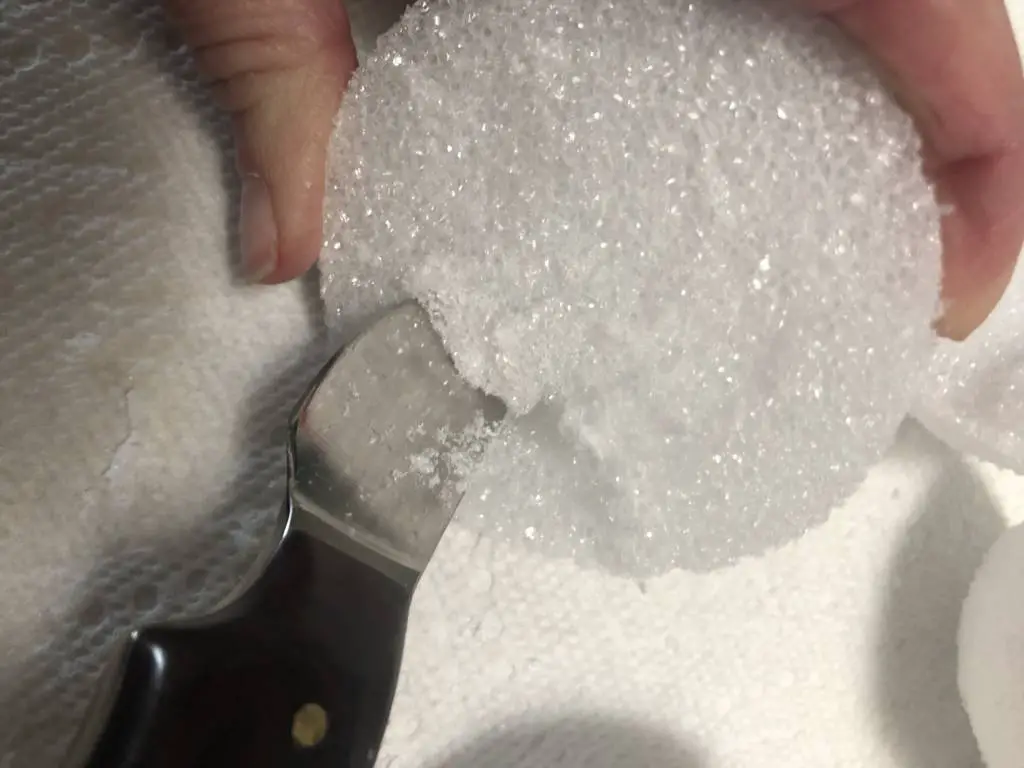 Spray paint the inside of the balls with the grey paint.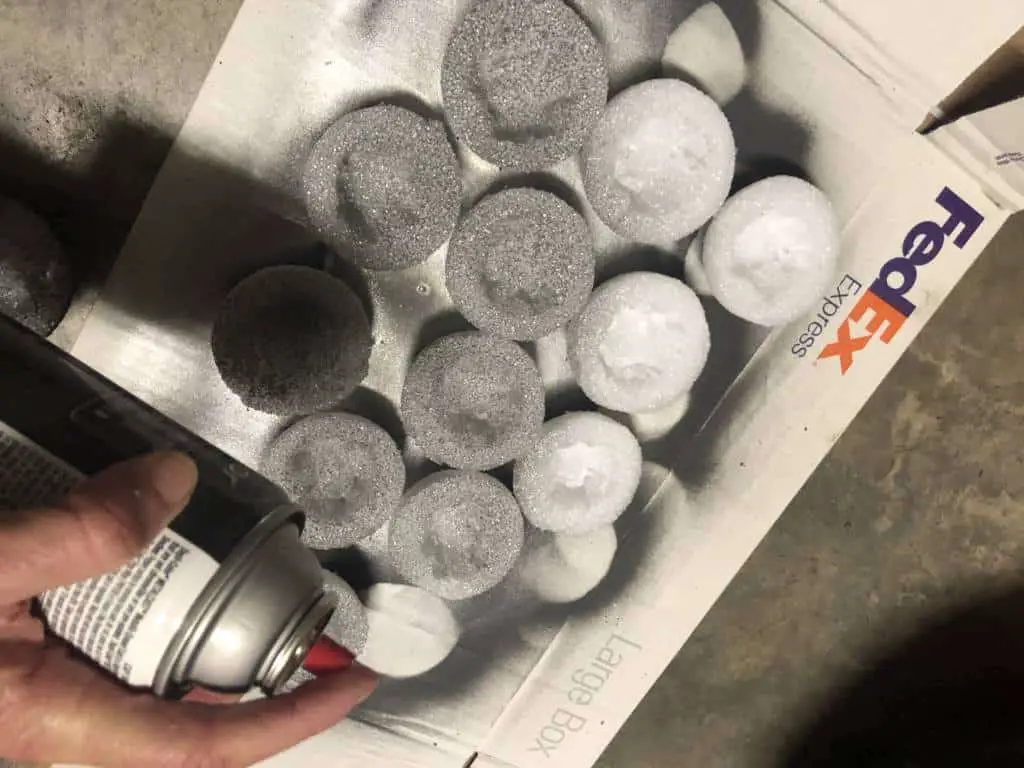 When dry, flip them over and spray the round side with black paint and let dry. With hot glue, you are going to start putting the glitter on the inside of the Geode. I used three color in each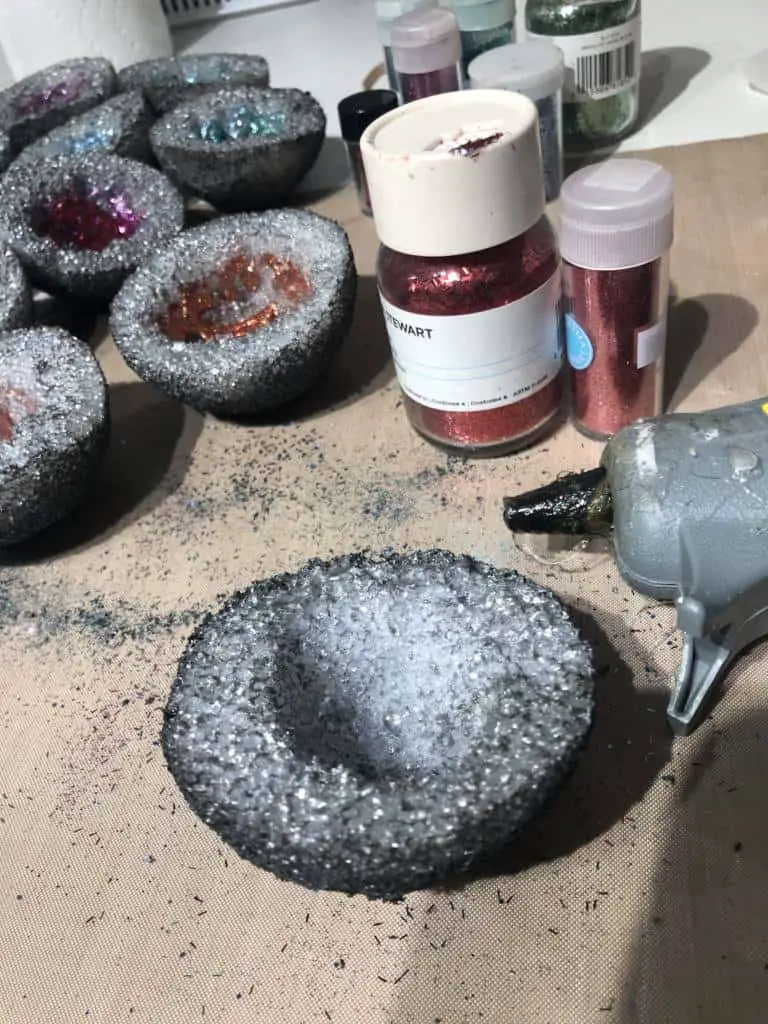 Haphazardly apply glue to the widest part of the carved out area. Use the lightest glitter here.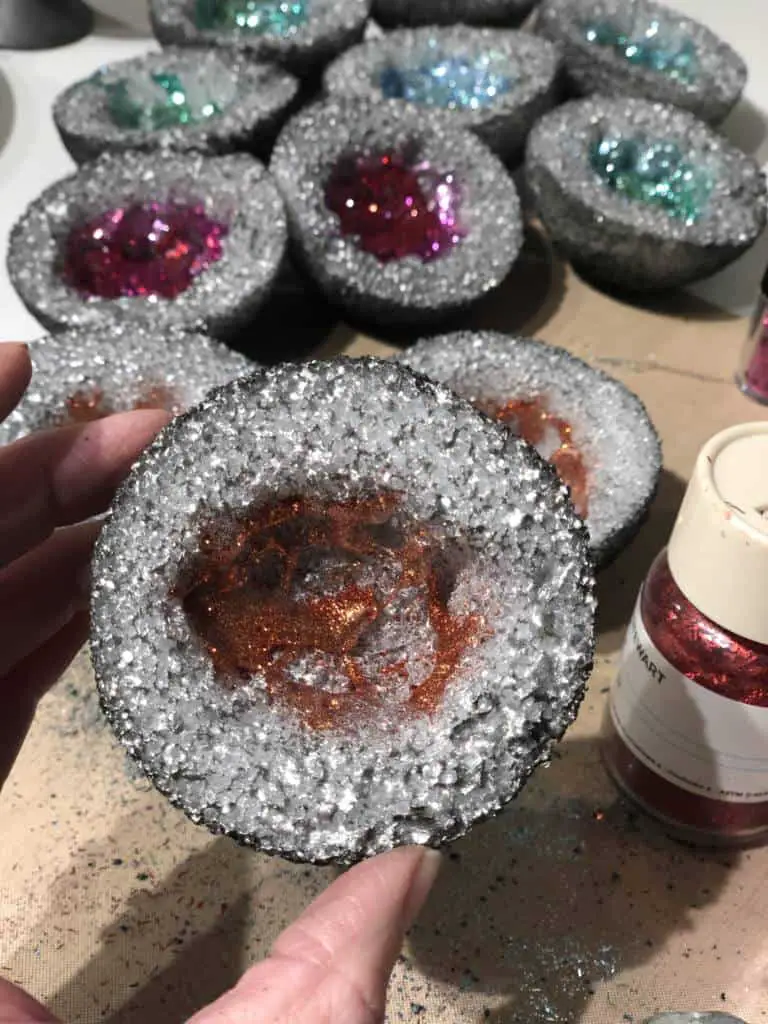 Your next row of glitter will be the next darkest color of glue + glitter.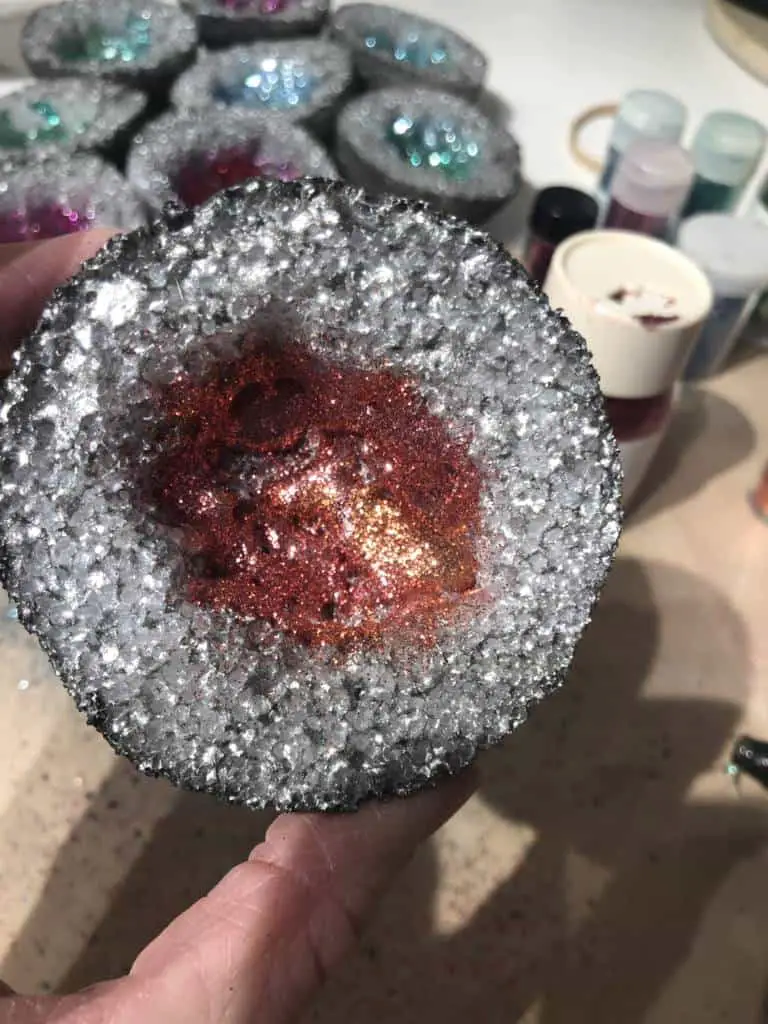 The middle of the carved out portion will be the darkest.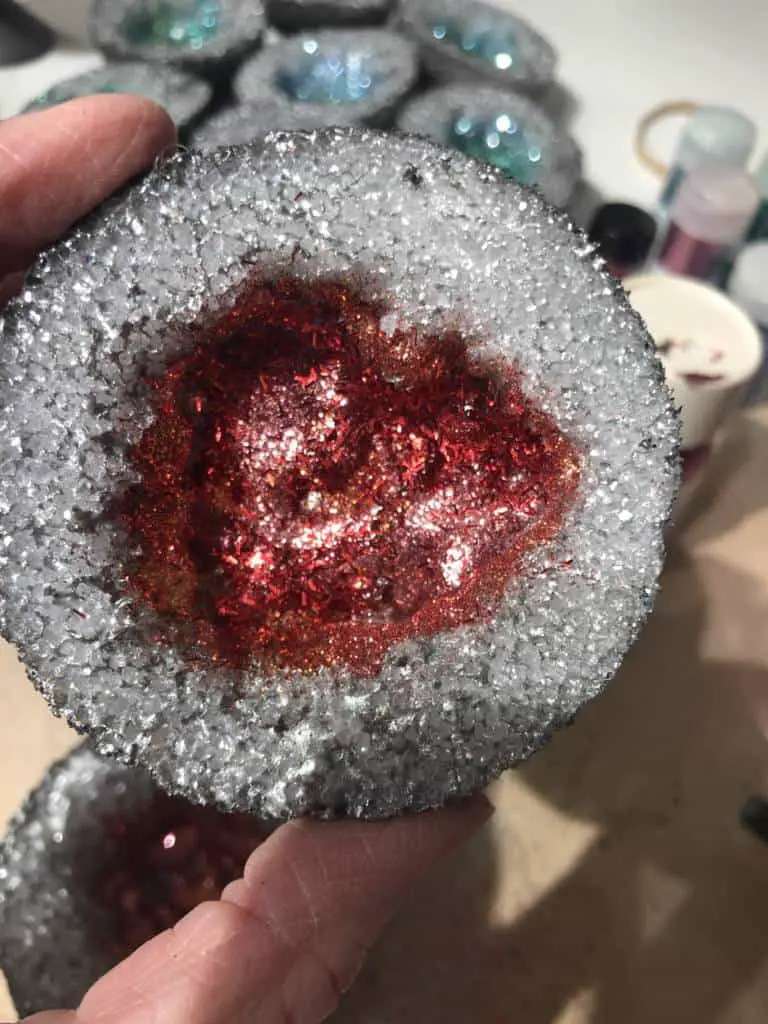 Again, don't make this neat. Nature does not make perfect geodes and you don't need to either. Let it all dry and shake off the extra glitter.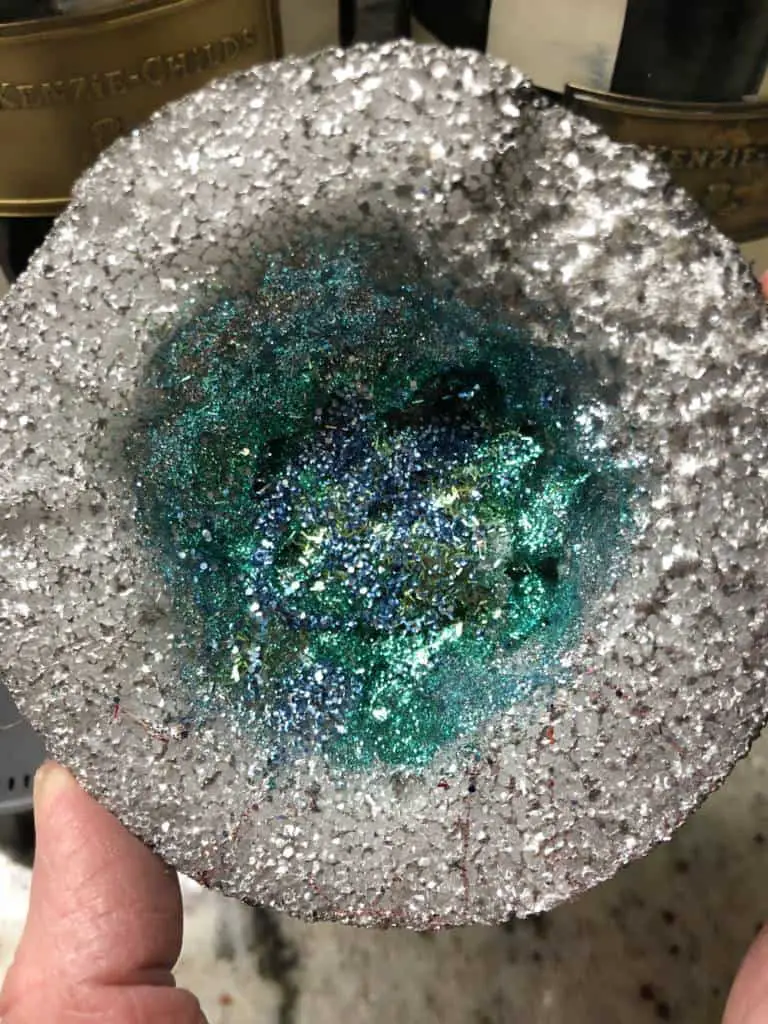 Print our the pun sticker with your inkjet printer, and put them over the nutrition info on the pop rocks.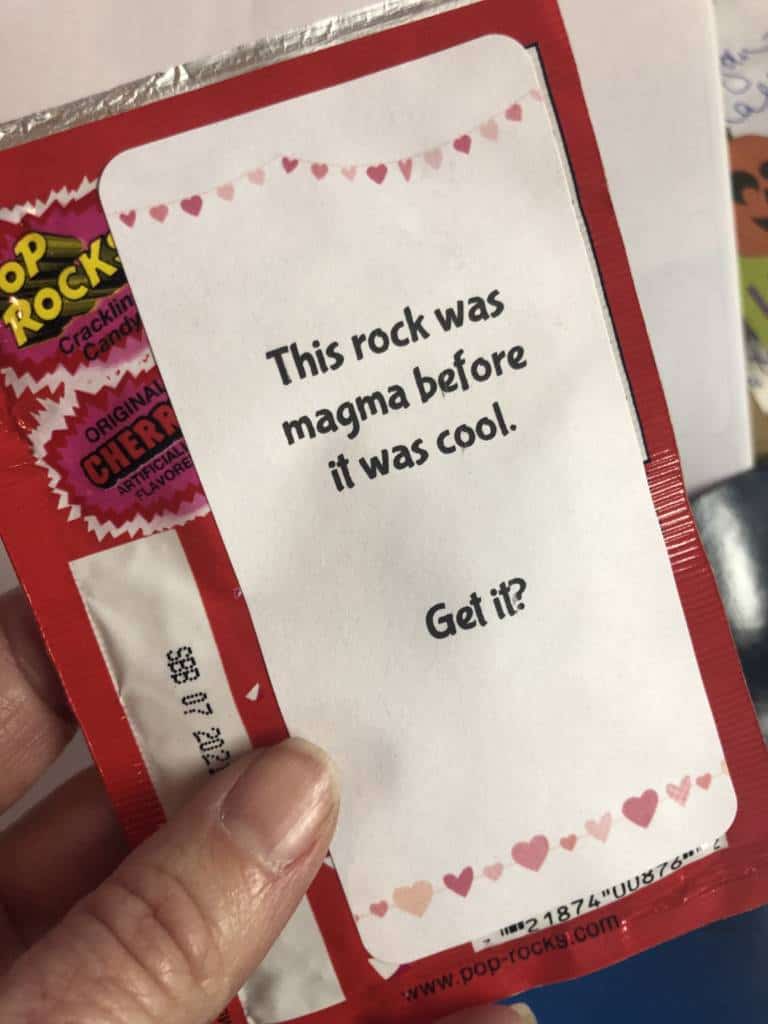 Print the "Oh my Geode!" sticker out and put them on your clear bags. Stuff the bags with the Geode and joke facing out. Close bag with the twisty ties that come with the bags and tie with ribbon.
And because photos don't really do these justice, use a sparkle app and take more photos.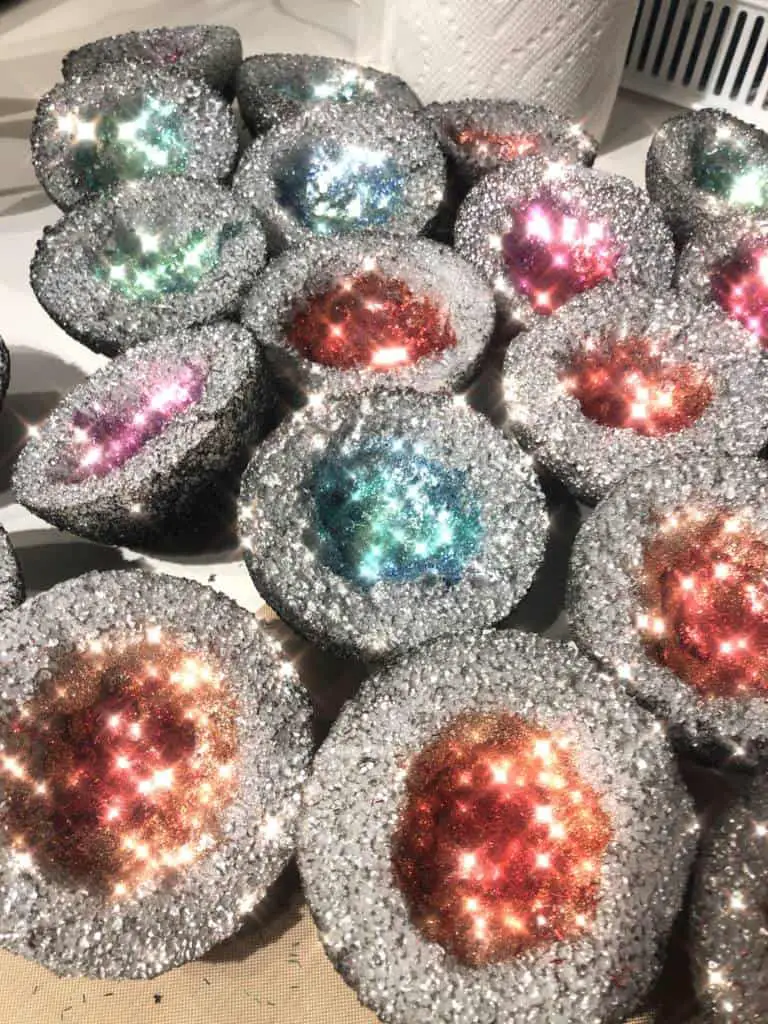 If you need a matching "box" to collect your Valentines in, I think a mine cart would be cute. Unfortunately we were not thinking ahead and ran out of time, so I had to turn an unused Halloween pumpkin into her big Geode to collect her classroom loot.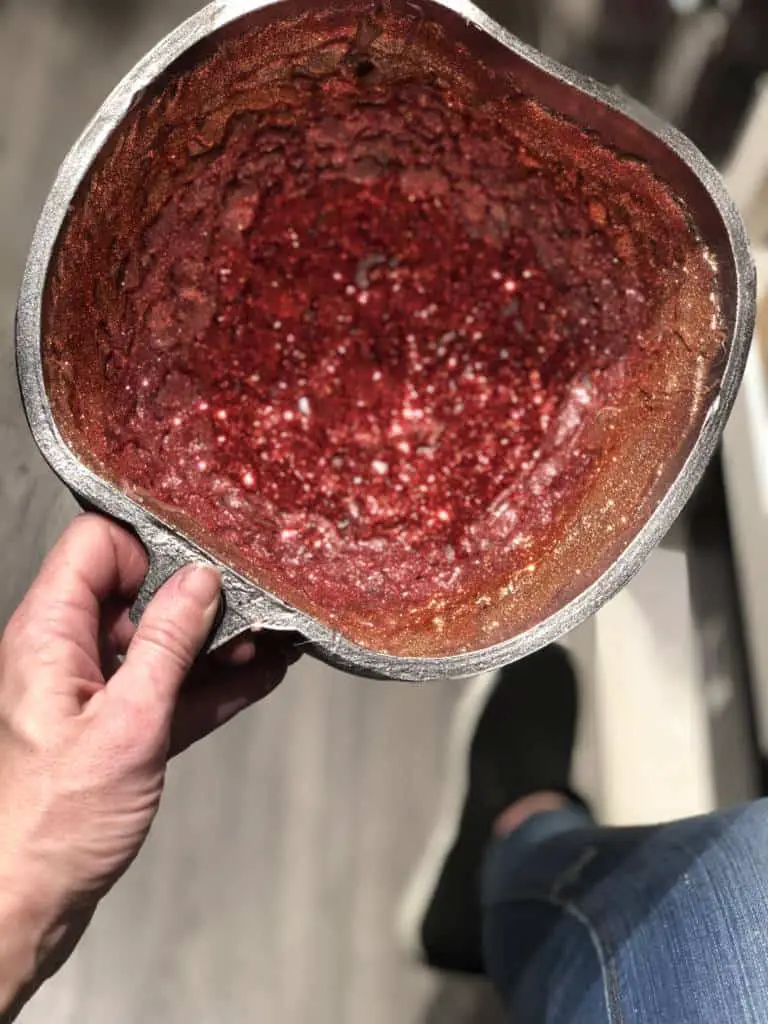 That's it! Super simple and perfect for your little nerdling too. ?
More Valentine's Day Posts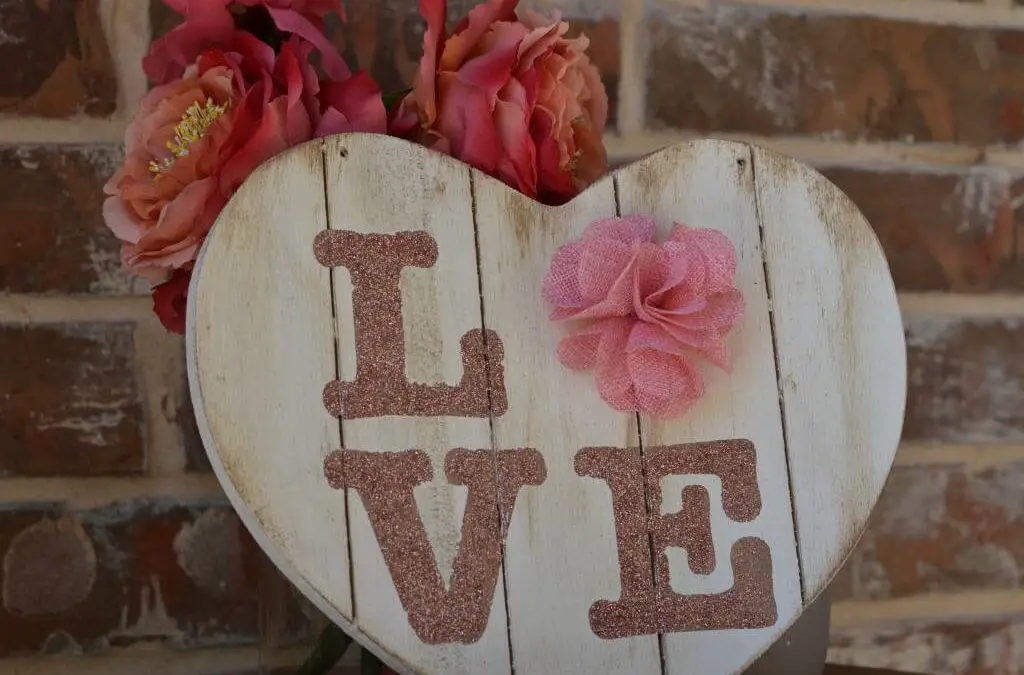 Shabby-chic is my jam. When we were at LOOT Vintage Market last weekend, there was a booth FULL of pallet signs with lace flower letters and it reminded me that I made this a while back and never showed it to you! Ooopsie. It's too cute to keep a secret.This simple...
read more