This post is sponsored by Community Coffee, however all opinions are my own.
Red bags.
He always gave the red bags of Community Coffee at Christmas.
That's my dad. When he moved to Louisiana, he immersed himself in the culture. And being the professor/avid coffee drinker that he was back then, he drank a LOT of Community Coffee throughout the day. I mean, it's pretty much the state coffee of Louisiana so there wasn't much choice. You would absolutely find it in every office and every house. And the blend with chicory was perfect to make your own steaming hot cup of café au lait. It's probably the #1 reason I made it through grad school.
Twenty + years later, my heart still tugs when I see the red bag — which we always have one on hand.
Each December, Dad would load up from the Piggly Wiggly and send red bags of coffee to all his friends and family that lived outside the state, because at that time, it was exclusive to the region.
Well, he must've done a good job.
Him and all the other fans of Community Coffee, have been dragging their red bags all over the country because now it's a staple in the grocery stores in DFW. In a full circle moment, I can say that even a soccer dad on our team is a territory manager so hubs and I can blather on about how much we love it to someone who actually doesn't mind our obsession.
Hold up, though. For us, it's more than a great tasting coffee, Community Coffee is really one of those nostalgic brands that's so much more. It's all about coming together for a shared moment. Around the coffee cooler, with beignets on Sunday morning, with a slice of Mardi Gras King Cake, maybe talking about a recent LSU win, or visiting my Mother-In-Law's for Natchitoches meat pies…
I think that's why "Cap" Saurage named it that over 100 years ago when he dreamed up his special dark roast blend, and opened a country store to sell it and groceries to his family and friends. To this day, Community Coffee is still owned and operated by Cap's family, and steered by the values and integrity that have been passed down from generation to generation.
You know what has been passed down from our family, generation to generation? A love of coffee! If you've followed me on social for even a minute, you'll know I Loooooveeee my java fix. That's why I was OVER THE MOON excited to try Community Coffee's limited release "winter blend." Not only is it delicious with the perfect blend of African and South American coffees with a slightly sweet undertone, but it's also a light roast with medium body, and gets me ready each morning. Bonus: the K-Cup packaging has a "to" and "from" area on it!!!!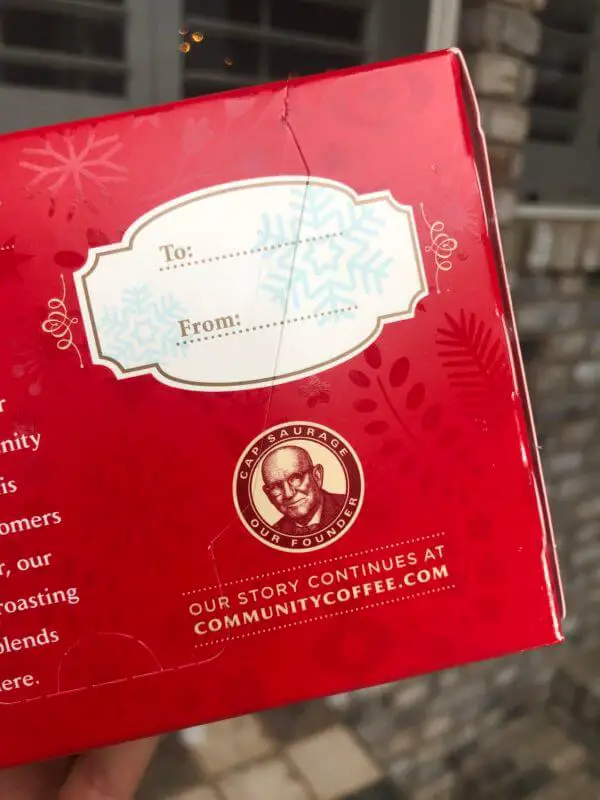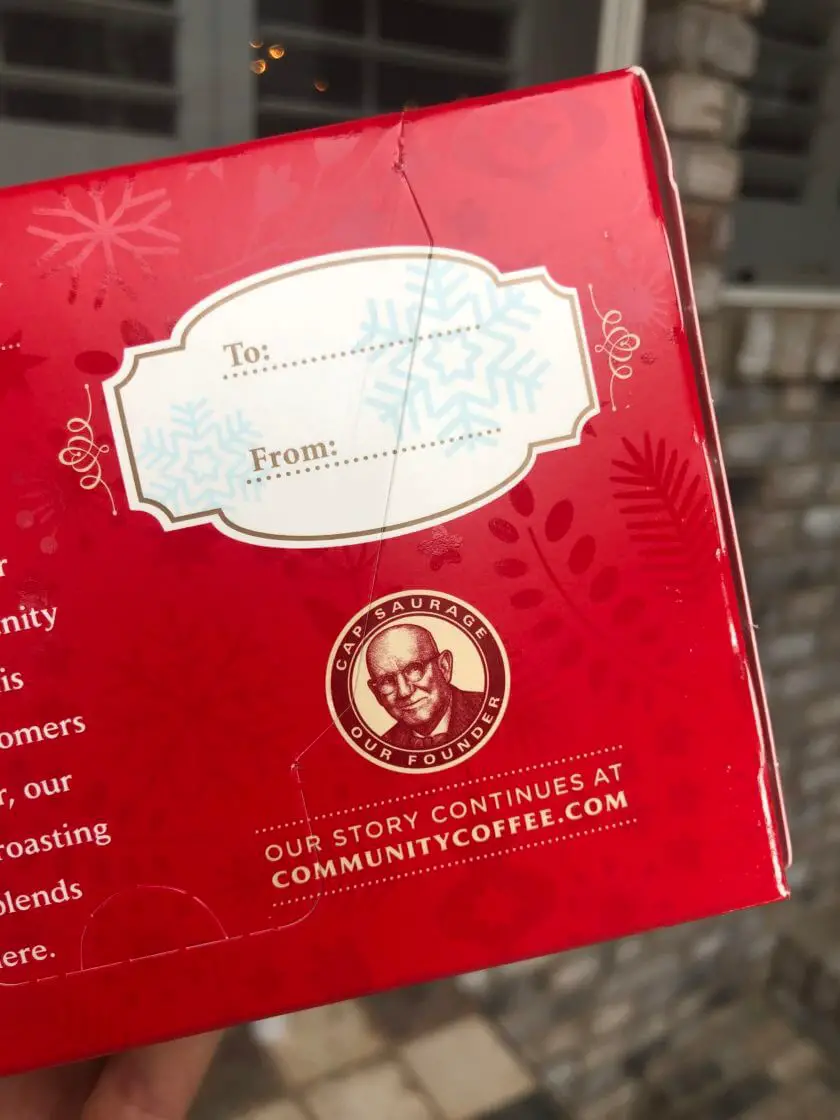 So you know what I did, of course… I gifted them to a neighbor who mostly all I know about is what color her cars are and that she is gluten-free which ruled out the rum cakes I made for the rest of our world. But, she's part of my day, part of my community, so aptly, we gifted her a box.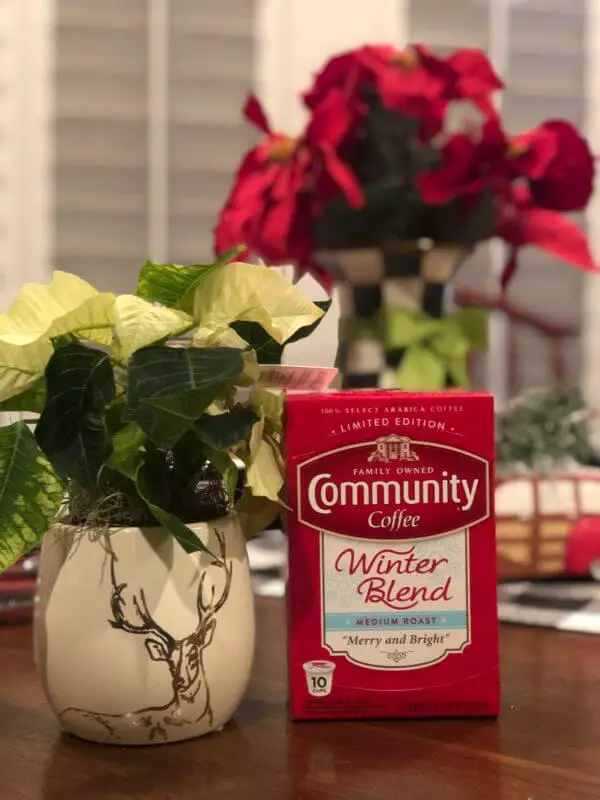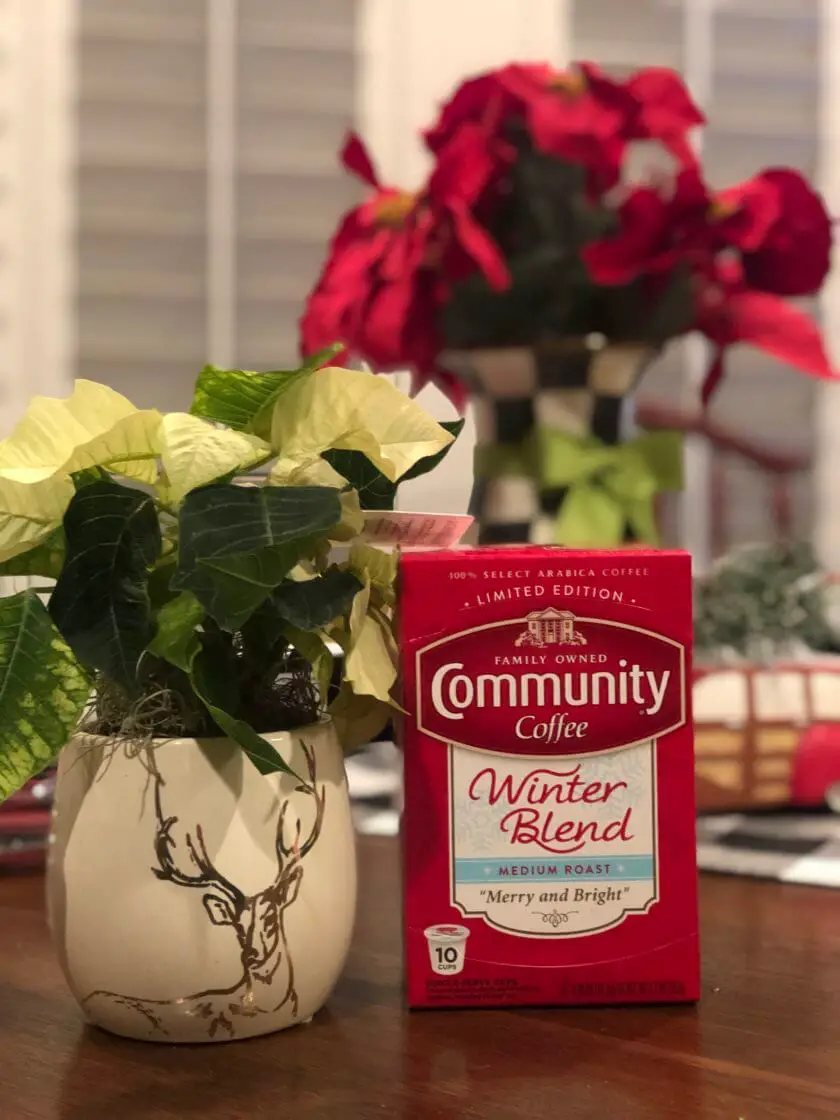 It's not too late for you to start a red bag family tradition too. I checked the Community Coffee website and see that they're still available (as of this posting). I dolled mine up for the holidays, but they have a gift set to make it even easier. Just tie your Valentine's Day tag on it, and you've got a special red-bag gift to give with very little effort but big big history.
Do you love Community Coffee? Which flavor is your favorite? This time of year, I can't get enough of the Mardi Gras King Cake Blend! IT IS AMAZING but it sells out fast! Grab it when you see it or it's also available online here.