It's been 19 years in the making.My husband and I have talked about making
Natchitoches Meat Pies
for THAT long.
Yeah I heard you say, HUH? I won't hold it against you for not knowing what or where "Natchitoches" is, let alone how to pronounce it ("Nak –a-tish"), or knowing they have pies. Made of meat. But if you've ever seen the iconic movie Steel Magnolias, then you already know and love Natchitoches. It is, as portrayed, a little slice of Southern heaven wrapped up in a gianormous fluffy bow and just beckoning y'all to come visit.
The hubs is from there. He is the real deal Natchitocian. His step-dad's law office was on Front Street — the street facing the canal from the Easter egg hunt scene, you know the one. His whole family is speckled about the quiet little town from one end to another. And yes, they do love to cook there. I've had many of my best meals while on Natchitoches soil, but none rivals my favorite as one block over in a famed restaurant called Lasyone's.
They serve – in my humble opinion – the reason why Natchitoches is on the Google earth map. Their meat pies are pretty much my all time favorite food. They even have a Meat Pie Festival every year! I am not a big girl, but like a chipmunk preparing to hibernate, I can put away almost three of Lasyone's meat pies at one sitting. Four if I am tailgating. Spicy meat and vegetables wrapped in a delicate pastry, fried to a golden perfection. Mmmm meat pie. My mouth waters just thinking of them.
Lasyone's does not corner the market on Natchitoches meat pies – although in my book everyone else's is a wanna-be. One bite of their savory concoctions and you'll understand why people travel from all over the country just to try them. And yes, they ship all over the world.
S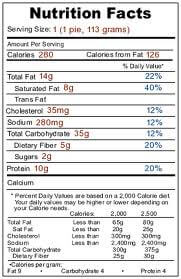 o when the Texas Beef Council asked us to blog about our favorite beef recipe – obviously you know what came to mind. I really struggled because I knew "the Beef People" wanted a healthy recipe (Lasyone's meat pies aren't terrible, see?
…well maybe when you substitute them for three square meals a day like I do…), but in all honestly, my family's favorite go-to healthy beef recipe is just a flank steak with ground black pepper and garlic on it, grilled. Not much to blog about that. See, done in one sentence already! And we have it so often, even I am bored with it.
This was to be my gateway recipe. We had wanted to make these dang Natchitoches meat pies for almost 2 decades and darn it, if I committed to doing it for "The Beef People," it was going to happen and they would be our enabler.
Daringly I asked if I could do Natchitoches meat pies and sent them a recipe. A recipe from Emeril Lagasse – not Lasyone's, because Lasyone's has been known to off people before letting them out of the kitchen with their secrets. (Not really, but it is probably the ONLY secret left in little ol' Natchitoches!)
To say the Texas Beef Council was horrified by the LARD listed as a main ingredient, well, that was probably enough for them the kick me out of their sponsorship program altogether. (Clearly they've never had a Natchitoches meat pie because if they had, they surely would have justified it by the merits of lard on one's complexion or something of the sort. You know, now that I think of it, Southern women do have fantastic skin.) They weren't a fan of the pasty either, but I pinky promised I'd try to make a healthier version of this North Louisiana delicacy.
And so I present to you, the Perot version of Natchitoches Meat Pies, sans lard. We made it not three, but four ways in an attempt to make it more waistline friendly and maintain the culinary integrity to which this super food is entitled. Our four versions are as follows:
1 – BAM! A modified Emeril Lagasse recipe
2 – Baked meat pies rather than deep fried
3 – Ditched the pasty all together and went with low-fat Pillsbury crescent rolls.
4 – Using the low-fat Pillsbury crescent rolls, we made it in ramekins for individual pot pies.
And here's how this pie went down. Our recipes appear below, and modifications follow. We fully intend to make these again, and again, …and again so I will update the recipe as we change it for the better.
How are they?
These are so good, my mother-in-law is worried she has no more bait to get me to come visit. Now mind you, I have become a meat pie connoisseur. My husband is more so. Aside from Lasyone's – and we are so darn close to replicating those – these beat the pants off all the other variations from the area. And why wouldn't they? I had a card-carrying Natchitocian stirring the pot with me.
So let's get to cooking:
Natchitoches Meat Pies
Makes approximately 12 meat pies (5×3 inches)
Estimated time required: 1 hour 15 minutes
Ingredients
For the filling:
1 pound lean ground beef
1/2 pound lean ground pork
not quite a full medium sized onion, finely chopped
1/2 cup chopped bell pepper
1/2 cup chopped celery
1 1/2 teaspoons salt
1 ½ teaspoon Essence, recipe follows
1/4 teaspoon cayenne pepper
1/2 teaspoon freshly ground black pepper
2 ½ tablespoons minced garlic
1 tablespoon flour
Just shy of 1 cup water
1/2 cup finely chopped green onions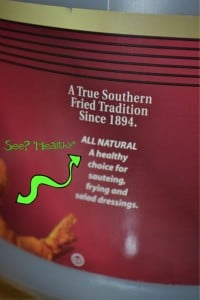 For the pastry :
3 cups flour
1 1/2 teaspoons salt
3/4 teaspoon baking powder
6 tablespoons vegetable shortening
1 egg
3/4 cup milk
Egg wash
Egg wash (1 egg beaten with 2 tablespoons water)
Peanut oil, for deep-frying
Directions
In a large non-stick skillet cook beef and pork, stirring occasionally, until browned, about 5 to 6 minutes. Add the onions, bell peppers , celery , salt, Essence, cayenne, and black pepper. Cook, stirring often, until the vegetables are wilted, about 10 to 12 minutes. Add the garlic and cook for 2 to 3 minutes.
Dissolve the flour in the water and add to the meat mixture. Stir until the mixture thickens slightly, about 3 minutes. Remove from the heat and add the green onions. Mix well and let cool.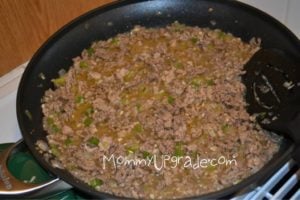 *** If baking or using crescent rolls, skip to variations below ****
Making Pastry for Natchitoches Meat Pies
In a mixing bowl, sift together flour, salt, and baking powder. Cut in the vegetable shortening until mixture resembles coarse meal. In a small bowl, beat the egg with the milk. Gradually add the egg mixture to the flour mixture, working it to make a thick dough. Divide the dough into 12 equal portions and roll each portion of dough into a thin round about 5 inches in diameter.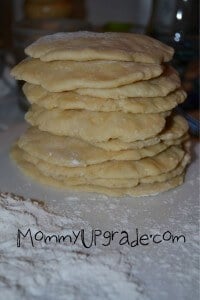 Place about 1/4 cup of meat filling in the center of each round and brush edges lightly with egg wash. Fold edges together and crimp closed with a fork.
Heat peanut oil in a deep pot or electric deep-fryer to 360 degrees F. Fry the pies, in batches of two or three, for approximately 3 minutes and 30 seconds, or until golden brown. (Depending on the type of oil you use in your fryer, this will vary.) Drain on paper towels and serve immediately.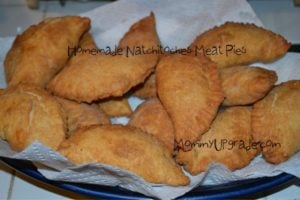 Essence (Emeril's Creole Seasoning):
2 1/2 tablespoons paprika
2 tablespoons salt
2 tablespoons garlic powder
1 tablespoon black pepper
1 tablespoon onion powder
1 tablespoon cayenne pepper
1 tablespoon dried leaf oregano
1 tablespoon dried thyme
Combine all ingredients thoroughly and store in an airtight jar or container.
Yield: about 2/3 cup
Recipe adapted from "New New Orleans Cooking," by Emeril Lagasse and Jessie Tirsch. Published by William and Morrow, 1993.
Baked variations to the Perot version of Natchitoches Meat Pies:
1. Using the homemade dough (or your favorite pie dough): Follow the above directions, including how to make the dough. Once the meat pies are assembled, brush them lightly with the egg wash and place them on a baking sheet covered in parchment paper. Place into preheated oven at 375 degrees for 23 minutes. Turn once during baking. Remove and let cool for a few minutes. Enjoy while warm.
2. Replace the homemade dough in the above recipe with Pillsbury's low-fat crescent rolls. Remove crescent dough from container and tear dough along dotted lines. Knead dough in hands to create a small ball. Stretch ball into a large circle. Spoon meat mixture into circle and fold over edges. Pinch to close. Place on parchment covered baking sheet and into preheated 375 degree oven. Bake for 12 minutes, turn once during baking.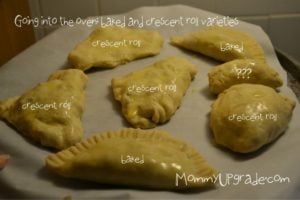 3. Make mini-meat pot pies! Replace the homemade dough in the above recipe with Pillsbury's low-fat crescent rolls. Remove dough from container and tear dough along dotted lines. Knead dough in hands to create a small ball. Roll out the ball to a small circle.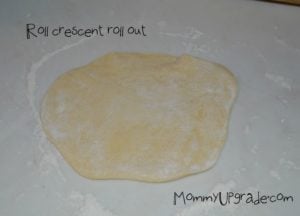 Stretch ball into a large circle and cover the bottom and sides of small ramekin which has been sprayed with cooking spray.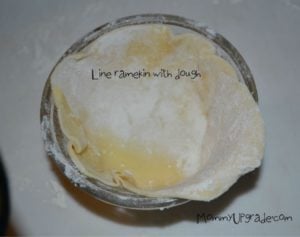 Bake for 5 minutes on baking sheet. While baking, knead more dough and create a small ball. (One sleeve will make 4 mini-pot pies.) Stretch ball into a circle large enough to cover the top of the ramekin. Remove the ramekins from the oven and add warm meat. Cover each ramekin with the additional circle of crescent dough. Return to oven and bake for an additional 13 minutes. Remove when tops are golden brown.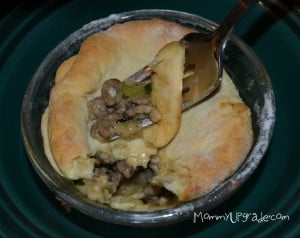 In my opinion, the original fried version of Natchitoches meat pies are hands down, the best. Try to eat these in moderation, do not go on a meat pie 3-day bender like I am known to do. If you find yourself needing an intervention, you can step down your addiction with one of the baked varieties until you are ready to resume normal food intake.
Variation #2 above with the crescent rolls is a fast, tasty alternative that can hold its own and give you the fix you need. And the mini-meat pot pies are just as yummy as #2, but admittedly have a higher dough ratio than I prefer. You have to really like the flavor of the Pillsbury low-fat crescent rolls for that pie pocket! Next time I think I may skip the rolls altogether, add a layer of mashed potatoes, peas and carrots and make a Cajun shepherd's pie!
If the crescent roll variations haven't allowed you to shake the meat pie withdrawal symptoms, go for the baked variation because baking the dough in this particular recipe was really lacking that thin, flaky dough flavor. I would recommend to try substituting your favorite pie dough in place of the dough in this recipe if you're planning to bake them. But then again, you may find yourself seeking a local chapter of Meat Pie Anonymous for a support group meeting if this works out for you.
Now that I have become your official Natchitoches meat pie dealer and you know how to bring the taste of Natchitoches to your table, don't even *think* you've seen all this historic city has to offer. I haven't even bent your ear about the Christmas Festival of Lights, the charming shops, the inviting bed and breakfasts or the eggnog daiquiris from Maggios — but that's for another blog entirely…
This post is part of the "Healthy Meals to Fuel the Family" series sponsored by the Texas Beef Council. Although I have been compensated to feed my family nutritious beef meals for four weeks, the opinions and culinary errors are all my own. 

 See my previous delicious recipes, "Chipotle Sloppy Joes,"  "Beef Tenderloin, Cranberry and Pear Salad," and "Beef Pot Roast with Ginger Mashed Sweet Potatoes."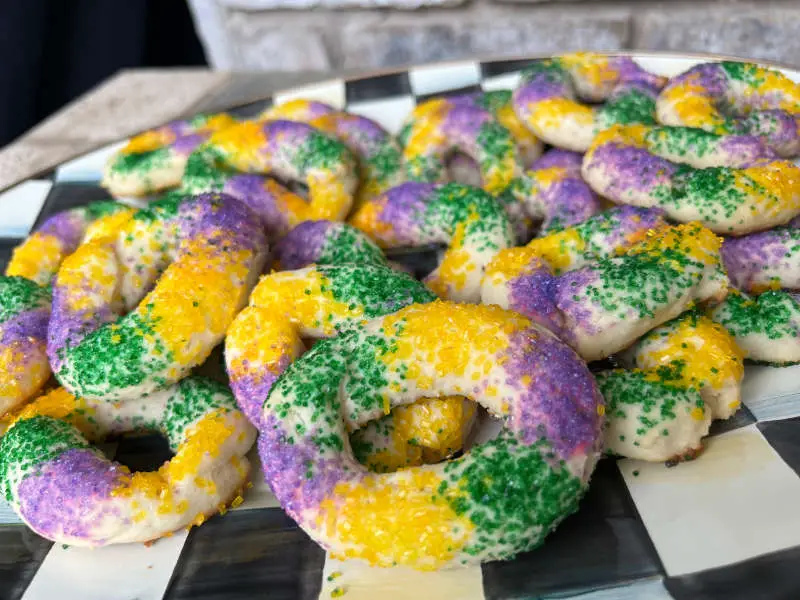 This is a recipe for cream cheese spritz cookies, but I'll give you a little backstory on this. I made the dough for these spritz cookies that I wanted to make at Christmas time but when I loaded it into my cookie gun and it was so stiff that it just basically broke...
read more