In our house, we like our crust with a little bit of pie. Basically, we're a pro-crust family.
So when I saw these on cookies & cups:
I knew they were the perfect project for The Princess Cupcake and me to make.
And so easy too. See?
All you need is refrigerated pie crusts, cookie cutters and pumpkin filling and you're good to go.
You can buy the filling, or here's the recipe we used for mini pumpkin pie filling. If you decide to make your own, mix and bake it first according to the recipe. I had to bake mine way longer than the recipe states though. Like 10 – 15 minutes longer — but that could be my oven. Keep an eye on it.
After you take the filling out of the oven, let it cool for about 20 minutes (or more). While it is cooling, get your pie crusts out and let them warm up on the counter so you can roll them out.
Once your 20 minutes is up, unwrap your pie crusts, get your little one to "dust" dump flour on your surface and get ready for some fun. Princess Cupcake loved using her Play-doh skillz with the rolling pin to stretch out the dough.
C'mon, admit it. You love a good rolling pin workout too.
Then take your pumpkin cookie cutter. This is assuming you have one. Personally, I took inventory of my cookie cutters. I had one pumpkin cutter and it was the size of a dinner plate. Uh no.
Digging deeper I found:
A cowboy hat
A coyote
A squirrel
A black cat
2 ghosts
An entire gingerbread family
A flock of butterflies in various shapes
A diamond ring
The state of Texas
All of your traditional Christmas shapes, angel, santa, tree, ornament…. twice
Fleur di lis – times 2
Flower
Heart
Easter bunny…
But no pumpkin. What the heck?! I actually had to go to Krogers to get one – thankfully only a $1.29.  And picked up an additional set of monster cookie cutters because well,  my collection was void of all monsters. And it included another pumpkin so now we're pumpkin-friendly times two. Excellent.
Use your pumpkin cookie cutter #1 to cut shapes in the dough and line them on your cookie sheet. I line my cookie sheets with parchment paper. I like it. And I'm lazy. Those sheets are so much easier to clean them when there's nothing stuck to them. Wait – do I even have to clean them?
Then drop a dollop of filling in the middle of each shape.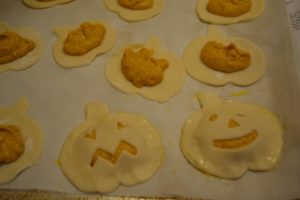 Roll out more dough and cut more pumpkins.
Cut faces in your pumpkins. If you're a grown up doing this solo, use a knife.  If you've got little hands helpers, I HIGHLY recommend using the "character kit" from the Zoku popsicle maker for shapes. They are basically mini mini cookie cutters and are PERFECT – I mean PERFECT for this project.
My miniature pastry chef had a lot of fun making faces. She did NOT like the scary or mad faces that I made.
Muhahahah, they're ALL mine! My plan was working beautifully!
Once your faces are cut, mix up your egg wash (one egg with 1 tablespoon of water) and brush it on the edges of your pumpkins with the filling.
Make your pumpkin sandwich, lining up the stems and bodies. Pinch the edges to seal.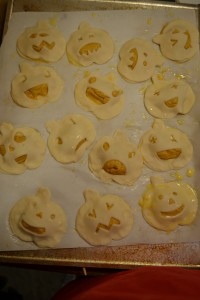 Brush the tops with the egg wash and sprinkle on cinnamon sugar.
Bake for 20 minutes. Well, again, I baked for longer but it may be my oven.  We were in for a good 25+.
Get them out and enjoy that crusty goodness with just the right smidge of pie!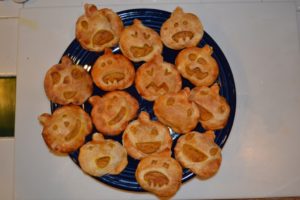 I can see these working for pretty much any holiday:
Thanksgiving: that turkey cookie cutter can come in handy, and the air holes can be the 'feathers" — or just make more pumpkins.
Christmas you can use that tree cookie cutter and for holes (which I presume help the pocket from exploding), cut ornaments. Sprinkle with green or red sugars. Fill with mincemeat? Bleh. Cherry pie. The Princess Cupcake suggested using m&m's for ornaments. I'm game, fill that sucker with chocolate and shove some m&m's in it. Yum.
Valentines: definitely go with the cherry pie filling and just use two sizes of hearts cookie cutters.
Easter – egg shapes would work. I see lemon pie for it.
Summer – butterflies – cut shapes for their wing patterns. Fill with any color pie filling and sprinkle with multi colored sugars.
Fourth of July: Stars with blueberry and strawberry or cherry filling. Use red and blue colored sprinkles.
So basically, we'll be making these again because I just legitimized my cookie cutter collection for an entire year.
Next time, I'll do these things different:
Make the filling ahead of time. That was my intent but the day got away from me. Or screw it, don't make it at all if you have a canned version you like.
Buy two packages of pie crust. You will have a LOT of filling left over. But not enough for a whole pie. Don't throw it out, make more pumpkins! You can make about 16 pumpkins (depending on the size of your cutter) with one package of dough.
Brush the edges of the pumpkins without the filling, not the pumpkins already on the cookie sheet. Little one had a hard time not dragging the brush through the filling too. It got a little messy. But she tried real hard.
Don't roll the dough too thin. I actually like the thicker ones better, but again, we are definitely pie crust lovers.