July 4th is almost here y'all.
You'd better get your plans straight.
And your drinks ready.
Did someone say, "drinks?"
Yes please.
Seeing as how I'm one of these "early adopters" that marketing people love to tease… I have decided to weigh in on the whole Cuca Fresca thing.
Cuca Whata? I heard that.
Cuca Fresca. It's actually an artisanal cachaça.
Definition: Cachaça is a distilled spirit made from sugarcane juice. Because it's made with sugarcane, people in the South are required to like it. (I added that last part.)
See how much you're learning from me today?!
Cuca Fresca is kinda like rum — kinda. But not as rummy, but it is clear. It's organic (so it must be good!) and hand pressed, double distilled and aged in oak or Brazillian wood depending on whether you buy the Prata or the Ouro versions. I don't quite know how to describe it more specifically. It's tasty – but not as a sipping liquor (for me anyway), it's more of a mixing spirit. Cuca Fresca is technically a Brazilian spirit and don't hold the US loss during the World Cup against Brasil, it wasn't their fault. It is the third most consumed spirit in the world, behind vodka and soju. Yep, I'm a smarty pants. A smarty pants who likes adult bevies… but not that smart as I have no idea what soju is but it might be next on my must try list.
I had the opportunity to try Cuca Fresca at a bottle signing recently in Colleyville with reality star Tamara Judge from the Real Housewives of O.C. Before you get too excited…. I couldn't go. Here's a photo of her there though. I'm sure she missed me.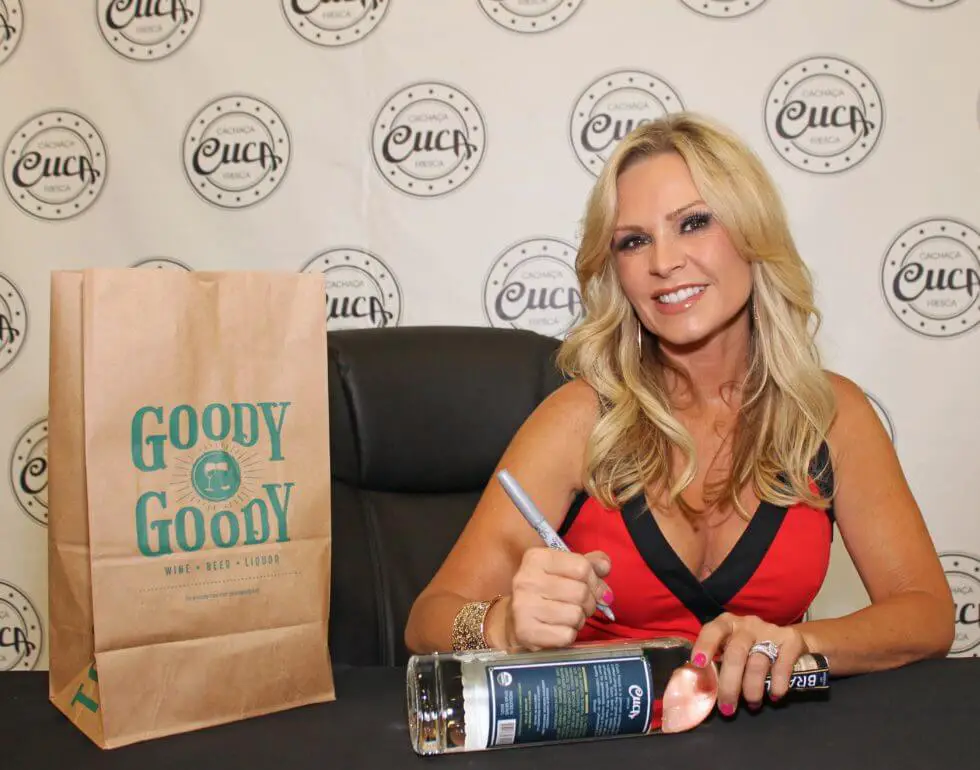 Hey, why should I lose out on the fun just because I wasn't there to see her cute self? I did what this smart housewife does and sent the hubs to the store to find it (the ONLY store he goes to at my request without complaint) and I made a Cuca Fresca Rio Rita that night. It was great, like a margarita without the sharpness of tequila. Here's my recipe which is a little different than the ones in the images below: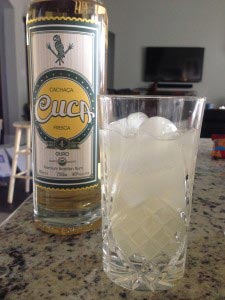 Trista's Rio Rita
(makes one drink)
2 oz. Cuca Fresca Ouro
¾ oz. of Fresh Lime Juice
¼ oz. of Fresh Lemon Juice
1 oz. Patron Citronge
½ oz. Simple Syrup (Make this by mixing equal parts sugar and water, heat together on stovetop until sugar is melted. Let cool.)
Pinch of salt
WARNING: Drink this too fast or have too many of these and not only will you not be able to finish your Craft Exchange project, you will be dancing like you're actually in Rio during Carnival shouting CHEESE AND SPRINKLES from the top of a float! I think you could easily mix this half and half with Pellegrino and it would be a super refreshing, perfect porch drink.
Based on my successful adaptation of the Rio Rita, I feel compelled in the name of blogger research, to try the other drinks with Cuca Fresca. The Cuca Tanga and the Passion Potion (recipes below) seem like good ideas this weekend, especially since my basil plant is out of control and needs a good cutting before the pugs chew all the leaves off. However, I'm staying away from the Caipirinha – it sounds like hangover in a glass to me, but you can try and it and tell me what you think.
Cachaça is one of the fastest growing spirits in the US so you'd better try it soon before it's old news. You can find it in Texas exclusively at Goody-Goody stores. Bottles start at only $20.99.
No I didn't receive any compensation for this post. I just like to drink responsibility and try new things. And secretly I'm hoping they send me one of those sparkly Cuca shirts that Tamara has on.