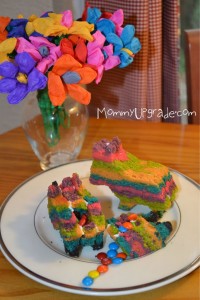 You know you want one. A cute little rainbow burrow sugar cookie.
But wait, there's more —
It's a piñata cookie! Surprise! Inside there's a little mouthful of M&M's.
I first saw these pinata cookies on Pinterest (pinned from SheKnows.com) and my heart started racing. I dropped everything and ran to the cake supply store to find a burro cookie cutter (shocking I don't have that). I just needed to see if I COULD make it. Like Phil Mickelson with his club upside down in the wrong hand behind a tree, I wanted to see if I could make that shot.
I didn't even tell the Princess Cupcake. I was afraid that maybe I had found my match, hit my limit, I couldn't pull off a decent replica. But if I COULD make piñata cookies, then they would be great for snack at school and the teacher could tie it into Cinco de Mayo. Ole!
Except after I was ½ done with the process, I found out that they don't talk about Cinco de Mayo at school this year.
Well, they're going to have to now because piñata cookies just don't make sense on a random Friday.
And never mind the fact that the Princess Cupcake's only experience with piñatas are the power ranger and transformer kind that she's smacked at birthday parties… I think she was confused when I showed her a rainbow donkey. And I asked her if she knew what Cinco de Mayo was. Blank stare.
Oh well. They turned out adorbs. I'm totally thrilled and filled with a sense of accomplishment.
Here's a link to the recipe and how-to's from SheKnows. I used their exact recipe so go there first, but I did do a few things a little different as I went along. Here are my tips if you too are so brave as to try to make piñata cookies.
I tripled this recipe and it made 26 finished burro piñata cookies.
Use white flour just like the piñata cookie recipe says. I forgot that in a moment of temporary insanity, I had purchase white whole wheat flour at the store the last time, thinking that would be a healthier alternative. Seriously, when you're making cookies – does it really have that much of an impact on nutritional value? I doubt it, but it does make for a heartier, crumblier dough. Stick with the regular flour.
Also of note, the whole wheat flour doesn't take the gel food colors as readily. Sigh.
This recipe is REALLY oily. You didn't do anything wrong. But I do think if I make these again that I will use a regular sugar cookie recipe because the oil kinda grossed me out.
When putting plastic wrap into your containers before you fill them with dough, put several layers down. I did only one – and getting it out was a little bit of an issue. It stretched and tore making removal a challenge.
I tried to layer the dough like the recipe says and got frustrated with how long it took. Finally I just grabbed my ball of dough, made it into a fat snake and took a rolling pin to it. Flattened it out, lifted it with a spatula and put it in the pan. It was SO MUCH FASTER. And the layers became more even, there was less pressing and stretching. Forget the crumble and press technique that they feature. This is a time saver.
The recipe says to freeze for 4 hours. I wouldn't. Just refrigerate it overnight. After you make all those layers you aren't going to want to bake them right away anyway. And if you freeze it, you have to let it thaw just to cut it correctly anyway.
I baked mine 14 minutes. Of course this will vary for everyone depending on their oven and the type of cookie sheets you use, but mine, across the board were better at 14 minutes. The cookies spread out more the longer you bake them. Which is good because I was worried that the height wouldn't be tall enough for my little burro cookie cutter.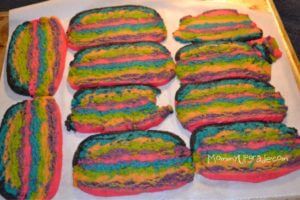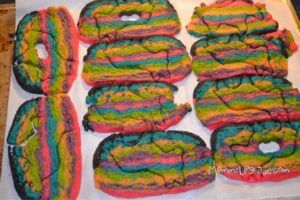 When cutting the burros out, you cookie cutter will get blazing hot. Keep a mitt nearly to help with this part.
Keep a smaller cookie cutter nearby too. There is about ½ – 2/3 of the baked dough that you won't be using. If you cut extra little mini cookies out, you could freeze them and use them on a cake or something later. Who wouldn't love mini rainbow flower cookies on your next cupcake? Or serve them with coffee, tea, wine…. It's a shame to just throw away all the scraps. And we had a gigantuan bowl of scraps.
I didn't use the frosting glue that's in the recipe. I used Wilton cookie frosting that I bought for another project recently. It worked great and was a time saver.
When you are putting the burros together, break the legs off the middle cookie, otherwise it looks a little odd to have 6 legs peaking through.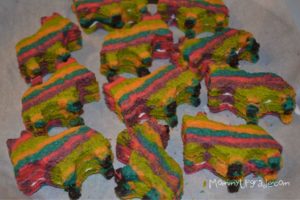 Happy Cinco de Mayo! Hey Phil — I'm ready for some golf!