Mango, pineapple, lime and other fresh ingredients are combined to take fish tacos to a whole new level!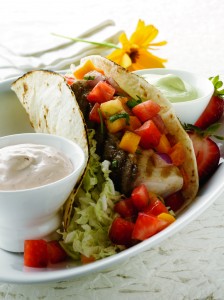 Ingredients
Strawberry Salsa:
1 cup diced fresh California strawberries
1/2 cup diced mango
1/4 cup diced papaya
1/4 cups diced pineapple
2 tablespoons diced red onion
2 tablespoons freshly squeezed lime juice
1 tablespoon chopped cilantro
1 1/2 teaspoons rice vinegar
Salt and black pepper
Cayenne pepper
Avocado Sour Cream:
1/4 cup diced avocado
1/4 cup sour cream
1 tablespoon freshly squeezed lemon juice
1 1/2 teaspoons freshly squeezed lime juice
Chipotle Sour Cream:
1/2 cup sour cream
1/2 chipotle in adobo
Salt and white pepper
Granulated garlic
1 pound mahi-mahi, cut into 2-ounce pieces
Salt and black pepper
Ground cumin, ground coriander and ancho chile powder
8 (6-inch) corn tortillas, heated
8 (6-inch) flour tortillas, heated
2 cups shredded napa cabbage
Directions
To make Strawberry Salsa, gently mix together all ingredients; season with salt, pepper and cayenne pepper. To make Avocado Sour Cream, blend all ingredients in food processor or with stick blender. To make Chipotle Sour Cream, blend sour cream and chipotle in food processor or with stick blender; season with salt, pepper and granulated garlic. Season mahi-mahi with salt, pepper, cumin, coriander and ancho chile powder. On gas or charcoal grill, cook fish until it offers no resistance to the point of a small, sharp knife. Place 1 corn tortilla on top of each flour tortilla. Top each corn tortilla with 1/4 cup cabbage, 1 piece mahi-mahi and 1/4 cup Strawberry Salsa. Serve Avocado Sour Cream and Chipotle Sour Cream on the side.
Makes 4 servings.