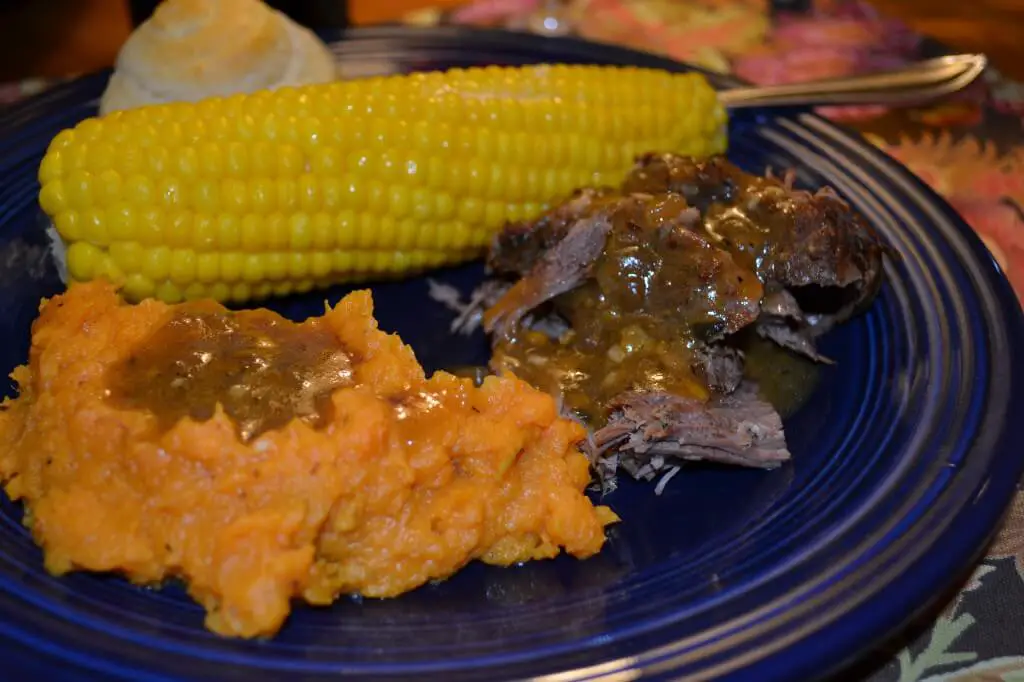 This post is part of the "Healthy Meals to Fuel the Family" series sponsored by the Texas Beef Council. Although I have been compensated to feed my family nutritious beef meals for four weeks, the opinions and culinary errors are all my own.

See my previous delicious recipes, "Chipotle Sloppy Joes" and "Beef Tenderloin, Cranberry and Pear Salad."
I'll admit, I'm a sucker for a good pot roast. One that you just shove in the pot and let it simmer for hours. The roast does all the heavy lifting and you take all the credit. Just toss in some hearty veggies on top as your sides and you're good to go. That's my kind of meal-making!
When I had my choice of recipes for this weeks' Healthy Family Favorites for my promotion with the Texas Beef Council, I couldn't take my eyes off of the:
Beef Pot Roast with Maple Sweet Potatoes and Cider
It sounded so FALL to me and as we're not quite ready for Spring here in Dallas, I envisioned this as the perfect end-to-winter comfort food. The hubs labels this as a 5-star leftover meal. He thought it made a great sandwich with some barbeque sauce the next day.
And let me tell you, the sweet potatoes are a.maze.ing. I don't even like ginger but they turned out – dare I say – delectable? Like something you'd eat in a chic-chic restaurant when you actually get to go on a date with your husband… Hey, a girl can pretend.
Beef Pot Roast with Mashed Ginger Sweet Potatoes Recipe : Serves 8
Cook Time 3/25 hours – yeah, you gotta plan ahead.
Ingredients
1 boneless chuck shoulder pot roast (3 to 3-1/2 lbs.)
2 tsp. olive oil
1 tsp. salt
1/2 tsp. pepper
1 cup chopped onion
2 tsp. chopped fresh thyme
1 cup ready-to-serve beef broth
3/4 cup apple cider (The downside to making this in almost Springtime is that there is no traditional apple cider in the stores. I used sparkling apple cider, but it was really lacking on the flavor. It was a great technical addition – think 7UP or Beer in brisket – but definitely kick this one up a notch with your favorite beef seasonings. Ours turned out incredibly tender but a bit bland because I on this day, I was not a rule breaker – I stuck to the recipe. And really, how can you taste meat to adjust the flavor when it's still raw?! It made a heckuva BBQ sammich the next day though.)
3 lbs. sweet potatoes, peeled, cut crosswise into 1 to1-1/2-inch pieces
4 ++ cloves garlic, peeled (I actually used minced. A lot of it.)
2 Tbsp. maple syrup
1 tsp. minced fresh ginger
3/4 tsp. salt
1/4 tsp. pepper
2 Tbsp. cornstarch dissolved in 2 Tbsp. brandy or water (I had to substitute with Cognac. No, I didn't even consider water. And do not tell one's husband that you accidentally spilled his good VSOP Cognac on the floor. Wipe it up quickly because unfortunately, even pugs won't help with the clean-up on this one.)
Instructions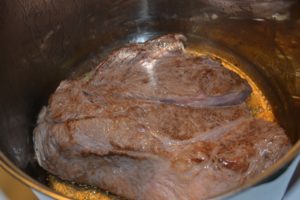 Heat oil in stockpot over medium heat until hot. Place beef pot roast in stockpot; brown evenly.
Remove roast; pour off drippings and season with 1 tsp. salt and 1/2 tsp. pepper.
Add onion and thyme to stockpot; cook and stir 3-5 minutes or until onion is tender. Add broth and cider; increase heat to medium-high. Cook and stir 1 to 2 minutes or until browned bits attached to stockpot are dissolved. Return pot roast to stockpot; bring to a boil. Reduce heat; cover tightly and simmer 2-1/2 hours.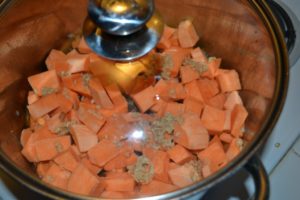 Add sweet potatoes and garlic to stockpot; continue simmering, covered 30 minutes or until sweet potatoes and pot roast are fork-tender.
Remove pot roast; keep warm. Remove sweet potatoes and garlic with slotted spoon to large bowl, leaving cooking liquid in stockpot.
Add maple syrup, ginger, 3/4 tsp. salt and 1/4 tsp. pepper to sweet potatoes. Beat until sweet potatoes and garlic are mashed and smooth; keep warm.
Skim fat from cooking liquid; stir in cornstarch mixture.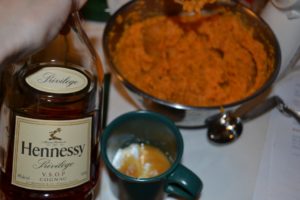 Bring to a boil, stirring constantly; cook and stir 1 minute or until thickened.
Carve pot roast into slices; serve with mashed sweet potatoes and gravy.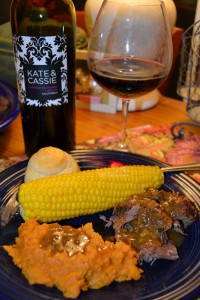 Yum! And don't you just love the label on this bottle of wine?!
Oh, and PS – next week is my last week to partner with the Texas Beef Council. They've asked us to prepare one of our family favorite recipes. Little did they know my family is from Louisiana! Stay tuned!
Suggestions
Don't worry about the mess, this is a one-dish meal. And the brandy you spilled on the floor will kill all the germs.
Nutritional Information
Nutrition Info per serving: 342 calories; 7 g fat (2 g saturated fat; 4 g monounsaturated fat); 60 mg cholesterol; 511 mg sodium; 42 g carbohydrate; 5.3 g fiber; 26 g protein; 5.2 mg niacin; 0.7 mg vitamin B6; 2.6 mcg vitamin B12; 3.9 mg iron; 26.2 mcg selenium; 6.2 mg zinc.
Nutrition Tips
Portion size is always something of a mystery! But you can create the Perfect Plate using the USDA My Plate guide:
Start with a small plate that measures 9 – 10 inches across (instead of the huge plate many of us are accustomed to).
Fill half the plate with colorful fruits and vegetables – the more color you have, the more vitamins and nutrients you are consuming!
One fourth of your plate should be whole grains for fiber and folate.
The other fourth of your plate should be lean protein – a good rule of thumb for a portion is about the size of a deck of cards.
You should also have one serving of dairy with your meal – older children, teens and adults need three cups a day while children 4 to 8 years old need 2 ½ cups and children 2 to 3 years old need 2 cups. (per USDA guidelines)
Additional tips to help you make healthy choices:
Shop the perimeter of the store for the freshest, nutrient-rich foods including brightly colored fruits such as blueberries, strawberries and oranges and vibrant green, red, yellow and orange vegetables like tomatoes, spinach and orange bell peppers. The more colorful a fresh food is the higher in nutrient and cancer-fighting anti-oxidants.
Choose whole grain, fortified and fiber-rich bread and whole-grain pasta products instead of white breads and pastas.
Select lean ground beef that is at least 90% lean for hamburgers, chili or other dishes that use ground beef.
Always eat breakfast and include a lean protein when you can.
Make an easy breakfast or snack from low-fat yogurt and fresh fruit.
When snacking, choose brightly colored red, green, yellow and orange fruits and vegetables, low-fat dairy or lean beef jerky.
Make a healthy sandwich using whole-grain breads and lean protein such as roast beef and top with dark green lettuce and bright red tomatoes.
Turn a salad into an entrée by including fruits, vegetables and a lean protein such as grilled steak. (Just like last week's recipe challenge!)
Online Resources
My Plate Website
Find out more information about MyPlate and a visual of the perfect plate –http://www.choosemyplate.gov/
TBC Video – Tenderloin Taste on the TBC YouTube Channel
Features tips on healthy family eating on a tight budget –http://www.youtube.com/user/TexasBeefCouncil
Fast Beef Facts from the TBC Healthy Living Section
Facts about the benefits of lean beef and how it stacks up to other foods –http://www.txbeef.org/healthy_living/fast_beef_facts
Nutrition Resources
Lean Cuts of Beef List – Download your own lean cuts of beef wallet card to keep handy –http://www.beefitswhatsfordinner.com/CMDocs/BIWFD/29%20lean%20cuts%20wallet%20card.pdf
Advice for Today in pdf format: TX Beef advice for today
Fun Foods in pdf format: TX Beef fun foods