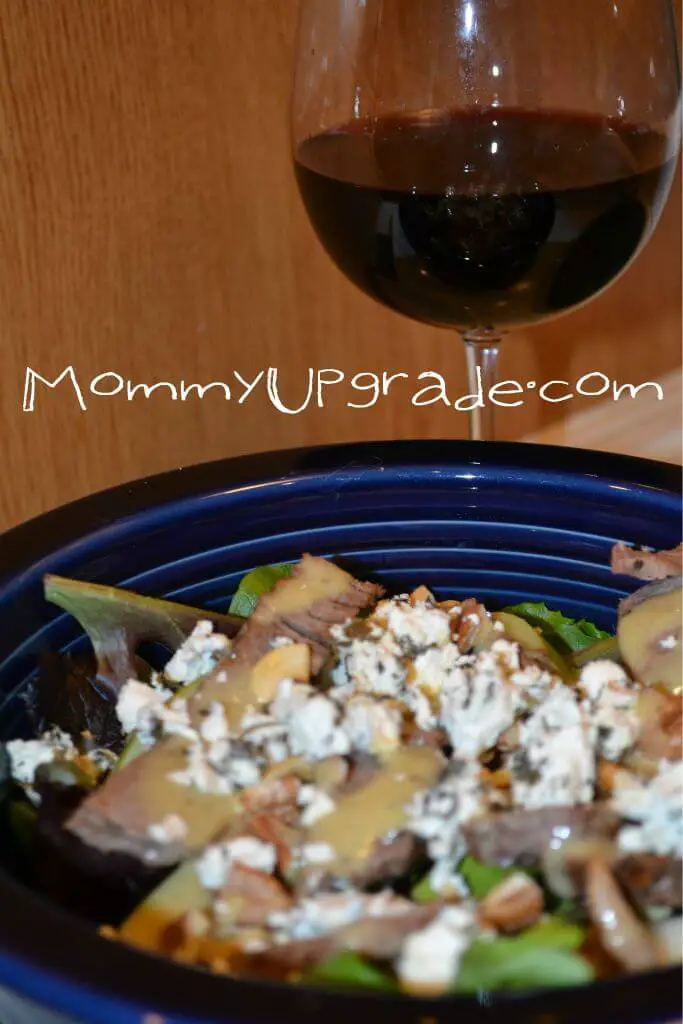 This post is part of the "Healthy Meals to Fuel the Family" series sponsored by the Texas Beef Council. Although I have been compensated to feed my family nutritious beef meals for four weeks, the opinions and culinary errors are all my own. 😉 See my previous recipe, "Chipotle Sloppy Joes" and take part in the upcoming twitter party on March 6th. (See info on the right sidebar.)
The weekend got away from us.
The weekend is prime dinner making time. When I can actually ENJOY cooking.
But when the hubs cuts "our" weekend short by leaving on a trip, there were not enough minutes in the day to make our "Power Up Main Dish Salad"  between the bowling, birthday partying and soccer gaming. (We won by the way.)
Which meant that this week's beef recipe was going to be made for me and the Princess Cupcake. Just us girls.
Which is cool because girls like salad.
Rightttt. Like my 3 year old is going to eat salad.
But if you deconstruct it and hold the lettuce, she likes all of the other ingredients. Well, maybe not the goat cheese. But I don't think I even liked that until about 10 years ago. She has time.
Regardless of the Princess' special order salad, (no lettuce, cheese or dressing), we both loved this recipe. Super easy. Fast. Great flavor.
And the Princess Cupcake asked for three plates of the steak. I call that winning.
Tenderloin, Cranberry and Pear Salad with Honey Mustard Dressing  – serves 4
Prep Time (without small assistants): 15 minutes
Cook Time:   10 minutes
Ingredients
4 beef tenderloin steaks, cut 3/4 inch thick (approx. 4 oz. each)
1/2 tsp. coarse grind black pepper
a lot of minced garlic (my addition – see photos below)
1 package (5 oz.) mixed baby salad greens
1 medium red or green pear, cored, cut into 16 wedges
1/4 cup dried cranberries
salt
1/4 cup coarsely chopped pecans, toasted – I added cashews too. Because I like cashews.
1/4 cup crumbled goat cheese (optional) – I used the herbed goat cheese pictured below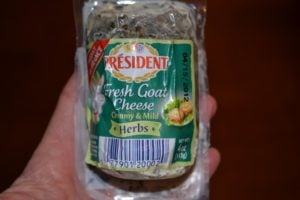 Honey Mustard Dressing
1/2 cup prepared honey mustard
2-3 Tbsp. water
1-1/2 tsp. olive oil
1 tsp. white wine vinegar
1/4 tsp. coarse grind black pepper
1/8 tsp. salt
Instructions
Season steaks with 1/2 tsp. pepper and minced garlic. In my case, a lot of garlic.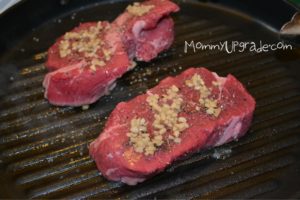 Heat large nonstick skillet over medium heat until hot. Place steaks in skillet; cook 7 to 9 minutes for medium rare to medium doneness, turning occasionally.
Meanwhile, whisk Honey Mustard Dressing ingredients in small bowl until well blended.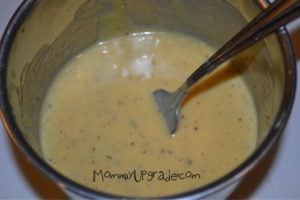 Set aside. Divide greens evenly among 4 plates. Top evenly with pear wedges and dried cranberries.
Carve steaks into thin slices; season with salt as desired. Divide steak slices evenly over salads. Top each salad evenly with dressing, pecans and goat cheese, if desired.
Suggestions
To toast pecans, spread in single layer on metal baking sheet. Bake in 350 degree oven 3 to 5 minutes, or until lightly browned, stirring occasionally. Watch carefully to prevent burning. Set aside to cool.
Nutritional Information
Nutrition info per serving: 321 calories; 14 g fat (3 g saturated fat; 7 g monounsaturated fat); 67 mg cholesterol; 434 mg sodium; 21 g carbohydrate; 3.3 g fiber; 26 g protein; 7.6 mg niacin; 0.6 mg vitamin B6; 1.4 mcg vitamin B12; 2.4 mg iron; 30.0 mcg selenium; 5.1 mg zinc.
This recipe courtesy of "The Healthy Beef Cookbook" published by John Wiley & Sons, Inc. and is part of the Power Up Main Dish Salads.
Know what else is winning? The hubs being out of town so I have leftovers of this awesome salad for lunch tomorrow. J 
Nutrition Tips:
A healthy diet and lifestyle not only give you energy, but are some of the best weapons for fighting heart disease.  The good news is that a heart-healthy diet includes many of the foods you love!  Research has shown including moderate amounts of lean proteins, such as lean beef, in the diet may help reduce the risks of heart disease by increasing satiety, improving muscle composition and reducing blood cholesterol levels.
A new study called BOLD (Beef in an Optimal Lean Diet) shows that eating lean beef every day can be good for heart health by improving cholesterol levels.  Participants in the study ate 4 ounces of lean beef every day on the BOLD diet.  After 5 weeks, they saw a 10% decrease in LDL "bad" cholesterol levels and significant reductions in total cholesterol.  The study proves that nutrient-rich lean beef, in addition to being satisfying and great-tasting, can be part of a solution to building a heart-healthy diet.
Protein's Role in Optimal Health
Provide energy
Help metabolize other nutrients
Deliver oxygen to muscle tissues
Boost immunity
Brain power
Enhance weight loss via satiety
Greater blood glucose control
Positive lipid profiles
Maintain lean muscle mass