The Princess Cupcake had her first experience with summer "camps" at school this year. She enjoyed "Barbie camp" (unsure what exactly this one entailed other than a coloring picture each day and a Barbie to play with while she was there), she LOVED "Books That Cook" where she read books with two of her favorite teachers and then "cooked" the foods that were featured in them, but we entered the stratosphere for all-time best days at summer zone when we during Cheerleader Camp with the Cupcake's very most favorite teacher as the Cheerleader coach.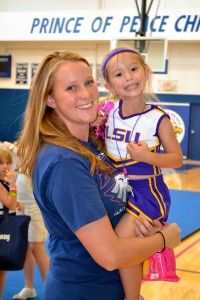 I'm sure her newfound love of cheerleading had nothing to do with the thunderstick she came home with ("So we can make MUSIC at home!), the megaphone that she decorated, the foam finger she got to wag and the coaches whistle that I hid the moment it came in the door.
Cheerleading camp is torture for parents who are prone to migraines. But it's not about me.
On the last day of Cheer camp, the little budding cheerleaders got to wear spirit wear or their cheerleading uni's and perform for all the parents.
It might've been the cutest thing ever.
As soon as I heard that they were cheering for us on the last day of cheerleader camp, I knew I wanted to bring them a special treat to celebrate.
And so I present to you, my version of a cheerleading cupcake.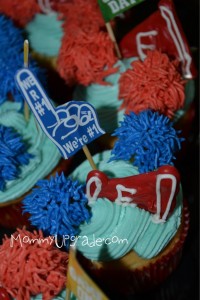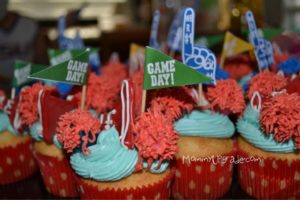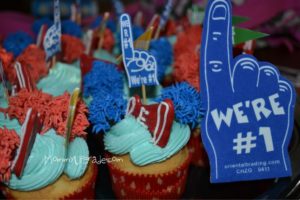 The school colors are red, white and blue. So these are white cupcakes with red and white polka dot liners. The blue frosting is a traditional buttercream, applied using a jumbo star tip. Here's my trick to filling frosting bags.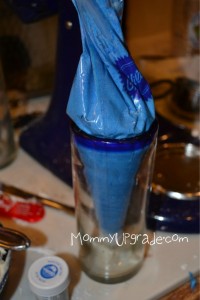 I drew the megaphone freehand with melted chocolate (both the red and the white). It looks so easy on tv, but mine was a little sorry santa hat looking…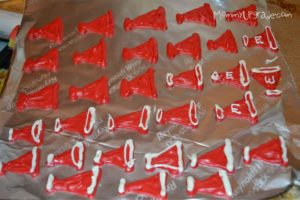 My genius moment was to create the pompoms with dum-dum lollipops.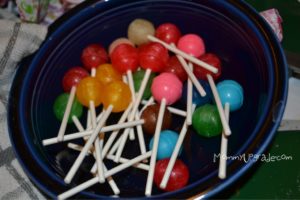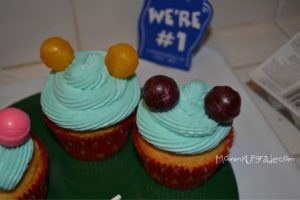 Covered with buttercream frosting using this tip
And the extra football flags and foam finger are from Michael's.
It was the perfect sugar rush to shake off the shyness before the performance.
See? No shys there!