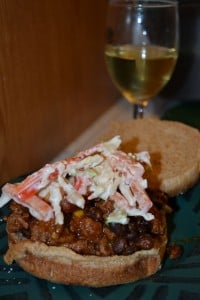 The hubs: "This is the best sandwich you've ever made for me."
Then… "I love those Texas Beef people. You need to do more with them."
Funny he should say that. We're kicking off the spring "Healthy Meals to Fuel the Family" series this week with the Texas Beef Council so there's lots more beef where that came from. And he's none-too-disappointed to hear it.
Much like during the holidays, the "Texas Beef People" are sponsoring me to highlight four weeks of delectable Texas beef recipes which will be featured here on MommyUpgrade. Yum. Lucky me. Lucky hubs.
They're also giving away lots of goodies that you can win during the Twitter party on March 6th. Lucky you.
But I digress.
Dinner tonight was fantastic.
I didn't even bother with any sides. I figured we had our vegetables mixed in the sandwich. Why distract this savory slice of chipotle heaven with a broccoli stem or a salad, bleh. I wanted my tastebuds locked in on this sloppy awesomeness.
Here's what I made and some tips. And a …
WARNING: I may – or may not – have been influenced by our recent fascination with the show "Heat Seekers" on Food Network. You can do what you want, but this was the perfect burn for the heat lovers in our household. Just sayin'.
Chipotle Sloppy Joes with Crunch Coleslaw
Ingredients
1 lb. lean ground beef (95%)
1/4 cup chopped onion
3/4 cup ketchup
1/2 cup frozen corn
1/2 cup canned black beans, rinsed, drained
1/2 cup tomato sauce
1-2 tsp. minced chipotle peppers in adobo sauce*
1/2 tsp. ground cumin
1/4 cup chopped fresh cilantro
1/4 tsp. salt
1/4 tsp. black pepper
4 whole wheat hamburger buns, split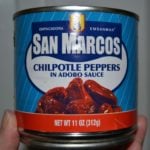 *Okay, so I've never used this "minced chipotle peppers in adobo sauce" in cooking before. I will admit to being a bit surprised and befuddled on what to do with it. The recipe calls for up to 2 teaspoons of the stuff. Well, the jar I got had half peppers in sauce – it was my only option on the shelf. I didn't  know if I should just use the sauce, or just the chipotle peppers and dice them up, or both, or what?! So I used (don't laugh) two teaspoons of the sauce (we believe a little sweat while you're eating is a good thing), but then I was feeling sad for the chipotle peppers not making the cut. So I fished three of them from the jar and sliced them up as small as I could and stirred them in as well. NO IDEA how much any of that was, but in the end, it was perfect for us and I can see the sauce making a repeat performance on some egg burritos in the very near future. If I HAD to guess, I'd say I probably ended up using about 3 times what was called for in the recipe.
Crunchy Coleslaw
1/4 cup plain nonfat yogurt
1 Tbsp. light mayonnaise
2 tsp. cider vinegar
1/4 tsp. hot pepper sauce
1/8 tsp. salt
1 1/2 cups packaged coleslaw mix
1/2 red bell pepper, cut into 1/8-inch thick strips
Instructions
To prepare Crunchy Coleslaw: combine yogurt, mayonnaise, vinegar, pepper sauce and salt in small bowl. Add coleslaw mix and bell pepper; toss to coat. Season with black pepper, as desired. Refrigerate, covered, until ready to serve.
Brown ground beef with onion in large nonstick skillet over medium heat 8 to 10 minutes or until beef is no longer pink, breaking beef up into 3/4-inch crumbles. Pour off drippings. Stir in ketchup, corn, beans, tomato sauce, chipotle peppers and cumin; bring to a boil,  reduce and simmer 5 minutes, stirring often. Stir in cilantro, salt and black pepper.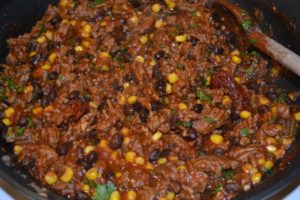 Place beef mixture on bottom half of each bun; top with coleslaw. Close sandwiches.
This recipe courtesy of "The Healthy Beef Cookbook" published by John Wiley & Sons, Inc. and is part of the Nutrient-Rich Sunday Suppers.
Tips from "The Texas Beef People"
Thinly sliced green cabbage may be substituted for the packaged coleslaw mix. This recipe works well with all varieties of lean ground beef, including 90% lean.
Nutritional Information
Nutrition information per serving: 406 calories; 10 g fat (4 g saturated fat; 3 g monounsaturated fat); 77 mg cholesterol; 1344 mg sodium; 50 g carbohydrate; 6.9 g fiber; 33 g protein; 9.4 mg niacin; 0.7 mg vitamin B6; 2.2 mcg vitamin B12; 5.3 mgiron; 39.8 mcg selenium; 7.3 mg zinc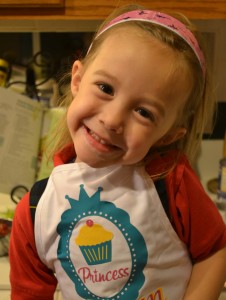 The added benefit of this particular recipe is that it does not take a long time to make. Which is good, when you have a tiny helper smack dab in the middle of your workspace, making "hot chicken salad." Or at least that's what I'm going to translate the name of her make-believe recipe to.
The Princess Cupcake was immersed in her own culinary masterpiece using mostly her play kitchen supplies, plus real bread, real water and – yes, Tabasco sauce. We knew she wasn't going to eat any of our "dinner on a bun" as she was on a dairy binge of yogurt and smoothies for dinner.
And I won't say that we didn't consider stealing a bite of hers just to cool our mouths off… J
Here's a link to the Texas Beef website to get a printable version of this recipe. Try it with a brisket!