Minus the naked dolls. I left those off.
Not that they don't see naked baby dolls being catapulted across their 2 year old classroom daily, but I thought they'd appreciate a break from plastic anatomically correct females in the buff jumping out of the top. I'm considerate that way.
I found this cake idea from one of my bloggy idols over on Vintage Sugarcube. Here's the recipe and the link:
Citrus Sour Cream Cake
3 boxes of white cake mix
1 1/2 cups of sour cream (don't even think of buying the low-fat)
9 eggs (room temp), sit them in a bowl of hot water for 5 min
1 cup of oil
3 cups of whole milk (i didn't say skim!)
Zest of 2 lemons, 2 limes, 2 oranges, 2 pink grapefruits
McCormick NEON Food Color
Mix all the above in a ginormous bowl and then divide into 6 individuals bowls. Use the back of the food color box to come up with some wild colors of your own. Pour into 6 round cake pans and bake 2 at a time at 350 degrees for 30min.
Right – so SIX cake layers, all in neon colors. Nothing too hard about that.
Here's the truth. Give yourself about 3.5 hours in the evening (that's with toddler help) and about an hour in the morning (again, with toddler help). And before you start, make sure you have a lot of mixing bowls. And the more cake pans in the same size, the better.
I happened to have three equal size square 8×8 pans so I made the square version of this cake monstrosity so I only had two bouts in the oven.
Getting started was easy since you're using cake mix. My helper was happy to dump in the cake mix, the oil, the milk, and "stir, stir, stir!"
The sour cream posed a bit of a problem for me since I forgot to get that at the store – thinking we had a big tub in the refrigerator. Not knowing how much the hubs apparently likes sour cream these days, it was nearly gone and expired. Yuck. As I was about to cast a blanket of blame, the hubs magically reached into the far depths of our ice box as our grandparents used to call it, and emerged with a perfectly good container of sour cream –albeit frozen solid.
I didn't know that sour cream could freeze or what would happen to it when it became unfrozen but I had no choice. I began the undocumented science of the "accuthaw" and tried to gently bring it back to its pre-cryrogenic state. Since it was going to be mixed in a cake, I didn't really care if it was as creamy as before. Good thing. It looked a little different, but we tasted it and it was fine so in it went.
The most time consuming part of the cake prep was the zesting. Princess Cupcake gleefully offered "I wash those for you, Mom." After the citrus cleanse, scraping the rind off each of them was easy, but took a while and was accompanied by a chorus of "Why you do that?" We have the perfect tool for it – it's just like those magic eggs that you see on TV to grind down the callus on your feet. Makes little shavings of succulent smelling citrus.
At this point, the Princess was way past night-night time so she gave a final stir and off to bed she went. I took her exit as an opportunity to toss in the eggs. As the recipe instructed, I had let the eggs sit to room temperature and then in a bowl of hot water for 5 long minutes while I was convinced they would crack open to be half-hard boiled. (They didn't.)
Time to give my hand mixer a good work-out. After about 4 minutes I figured it was as good as it was going to get and quickly realized that Mommy had a conundrum of how to get this massive bowl of mix equally divided into six separate bowls.
The perfectionist in me wanted to measure the total and then divide it equally amongst the bowls, but as I've mentioned before: Mommyhood replaced Marthahood. Instead I grabbed another ginormous bowl and divided the mix in half – then from that half, portioned out what I could only eyeball to be three equal bowls of mix.
Then the fun part. Grab your food colors. Thank goodness for Duff. He has the bomb-diggity of baking products. I used his pack of four Color Gels and then I made an additional yellow with regular gel food color. For the orange, I tried mixing red and yellow and it came up with a sickly shade of peach. So then I dug around and found Wilton orange icing colors – which I presumed would work since it was also a gel. It took peach to true orange and I was back in business. Confident that I had the full spectrum represented: violet, fushia, orange, yellow, shrek green and electric blue. Awesomeness.
I sprayed butter PAM into the pans and shoved three in the oven. After 30 minutes they appeared perfectly done so I pulled them out and let them cool on cooling racks for another 15. At that point, it was easy to pop them right out. Repeat. And go to bed.
Next morning I got to frosting. I wanted to get as much done as possible before munchkin found me since there's not a whole lot she can do with the frosting part. Well – there is but let's face it. Not productive. So I turned on Mickey Mouse Clubhouse, gave her a muffin and snuck downstairs.
I knew I'd need a lot of frosting and I had cheated and bought canned. I thought it was the same kind I already had – but OF COURSE it wasn't, so I decided to mix "classic white" and "classic vanilla" together and tint it pink. Yea! More Duff! I shaved off the tops of the cake to make them level and then placed them cut side down so the crumbs wouldn't pick up into the frosting spread. I also put a piece of waxed paper under each edge of the bottom layer of the cake so I could be as sloppy as I wanted with the pink frosting and then just pull it out. The tray that the cake was on would be clean. Muhahahah.
As I was layering the cake with frosting, I realized that I probably should have cut more of the tops off to make the cake even more flat. This was now going to be the tallest cake I've ever made and I was seriously wondering HOW THE HECK AM I GOING TO DRIVE IT TO SCHOOL? Whatever, worry about that later.
I also quickly remembered why I like to make round cakes better. There are no CORNERS to frost. Yuck. But my philosophy is that whatever frosting mistakes you make can be covered up with sprinkles. I forged on.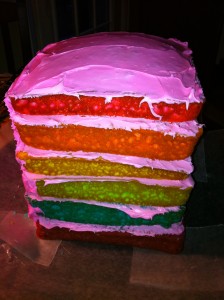 After getting all the layers on top of each other, I came to grips with the fact that I needed more frosting. Please let me have another can in the pantry. Please let me have another can in the pantry. Please let me have another can in the pantry as I began to visualize holding the hubs hostage from work to watch the pajama-clad Princess while I ran to the Kreepy Krogers for more. I found a can – naturally it was CREAM CHEESE. Sour cream, cream cheese, close enough. This cake is now FULL of my secret ingredients! It's "ONE OF A KIND!" I mixed it in with what was left of the other two flavors and a splash more of Duff's colorful magic and turned my attention back to the sides of the cake.
"MOOOOOMMMMMMMMMYYYYYY, where ARE YOU????"
I'd been found.
"Oh! There you are! I just come find you! Hey, what that?!"
Pointing dangerously close to the side of the cake.
"What doing Mommy?"
"Decorating the cake for your teachers."
"I WANT TO HHHHHEEEELLLLLLPPPPPPP! PLEEEAAASE, I WANT TO HEEEEELLLLLPPP!"
With lightening speed I finished the sides and gave her a jar of giant sprinkles and told her she had the most important job, to decorate the cake. She nearly punched through the sides with a couple of them, but together we got it covered. Then she says,
"Where candles?"
Because in her world, every birthday cake has candles.
I hadn't even bought candles because I assumed they couldn't light candles at school. Clearly an oversight on my part.
"We're getting those on the way to school sweetie. You can pick them out."
And that's what we did. I stuck four bamboo skewers in the cake to try and keep it from sliding apart on the bumpy ride, and I drove like I was in a funeral procession with people tailgating me and swearing. We made it to the store without incident so there was hope to make it to school in one piece. Princess Cupcake picked out neon candles and despite the odd stares of passerbys, we finished decorating the cake in the parking lot.
Viola!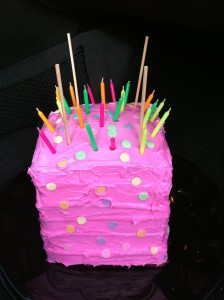 Here's what I learned along the way:
• Use ROUND cake pans – the more the better because it will go quicker and frosting is simpler
• Make sure you cut off the tops evenly and more than you think. Otherwise you may get a Leaning Tower of Pisa. A leaning, sliding, rainbow Tower of Pisa.
• Make this where you plan to eat it, or else double your drive time there, turn up the radio to drown out the beeping and decorate your skewers with little mini signs. (A nice afterthought – had I more time…)
• If you don't want to decorate your skewers, measure and cut them prior to putting them into the cake so they don't stick up as high. Or pull them out and cover up the holes with extra sprinkles when you arrive.
Turns out the cake was a big hit with the teachers and the kiddos who got to have it for afternoon snack that day. And while I personally love the "Six layers of Sexy" name, I feel a little sheepish to call it that since it went to preschool and there's no nakedness on it. (I can only imagine the look on their face if I told the teachers that, such sweet ladies at the Christian School.)
Any suggestions on what to rename it for our G-rated cake lovers?
Tweet