I'm not proud of this one, but I've been working a lot and haven't had a chance to blog. Bad mommy.
I'm sure you've been in my shoes. Time has gotten away from you. You've lost your grocery store mojo and you're on the survival program with the excuse that you are going to "clean out your freezer" by cooking everything in it.
Well, it was a gully-washer out there and after swimming to my car with my drenched child at school pickup, I concluded that I'd rather go hungry than stop at the store for food.
A mere hour later, I caved and decided that sustenance was imperative, no matter what form or shape it came in. Desperate times called for desperate measures.
Taking a lesson from Chopped – I scrounged out of my pantry and freezer and onto the counter the following:
Smoked turkey sausage
A can of bourbon baked beans
Honey Chipotle BBQ sauce
Garlic – it doesn't matter what you make in the kitchen. If it has garlic, I'll eat it. This had to be good.
Whole wheat fettucini
Shredded cheese
Yeah – you know where I'm going with this. Cincinatti-Chili-style franks and beans. You know you want it.
Stovetop grilled the sausage. Cooked the pasta. Warmed up the beans with a generous squirt of BBQ sauce and a healthy spoon of minced garlic. Layered the pasta in a bowl, then beans and franks and topped it with "casserole cheese" (I dunno, that's what the package said. It's the kind of cheese that happens when the hubs goes to the store the previous week) and bon appetite!
It was a carbohydrate-lovers dream meal on a rainy Tuesday evening.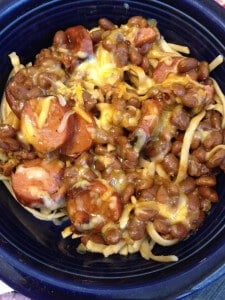 I didn't even tell the hubs that "dinner" was ready. He eventually found out that I had consumed something and inquired about assembly instructions for what laid out on the counter in front of him.
Skeptical – as Cincinnati-style chili is not something commonplace in the south so he had no point of reference — he quietly ate it, thankfully reserving audible judgment.
Then a couple minutes later he came back and said that while he was initially afraid of his limited culinary option for the evening, he now thinks he may request it again in the future.
Say what?! 
(Truthfully, I ate it for left overs at lunch today so it wasn't all bad.)
The good news/bad news for me is: it's still raining and we're out of milk.
Anyway, I want to know, what's the craziest, put together, weird-a** dinner you've ever made that turned out to be a win? Better yet, how about the losers? C'mon, I want to hear it!