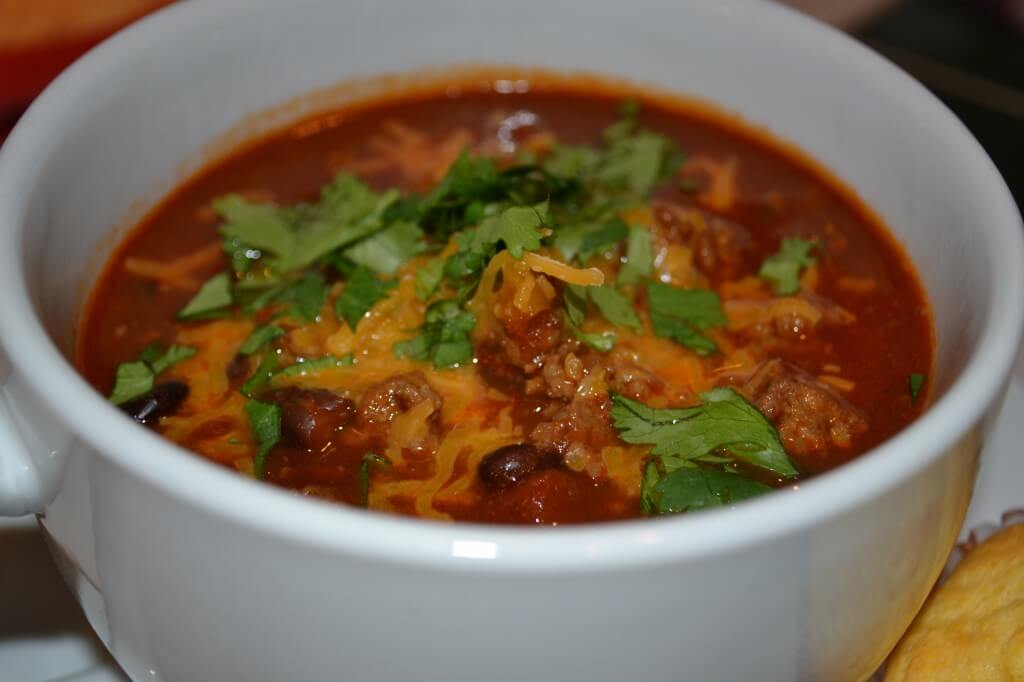 So my alarm went off on my iPhone today. It had a reminder that I put in my calendar a WHOLE YEAR AGO. It said that this year, the hubs was going to make Christmas dinner and New Year's Day dinner. I won't go into details but let's just say we wasted a lot of money on a turducken gone wrong about this time one year ago.  It wasn't pretty.
I reminded him of it. And he said, can you just make that chili again for both.
The chili. Yes, the chili. I am sad that it is the last and final recipe of our Holiday Beef Series from the Texas Beef Council for week four, "Company's Coming Holiday Meals." It was – is – so delish. And we didn't share. Not for company. Oh no. All for ourselves. We didn't even try to make the Cupcake try it when she declared, "I don't like chili!" More for us! The leftovers are even better.
I know a lot of people make chili for Christmas eve and this recipe is sure to please, sure to please everyone – even those skinny mini's in your fam — because it's also from the Healthy Beef Cookbook.
I'll warn you though – I was a little surprised to see a few of the ingredients:  namely yellow peppers, honey and cilantro. But you know what? It works, it's darn good. With a side of cornmeal muffins (the Cupcake put two of those away) – Ooooohhh yeah! And I will confess, I did add one teeny thing to make it over the top good. You'll have to read to the end to see what my secret ingredient is that the Texas Beef Council forgot.
Cowboy Beef and Black Bean Chili
Servings
   Serves 8
Prep Time
   25 minutes

(I'd allow a little extra…)
Cook Time
   1 1/2 hours
Ingredients
2 lbs. lean ground beef (95% lean)
1 Tbsp. vegetable oil
1-1/2 cups chopped onion
2 Tbsp. minced garlic
2 medium yellow bell peppers, chopped
1 large jalapeno pepper, seeded, finely chopped
1/4 cup chili powder
1 Tbsp. ground cumin
1 tsp. dried oregano leaves, crushed
1 tsp. dried thyme leaves, crushed
1/8 tsp. ground red pepper
1 can (28 oz.) crushed tomatoes, undrained
1 can (14-1/2 oz.) chili-seasoned or zesty-style diced tomatoes, undrained
1 can (14 to 14-1/2 oz.) ready-to-serve beef

broth

12 oz. dark beer
1/3 cup tomato paste
1 Tbsp. honey
2 cans (15 oz. each) black beans, rinsed, drained
chopped fresh cilantro (optional – but do it)
sour cream (just my suggestion)
shredded cheddar cheese (again, my suggestion)
Instructions
Brown ground beef in stockpot over medium heat 8 to10 minutes or until beef is no longer pink, breaking up into 3/4-inch crumbles.
Remove from stockpot with slotted spoon.
Set aside.
Pour off drippings.
Heat oil in same stockpot over medium heat until hot.
Add onions and garlic; cook and stir 3 to 5 minutes or until onions are tender.
Add bell peppers and jalapeño; cook and stir 4 to 5 minutes or until peppers are tender.
Return beef crumbles to stockpot.
Add chili powder, cumin, oregano, thyme and red pepper; cook and stir for 2 to 3 minutes.
Stir in crushed tomatoes, diced tomatoes, broth, beer, tomato paste and honey; bring to a boil.
Reduce heat; cover and simmer 45 minutes.
Uncover stockpot; continue simmering 30 minutes or until thickened to desired consistency, stirring occasionally.
Stir in beans; cook 5 to 10 minutes or until beans are heated through.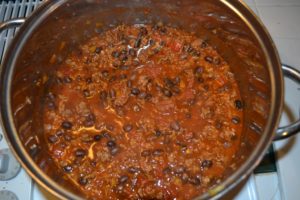 Season with salt and black pepper, as desired.
Garnish with cilantro, sour cream and cheese if desired.
Now for the Mommy Upgrade secret ingredient? Cinnamon. Add to taste. Trust me.
Nutritional Information
Nutrition information per serving: 364 calories; 10 g fat (3 g saturated fat; 4 g monounsaturated fat); 76 mg cholesterol; 1131 mg sodium; 39 g carbohydrate; 10.6 g fiber; 34 g protein; 8.1 mg niacin; 0.8 mg vitamin B6; 2.2 mcg vitamin B12; 7.3 mg iron; 19.3 mcg selenium; 6.5 mg zinc.
Check out the other three fabulous beef recipes I made this month for the Texas Beef Council:
LSU Rally Bites
Beef Breakfast Rolls
Herb-Crusted Petite Roast with Fig Onion Relish
Be sure to visit the TexasBeef.org site for more tasty recipes and tips to make other fabulous brunch recipes. While you're surfing, check out the other 9 bloggers who are participating in this beefy challenge and their recipes:
Allie at Screwed Up Texan, Amy from Mom's Toolbox,  Arena from The Nerd's Wife,  Brenda from Meal Planning Magic, Christina from A Closet Writer, Crystal from Crystal and Company, Holly from June Cleaver Nirvana, Jessica from My Baking Heart,  Lori from A Day in the Motherhood.
Disclosure: I have partnered with the Texas Beef Council for the next four weeks and am being compensated, however all opinions are 100% my own. The recipes are courtesy of the Texas Beef Council.