"Oh the DRAMA."
That's what my friend Jeanan said when she found out what happened.
She's so right. It was drama.
The Princess Cupcake got up on Saturday morning, hurried and got ready to leave for her early soccer game and FORGOT to look for her elves.
Seriously! Can you believe it? After all that effort they go to each night to make mischief?
Hmph.
When she got back from the game (they won), she remembered them and went to look.
But couldn't find them. (I think she looked right at them but didn't realize it)
So word on the street is… they left.
Yep. The elves left.
She was CRUSHED.
"Mommy — PA-LEASE tell Santa to send my elves back!"
Well.. there's only one way to get a hold of Santa, and that's to write him a letter.
So she did. She found and envelope, and stamp, and she put it in the mailbox. All by herself.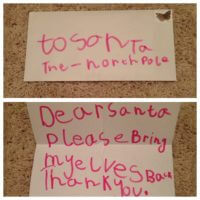 And we crossed our fingers that they'd come back.
I guess Santa was in a forgiving mood because not only were they back they next morning, they had convinced Elmo to get his elf on.
We found them all three in a homemade tent (just like the Cupcake likes to make), reading the Cajun Night Before Christmas by candlelight.
Welcome back little elves!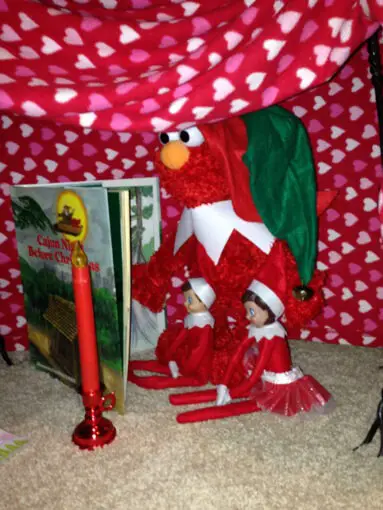 Free Elf Planner and Elf Name Downloads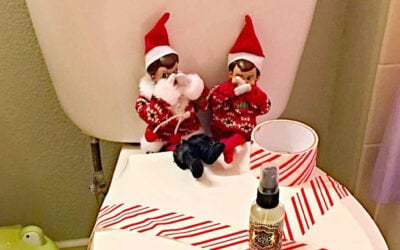 We're 12 days into our yearly visit from the Elf on the Shelf. I honestly don't know how they come up with something new each night. They must be so exhausted! (*wink*) In case you've missed our famous Elf on the Shelf duo, Chintz and Jewel, and their crazy antics on...
read more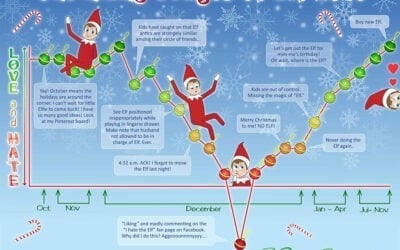 I feel your stress. I do. It's nearly 10 p.m. and I have yet to move the Elf on the Shelf. There are small pets that require less commitment than an Elf. I have a list of ideas, of course I do. I wrote a book on Elfing, but mustering the energy to execute is a whole...
read more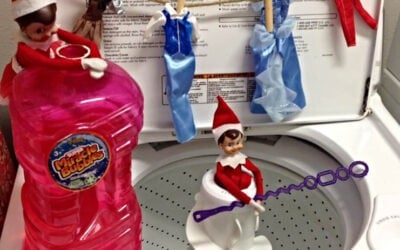 It's kind of sweet that our Elf on the Shelf decided to do the princess dolls' laundry today. Nice except that they are using Miracle Bubbles in the washing machine… reminds me of the Brady Bunch episode with the washing machine, LOL.Free Elf Planner and Elf Name...
read more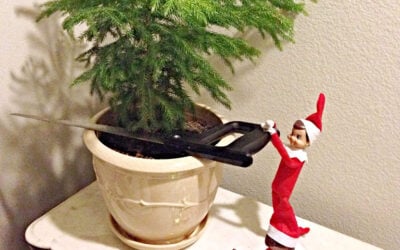 I think Chintz and Jewel have recovered from the shunned weekend. They're back to their usual no good. Take a look at how we found them this morning, just in the nick of time I might add...Chintz found Daddy's saw and is trying to cut down our juniper tree -- I...
read more