"Oh the DRAMA."
That's what my friend Jeanan said when she found out what happened.
She's so right. It was drama.
The Princess Cupcake got up on Saturday morning, hurried and got ready to leave for her early soccer game and FORGOT to look for her elves.
Seriously! Can you believe it? After all that effort they go to each night to make mischief?
Hmph.
When she got back from the game (they won), she remembered them and went to look.
But couldn't find them. (I think she looked right at them but didn't realize it)
So word on the street is… they left.
Yep. The elves left.
She was CRUSHED.
"Mommy — PA-LEASE tell Santa to send my elves back!"
Well.. there's only one way to get a hold of Santa, and that's to write him a letter.
So she did. She found and envelope, and stamp, and she put it in the mailbox. All by herself.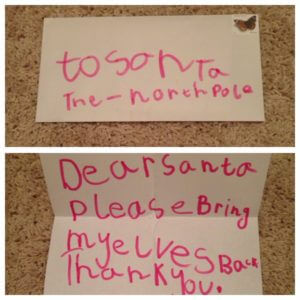 And we crossed our fingers that they'd come back.
I guess Santa was in a forgiving mood because not only were they back they next morning, they had convinced Elmo to get his elf on.
We found them all three in a homemade tent (just like the Cupcake likes to make), reading the Cajun Night Before Christmas by candlelight.
Welcome back little elves!