I think Chintz and Jewel have recovered from the shunned weekend. They're back to their usual no good.
Take a look at how we found them this morning, just in the nick of time I might add…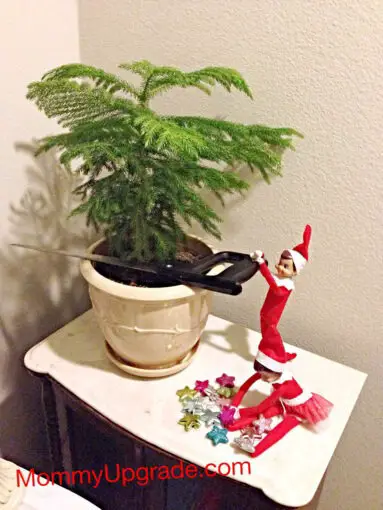 Chintz found Daddy's saw and is trying to cut down our juniper tree — I presume to make it into a Christmas tree. Looks like Jewel is gathering the ornaments to hang.
I think this falls under the Michael Irvin quote, "I was doing the right thing the wrong way."
Free Elf Planner and Elf Name Downloads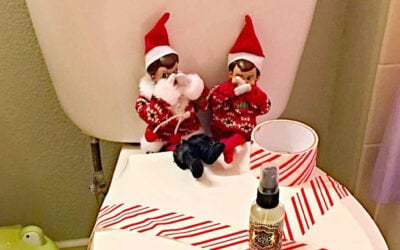 We're 12 days into our yearly visit from the Elf on the Shelf. I honestly don't know how they come up with something new each night. They must be so exhausted! (*wink*) In case you've missed our famous Elf on the Shelf duo, Chintz and Jewel, and their crazy antics on...
read more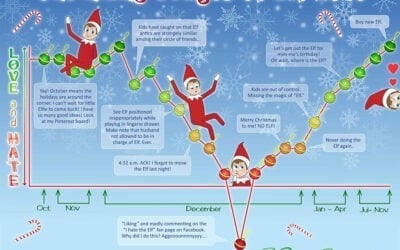 I feel your stress. I do. It's nearly 10 p.m. and I have yet to move the Elf on the Shelf. There are small pets that require less commitment than an Elf. I have a list of ideas, of course I do. I wrote a book on Elfing, but mustering the energy to execute is a whole...
read more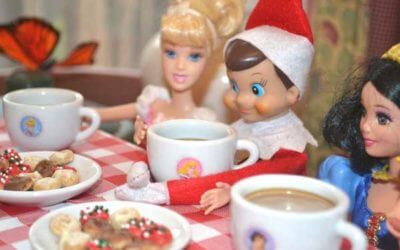 It's time to prepare for elf n the shelf.  Yes, Moms, I know.  It's a fun but hard few weeks. Lots of creativity, lots of things to remember. It's so worth it every morning to see your kids happily find the Elf on the Shelf in its new location and up to whatever...
read more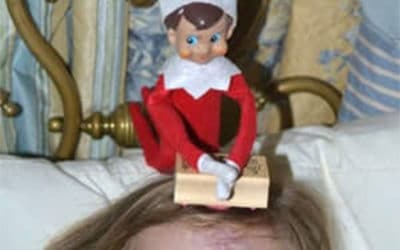 Okay, so I have some good news and I have some bad news. The good news is that it is time to get started with Elf on a Shelf. The bad news is that it will soon be time to get started with Elf on a shelf. Yes, you heard me right. Much as I love this particular...
read more