I think Chintz and Jewel have recovered from the shunned weekend. They're back to their usual no good.
Take a look at how we found them this morning, just in the nick of time I might add…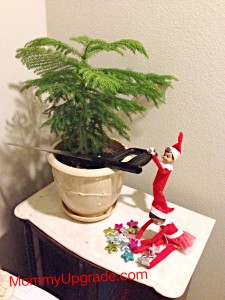 Chintz found Daddy's saw and is trying to cut down our juniper tree — I presume to make it into a Christmas tree. Looks like Jewel is gathering the ornaments to hang.
I think this falls under the Michael Irvin quote, "I was doing the right thing the wrong way."