The second hotel stop for our summer vacation was in one of my favorite destinations: Estes Park. I've stayed a number of places in Estes, and the Ridgeline Hotel was new to me. It's actually new to the area as well. The Ridgeline was a refreshing contrast to the Breckenridge Doubletree from the day before.
This family-friendly and pet-friendly hotel has a modern, youthful, mountain vibe with lots of nods to conservation and recycling.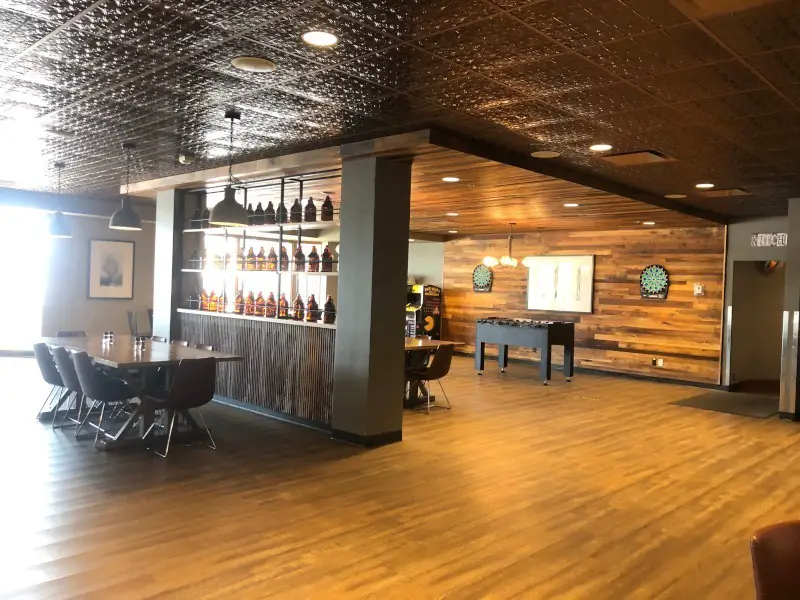 When we arrived, it was evening around 9-ish and there were lots of happy guests gathered around the firepits on the hill of the hotel grounds. The lobby caters to a youthful clientele with basket swing chairs, large free coffee station with recyclable cups, a water bottle filling station, and a rockin Latitude 105 bar and restaurant that was complete with pool tables and other games. Everything was brightly lit and very inviting. They even had great merch to the left of the front desk, including pet supplies which came in handy since we'd somehow lost a leash during our last stay. (Beni loves her Colorado themed souvenir.) I noticed in daytime that they also had bike rentals.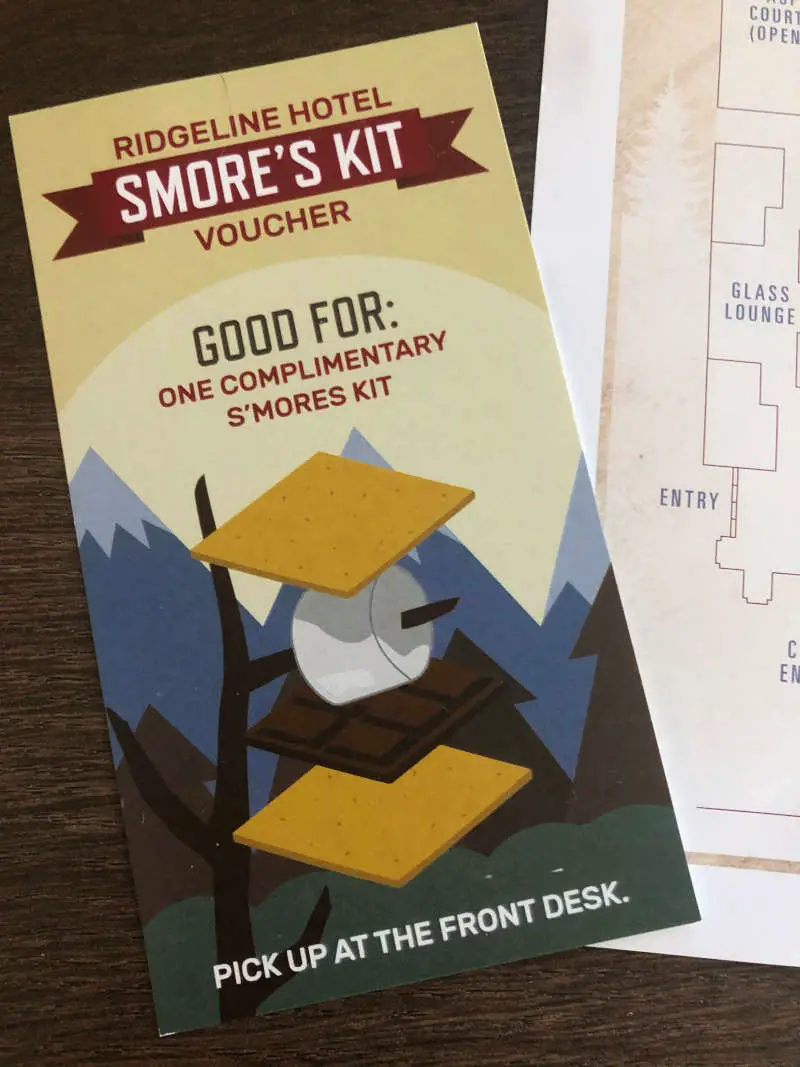 Check-in was brief, they were prepared for us and even noted that we had dogs (none of the other 3 hotels on this trip recalled that note on my reservation.) We were even given coupons for their retail store in town, and a free s'mores kit.
The Ridgeline also serves as a conference center, has an indoor pool, exercise room, and other amenities that you have a required $15 per day fee for the right to use them. (We didn't, but they looked nice.)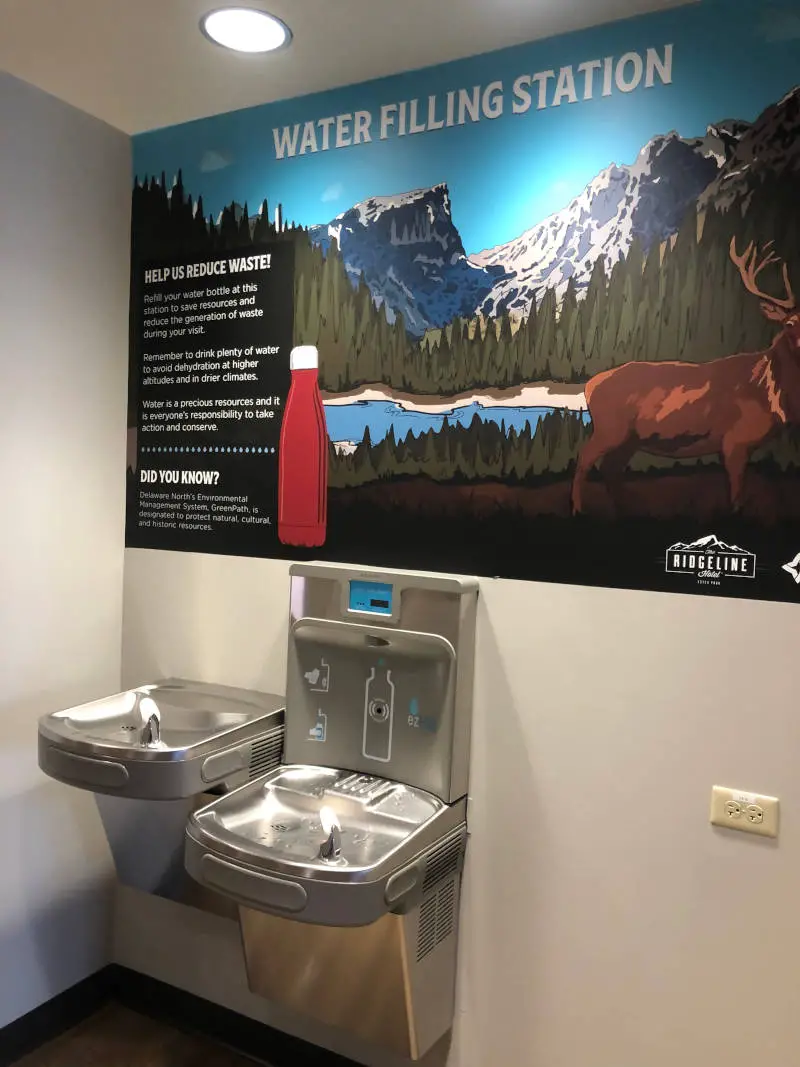 This hotel is carved into the hill – I can remember when there was previously nothing remarkable in this spot. The location overall is great with easy access to all the places we're planning to visit. There are several levels to the collection of guest rooms, and the parking is nearby each one, and the pet station easy-to-find with lots of grass. The downside to the guest room layout was that there were no elevators for our section of rooms, and we were on the second floor. It was a mere fraction of the trek that we had in our Breckenridge stay so none of us were sad about it, not even the dogs. Bonus that the hallways had attractive nature photos, lots of natural light and were overall, nicely decorated.
The rooms were air conditioned (hallelujah!), with mini-fridge and fresh décor. They informed me at check-in that our room was equipped with "bark guard" to monitor for excess K9 conversations – although we never found it. Dogs are not allowed to be left unattended without being crated, and if you'd seen our car, then you'd know that the beast was traveling without his cage, not that we ever planned on leaving him.
Beds were comfy, and while the room was the tiniest of our adventure, the bathroom was smaller still. This was the priciest stay of our vacation, so while I appreciated the powerful hairdryer, a hotel room with a teeny, tiny counter is one of my biggest pet peeves. And if I'm going to complain, then let's talk about the gap in the toilet seat to where you inadvertently touch the cold, cold bowl during a dark of night potty break. Ewww.
What I did like about the bathrooms though, were the Bath and Body Works Stress Relief scented shampoo, conditioner, and body wash installed on the wall of the shower. And any mom of a teenager can appreciate the "shower challenge" timer to encourage showers in 5 minutes or less. Pretty sure my kid would have reset it at least 6 times.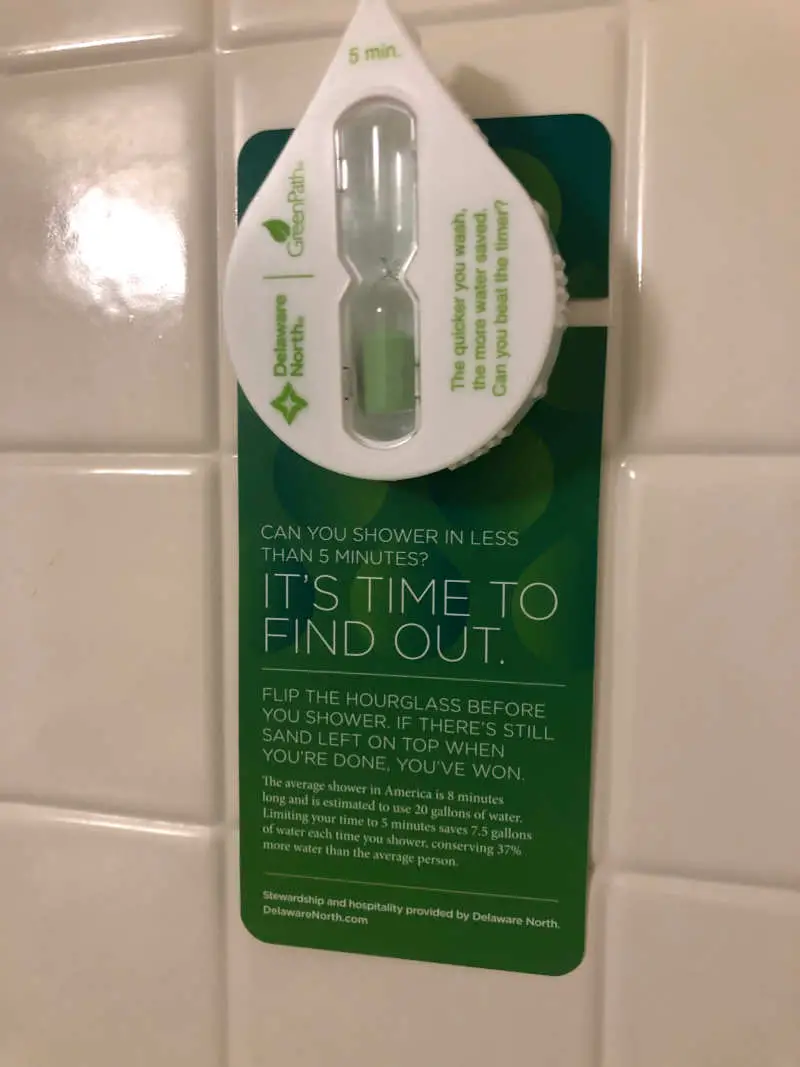 The hotel staff was different each trip to the lobby, but everyone was very pleasant and seemed to be happy to be there.
This is a great hotel for families (as long as they don't plan to be in their rooms or bathrooms much) with a fun vibe. It's likely the complete opposite experience of nearby Stanley Hotel, (however, also a fun place to stay) or many of the other dated lodges in the area. I really enjoyed it, and would definitely recommend and return to stay again!
More Dog-Friendly Travel & Dining Posts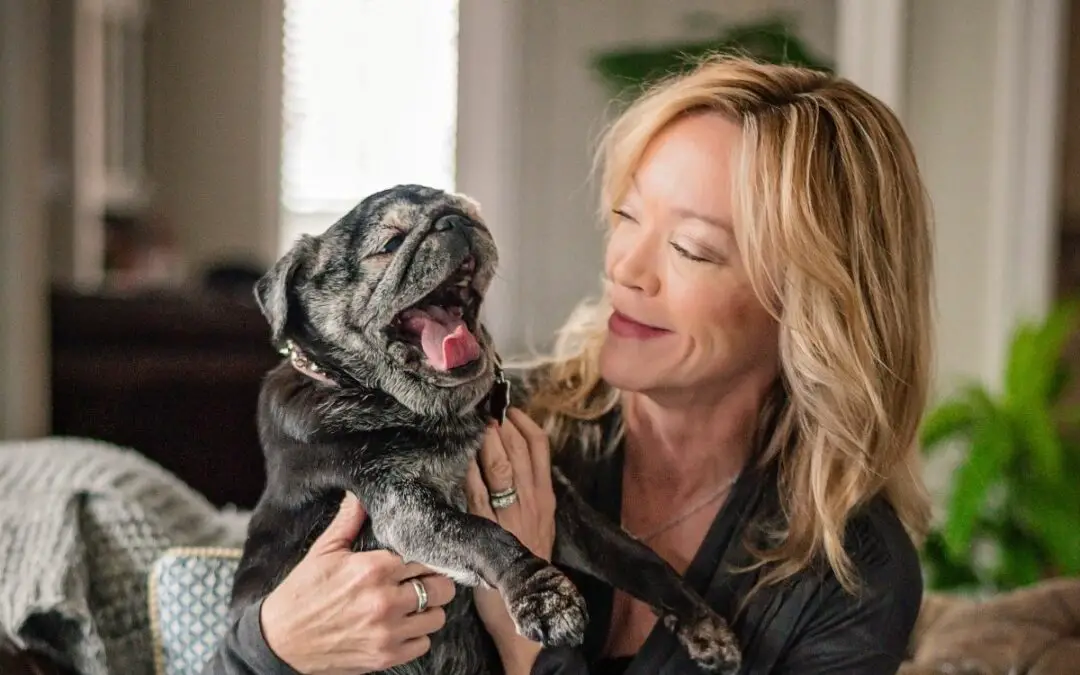 Who loves you unconditionally, day in and day out? Your fur family! You hang the moon for them, and I'll bet you love them to that same moon and back. Here's an idea – skip the long lines and reservations this Valentine's Day and take your one and only on a doggie...
read more