I feel bad writing this review because the staff at this hotel was so very nice and the central location great, but this is not a hotel I plan to return to, and here's why.
On first glance, you'd think the Doubletree would be a great choice for a place to stay when visiting Breckenridge in the summertime, but I have really mixed appreciation for it. As I said before, the location was within walking distance of all the restaurants and shops and, for that reason, I'd recommend it.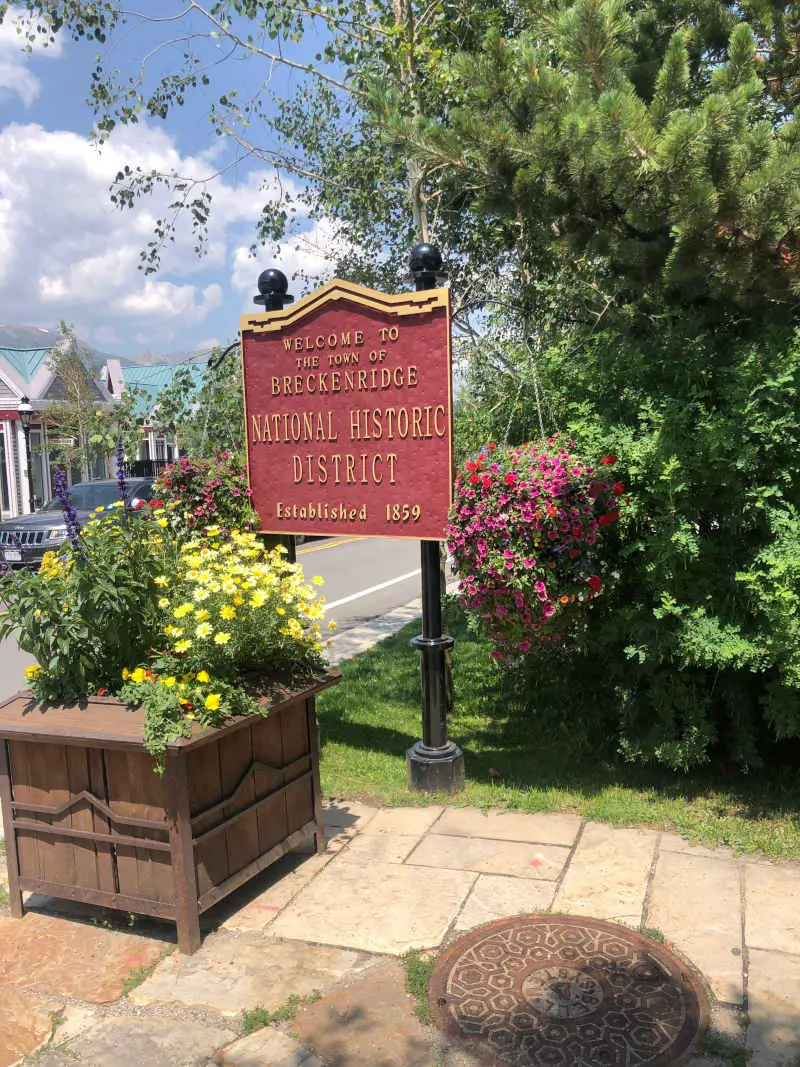 Upon check-in, you'll be welcomed with a modern mountain lobby, complete with two open fireplaces and contemporary fixtures and décor. The front desk, the Market staff, and all the housekeeping people were incredibly kind and helpful. Even the guests were delightful to talk with.
Our room was huge, with two very comfortable king-size beds. However, it was dark and unremarkable in design, which I can 100% live with. I did appreciate the separate bar sink, refrigerator and counter outside the bathroom. Even despite the pandemic, we had plenty of towels and paper products, so that's a plus especially when traveling with a teenager and pets.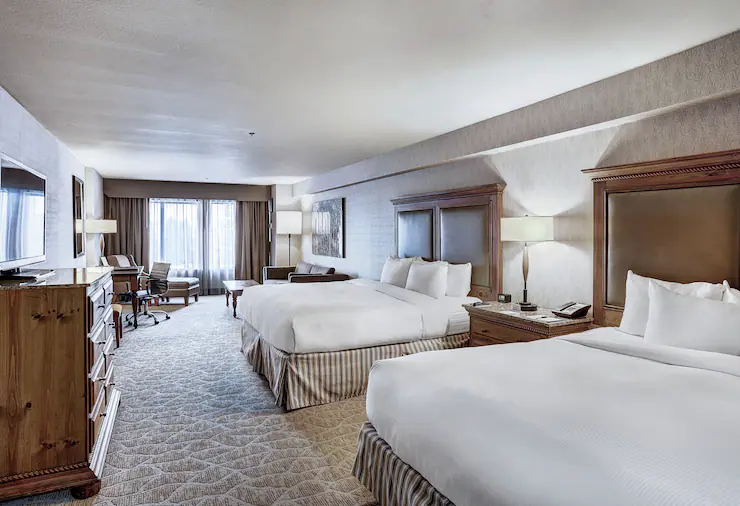 But here's where the stay turns torturous.
We're from Texas. We leave Texas in summer to get relief from the heat, and yes, we take for granted our air-conditioned lives. My husband keeps our home at meat locker temperature and, other than soccer practice, I don't seek opportunities to sweat 24-7. This hotel is cooled with "mountain air conditioning." Do you know what that means? It means, there is NO air conditioning. NBD if you can open the windows and let the cool night air in, right? I can only assume that for safety purposes, the windows only open about 18 inches. We had ½ a window's view of Breckenridge, the other half was obstructed by another portion of the building, making our room positioned so that there was zero airflow. There were two room fans provided, but even with them running at full power, our room was 81 degrees at 9 a.m. and 88 by 11:30. You might now begin to understand my torture. I literally had to wipe the sweat off of my face in order to put my make-up on.
So living in a state of perpetual melting already puts me in a bad mood, but then add to it that this hotel is basically carved into the mountain (you'd think that would be quaint), it meant that you had to take two separate elevators to reach our room – and cruise through a matrix of dilapidated hallways that looked like a nasty bus station with no windows. The floors were unvacuumed and stained throughout, and the wallpaper was dated and had so many scuff marks that I had to remind myself that this was a Doubletree and not a cheap roadside hotel in a town that time forgot. I mean, I get that they were begging people to work but I even saw housekeeping vacuuming and there was zero impact.
I spent a lot of time in those hallways because we were traveling with our dogs, and dogs have to go out early in the morning and late at night, and often. The elevators are also very slow, and adorned with the sister carpet to the hallways: also unvacuumed and stained. If there was a pet station, we never found it.
I'm glad that the Doubletree had their signature cookies when we checked in. They were per usual, delicious. I can't speak for the restaurant as it was never open for lunch or dinner while we were there (again, Covid). We appreciated the grab-and-go breakfast items when we did eat breakfast, but honestly, I was so ill from nights devoid of sleep because of the heat, eating was the very last thing on my mind. They did have Gatorade, and that was my savior.
We shared our sweaty suffering stories with a cute Ohio couple who rode the elevator with us and their excessive amounts of luggage on their way to check out. They told us they actually chose the Doubletree over an Airbnb because the ABB didn't have AC. I don't think they'll make that mistake again.
Most of my issues with the sparsely-inventoried market area in the lobby and the housekeeping and cleaning – or lack of – I can forgive thanks to the many challenges that Covid has put on these struggling hotels. The staff were so good-natured that it balanced out the lack of cleanliness in the areas beyond the lobby. Trust me I realize my complaints are first-world problems, and I'm so thankful that we were able to get rooms AT ALL, and that they were somewhat reasonably priced. If the Doubletree installed room air conditioners, then I might be back, but otherwise, I'll be shopping for ANY hotel with an installed cooling system for my next visit to Breckenridge.