The thing about traveling with pets is that no hotel really wants you to leave them in the room by themselves while you go out to eat. Some hotels will go so far as to tell you they have "bark guard" installed and will instantly be aware if your fur family is howling about your departure, and that will earn you a boot out of their lodging. Some will make you sign an agreement saying that you either won't leave them, or if you do, you swear on your firstborn's life that they will be caged.
Either scenario is a non-starter when traveling with our Beast. For one, his cage is too large for my gas-friendly cross-over, and secondly, there's no amount of doggie Xanax to ensure he won't announce to the world that his family has abandoned his poor soul. 
That means that when traveling with the Beast, you only eat if he's allowed a seat at the table, or rather, under it. Thankfully, when bringing the fur family to Estes Park, it's not that difficult to find a restaurant where everyone can dine together.
One thing to note though, mountain dining closes down early. When I say early, it's like 8 p.m. early, so make sure to schedule eating into your day or you may end up with packaged goods or drive-through for dinner. And while there's no shame in that game, it's a waste of culinary exploration that you can do in Estes Park.
Here is a list of pet-friendly dining places in Estes Park that we've either taken our dogs to, or that are on our list for our next trip.
Situated at the west end of downtown Estes Park, and on the path from the park entrance, this is the ideal location to stop and check out all the photos you took while exploring RMNP. The welcoming staff was incredibly nice and the food good. The outdoor patio was enclosed and perfect for keeping the dogs separate from other K9 patrons. They basically had to kick us city-folk out at the end of the evening.
WHERE: 401 W Elkhorn Avenue Estes Park, CO 80517
"We're a family-oriented and family-run restaurant situated at the west end of downtown Estes Park, Colorado."
We actually discovered this gem when headed to a stand-by favorite brewery in EP, but they were pretty in-your-face about no dogs. Rock Cut though? Totally dog-friendly! This tiny operation tucked into a strip center, had an cute beer garden as well as indoor pub. The beer was great, the people were nice, and they love dogs. No food prepared on-site, but they do have a food truck parked outside. I'm sure it's different every day but our meal was great. Liked it so much, we bought merch for the whole crew.
Food Truck
WHERE: 390 W Riverside Drive, Estes Park, CO
It's different every day but our meal was great.
I've been coming to Estes Park since the 90's and this is the one restaurant that is on my list for every visit. Scratch made-and locally-sourced, the food is great, the staff so friendly. You may not have room left in your belly for the baked goods, but I will say the cinnamon rolls are legendary. Word is out too, because you'll have a wait nearly any time you arrive. The outdoor patio was very accommodating to pets. If there's one place to put on your list of places to eat, this one is it.
Breakfast and Lunch Only
WHERE: 459 E Wonderview Ave #5, Estes Park, CO 80517
If there's one place to put on your list of places to eat, this one is it.
Here's our list of restaurants to visit in the future. All of them state they welcome dogs on the patio or have reviews from people who brought their dogs for patio dining. Having said that, be sure to check each venue's website for summer/winter schedules and confirmation.
Local flavors
WHERE: 1690 Big Thompson Avenue, Estes Park, Colorado 80517
Coffee Shop
WHERE: 150 E Elkhorn Avenue – Este Park CO, 80517
Tap Rooms (some with food):
(food trucks, see website for schedule)
WHERE: 251 Moraine Avenue, Estes Park, Colorado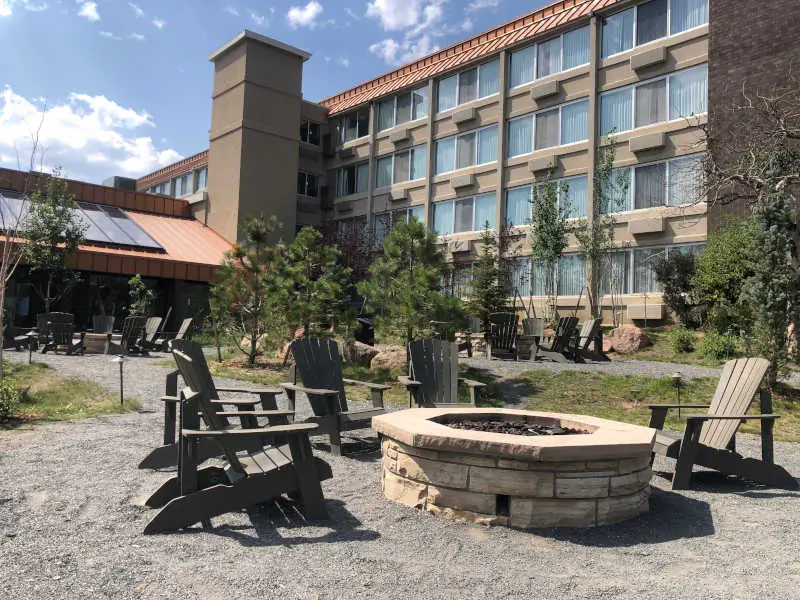 The second hotel stop for our summer vacation was in one of my favorite destinations: Estes Park. I've stayed a number of places in Estes, and the Ridgeline Hotel was new to me. It's actually new to the area as well. The Ridgeline was a refreshing contrast to the...
read more