Gingerbread house decorating does not get more intense than the annual Reliant Energy Gingerbread House Decorating Charity Challenge and this year we had 45 minutes to create an award-winner. No pressure. I mean, there are only thousands of dollars on the line!
This was our 7th year to participate in the Reliant Gingerbread House Decorating Contest for Charity. It's no less exciting or rewarding each year – I can promise you that. Although, I did take a risky design move this year to go with a white-themed house — knowing full-well that the judges and people tend to like the gawdiest and most colorful houses best.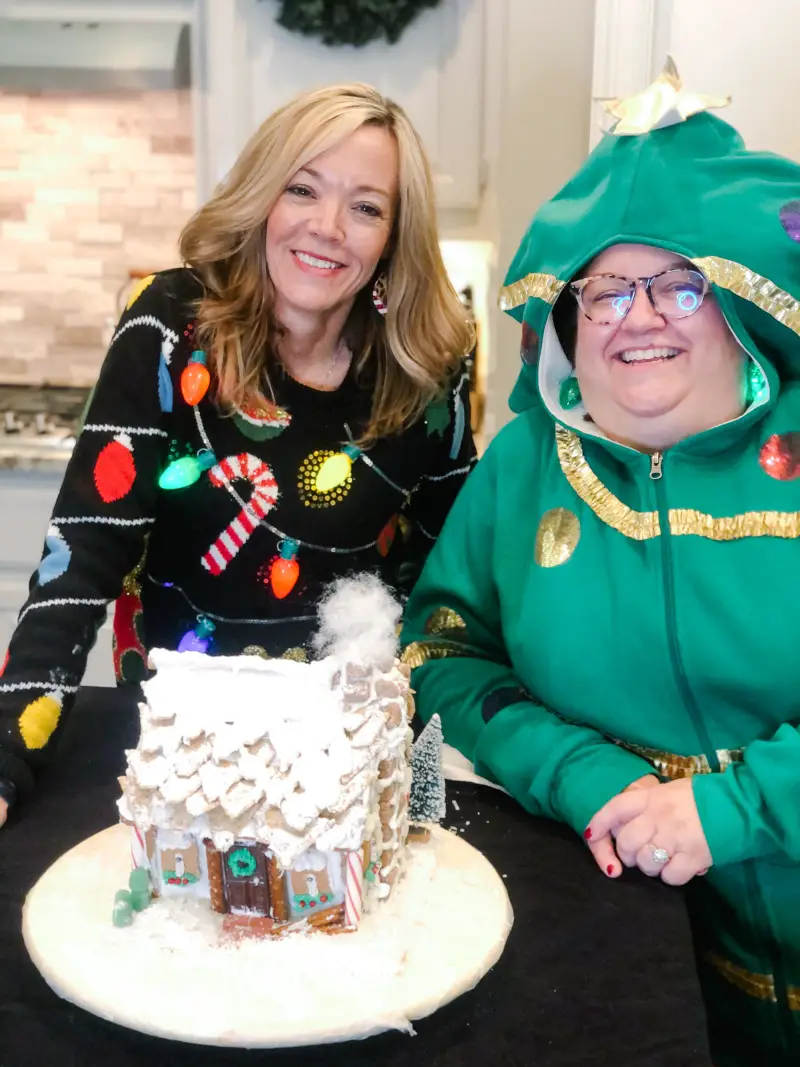 It's 2020, and I just couldn't be all that. It's been a year to slow down, appreciate your blessings, and focus on simplicity and what you really need. That mindset aligns with my charity partner, Irving Cares in a meaningful way. This critical non-profit provides help for Irving residents in financial crisis. And don't we all know that there are a lot of folks who need a helping hand this year?
By participating in the gingerbread decorating contest, Reliant is donating up to $3,000 to Irving Cares depending on how well we did. And we took it VERY serious. In fact, here are my planning notes that I shared with my friend Anna, who has helped me each year.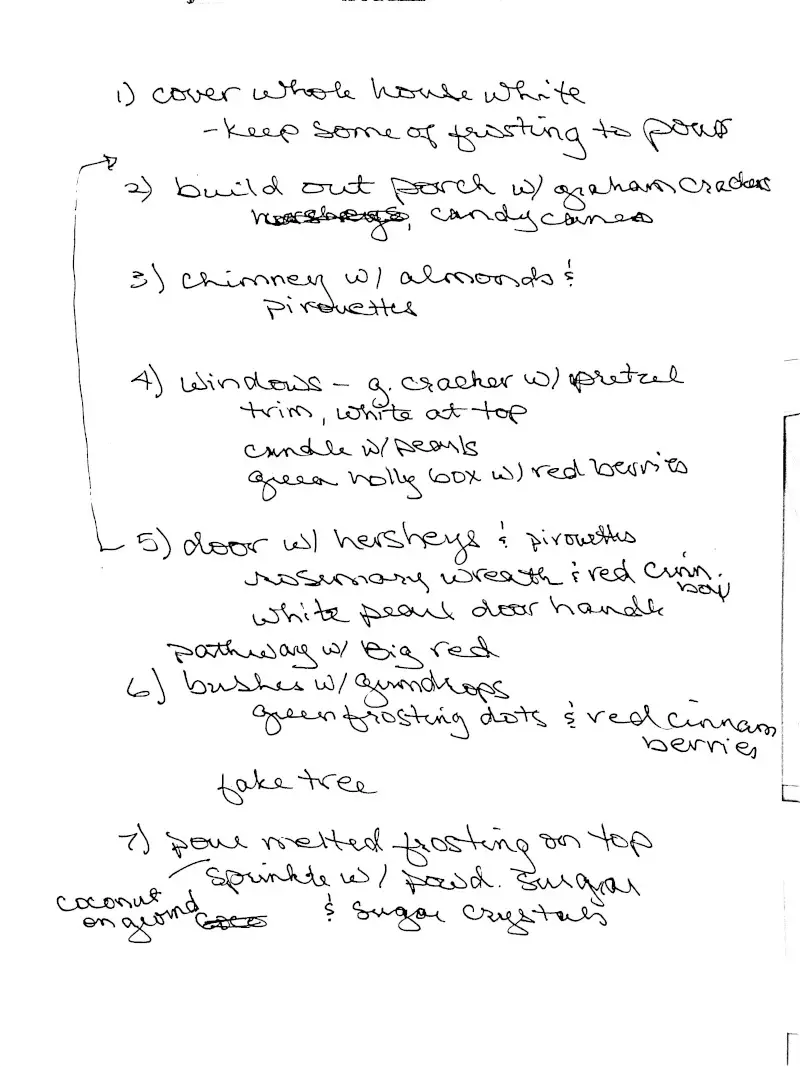 If you'd like to make this house at a more leisurely pace (I don't recommend doing this version in 45 minutes), I've got the supply list and a time-warp video to show you how we put it together like crazy women. Here's the time-warp video here:
How to Decorate a Gingerbread House
Lean in for a sec and I'll tell you my 3 biggest secrets:
Tip the house over and do the sides first so you can get good coverage. It's much easier to handle that way.
Don't use the windows that are imprinted on the house, put your windows on using crackers.
Use a layer of coconut, then powdered sugar, and then disco dust for the best "sparkling snow" effect.
Here are my assembly notes. You can click on the image to download them if you'd like, (we had to vary from them a little bit) or I have them typed below as my handwriting is a hot mess. We made some adjustments as we went so the drawing is not 100% accurate to what we did.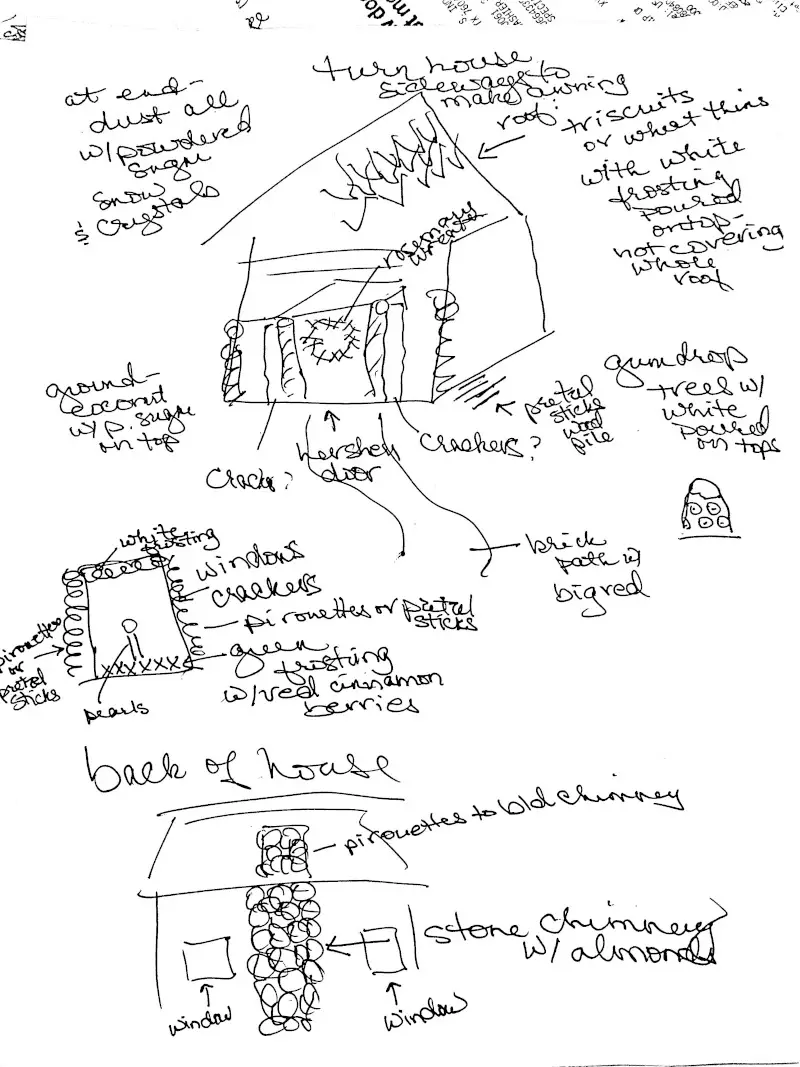 Previous Reliant Gingerbread House Entries:
Want to see some of our previous houses?
Links to Posts:
We've been posting our Reliant Gingerbread Houses on Facebook for several years too. Here are some of our favorites.
2020 Reliant Gingerbread House Decorating Challenge
Here is the Facebook post for this year's entry. Please do like and share to help us win as much money as possible for our chosen charity, Irving Cares.
Step-by-step instructions:
1. Cover the whole house with white frosting. Keep some in reserve to use at the end.
2. Use Triscuit triangles to put your shingles on the roof. Start from the bottom of the roof and work your way to the pitch. Use a pirouette to cover where the two sides come together.
3. Create your door with a Hershey's bar and pretzel rods. Use green frosting to create a wreath and if you like sprinkle some red sanding sugar on it for berried. Blow the excess off the door and glue to the front of the house.
4. Create your chimney with either candied nuts or sugar cubes and "glue" to the house with frosting. Our cubes were brown, so we used those. Take it from the ground to the pitch of the roof. Pipe frosting on the seams to create mortar.
5. Create your windows with graham crackers. Pipe white on the top edge to look like fallen snow. Pipe green at the bottom edge to create a window box. Put a candle in the window with white decorator pearls, and a flame using a bit of yellow candy (a Starburst would be great for that).
6. Create your pathway using cut strips of Big Red gum. You could also use this for your roof, or for your chimney.
7. Create bushes for the yard with green gum drops. Dab a dot of green frosting on the gumdrops and squish in a red decorator pearl for berries.
8. Cover the "yard" for your house with frosting, then coconut.
9. Warm up your leftover white frosting and pour the melted frosting onto the roof.
10. Dust the powdered sugar over the top of the house, then do same with the disco dust (edible glitter) or sparkling sugar.
Resources:
My sweater! It's crazy soft and the bulb light up with 5 different settings. Go get you one! And check out this gingerbread house you can use ALL year! I love this because it can be a Valentine's Day house, a leprechaun house, a haunted house… Just pop it together and wash it off when you're done. Store it until the next holiday. Brilliant!
Materials used in our 2020 Gingerbread House:
White tub frosting
Graham crackers
Candy canes
Candied nuts or sugar cubes
Pirouettes
Pretzel rods
Pretzel sticks
Decorator pearls in white and red
Green frosting – the kind in the pressure can with tips
Hershey bar
Big Red gum
Green gumdrops
Coconut
Powdered sugar
Sparkling sugar or disco dust (link for disco dust https://amzn.to/2LLtgfr)
Polyfill (smoke in chimney)