December has me all giddy for gingerbread. It likely has a lot to do with the
Reliant Energy®
's 5th Annual Gingerbread House Decorating Challenge which took place earlier this month.
Big love to Reliant for inviting me to participate, as it provides such a fun way to give back to the community.
It's not about bragging rights. It's about the donations and how they move the needle to help communities in our area. Reliant donates $1,000 to our charity partner just so that we can come live out our best cake wars fantasies. Then they offer bonus prizes of an additional $2,000 to both the Judges' Choice and the People's Choice winners.
Each of the media challengers chose their charity partner and made some AMAZING houses!
This year's participants were:
My bestie Anna and I arrived at the competition sporting our MommyUpgrade gear, and with just 45 minutes on the clock, a pre-built gingerbread house, and a LOT of mom-energy we tossed that frosting and smashed in the candy to create our masterpiece! The race for supplies is always my favorite part. (And I let Anna do that, lol.)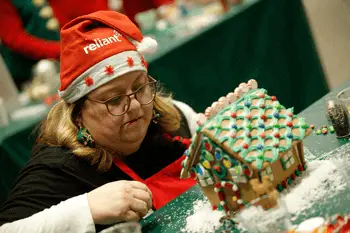 You'd think after 5 years, we'd not be nervous, but we are. There's a lot of money at stake!
While we may never be featured on the Great British Bake Off for our grace under pressure, mad stupendous gingerbread house decorating skillz, (maybe messiest table though) I am thrilled to announce that WE WON the People's Choice! That's in large part because all of you rallied behind LovePacs to make that happen.
THANK YOU to my Mommy Upgrade tribe for voting and helping LovePacs with this giant contribution! Reliant is donating a total of $3,000 to Lovepacs for our house receiving the most text-to-votes. That donation translates to 600 backpacks of food!!! I was literally driving and crying when Leah with LovePacs shared that huge number with me, and the impact sank in that we all just touched the lives of those in need. So many kids will get meals because of your votes! Also, the folks at Lovepacs say this is one of the top ten donations they have ever received! How's that for the power of a mom-gang??? High-five y'all!!!!
A gazillion thank yous!
Special thanks to @ReliantEnergy for inviting Mommy Upgrade to participate in the contest, and for their $3,000 donation to LovePacs!
Learn more about Love Pacs by visiting their website or on Facebook. Find more photos by searching #reliantlightsyourholidays on Facebook and Instagram. Also big thanks to Dallas Arboretum for hosting the venue amidst their lovely holiday displays.