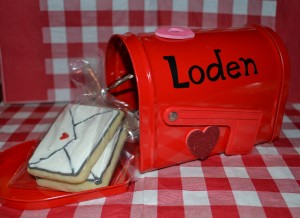 (See our other Valentine's Day projects this year!)
That lollipop photo valentine was sort of our jumping off point. The manic assembly which left me with a total of 9 hours of sleep since Saturday begins here.
I had seen this idea online and I can't remember which Facebook fan page it was on so my apologies if I'm not giving proper credit. I may even be delirious, maybe I pinned it.
But so cute.
The Princess and I had been collecting these mini mailboxes from Target's dollar bin. We only managed to find 17 total – even though I had a list of how many were at every store within a 30 mile radius. Either there was a wave of creative mom's one step ahead of me or the numbers just weren't right. Either way, we had enough for all the class + one bestie.
I dusted off my Cricut and unearthed some vinyl that I had purchased for some long-forgotten project and cut out all the kids names with the Cuttin' Up cartridge.  That was the easy part.
The Princess Cupcake took it from there and decorated them with glittery sponge stickers.
I let her have at the box of unused Valentines that we have collected through the years and she gleefully assembles and stuck them together for her friends and put them in the mailboxes.
One of the Princess Cupcake's favorite phrases, "There's something in the MAILbox!"
Visit here to get details about the envelope cookies. Yum!