If you liked the Is it too Early to Decorate for Christmas? post (which for me is NO, never too early), you will love this one which continues my chat about Christmas tree decor trends with my dear friend Kristin Black, from Decorator's Warehouse.
This time we are talking about color trends and decor trends for holiday decorating, especially in reference to Christmas trees. Before we get started though, I'm curious, are you a traditionalist and sticking with the reds and greens or are you more of a trailblazer with pink and teal or other cutting-edge combos? I'm both, depending on what room you're in!
Bottom line, you should always decorate with what you love, but there are definitely some hot colors for Christmas, as well as Christmas tree decorating trends. We talked about themes, like Farmhouse, is it in or out, this year? What about gnomes? And what's happening with ornaments? Oh my gosh. Ornaments are off the chart crazy these days — you'll see in the video below.
Let's get to decking those halls!
Christmas Color Trends
What are this year's Christmas colors is a question Kristin is asked ALL the time at Decorator's Warehouse. Navy is a huge, huge trend right now. "We had navy last year in a small way, and boy, we didn't have a single piece of Navy by the end of the season. So we're doing it in a much bigger way this year. And I think because the Pantone color is classic blue and you're seeing it more and more in home decor. That's where this is all stemming from," Kristin says. 
Kristin also explained that while navy is becoming more of a neutral, you're seeing it in place of blacks and browns, it also makes a great base. The navy acts as the neutral and gives it a great foundation to showcase the robin's egg blue color, which is also a big trend this year. (Be still my heart!)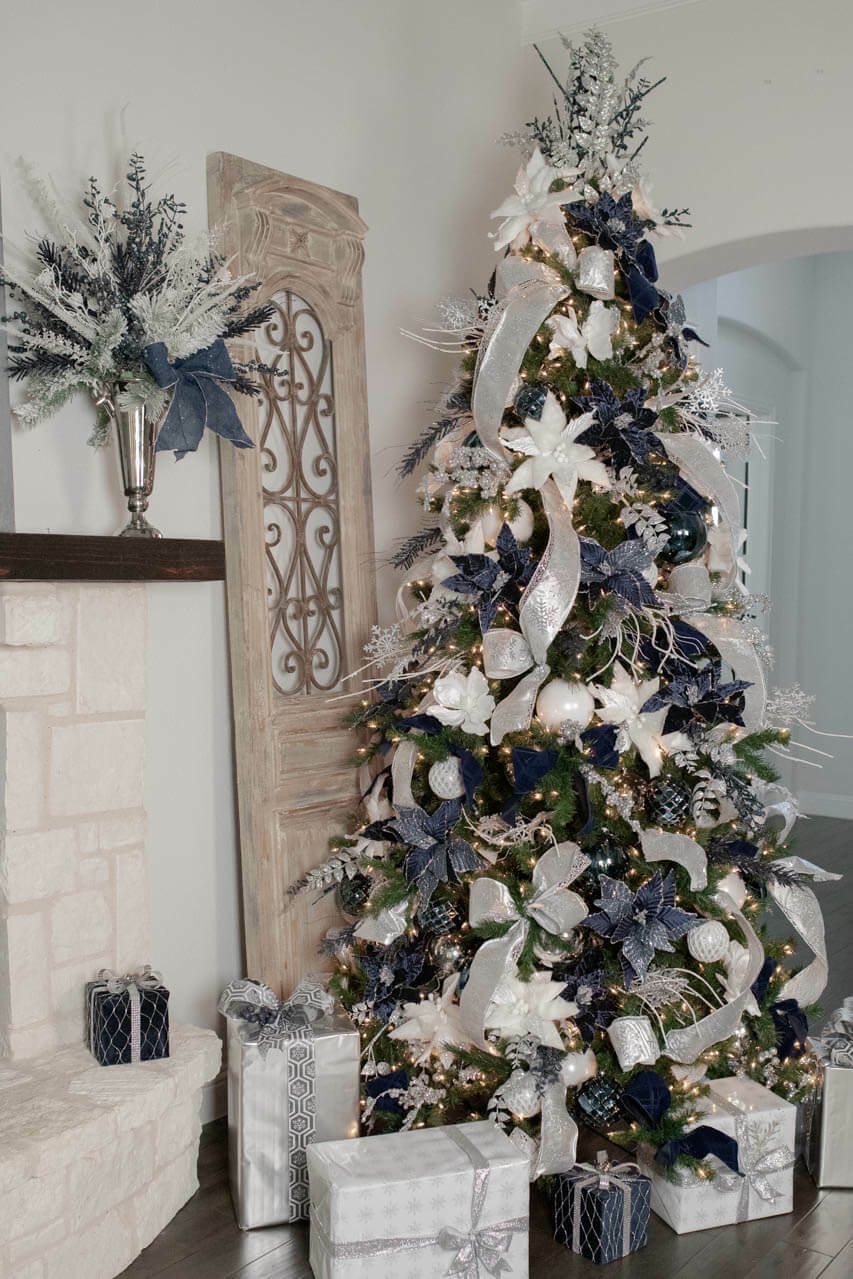 Image credit: Decorator's Warehouse
Another trend Kristin highlighted,  is to pick a tree with a lot of natural foliage which is a timeless look for Christmas and then decorate it with some of the richer burgundies and jewel tones, which are also seen in much of the Fall decor right now. Rich shades are very hot this year. 
One thing Kristin said they seeing reflects a lot of what's in home decor. A neutral color palette can look very soft and elegant and also quite glamorous with touches of golds pallet but it's mostly a lot of Ivory's and creams and just beautiful tones. Decorator's Warehouse is also featuring neutrals in more rustic decor too.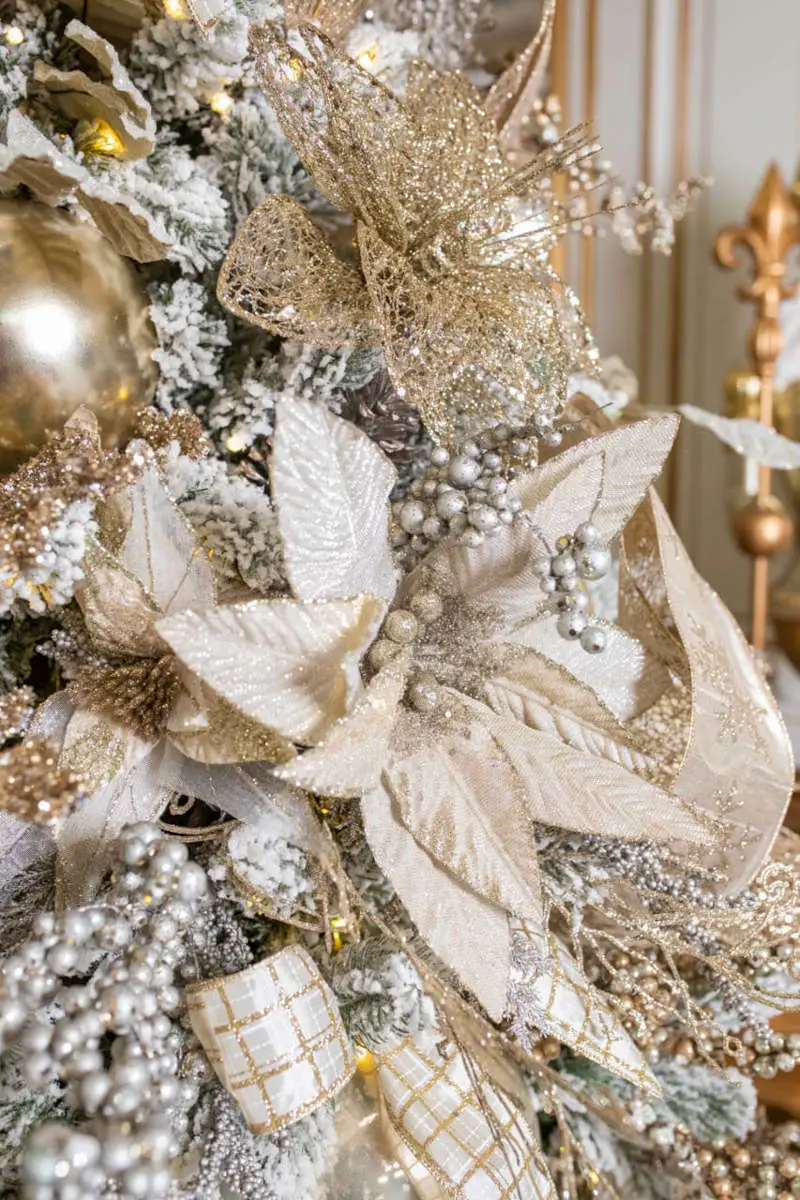 Image credit: Decorator's Warehouse
The neutrals are showing up in the more rustic decor too, and neutrals are good because then you could use that as your base year after year. As the color trends change, you can just add a pop of that year's hot trend into the mix. 
The Woodland tree at Decorator's Warehouse is a great example of this with lots of soft colors, creams, and browns, but that would be stunning with just a pop of red in there too. Kristin explained that this tree would be a foundation. "I know a lot of people, myself included love to decorate with red at the holidays. So this has such a great foundation for that."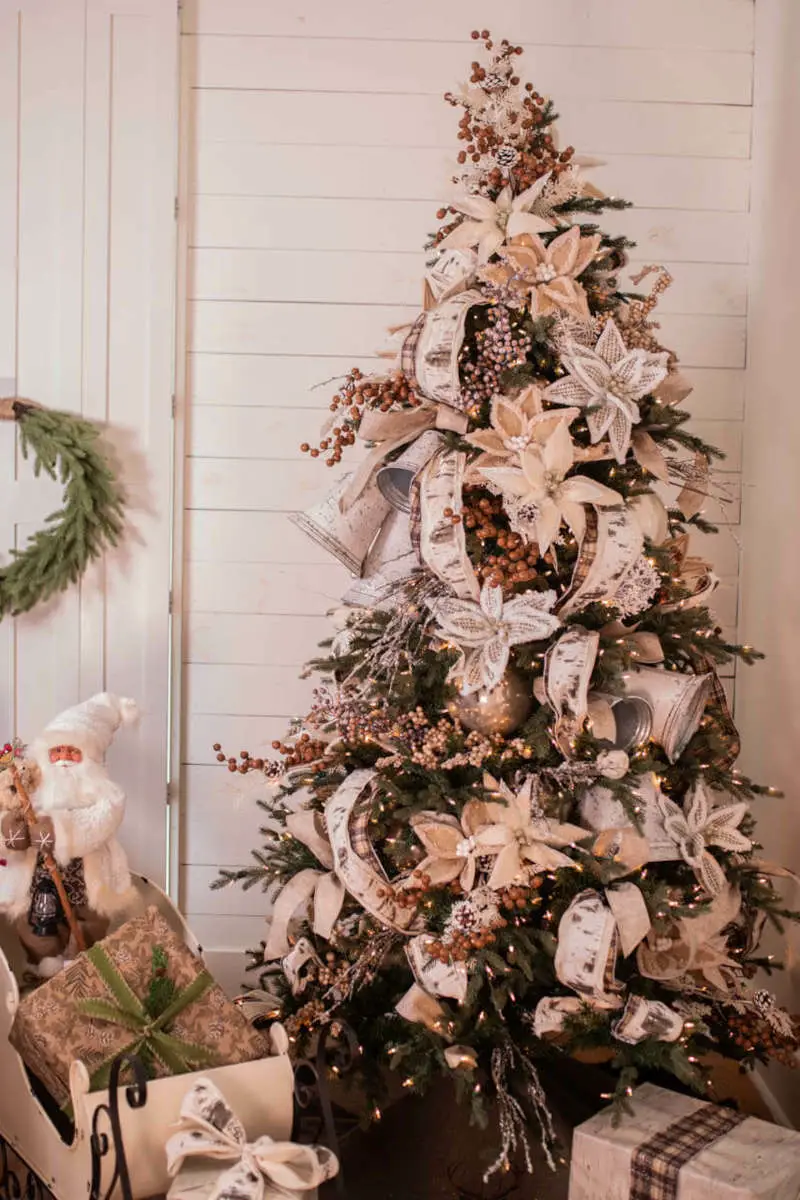 Image credit: Decorator's Warehouse
Kirsten turned to another beautifully decorated tree which showcased the use of red, which we all know is not ever going away. This one had a Mackenzie Childs vibe with black and red, and black and white buffalo plaid.  She explained that Decorator's Warehouse added grays and that the combination of grays, with the neutrals and the crisp red and the black and white Buffalo check really, really works. She's right. I'll take it all!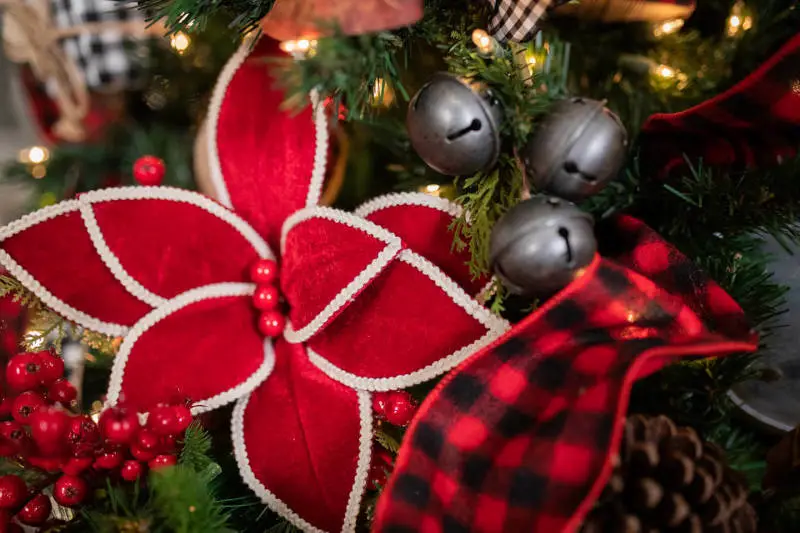 Image credit: Decorator's Warehouse
Okay, so transitioning into themes and trends, Kristin says they are still seeing a strong showing from the farmhouse look. Although — there's a twist! The red truck is now being replaced with a green truck so there's that. And another big trend right now is bells. Decorator's Warehouse has them everywhere with  all sorts of sizes and colors.
Another super popular theme is Candy Land. So popular right now, that the style was moved to the front of the store including the one pictured below which is from the Santa Sweet Shoppe collection and features pinks, teals and pops of white.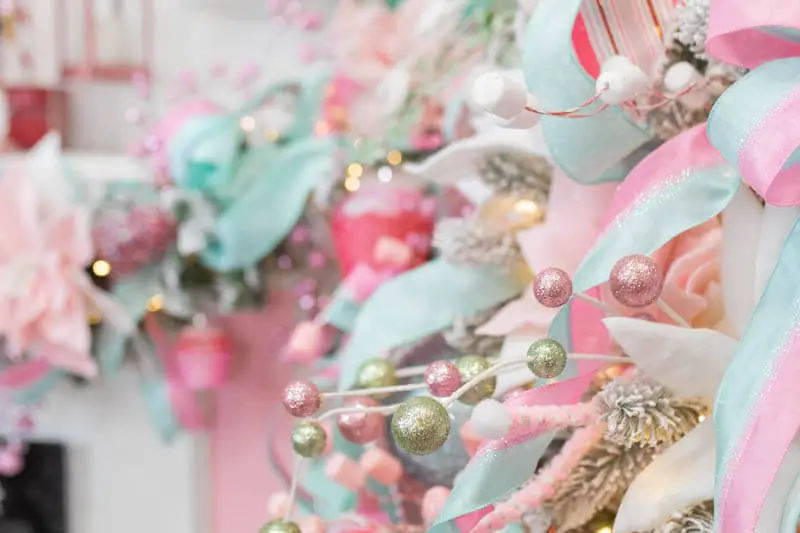 Image credit: Decorator's Warehouse
Cupcakes and all kinds of sweet treats are rolled into this style and it is showcased front-of-house at Decorator's Warehouse with an amazing over-sized Gingerbread house and candy-cane forest. So yes, candy is in.  But this kind you can enjoy without the sugar and calories!
I'm not sure it's a new trend per see, but the Nutcracker is really coming of age. With the huge selection of themed Nutcrackers and the wide variety of colors, it's so easy to incorporate into your decor — and even your tree! Decorator's Warehouse has a black and white, Snowberry version of the Nutcracker decor, as well as navy and rich jewel tones. This is a departure from the apple-green which was the predominant tone but this year you will find Nutcrackers adorned in a rich emerald green, which is the true holiday green. A nod to the traditional styles many of us grew up with!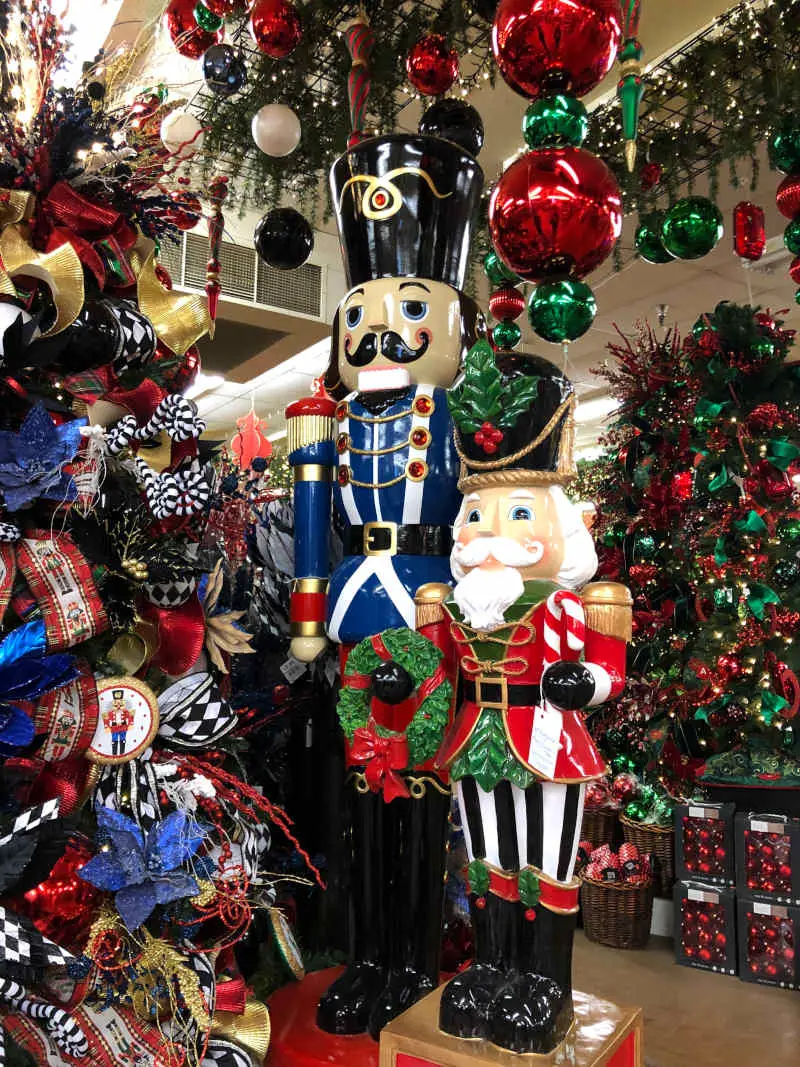 Speaking of Nutcrackers, let's talk for a minute about ornaments. There are BIG nutcrackers, BIG cookie ornaments and BIG bells everywhere.  It's hard not to see that the ornament trend is leaning towards BIG. What nostalgic ideas of ornaments you might have, are now completely mega-sized. Welll — come to think of it. We are in Texas, right???
Kristin says that yes, everything's bigger and that this year, they are challenging people to think out of the box — past the traditional ornaments that might be used on a tree.  For example, take all of your tabletop Nutcrackers and tuck them into the tree so it fills in pockets of your decor and it creates a big visual impact. That is seen across the designer trees. For every Christmas theme this year, incorporate larger-scale bells, cookies, angels, signs, and so on. Think out the box and scale up!
That seems like a great idea and it fills up more of the tree too.
Thank you so much to Kristin for sharing her time and expertise with me. I hope you got a lot of ideas and inspiration out of this Christmas decor post. Please note that all the trees and decorations featured in the post can be found at the Decorator's Warehouse website or you can pay a visit in Arlington, Texas to see them in person! Don't forget to grab a Gingerbread House photo while you are there. 
(This was not a sponsored post, but I did receive a thank you gift after the fact for extensively featuring Decorator's Warehouse. All opinions are my own.)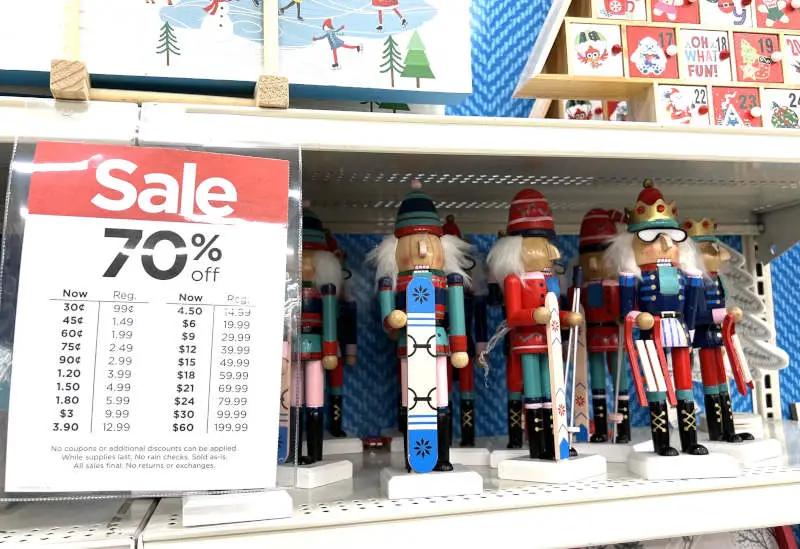 The Christmas Clearances are great for finding crafting bargains. Here are 8 items I always look for that I'll use through the year.
read more