Looking for a holiday "Do It Yourself" craft that also makes for an inexpensive, interactive, and great looking Christmas gift?
Well, I was last year.
And when the dust finally settled (it's Texas…snow isn't an option), I had designed more than 50 Christmas mini-pallets for my husband's office which not only created a festive atmosphere for the holiday season but also doubled as unique, fun, and reasonably priced gifts for his employees.
I was so happy with the results, I would 100% do it again.
Even better, these mini-pallets made entirely from easy-to-find supplies in stores like Dollar Tree and Walmart, will cost you less than $5.00 to create.
What You Will Need
Tags (Walmart) *trim the ribbons off *
Reindeer clips (Walmart)
Garland (Dollar Tree)
Ribbon
Mod podge
Glitter
Sealant
Scissors
Glue gun
How To Do It:
The pallets are quite plain as is, and because you might be inclined to purchase different styles or shapes, their colors might not match perfectly. Staining them could be a painstaking process, so I spray painted them, instead, to ensure they were all the same color.
I had a can of linen-gray paint on hand, but white or off-white would also look nice. Simply set the pallets on paper and use painter's tape to both secure them and to cover the strings that allow the pallets to be used as ornaments.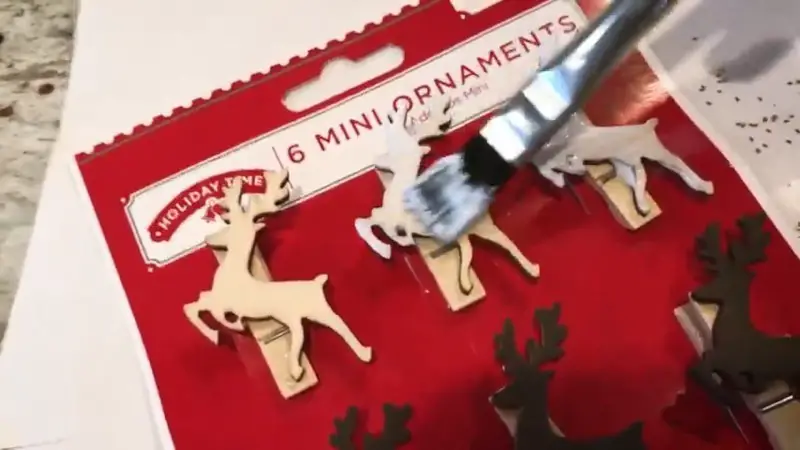 Next, apply mod podge to the reindeer ornaments so you can add glitter which is an attractive decorative touch. You don't have to remove the reindeer from the cards. I found it easier to leave them on because they're more secure that way.
I had some glitter available from past crafts which worked well, but I think if I were to do this again, I might use a finer grain due to the size of the reindeer clips. Still, even if you're using a chunkier granule, liberally sprinkle the glitter onto the reindeer and let it dry.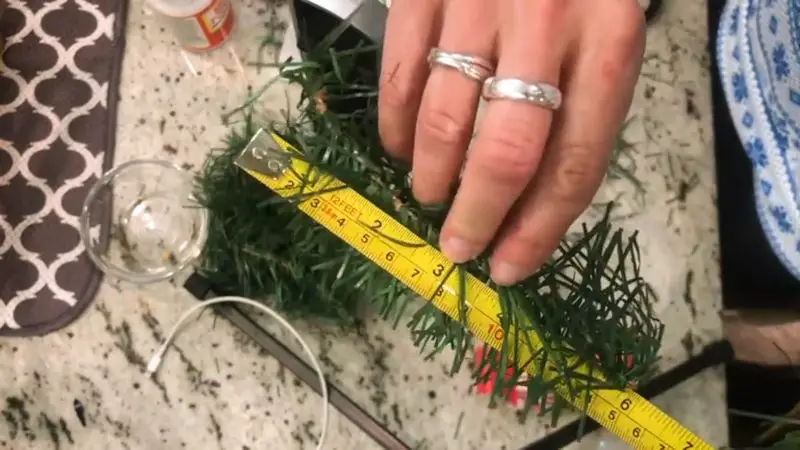 While the reindeer are drying, take the garland and measure the length you will need for the different sized or shaped pallets you've purchased.  
A couple of notes about the garland:
It comes in a very long strip which will require you to cut it for the tiny wreath you will make. You could purchase a different type of garland from somewhere else, but that will likely make the project more expensive.
This particular garland (from Dollar Tree) sheds a lot. So, be prepared for some cleanup afterwards. I would perform this part of the project over a box or a bag to aid in catching the needles that will fall off.
The needles are long. So, after cutting each little strip, I also went back and tried to give a haircut to my selected pieces.
The garland is pliable, but it can appear "flat." When making the mini wreaths, you'll have to carefully arrange each strip to feature its "fullest" appearance.
Making the garland wreaths is easy because the garland is already wired. Just make a loop and twist it together to secure the circle. Then, attach the reindeer clip to the wreath. The nice thing about the clip is you won't need additional glue to hold it together. As for the bow, simply cut a strip of ribbon a couple of inches in length and hand tie it into a bow.
Once the various segments are assembled, you're ready to go.
For each item you'll need
a pallet
a wooden tag (with the ribbon trimmed off)
one of your garland wreaths with the reindeer clip
a bow
To put it all together, select a pallet and a wreath. You may wish to do some final clipping of any shaggy-looking needles, but once you approve its appearance, apply glue along the back of the wreath to secure it to the pallet.
Glue the back of the wooden tag and place it below the wreath. Then, glue the bow you've created and immediately between the wreath the tag. I situated my bows this way to cover the holes that were bored into the tags (I assume they were previously designed to hang on something).
Eventually, your farmhouse Christmas decoration should look like these: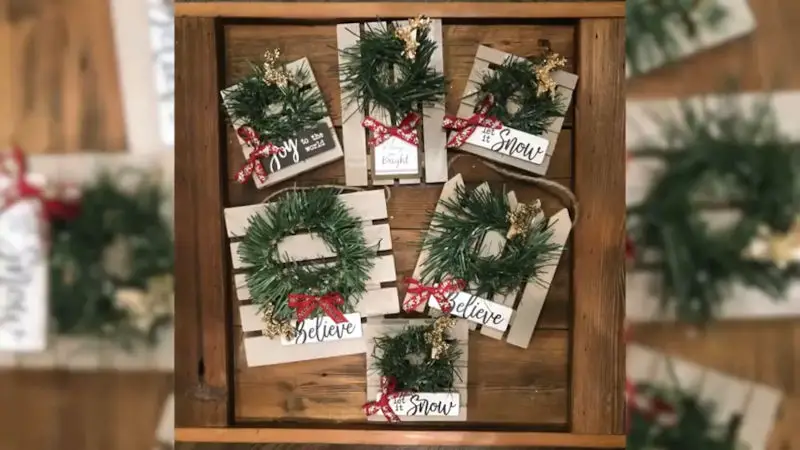 What's great about this craft is how incredibly simple it is to imitate. Also, per piece, it's very inexpensive to make. I can think of several uses for such a charming and festive gift, and I think it would be a lot of fun to do this craft with others during the holiday season.
So, grab the eggnog and the supplies, invite some friends over, and make something wonderful together!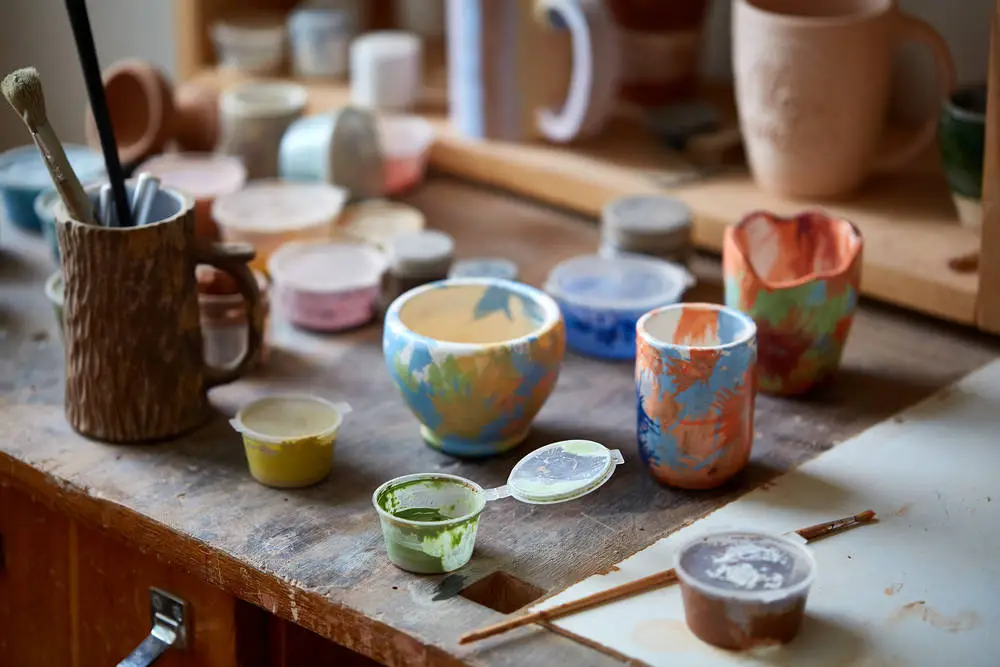 Depending on how dedicated a crafter you are, these craft room ideas may help you plan and organize your perfect workspace.
read more