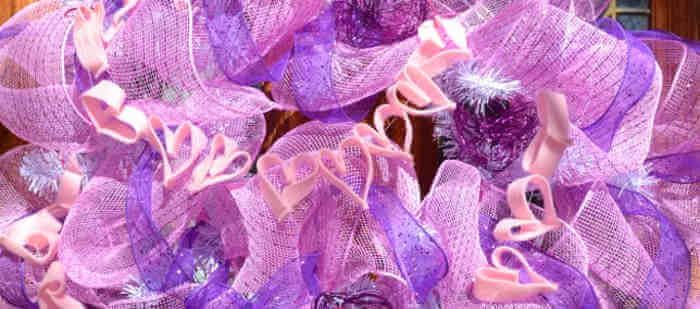 It's one of my current obsessions: Deco Mesh. I am infatuated with the springy plasticy goodness and all the bowsplotions and garland and crafts you can make with deco mesh. It's virtually indestructible, inexpensive and comes is more colors than your crafty little mind can wrap around. Thanks to my enabler MardiGrasOutlet.com, I have started a massive collection of holiday-themed wreaths (see tutorials for Christmas, 4th of July) whereby each one could quite be larger than my child.
Swoon.
Since I finally got Christmas put away (my deco mesh garland took FOUR plastic bins to fill! Yeah, we went a little cray cray…), it's time to move onto the next holiday. Mardi Gras is not such a big deal around here — sadly — so we set our sights on cupid's favorite and decided to create a Valentine's Day wreath. First I laid out my supplies for a Valentine's Day deco mesh wreath: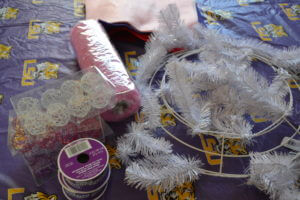 One roll of pink sparkle deco mesh
White wreath form (really, you should probably use pink for this but I had white already, so I used white.)
Two rolls of purple with pink sparkles ribbon (from Michaels, on sale)
Felt (from Michaels – also on sale)
If you've never made a deco mesh wreath, they are stupid easy. First take your wreath form and straighten all the limbs so they're pointing up.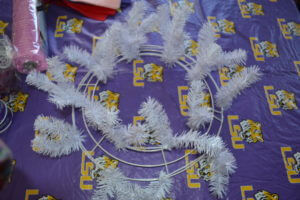 Grab a fistful of our deco mesh with some ribbon on top of it and twist it down to one of the inner circle branches.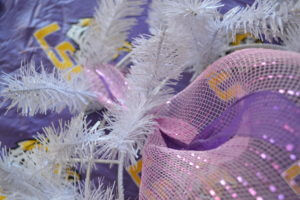 Make a poof with the deco mesh and the ribbon together, and twist it down with the neighboring branch. Keep going all the way around the inside of your wreath form, try to keep the size of your poof the same between each branch. Don't get all neurotic and measure it. Really.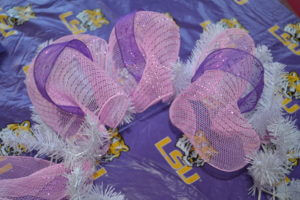 After you've done the whole inside, then jump to the outer circle and start the same smush and twist routine. DO NOT cut the deco mesh between the inside circle and the outside circle. There's no need to.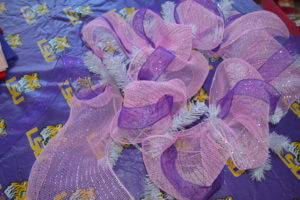 Continue with the poofs, smushing and twisting your way all around the outside of the wreath. You may have some extra when you're done, just cut that off. It took me two rolls of ribbon (4 yards each) but one roll of deco mesh (10 yards) to go around my wreath.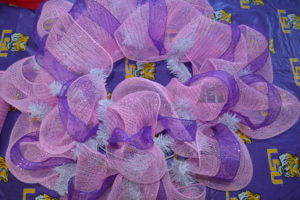 It's perfectly lovely just like this. You could stop here and put it in on your door. But I can't do that, I'm a tinkerer. So I grabbed some of these new wire balls (also from Mardi Gras Outlet) and was about to put them on the wreath, but they just looked too, I dunno, Christmasy to me.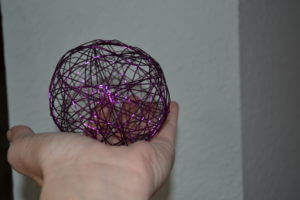 So I squished them.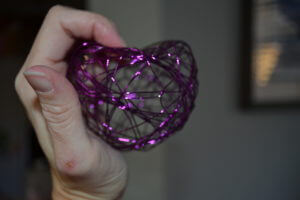 And a little more…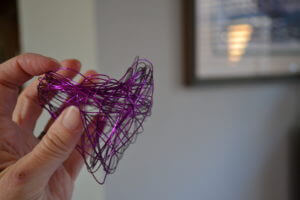 to look more like hearts.
I stuck the wire hearts to the wreath with some pink wire. (Also from Mardi Gras Outlet) This was easy to do, just cut a piece of wire and string it through the back of the wire mesh heart and twistie tie it to the deco mesh. They're not going anywhere.
I still couldn't leave it alone. I wanted more hearts. So I grabbed my felt and folded it in half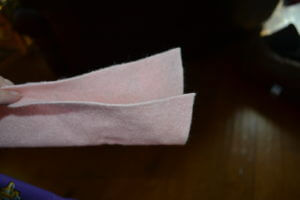 and sewed it down the long-side.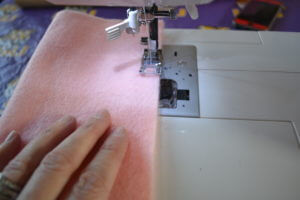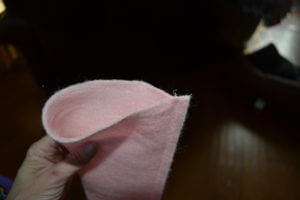 Next I turned it inside out, and sewed a seam with about an inch margin.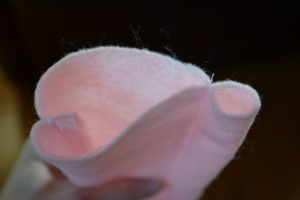 Are you starting to see the heart? Squish it a little.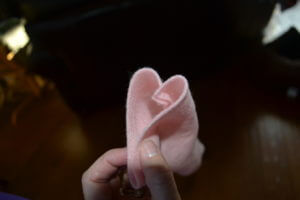 Now you see it, don't you? Yeppers. So now you have this long heart tube. Smash it flat and start cutting half inch strips.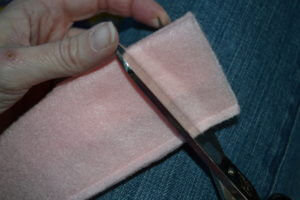 And you'll see your mini hearts for your felt heart garland. I just ran a thread through my hearts to string it. I used regular thread, but I'd recommend using a sturdier embroidery thread.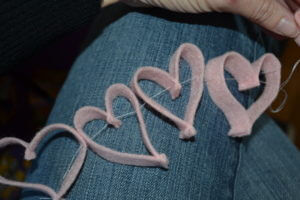 Be sure to thread through the middle dip of the heart too or else they'll stretch out of shape.
I used some of the pink wire to also tie these to the wreath on each side. Here's a closer view.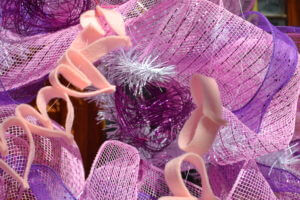 And done.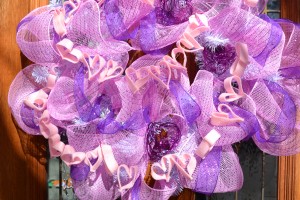 I call it my deco mesh hot mess of a wreath, but we love it. Well, the Cupcake and I love it, the hubs is not so impressed with our mesh wizardry. It must be a girl thing.
Happy Valentine's Day!
More Valentine's Day Posts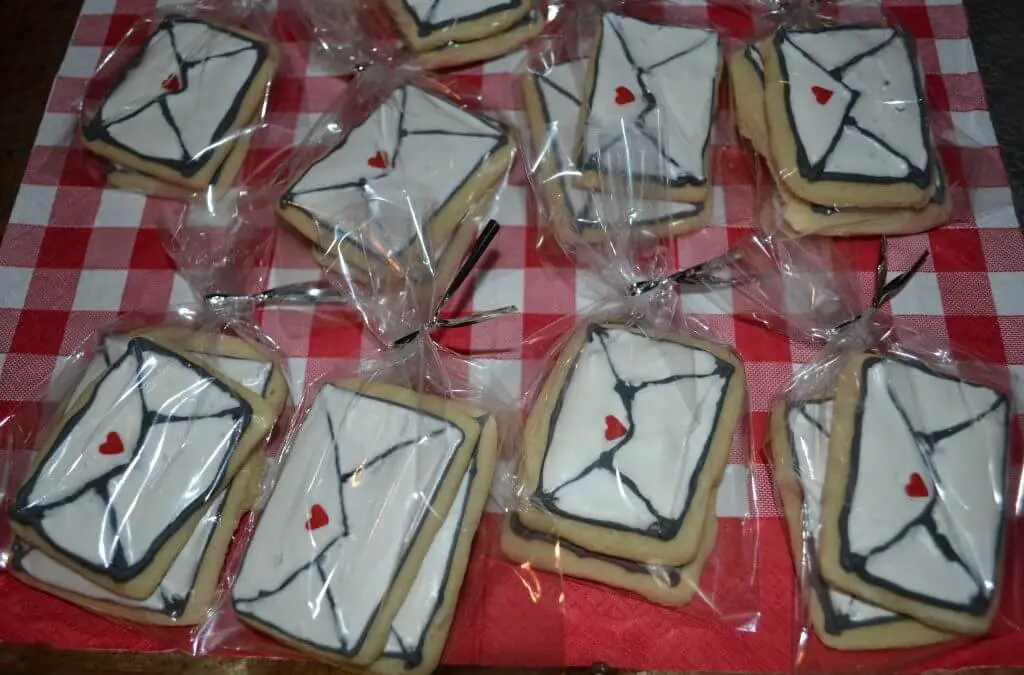 (See our other Valentine's Day projects this year!) On Sunday night I had made rectangle sugar cookies (freehand cut with a pizza cutter – absolutely no uniformity whatsoever!) and drew the envelope shape with royal icing that I died dark grey. Here's Envelope...
read more