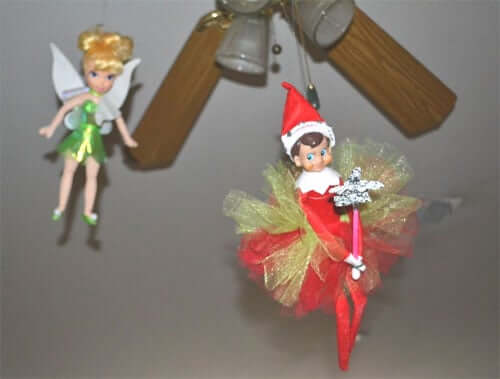 WWWWHHHHHHHHHHHHEEEEEEEEEEEEEEEEEEE!
Lucky little Chintz found his Elf on a Shelf wingman, or in this case, wing-woman.  His magical match made in heaven.
The Cupcake discovered Chintz and Tinkerbell flying suspended from our ceiling fan this morning, I think he may have ditched the Disney Princesses for someone more his type.
If you look closely, you'll see that he's also gotten in touch with his inner fairy by donning a red and green tutu AND a rhinestone headband. The Cupcake noticed the headband immediately – of course.
Also of note: I suspect that there may be a little jealousy going on because the Cupcake told me that Tinkerbell was supposed to stay up in her room, NOT fly around with Chintz.
Those crazy Elves! After hanging out with Snow White, Rapunzel, Cinderella and Belle, you'd think the Cupcake would just be happy that he had settled down.
Find more Elf on a Shelf Mischief and Ideas.