So the Pink House is installing a new chandelier. They posted a picture of sweet Nan's hubby adding crystals to it this morning and my heart just skipped a beat. I had to see it — as I might have a slight fascination with chandeliers.
Well, hanging lights in general. I love indoor lighting. Whether it's Christmas lights or a big honking gorgeous crystal chandelier, I am mesmerized by their twinklingness and I literally catch my breath when I see something beautiful suspended above my head.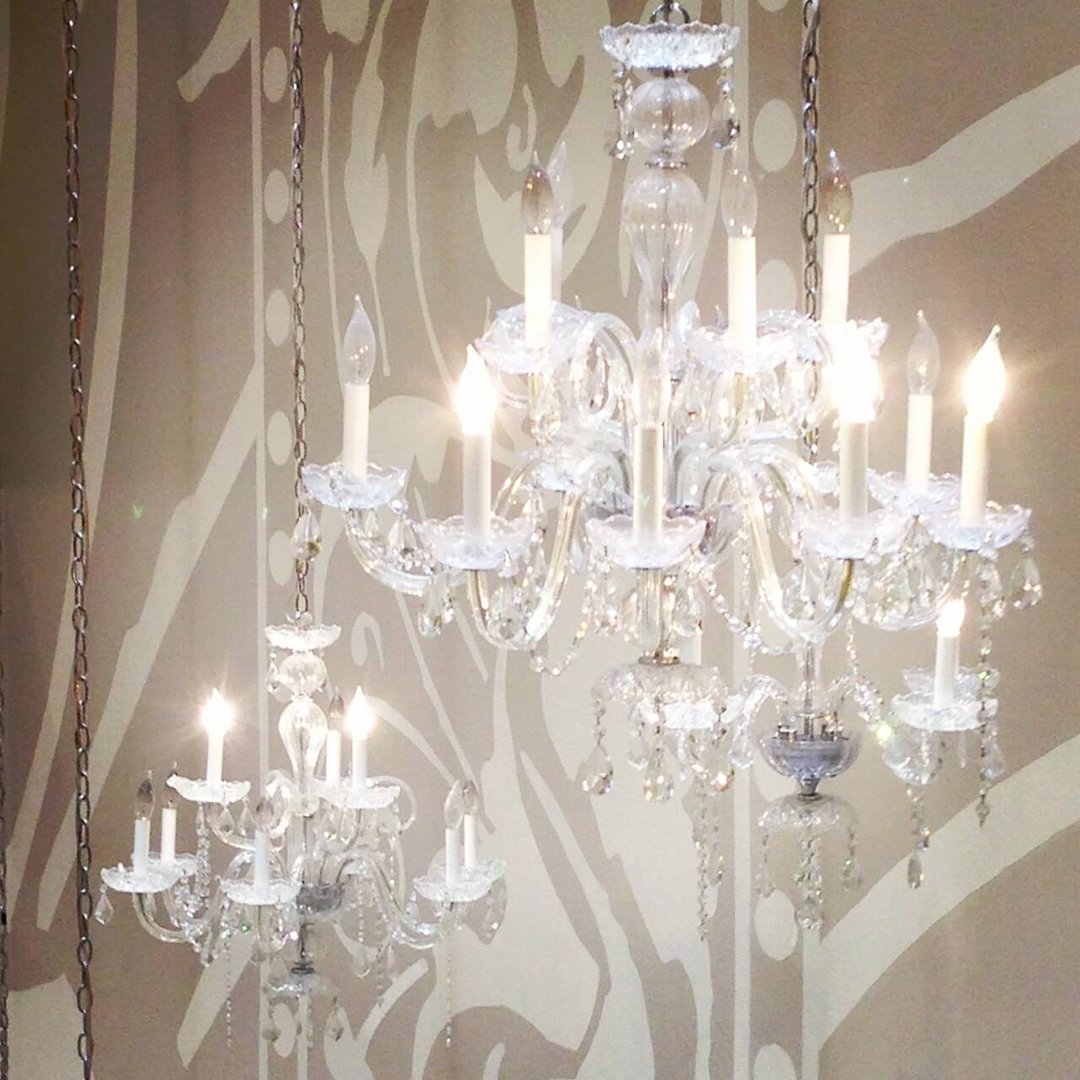 North Park H&M Chandelier
I'm not sure what the obsession is or where it came from, but I find myself taking more and more photos of lighting. Weird, I know. It's actually replaced my shoe fetish if you can believe that.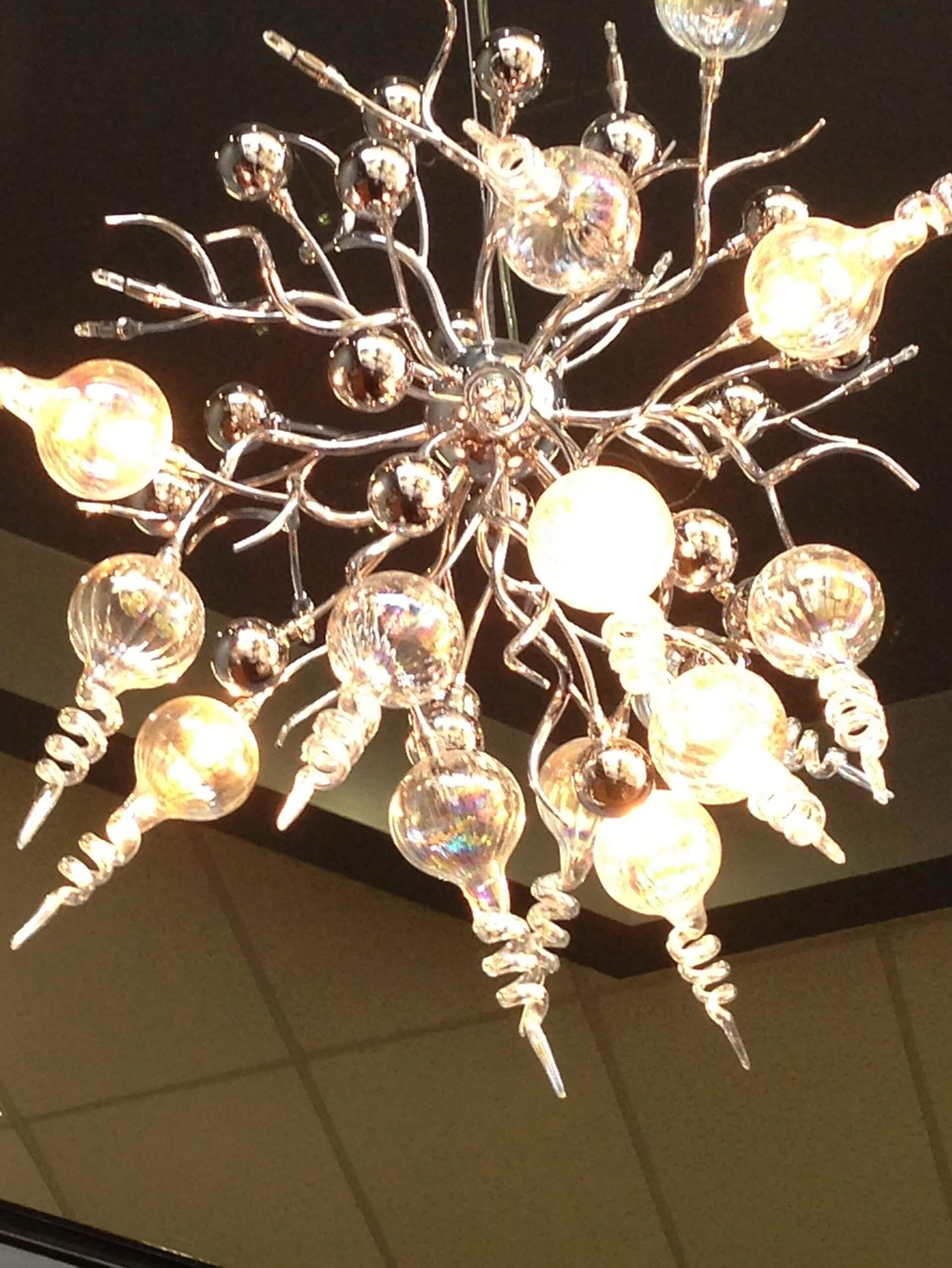 In Your Face Apparel Lobby
If you follow me on Instagram, you've been subject to my obsession on more than one occasion. You know that I appreciate all styles of lighting, I will take photos of everything from the crystal chandelier at McDonalds, to funky flower lights at American Girl. I so heart my friend Sabrina's black chandelier that she has hanging in her craft room – she's lucky it's out of my reach or it might just disappear one day.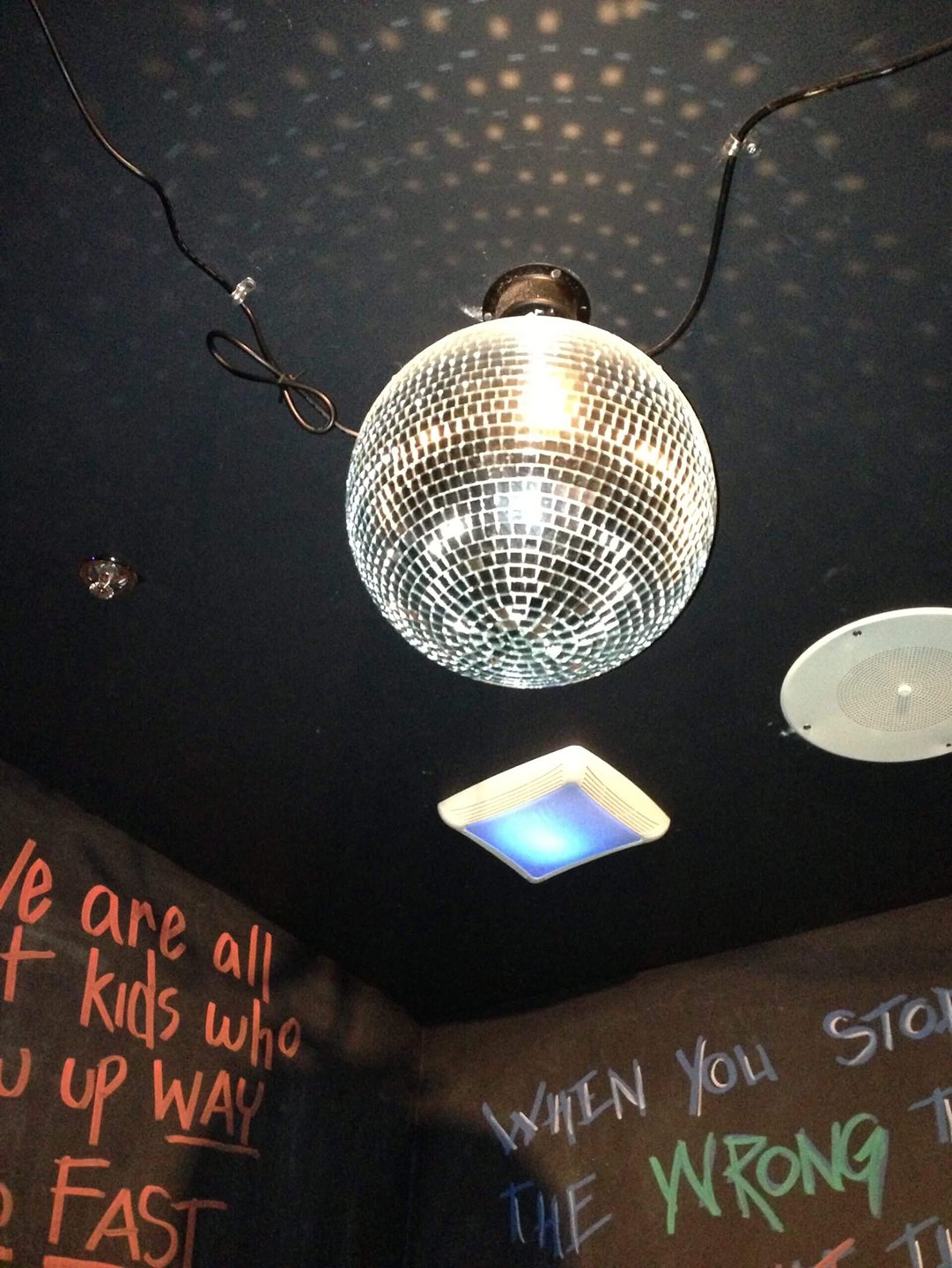 Disco Potty at Twisted Root
Perhaps this longing for beautiful lights is rooted in my distaste for our current "featured" lighting in our home. Thirteen years ago this month when we moved in, I hated all of them. Now I quite literally despise them. But replacing the biggest offenders: the dining area lighting and the entryway chandelier, have always been low on the totem pole of home improvement projects, falling behind a new fence, new roof, oh and then there's that pesky private school tuition…. If it were easy or affordable to replace them all, I would have in a nanosecond. But the fact that one "chandelier" is suspended 15 feet in the air for all the neighborhood to see is a huge deterrent (and embarrassment). Because that means that the hubs has a legitimate excuse to not to take it out.
So now I have to hire someone.
Probably an electrician, since it's got, you know, electricity and stuff. But said electrician has to have a huge honkin' ladder that he can bring with him. And for some reason I have this vision of electricians being so expensive (there's likely an extra ladder charge) that I feel compelled to have several electricity-related projects saved up for them to do in order to justify the house call service fee. And I wouldn't know how to begin to find an electrician that I'd trust anyway. I guess I'll ask on Facebook because people don't just walk around talking about how they "love their electrician" although I suppose they should.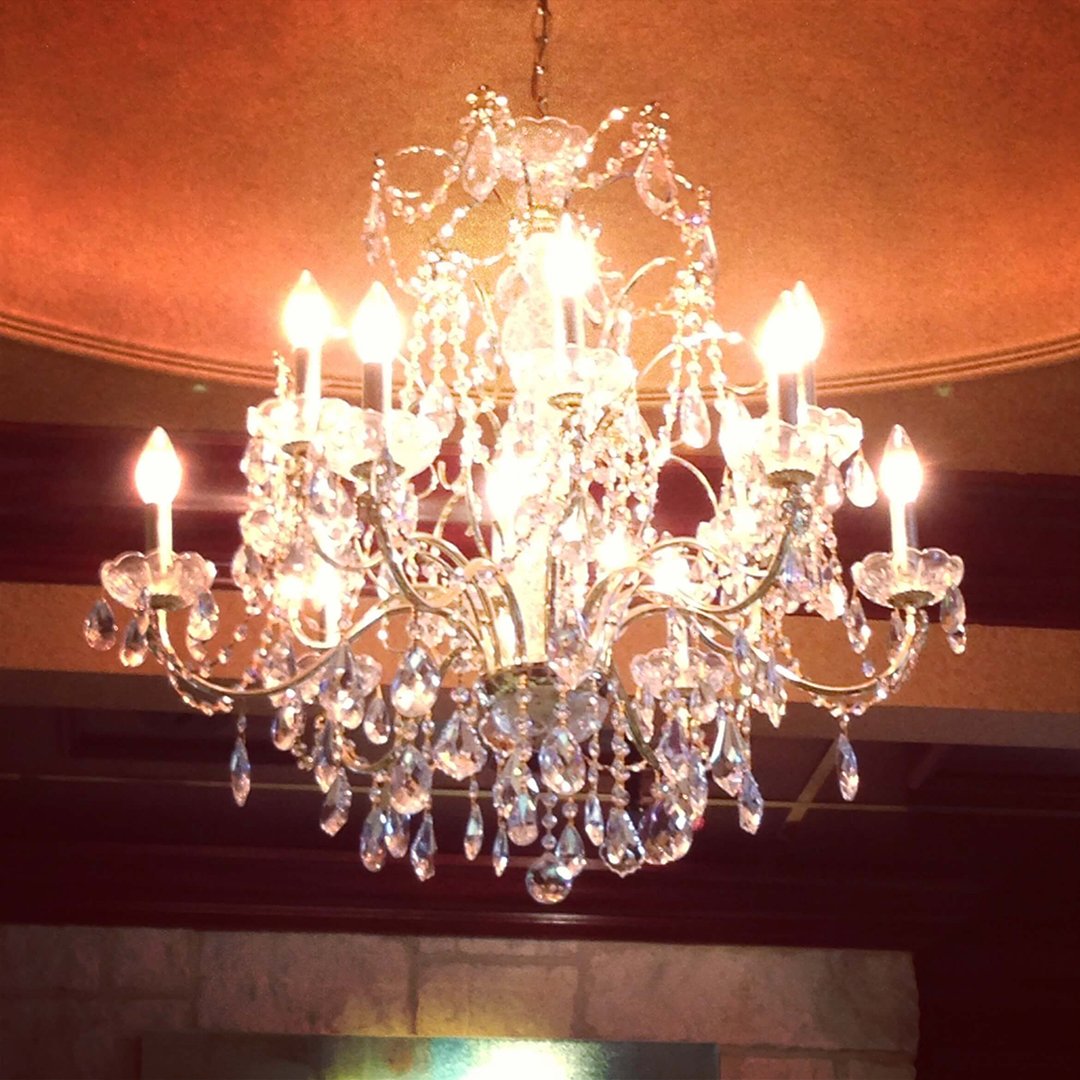 McDonalds Chandelier at Park and the Tollway
Daunting enough, once I came to grips with a proposed electrician selection, there's still the choice of new lighting. There's so many incredible options! But seriously, anything made in 2007 and above would be a significant improvement over what we're currently looking at. I'd make quick work of that part of the equation.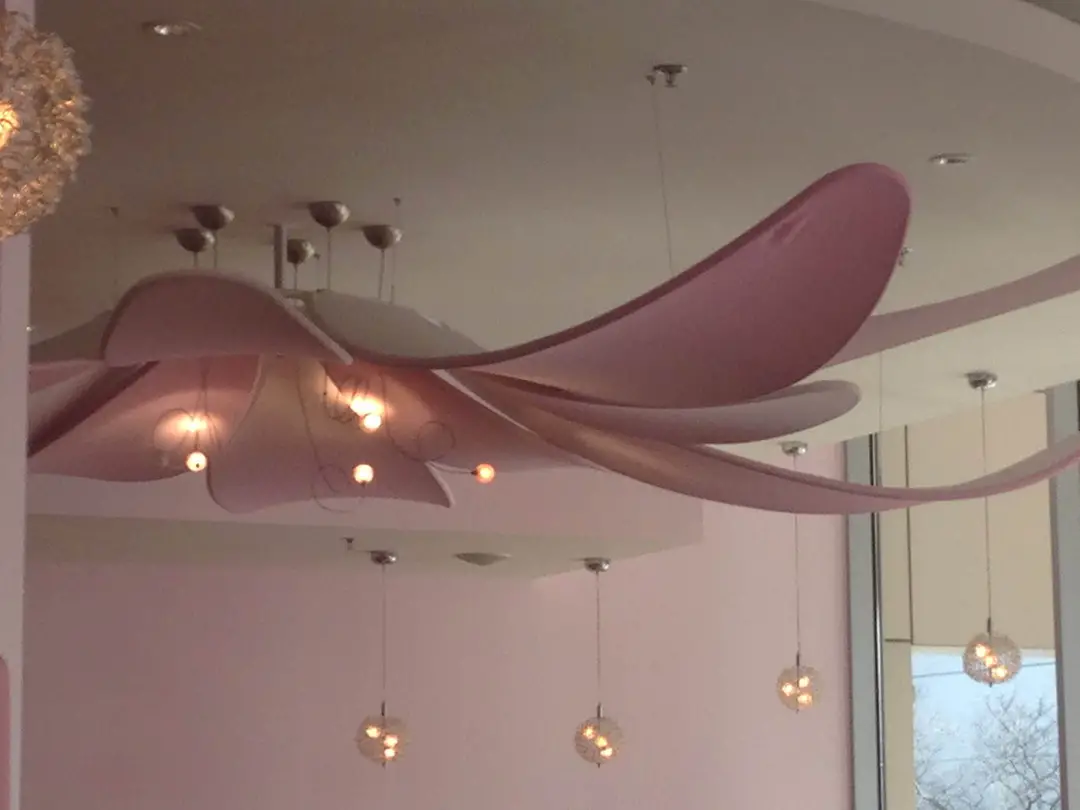 American Girl Boutique Dallas Galleria
I think my aversion to our lighting amped up when I finally got tired of waiting for the hubs to replace the light bulbs in my office. I am too short – even on a ladder – to reach the socket. His six-foot tall self claimed to be as well. Whatever.
And then, one day enough was enough. I was tired of stumbling around in there and stubbing my toes at night. The hubs was out of town so he couldn't lecture me on how stupid it would be to roll a cedar chest into the middle of the office and put the ladder on top of it so that I could reach the light bulbs if I stood on my tippy toes on the very top step. (*It goes without saying, do not try this at home.) I'll admit it was stupid. But very empowering. I did it. I changed the bulbs on our 9 foot ceiling or whatever it actually is. Let there be light.
I didn't even mind that the hideous glass cover wouldn't fit over our now naked energy efficient replacement bulbs.
I think that was the turning point where I realized I didn't have to be a complete victim to terrible indoor lighting. Not that I was going to YouTube "How to change lighting" or anything crazy like that yet. But I started looking up more often. And admiring all the fabulous lights hanging above my head. And snapping photos. And dreaming of how to make the upper half of our home awesome.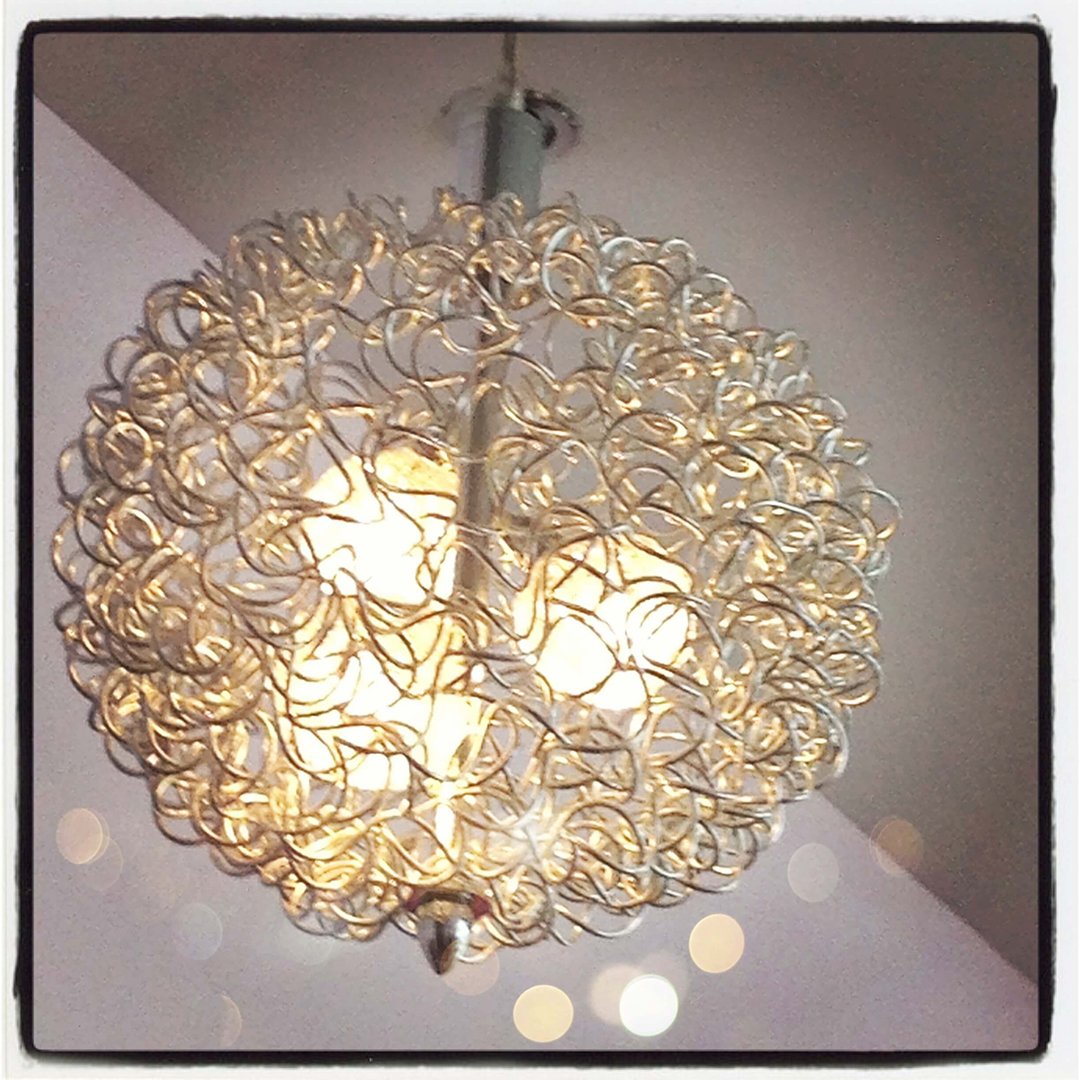 American Girl Boutique Dallas Galleria
If I had a magic wand, I'd make good on that resolution to only surround myself with beautiful things, wave it over the all the lame ceiling fans and out of style brass monstrosities that adorn our home and make them disappear. But until I find that magic wand or fairy lighting mother, I'll keep adding to my photo wish list to trip the lights fantastic. And I'll continue to lurk about Lowes and Home Depot on the weekends in hopes that House Crashers comes and discovers me staring up longingly at the lovely light displays.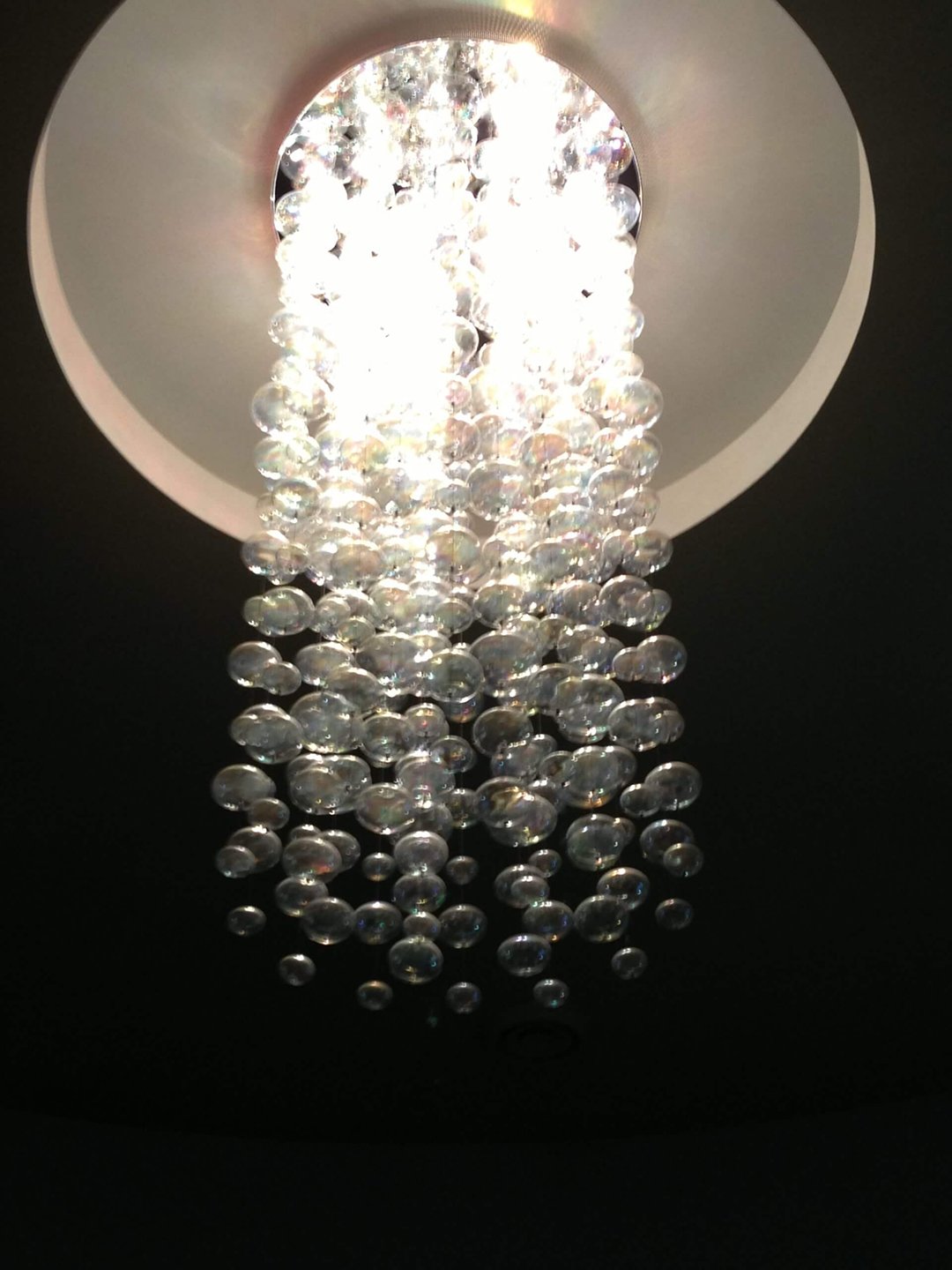 I can't remember where this one was 🙁
Is there something in your home you'd love to replace? What is it and what would you put in instead? 
Whether choosing lighting or thinking about building a new home, you'll love the New Build Checklist.
More Home Sweet Home Posts
Building a pool in your backyard can be an interesting and exciting transformation for your outdoor living space, but it doesn't come without unavoidable frustrations. Here are the six things I wish someone had told me before we began our project:No matter how long...
read more