My list of chalk painting projects is NOT getting any shorter. It feels as though I always have a piece or three that are "in progress." It's my own doing. When we built our house, I convinced myself it was an ideal time to lighten up the office furniture with a chalk paint bath. Methodically, I've been painting it piece by piece over several months, in addition to side projects along the way, like this mirror and dresser. This table. And this lamp.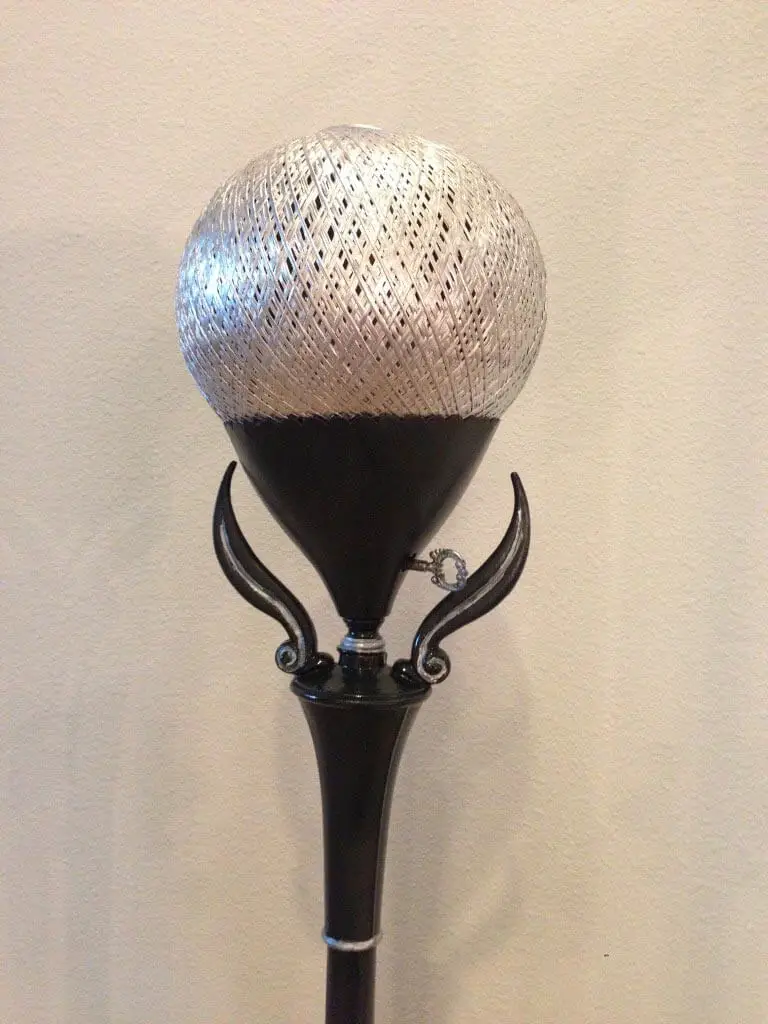 Mostly it's fun. I'll be honest though. This last one, was not.
This is the before-ish of the antique postal sorter. I always forget to take photos BEFORE I open the paint!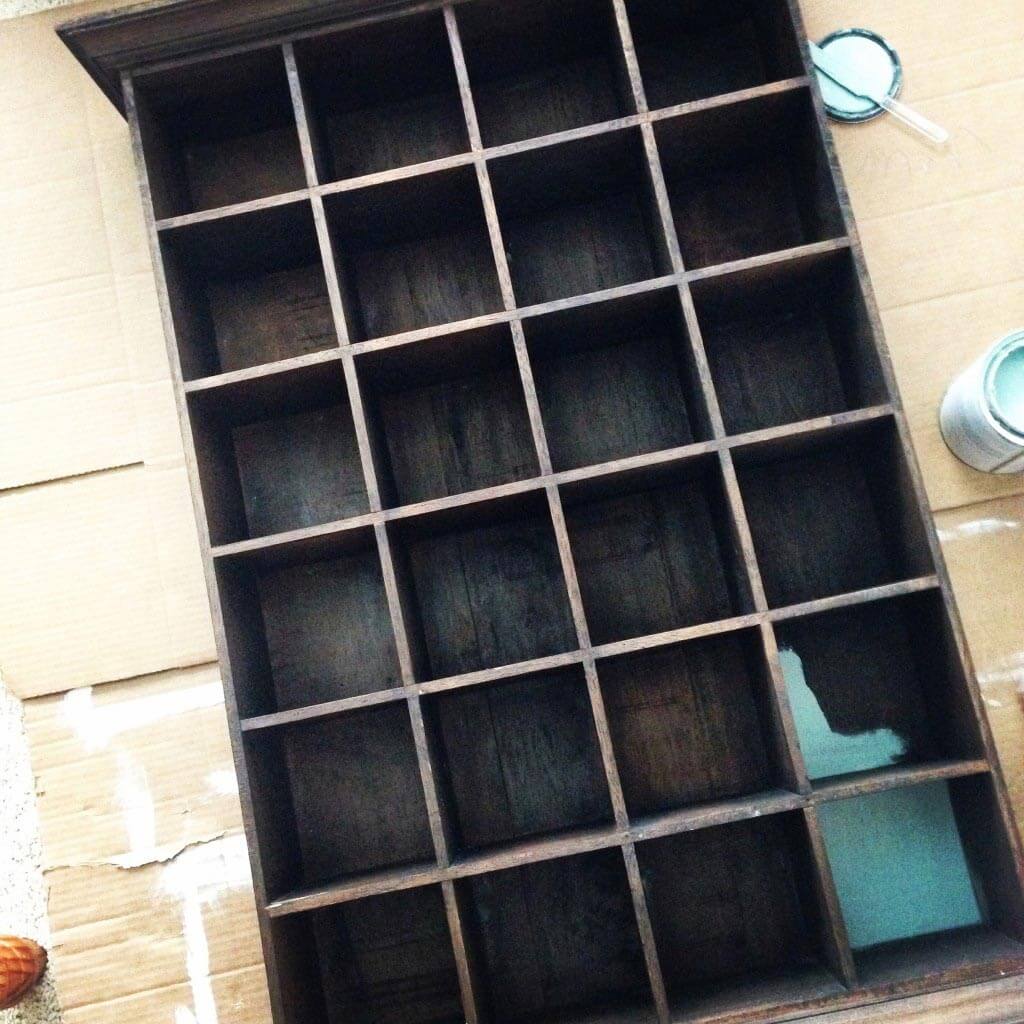 Too many Instagram inspirations later, I thought it would be on trend to paint the inside wall of this cabinet with an alternate color to give it some pop. That's the dreamy teal of Annie Sloan Provence that you see.
There are 24 cubbies in case you're wondering.
I'd love to know if there's an easier way to do it, but here's how I painted it: The inside wall first, then let it dry and taped paper over the squares – all 24 of them — then painted the outside Annie Sloan Country Grey. When I pulled off the papers, I realized I needed to touch up the Provence – and then consequently, I had to touch of the Country Grey again.
Sigh.
I thought it would never end. Watching Great British Bake-Off on my laptop while painting helped to ease the pain.
Waxing it was no walk in the park either because of all the corners and interior walls. This has both clear and dark wax from Annie Sloan on it.
Here it is finished. What do you think?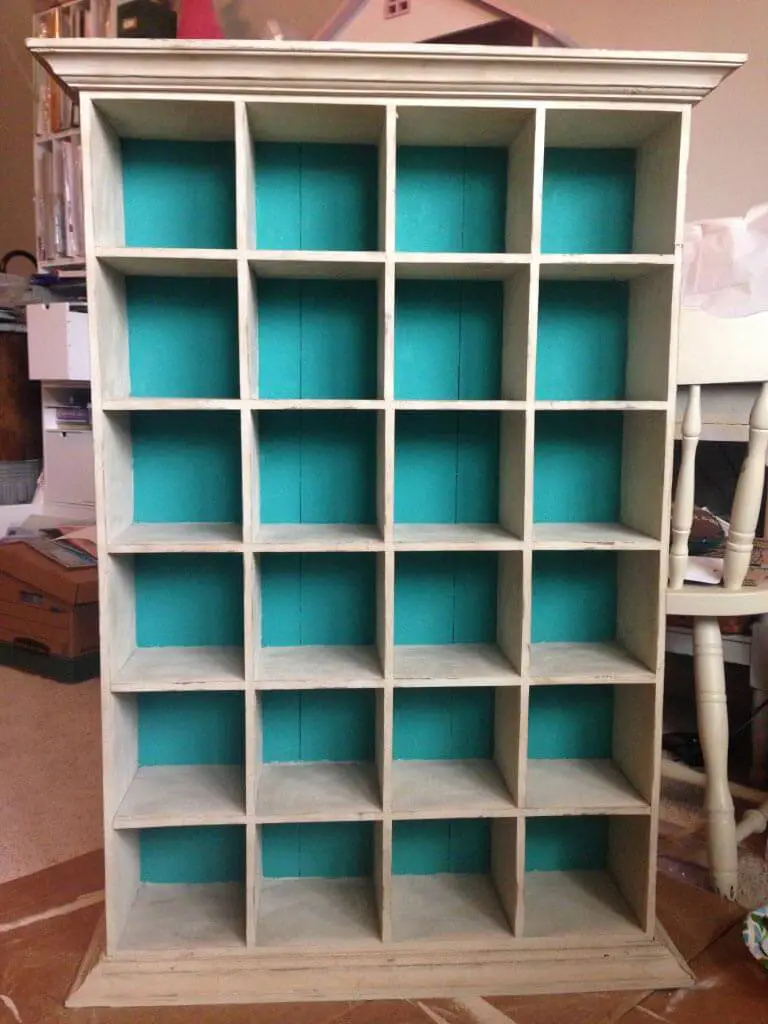 I wanted to stencil a design inside the cubbies too, but honestly, I was just tired of it at that point. I figure you won't even see the design once I load it up with paddywhacks and office supplies anyway. There are still some places I'd like to touch up, but I'm backing away from it so I can maintain a reasonable level of sanity. "Let it go… Let it GO…"
I think I've finally recovered from this beast and I'm ready to tackle the last piece for my office. Good thing there's a soccer-free weekend in my future!