I had to laugh, our builder came by this morning and he said… "Everytime I come here, you have more boxes!"
It's true. They've taken over our home. Because not only are we still wading through the last moving truck arrival, we decided not to wait a minute longer and dragged out some of our plastic totes full of Christmas decorations. One of these days I'm actually going to have a chance to unpack these and get settled in.
But not yet. I'm not quite done refinishing the furniture I'm trying to unpack them into! But I'm getting closer.
Here's a couple of pieces that I finished right before we left for a fabulous 5 day trip to Chattanooga for Thanksgiving.
This was my grandmother's table that she had in her living room. As you can see, the finish is terrible. We had it hidden along with Fuzzy in our bedroom so that no one could see it, but as they say, beauty is in the eye of the beholder. It has always been a favorite of mine — as it was hers.
BEFORE: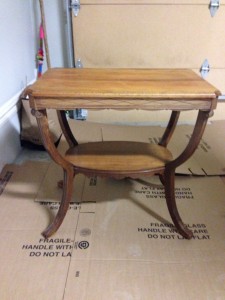 And a closer look, the poor thing: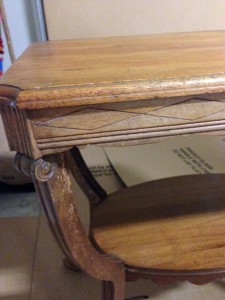 Shazam, this is it AFTER: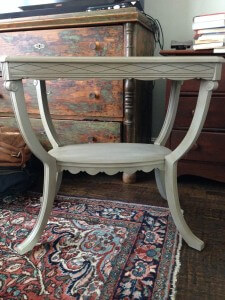 Instant love. I used two colors of Annie Sloan paints on Grandma's table: French linen and graphite. I followed with both the clear and the dark wax. I didn't distress this one, but I DID on the next one.
Here's a photo of the dresser that was in sad need of TLC. It was also hiding in our bedroom. It's apparently been in our family for a while, and refinished several times. As you can see, some of the decorative areas have wood splitting off of it. I had no idea how to repair that — so I didn't. I just painted it.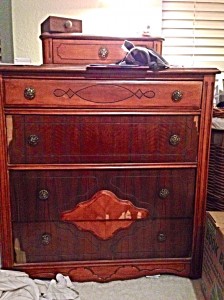 Here's the AFTER: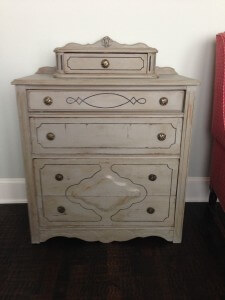 I am so in love with this piece now! I kept the original hardware as I don't think I could possibly find anything better. I may go back and paint the knobs — but unpacking and decorating for Christmas are the priority for now.
I used the same paint combo for this piece: Annie Sloan French linen and graphite, with both the clear and dark wax.
This shabby chic upcycling is addictive. The list is long of other pieces to brighten up around our home, which is probably why I'm super excited to attend a grand opening event tonight for Kim Hoegger Home on Henderson Avenue in Dallas.
The invitation had me at "paint."
So not only does Kim promise a festive evening of spirits (you know I love my spirits!), bites (love them even more…) but a sale (sale – hello!) on featured lines of Thibaut, Pine Cone Hill and Barbara Cosgrove, there will also be a LIVE demonstration of Amy Howard At Home One Step Paint.
I'm all about the paint. I've never used or even heard of Amy Howard paint so this is a discovery mission for me.
And having a new house and all… it could be a dangerous event for me going unchaperoned with without the Princess Cupcake to distract my every thought. I'll be posting live photos of all the treasures on my IG account @tperot if you'd like to virtually be my plus one this evening.