My child… she grows like a weed. Not even lying, she grew just shy of 5 inches in one year. When she bean poles like that, you can imagine the amount of clothing and shoes we go through! It pains me to get rid of these barely worn clothes after spending so much on them. Since our neighborhood won't allow garage sales or host them, here's what I've been doing lately…
First, I go through everything and weed out anything that is damaged or stained, and it goes in the trash or repurposed for rags or craft projects. The good goods, those go on Poshmark. (You can follow me @TexasSportsMom) I'm certainly no expert, but luxury, athletic, Harry Potter and higher-end brands seem to move decently on Poshmark, as do specialty shoes like track spikes, which are typically super expensive and not used for more than a few times a season.
The Poshmark app is super easy to use, and I just try to dedicate an hour or so to update my "closet" whenever I can. The thing to remember with Poshmark is, it's very much like a social network where you follow sellers and review your purchase experience. The more you use the app, the more visibility your closet will receive. If you're so inclined, you can become a super Posher and create a whole business on Poshmark, and even start your own boutique. (<– definitely not me) The shipping function is super easy: When someone is interested in items in your closet, you can bundle them and send them a discount offer. I keep a little stash of bubble envelopes and small boxes to ship things in, so when the random item sells, it's super quick to get it out the door and onto its next home. Poshmark also features housewares, so it's perfect for unloading your waning obsession with Rae Dunn. Bonus: I do like that the app sends me a little positive reinforcement each day.
I don't leave everything on Poshmark, though. If you follow me, you'll see that I wipe out many items from my closet at one time. That's because I will sell the seasonally appropriate clothes, accessories, shoes, and toys at the Divine Consign events held twice a year. Note: I have only participated in the Plano event, but they also have a Grapevine event. If you aren't in my DFW area, I feel confident there's very something similar near you, and you can use this website to find one: https://consignmentmommies.com.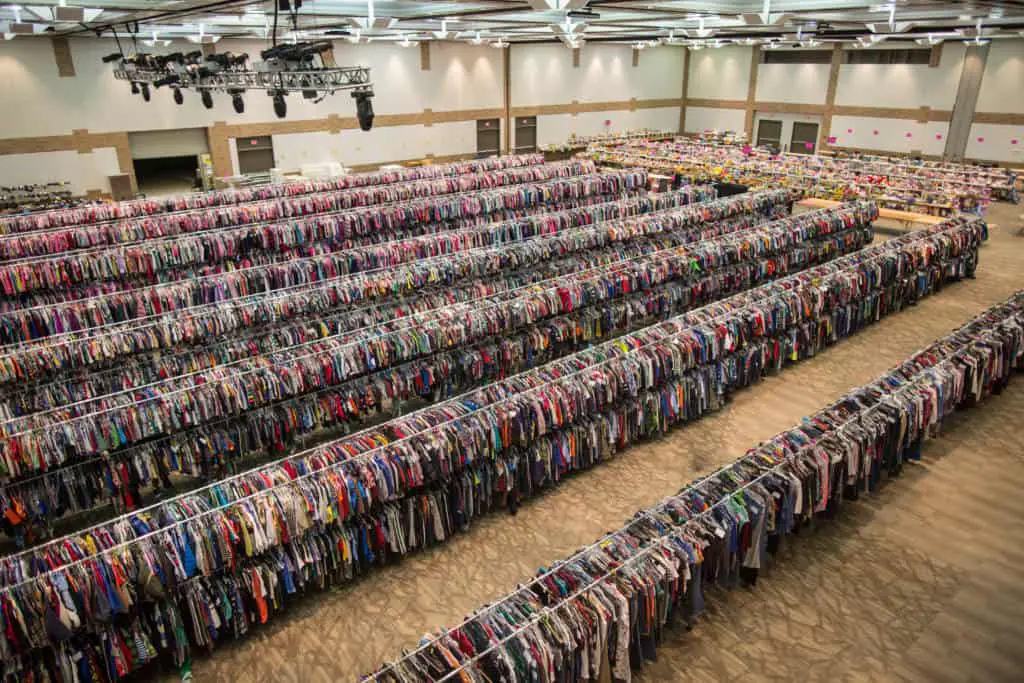 Divine Consign does a fantastic job of bringing people in the door to sell your items, how to get your items ready for sale, and what to price them. They definitely have a process perfected and are great at communicating with the consigners. It works well, so I recommend following it – plus, you get paid in about a week after the event ends. Another bonus: if you volunteer to work the event, you earn the privilege to shop early and get dibs on the good stuff.
Aside from being well-established with lots of marketing, Divine Consign is so successful with sellers because it's a three-step sale. First, there's pre-shopping for staff and volunteers. Second, the regular sale for people, and then finally, there's the half-price sale. You can indicate if an item is something you want back if it doesn't sell, or you also have the option for Divine Consign to donate everything left. Load in is super organized, the floor is easy to navigate, and there are always so many great things. Here's a video from a visit to the event before I ever became a consigner. I was so impressed, and I knew that I'd have to give it a shot..
Lately, I've encouraged the tweenager to help sell by offering her the profits. She's all about the Benjamin's, and I'm all about motivating her to declutter.
A few other places where I'll sell items are:
Getting rid of stuff feels good. Getting rid of stuff and also making a little money feels even better, so I'm always looking for ways to unload more of our unnecessary things. I'd love to hear where you've found success in selling!