This post is sponsored by Perot Museum, however all opinions are my own.
Where are my dog mamas at? I'm talking with you right now! Forget that your fur baby just chewed up your flip flops or peed on your sisal rug, there's an amazing new feature movie showing at the Perot Museum that even you in your most fed-up with puppy state will fall in love with.  This remarkable 3-D docutainment film follows  a number of hero dogs and how they came into these extraordinary roles. They're working side-by-side with humans to save humans on mountains, in oceans, during crisis and during recovery. They're even helping to save endangered species.

Follow Halo, a rookie puppy training to join one of the most elite disaster response teams in America. Meet Henry, an avalanche rescue expert in the mountains of British Columbia, Reef, a Newfoundland lifeguard with the Italian coastguard, Ricochet, a Californian surf legend helping people with special needs, and the Bloodhound brothers, Tipper & Tony, who are leading the fight to save endangered species in Africa. Discover the incredible abilities of these dogs and the astonishing science behind their superpowers. You'll learn about their crazy enhanced smelling  and hearing proweress — and then you'll know precisely why they can detect a bag of chips opening when they're all the way across the house and downstairs.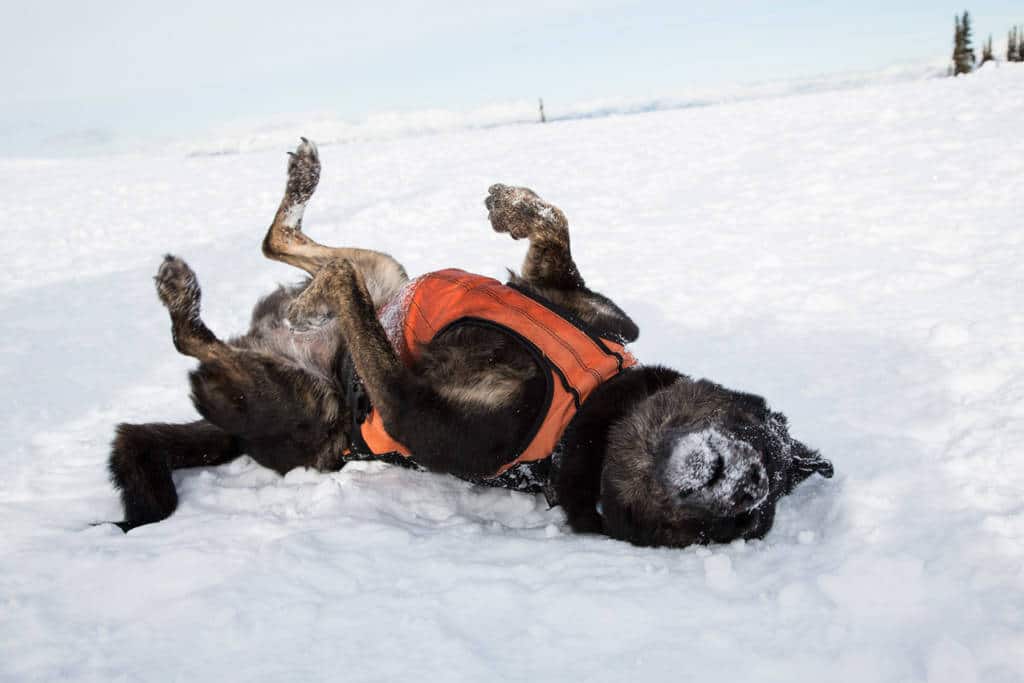 When asked what the driving force was behind the Superpower Dogs film, Writer, Director and Producer Daniel Ferguson, shared,  "As a culture, we're so obsessed with superheroes and I just thought, 'What if we could do an interesting spin on that idea? Perhaps the real superheroes are at the edge of our beds?'" Ha, he's never met the beast or the puggies. (They OWN the bed.)  But then again, they're not highly trained super heroes either… their job is to be the best four-legged companions that we could ever want.
So go check it out all through the dog days of summer — well, until  August 30th anyway. The whole family will love it! Stay for a while and check out the whole Perot Museum and the great exhibits like the Art of the Brick, but even though you can spend the whole day getting delightfully lost in the exhibits, remember that your little fur babies will need to go outside to potty soon.
Superpower Dogs 3D Official Trailer from Perot Museum on Vimeo.
The film runs at various times through August 30th and is great for all ages. Superpower Dogs 3D is presented by @marspetcareus.
Read more about the real-life Superpower Dogs
Get to know working dogs from around the world through fun images, trivia, behind-the-scenes photographs from shooting of the IMAX film, and more in the Superpower Dogs picture book, Superpower Dogs: Halo: Disaster Response Dog and Superpower Dogs: Henry: Avalanche Rescue Dog. Available at Perot Museum or below:
[amazon_link asins='0316453595,0316453633,0316453625′ template='ProductGrid' store='tpgbusinessse-20′ marketplace='US' link_id='3c306734-d4c9-4e1d-9f45-639504fde622′]
​Have a Superpower Dog of Your Own?
Share your favorite pup's name, photo and superpower on Twitter or Instagram by using the hashtag #superpowerdogs, or fill in the form at Superpowerdogs.com and  have a chance to win Superpower Dogs merchandise!
Follow Superpower Dogs on Facebook, Twitter and Instagram