I got a sneak preview of the new SNOWDAY at Galleria Dallas and it is SO much fun! Even my teenager enjoyed it! (That's saying something) This interactive experience includes a realistic train ride, a visit with Santa, and a number of photo opportunities and holiday activities. Open now through January 17 — but Santa is only there through December 24 (obviously). Purchase your tickets online so you don't need to wait. I have all the details and a sneak peek in the video! Enjoy!
I don't think I've been to an actual mall in like, two years, but Galleria Dallas always has something fun going on, and it lured me out to break my streak: The Snowday Santaland experience! It's a fully immersive family holiday with plenty of photo opportunities and lots of interactive sets that you can enjoy. Snowday and Santaland are two different experiences and can be purchased separately or as a combo ticket and enjoy them both. Our media pass allowed us to enjoy a preview of both.
The Snowday entrance is located on the first floor of Galleria, Dallas, right outside Banana Republic. It's big and has a cute balloon arch and big open doors. It looks like a giant entrance to Santa's North Pole so it's hard to miss. Once you step inside, you'll see the Santaland Express, which is a simulated experience. You definitely feel as though the train is moving. When the images go past the wall, paired with the train sounds, it feels like you're actually on a trip to Santa's village. It was a lot of fun. 
The train pulls into Santa's village and you walk down the path till you get to Santa's house. He's waiting for you in his beautifully decorated house. His naughty or nice list is prominently displayed so you won't be tempted to misbehave. 🙂 Santa is super nice and takes a great photo — socially distanced, of course. 
After you've told Santa what you'd like for Christmas this year, head into Santa's North Pole Village, which feels a little like Diagon Alley. All the buildings have different names like, "The Tipsy Elf" (sadly, not a functioning bar…)  My favorite was the Hardware Store because that's where the funhouse mirrors and all of the hanging Christmas lights are. Not only is it just gorgeous, but it was also a challenge to find your way out. As you're walking through the village, keep your eyes out for Santa's Elf. He is silly and loves to pose for photos! (Also, teenager approved.)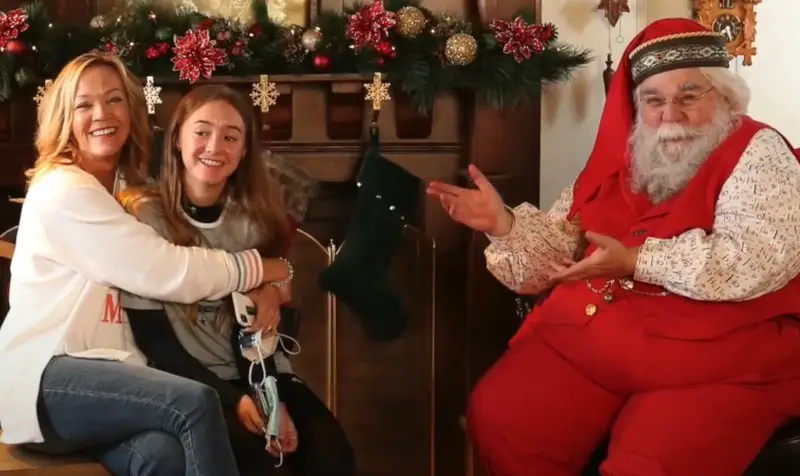 When you first enter the Santaland exhibit, you'll receive a wristband that has a sensor in it. The interactive photo stations are activated by putting your wristband near the sensor. That turns the self-timer for the camera on. The system downloads all your photos for you immediately after the event and sends them to your phone. It's super convenient, cute, and fun.
Where to get tickets for Snowday
If you're interested in getting tickets, you can go to the Snowday website and find out all the information there.  Note that tickets are sold on a family basis for up to six people. The base price is $28 and then you can build your package from there depending on how many Santa photos you want. You won't spend all day here — I mean, that's SHOPPING TO DO, but it was a lot of fun!
We had a complimentary ticket to the experience, however, all opinions are my own.