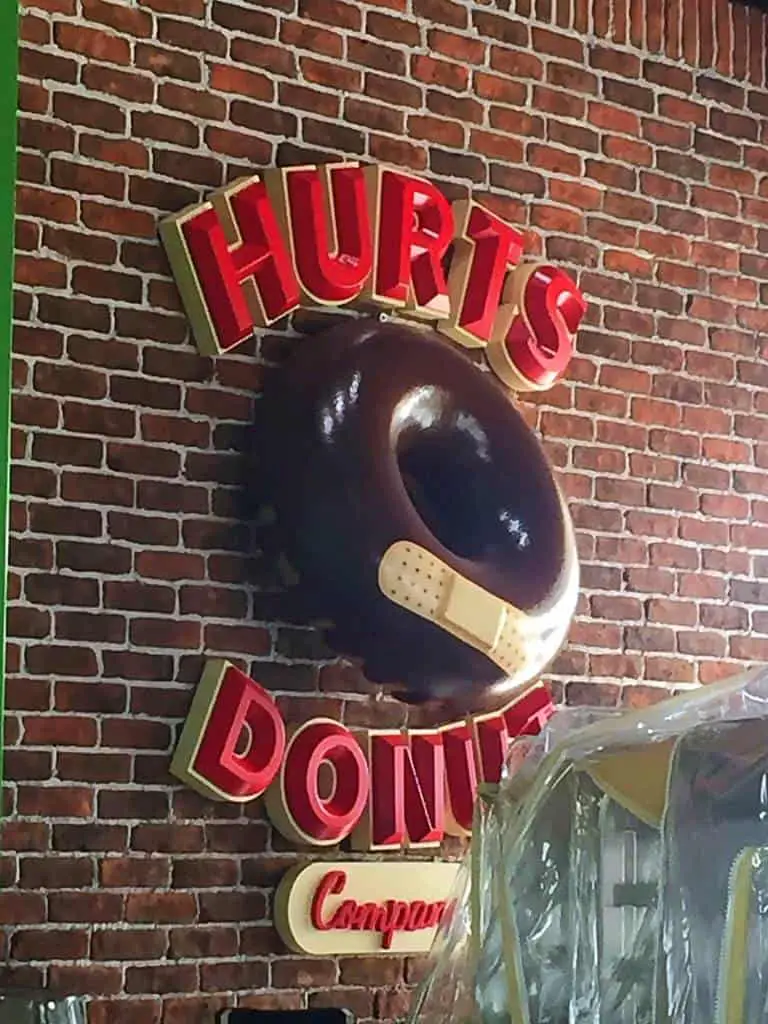 I felt like such a jerk. I mean, I bought the Hurts Donuts shirt as a fast pass to the front for opening day… but apparently not everyone was aware of that incredible time-saving promotion. So the shivering people in line which was wrapped outside the building were giving me shade AND some audible commentary as I slipped to the front case as stealthly as I could not to incite a sprinkles riot.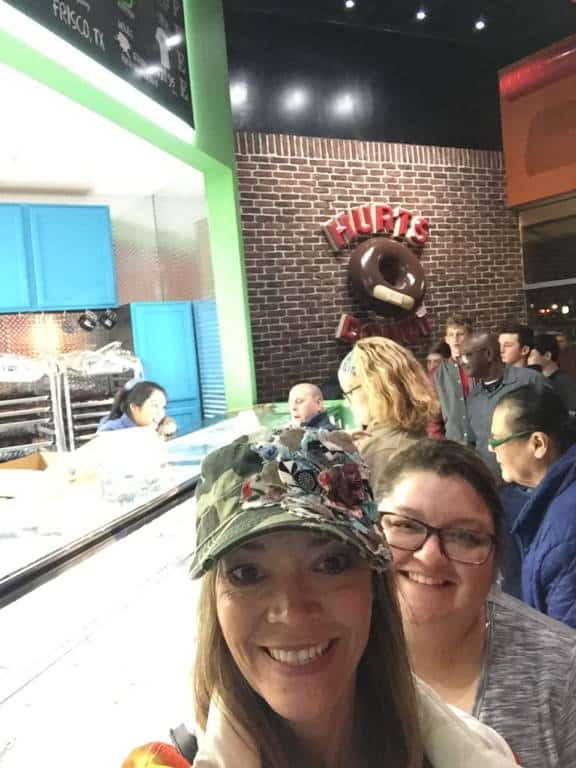 Hurts Donuts opened in Frisco yesterday, and Frisco opened their mouths and their wallets. (See how happy me and Anna are?) I have no idea how much revenue on day one was, but based on the line last was still outside the shop at 8:45 pm, I'd wager that Frisco residents and owners Keith and Cheryl Selby, would call it a good donut day.
And because donuts are my life, that was actually my second visit in 24 hours! So being the donut diva that I am, how do they fare?
Delicious.
I haven't the belly to try them all yet (I am still working on it), but the pink lemonade, the twixt, the red velvet and the cookie donut are the stuff you'll have dreams of. And stand in line for. They are sweet (but not make your teeth cringe sweet), huge, cakey and entertaining with names like "slim shady," "tang you're it," and "grape balls of fire,"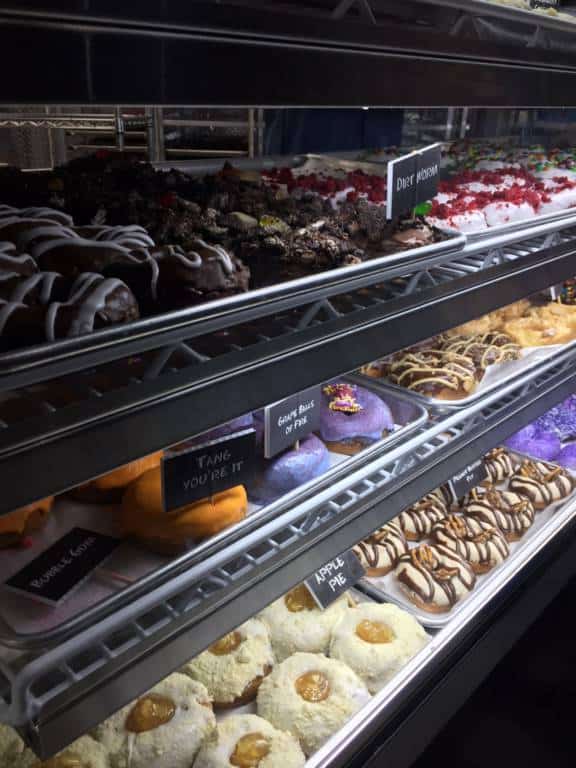 and a face like the Cookie Monster.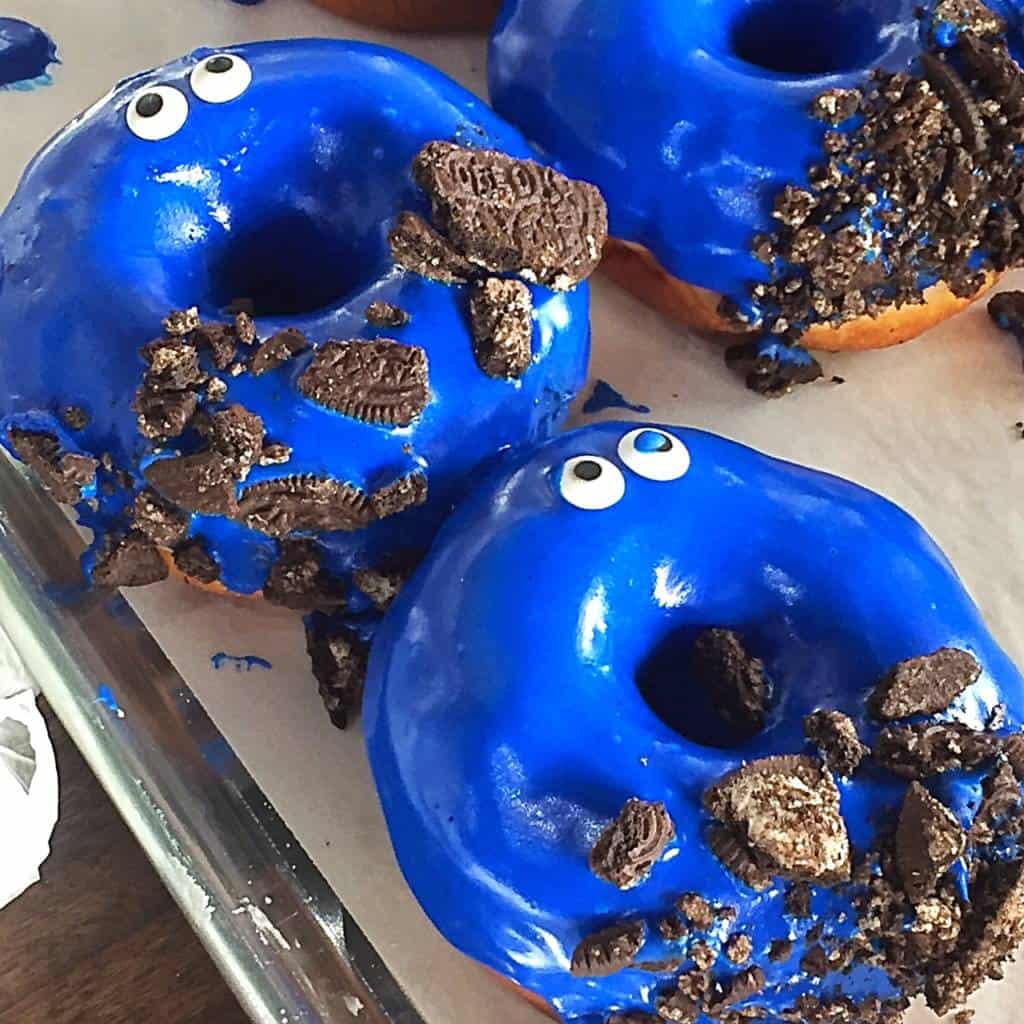 The store promises 70 varieties and future menu items will include donut holes (filled with things you can't imagine) and even donut milkshakes. For serious.
If you haven't guessed, this is more than a donut shop — which is why it's internet famous. It's Harley Davidson meets donuts. The mugs have brass knuckles and the gift cards have tatts. Donuts with attitude are the food of my people.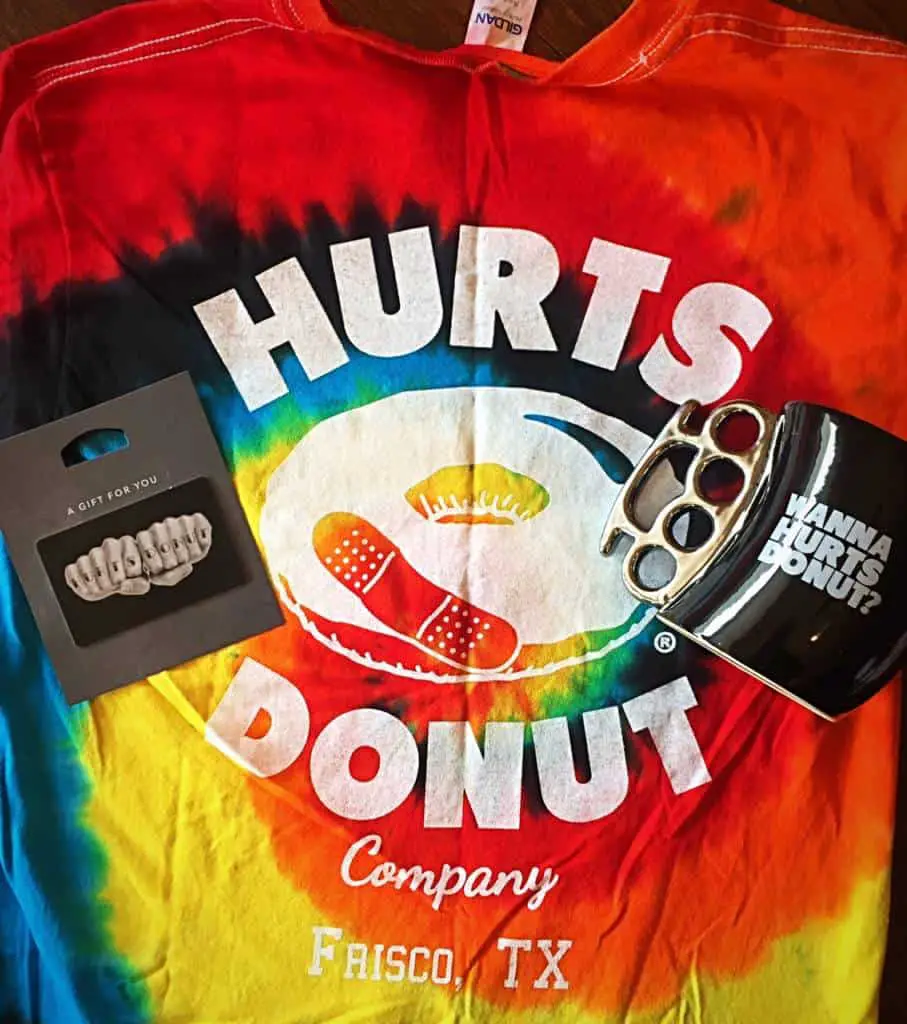 I never even glanced at the menu (What menu? BUY ALL THE DONUTS!!!) — I was trying to high-tail it out before I was donut mugged, but I checked my receipt as we left, and one "dirty dozen" (of my choosing) was $15. Grab a shirt for $21.95 while you're there because it's a permanent coupon for buy one, get one, when you wear it inside. Do the math donut peeps, you'll have that paid black in record time.
Open "25 hours a day, 8 days a week" Hurts Donuts never closes. And if it's too far for you to get to, set up a visit from the Whambulance.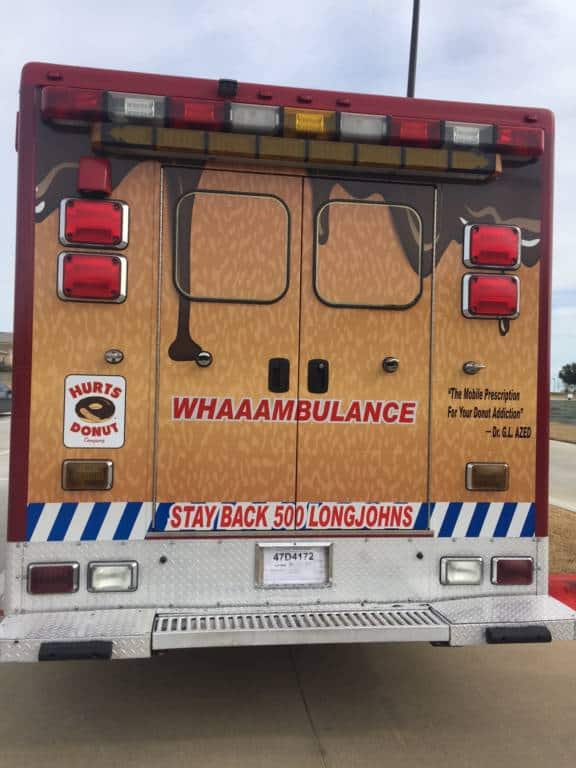 Order 100 donuts or more and they'll deliver to you AND give 10% of proceeds to charity. Not even kidding.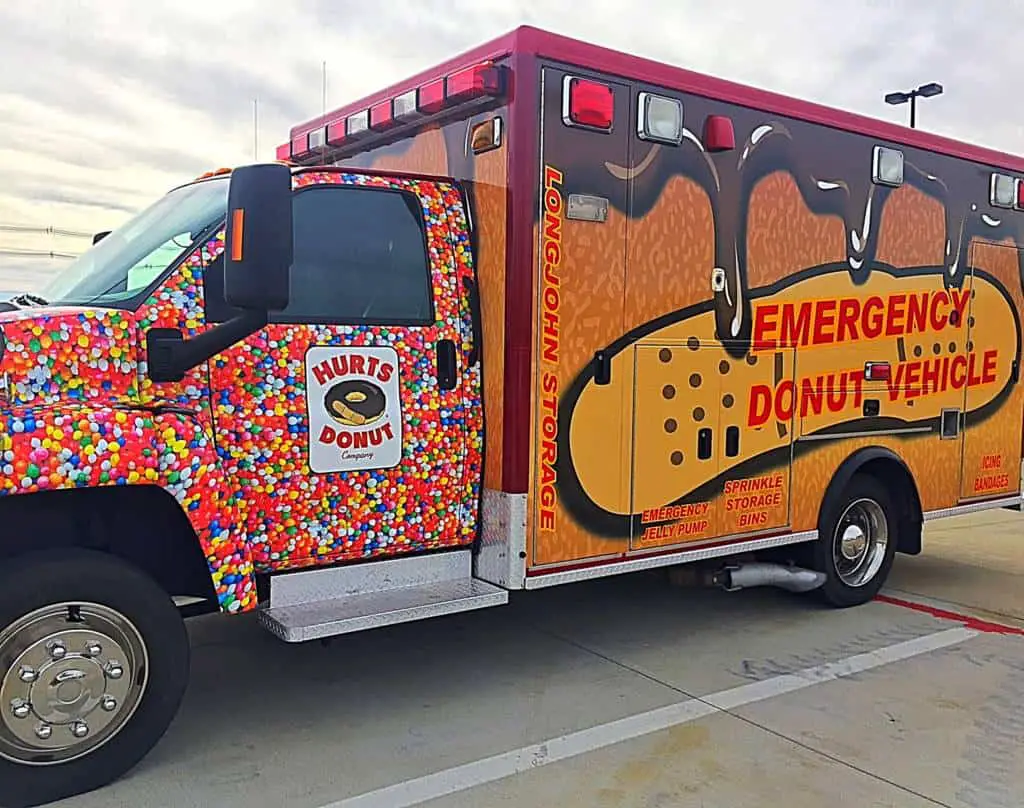 I never kid about donuts.
Hurts Donuts is located in the northeast corner of Main and Teel in Frisco at 3228 Main St. Or, just follow the frosting.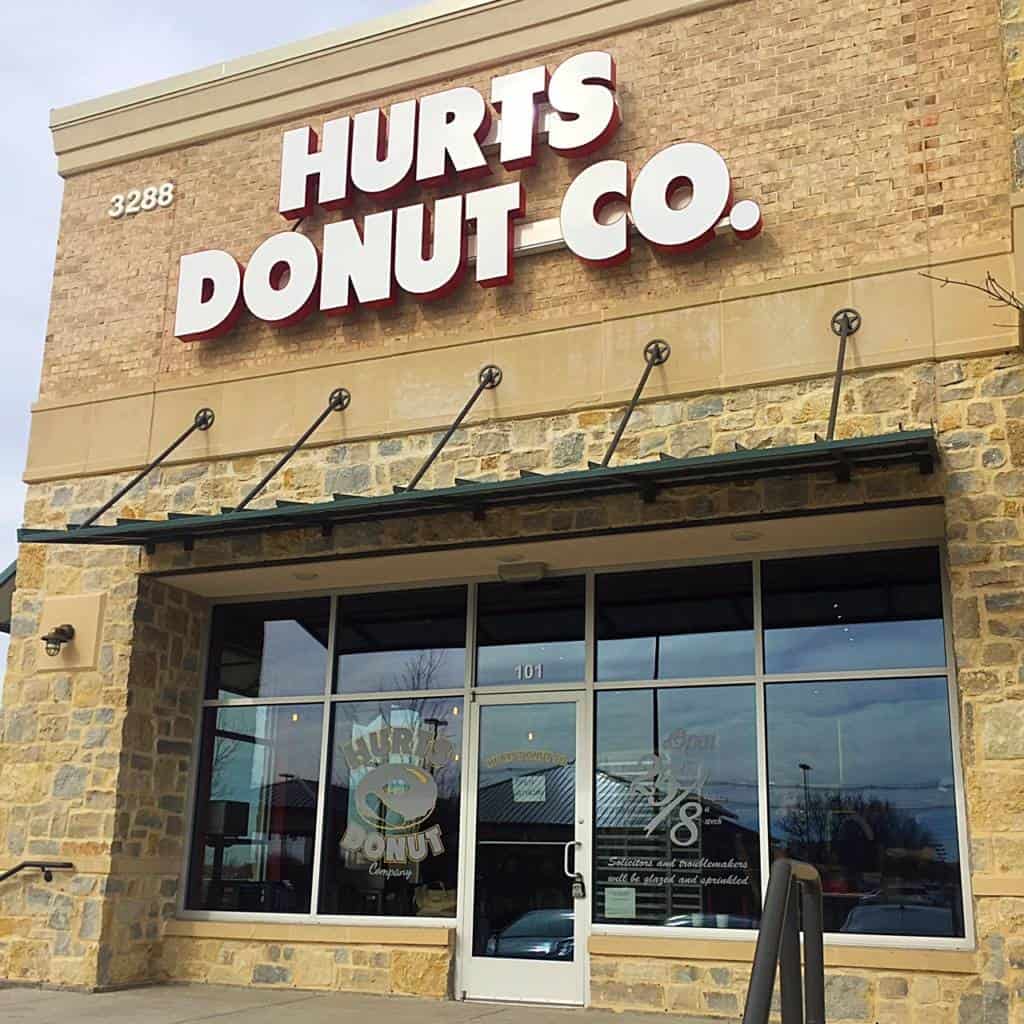 Donuts are serious business – read this about a jealous rival donut shop owner (relax, no donuts or people were injured).