True Story:
When my husband and I were newly married, he used to be a real stick in the mud about the holidays. We were always bickering about when to put up the tree(s), whether they should be real or fake, how many holiday decorations inside and out. Just the discussion of our Christmas travel schedule was enough to turn him into mister grumpy pants. It was torture for this Mrs. Claus.
So one day when I'd had enough of his grumbling, I picked up  a package of  mini paper Grinch ornaments and replaced the face on all of them with a photo of his. Then I strategically placed them all over the house — on his bathroom vanity, in cabinet with the coffee cups, on the refrigerator, in his dresser drawers…
It was not well received.
I'm still laughing about it years later.  In fact, it's a become a running tease. This year, I made him a "Grinchmas" travel coffee mug as a warning mechanism for his office co-workers that the holiday scrooge has arrived.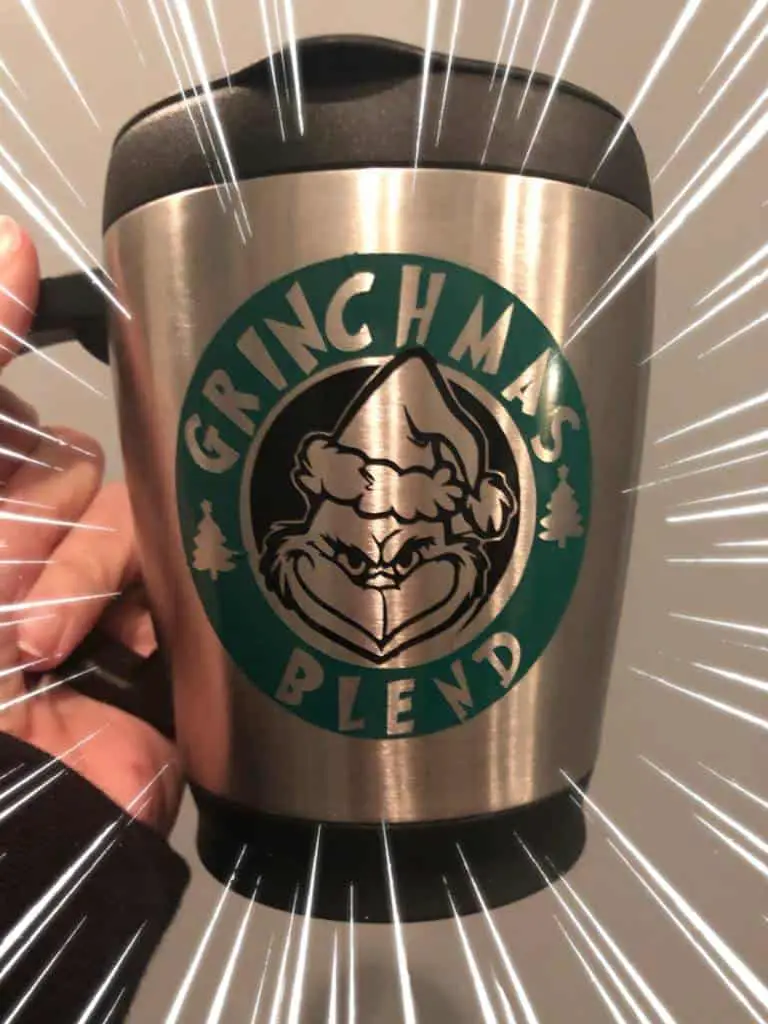 I'll admit though, the grizzly bear's small heart has grown three sizes in recent years. When he (probably regrettably) told me that he had to do a holiday door decoration for the contest at work, he didn't even complain when I presented the Grinch idea. He even helped out into the wee hours of the night to get it installed because of course he told me at the last minute and all the green feathers were sold out in the entire metroplex and we had to HAND CUT green yarn for his fuzzy body.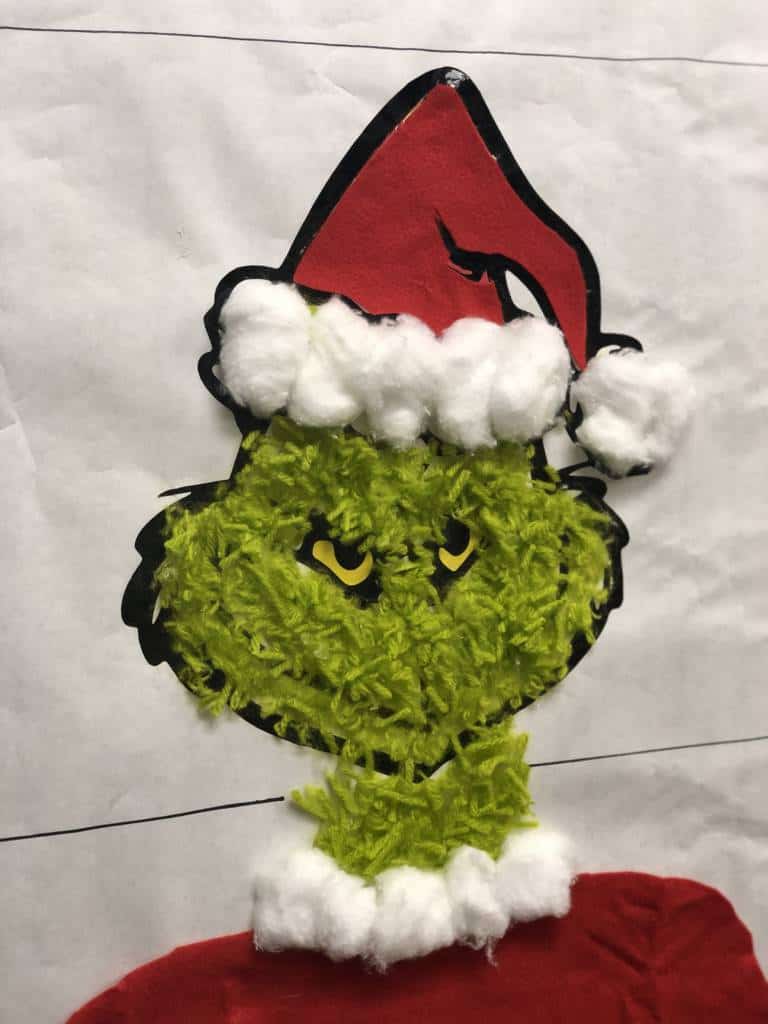 He's so cute though!
Since Irving PD Chief was one of the judges, we thought they'd appreciate this.
We should probably name our next dog Grinch, I love him so much.
Okay, so how did we throw this together in record time and how can you do the same? I'll tell you how you SHOULD do it (not how we raided my crafting hoard at literally hours before…) I'll include a a roundup of items at the end in case you want to just Prime it all to you.
You'll need a roll of paper that's used for covering tables, obviously we used white because that's what I had. We measured the door and trimmed off the excess.
You can probably tell, but the face of the grinch was vinyl that I cut with my [amazon_textlink asin='B01JJISYBK' text='silhouette' template='ProductLink' store='tpgbusinessse-20′ marketplace='US' link_id='05b6ad54-ff32-4616-8d98-addc152a7d39′]. I used the file that I bought for the mug (that link isn't the exact one, but similar) in the above photo and made it as big as I could get on my 12 x 12 sheet. I also cut the numbers out of this, but you could use packaged numbers from the craft store. For the shape of the body, the hubs hand drew it with black sharpie. I colored the eyes in with yellow sharpie. The height lines are black sharpie. We used a ruler to make them even.
We used brown felt for the shoes and the shirt. Basically, he just folded the felt in half so they would by symmetrical, and then cut out the shapes until we were okay with it. It's not perfect, but… whatever.
The white trim is just cotton balls.
The mug shot sign was just created on the computer in a word document and printed out. It's 8.5 x 11.
Now about that fur… I WANTED to use bright green feathers, but there were none ANYWHERE. I resorted to a ball of yarn that was grinch colored and HAND CUT EVERY PIECE. Ugh, it was ridiculous — but here's a tip if you find yourself in the same boat: Wrap the yarn around your hand many times and then remove your hand. Start snipping layers and layers of the yard together, it will go much faster. Another tip, use your fabric scissors – they cut so much better!
Everything is attached to the paper with hot glue, except the vinyl which obviously stuck on its own.
Here's a roundup of items you might want to use to create your own Grinch Office Door. I even added my favorite plushie for inspo. Happy decorating!
[amazon_link asins='B00RMKB7E4,B0026HXXAE,B00KNAW8KW,B074MFRVG8,B07ND2SBND,B00U2O5XHE,B00UHUK2TM,B00MW8X9LU,B07D1PB8K5′ template='ProductGrid' store='tpgbusinessse-20′ marketplace='US' link_id='6d2f9b06-92e8-4e79-80dd-799249e219ab']