Hands up if your online shopping game went into overdrive this year. You would not be alone. According to UNCTAD (United Nations Conference for Trade and Development), COvid-19 has forever changed the way we shop online, with big increases seen in ICT/electronics, gardening/do-it-yourself, pharmaceuticals, education, furniture/household products and cosmetics/personal care. That little list doesn't even mention the online grocery purchases like those from Tom Thumb and Amazon Fresh,  both of which do their bit to keep this household fed. Delivery trucks in our neighborhoods were about the most excitement we had for months.
With the growing numbers of Coronavirus, I am anticipating that online holiday shopping will reach new heights yet again. And that means one thing: Your delivery drivers are going to be working their rear ends off to get your packages to you in time for all the December holidays! That's not an easy job to lift boxes, run to doors, and drive in traffic all day long. These guys and gals work reeeeaaaallllly hard for the rest of us to keep our conveniences coming. Brightening their day in small ways is a nice way to say "thank you" to the essential workers at UPS, FedEx, DHL, USPS, and Amazon drivers that keep our packages coming.
About a year ago, I decided to create a "delivery driver snack station" for those that come to our home. It's nothing much, just a basket of packaged treats and drinks for the drivers to grab as they run up to our porch. It only takes a little effort on my part, but I know it's appreciated because I find myself restocking it every week or two. In fact, I've even seen the FedEx driver run up to our porch and grab a snack without leaving me a package. And NO, I don't mind that at all! He works hard, and I know he'll be back with a 50 lb. bag of dog food soon enough.
Would you like to put together a snack station for your delivery drivers? Here are a few tips.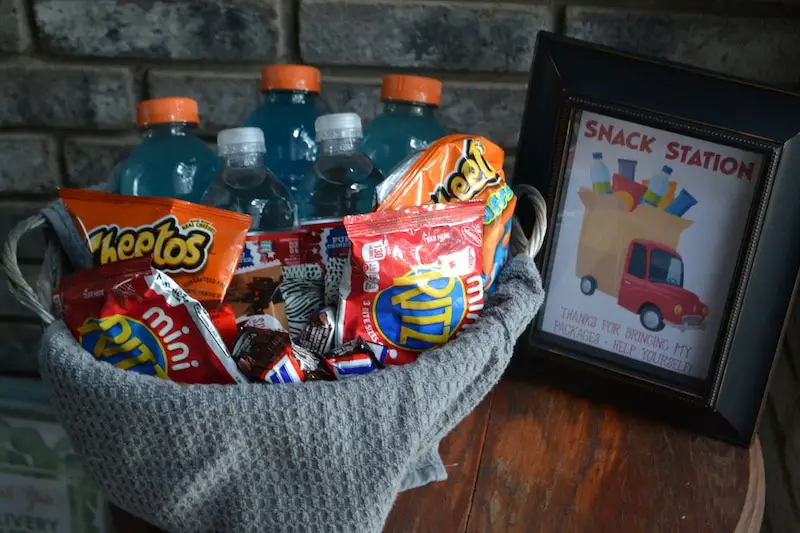 Tips for your delivery driver snack station:
Everything should be packaged to prevent bugs from getting into the food.
If you live in a warmer state, remember that chocolate will melt! Avoid anything with chocolate chips or dipped in chocolate until the weather chills. No one wants a melty mess.
If the temperature fluctuates a lot, avoid carbonated drinks. They can lose their fizz more quickly, and frankly, they don't taste nearly as good at room temperature.
Consider how the food will be consumed. Most of the drivers will be eating these one-handed or grabbing bites at traffic lights. Don't offer anything that is complicated to unwrap or is crumbly, or requires a utensil.
Pass on the homemade treats. You never know who might have an allergy and if you don't have packages for a few days, they may become stale.
You MUST include a sign that lets the drivers know that the snacks are for them! We have two great versions for you to download here. One is more whimsical, one more sophisticated. Which is your favorite? Here's how it looks on my front porch: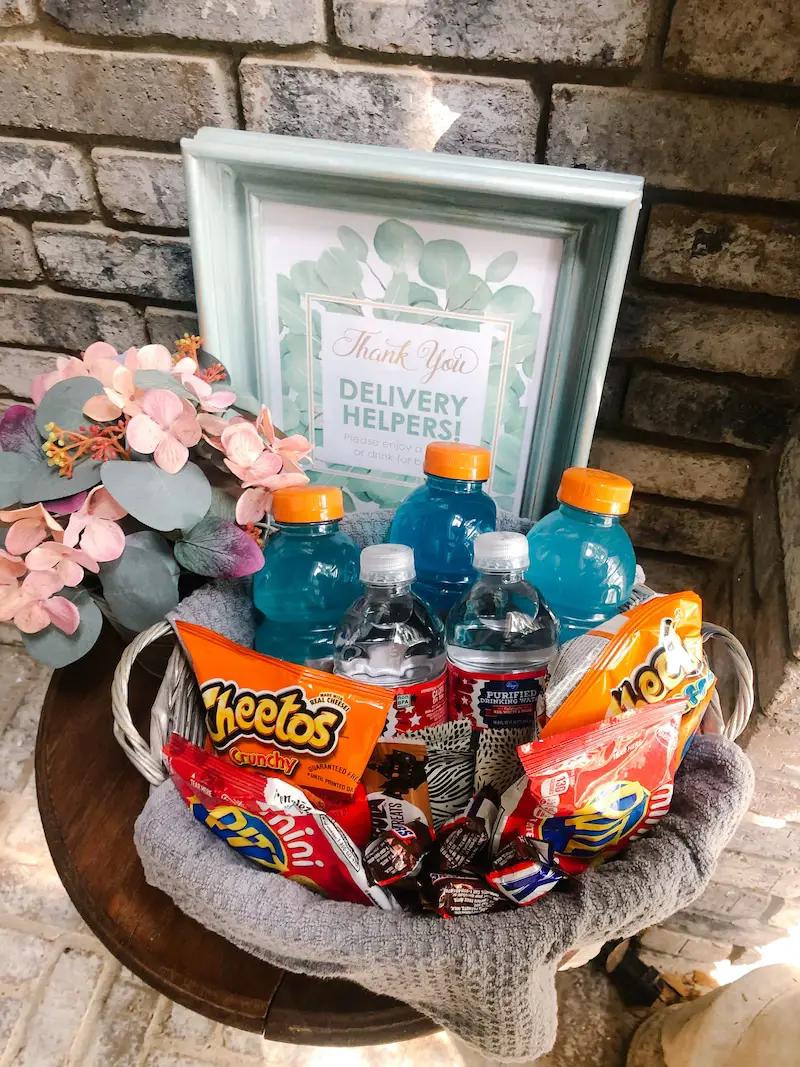 What should I put in my delivery driver snack station? 
Here's what's been popular in our snack station:
Bottled water – You might think this would be their favorite, but can you believe that these are usually the last to go? I always include water, though, because it's good for you!
Gatorade – These disappear the quickest. I started by putting the small bottles out because there's always some left from the multi-pack that aren't my little soccer player's favorites. (Just because she doesn't like grape, doesn't mean everyone dislikes grape.) Now I stock up on the regular sizes when they're on sale at the grocery store.
Snack bags of chips or cookies – Again, this is a great way to use those flavors in the multi-pack that your family doesn't like. I always include some of the good stuff as well, though, just in case their taste buds mirror my kid's.
Energy bars – I have a subscription to VERB Energy bars (small-batch bars infused with green tea caffeine). We like these a lot. They're bite-size and we always seem to have extras on-hand, so I add them to the snack station.
Granola and cereal bars – These are always popular and easy to eat on the go.
Do you have a snack station on your porch? What's been your delivery drivers' favorites?
Get your FREE delivery driver snack station printables below! We have two versions for you to choose from.