I do NOT have time to go to the grocery store — it's one of my least favorite things to do and I hate making time for it. But I have this kid, and she keeps saying she's hungry, so I have to go and get stuff. Sheesh.
Well, I could send the husband to the store but… he refuses to take a list, he buys a bunch of stuff on sale that we won't eat and I ultimately end up throwing out or donating somewhere, and he comes back without the stuff we actually do need. So, that's marriage and not the best option either.
When I do go to the store, it usually means that I have the Cupcake in tow. And that's not super fun either. From her complaining about how cold it is, how long it's taking, and her posing reasonable (but not necessary) requests for items, I end up adding about 30% to our food bill. And that's not including the Starbucks latte that is my reward for going in the first place. So yeah, grocery shopping as a team is low on my list of things I like to do.
Sometimes I make them both suffer through it with me and then I have the issue of cart management. He's putting stuff in we don't need, it takes immeasurably longer because he has to analyze the per-item cost for EVERY SINGLE package, and often they both shoot off like rockets with a renegade cart to parts unknown plotting their grocery revenge on me. It's like finding kittens in a warehouse to get them back to the checkout.
So yeah. I don't like going to the grocery store.
In an effort to regain sanity, I started testing Tom Thumb grocery delivery a few months ago.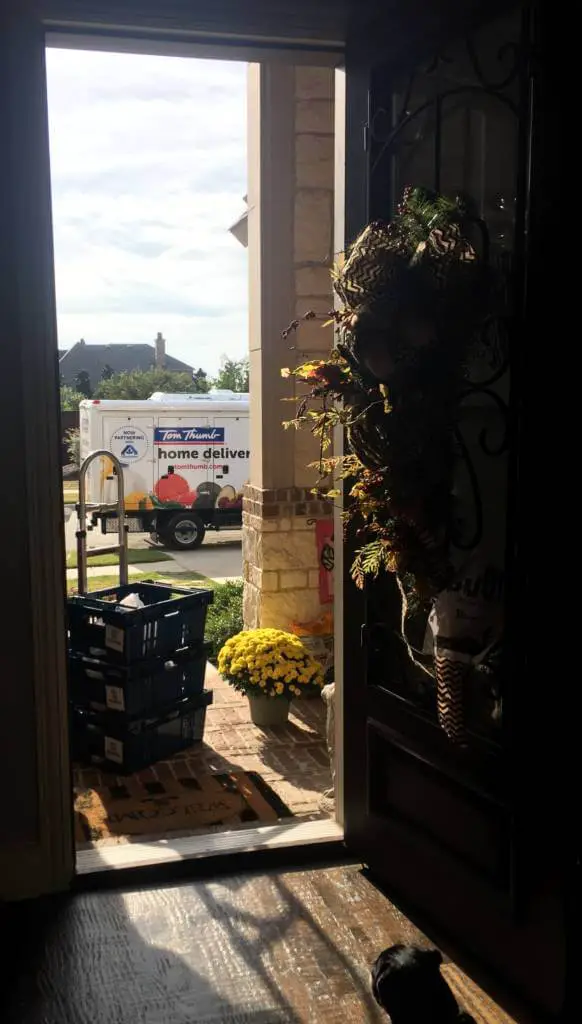 Y'all, this was life-changing. It's not perfect. Mind you, it's not without aggravation, but it's improved my weekly routine – and my grocery attitude — immensely.
We shop at "the thummery" as I like to call it, out of convenience. We are long-time customers since at our old house and at this house, it was the best option for "making groceries" (That's a South Louisiana term). When I looked into the grocery delivery, I was pleasantly surprised to see that our address was in the delivery area.
Here's where Tom Thumb grocery delivery becomes slightly more effortless. When you log into the Tom Thumb website, your connected your loyalty card accesses your purchase history. That narrows down your choice of items to just those that you've bought previously. You can also search by all items available – and this takes some time. Or shop by recipe that they have posted on their site. I recommend this last one. If you're challenged with meal planning like me, you can find a recipe – easily add the ingredients to your list, hit print so you have a reminder copy of the recipe and you're good to go.
What's a little weird about the "shop from history" is that I'm not sure where it's specific to. So I've learned with our 13 or so deliveries that they don't actually pull the items from my nearby store. They have shoppers at the Coppell store to serve my Frisco/The Colony address. What I'm not clear on is if those are items they regularly carry at their store, or if it's a universal list of items that we see online, like does each store have their own preferred customer items and that's what it shows me? I dunno. But some brands that I've learned to expect at my neighborhood Tom Thumb are not available online.
Regardless, there are plenty of options. You can also make notes to the shopper about your brand preferences – or apply a rule to each item in the case of it not being available in inventory No, this is not real-time inventory management. Just because you see it online does not mean it's on the shelf available for delivery. However, in the event it is not in stock, you may specify "same brand, different size" or "different brand, same size" or "no substitutions."
Here's where the fun starts. I have had numerous orders arrive where I'm just convinced that my husband is doing the shopping (or course he doesn't do lists so we know he's not moonlighting). For example, when I ordered a quart of eggnog and instead they sent me one pint. One. Um… why wouldn't you send two so I'd have the same amount when I had chosen "different brand, same size." They will make random replacements in hopes that you'll be happy, like when the Pringles snack packs aren't available (How can that even happen?!), they'll send a Frito Lay snack packs instead. I'm good with that. Or when I order shampoo for color-treated hair and they give me something for someone's hair that's definitely not on my head. That doesn't work. What really ruins my mood though, is when they completely leave off something that I need: like DOG FOOD. Seriously, you don't have ANY other bags of dog food in that whole store that might be somewhat similar to throw in there? Now, I actually HAVE to go to the store. Or when I'm planning dinner for that night, and the soup mix or the ground beef I was going to use wasn't included. Grrr. So that can be really frustrating.
But back to the ordering: You can also choose your delivery times and if you work from home like I do, you have lots of options. A "green window" option is a four-hour window, but the delivery fee is $6 off of $9.95. If you're a first-time shopper, they waive that and also offer special deals. Like this one:
$20 OFF + FREE DELIVERY on your 1st order when you spend $75 or more.*
  (affiliate link)
Speaking of deals, you can also add promo codes and coupons into your order, although, I don't. That's just one more thing I have to manage…
So let's talk about the delivery. Weekend deliveries are available and while you can't get same day, you can get next day. I usually put my order in the night before. I'd say 50% of the time they hit the delivery window. When they are running late though, they call and let me know which is cool, I get it. They've even tried to deliver an hour early when I wasn't home — but they called, and since I was on my way, they waited. I'm good with that too. I should also note, that all of the delivery people have been abundantly nice. I'm not clear on if tipping is allowed. Some won't take it, some do.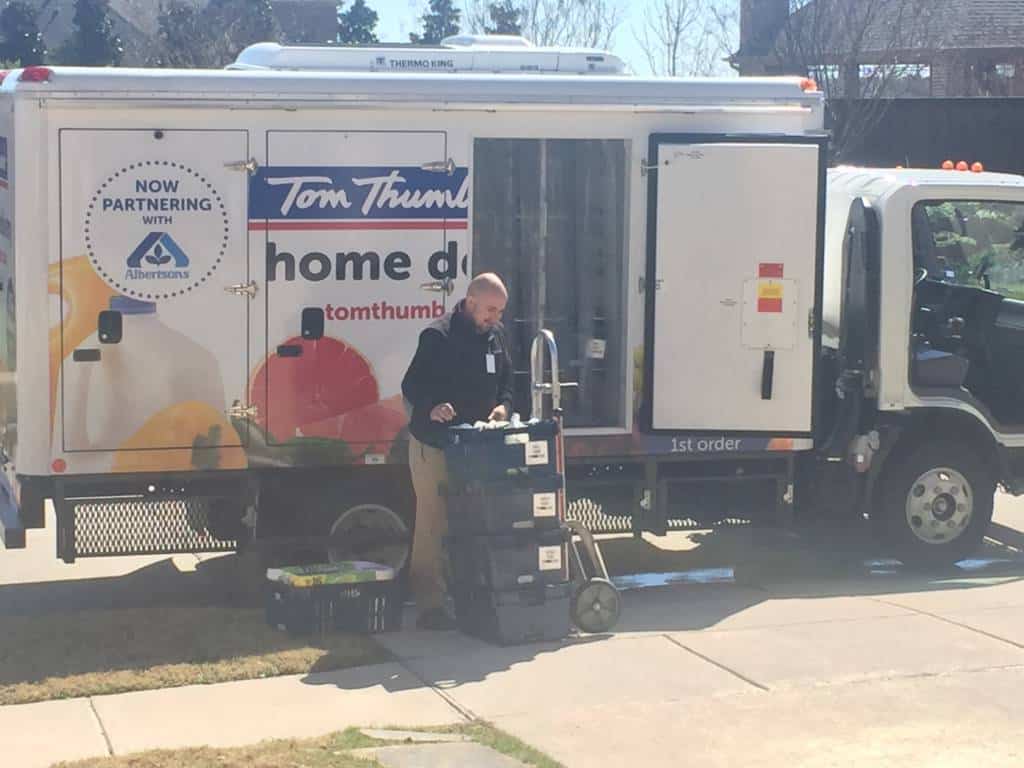 I do recommend checking your order before they leave to make sure everything is there. Do I go through it line by line? No, but I look for the important stuff. The delivery drivers will highlight the substitutions and let you know what was switched. You have the option to refuse that item and send it back and you won't be charged. Also, check the eggs. They are broken 85% of the time, much like the in-store experience. The last delivery I had, the girl actually checked them before coming in the house and warned me several were broken and that she would refund those for me. She left the broken and unbroken with me so I got 12 of my 18 eggs. The downside is I had to wash each one. 
So it's not without challenges. Grocery delivery is not perfect. It's better than going myself, and it's way better than sending the hubs. The good news is that the customer service for Tom Thumb grocery delivery is outstanding. Even after the delivery driver has left, you can call and tell them if there's a problem with your order. They'll refund and sometimes even redelivery in the event that a whole category of items are missing. (That happened once) They will also offer customer service credit. And they seem to get it that it may be a day or two before you realize you're missing something because you just reached in the fridge to grab it and it dawned on you that it never arrived.
Did I mention that they carry the groceries in for you? Um yeah. Remember that part too. Tom Thumb grocery delivery has lots of room for improvement but I'm hooked on the concept. I'll likely try a few other services as well. In fact, just yesterday I tested out Amazon Fresh for my missing dog food. After I try it a few times, I'll share my experience with that as well.
Update: After trying several grocery delivery options – Tom Thumb is still my favorite. Click the logo below for a special offer from Tom Thumb (aff link).
Turn the grocery line, into family time with Tom Thumb delivery or pickup
Have you tried grocery delivery or pickup? What has your experience been?