I have been waiting for a three-day weekend to be able to tackle this dresser upgrade for some time. Labor Day weekend was IT! Despite the 100 degree temperatures, I slugged down gallons of water, secluded myself in the garage with my paint and got to work.
Here's the before shot of this pretty lady. She has, as they say, great bones.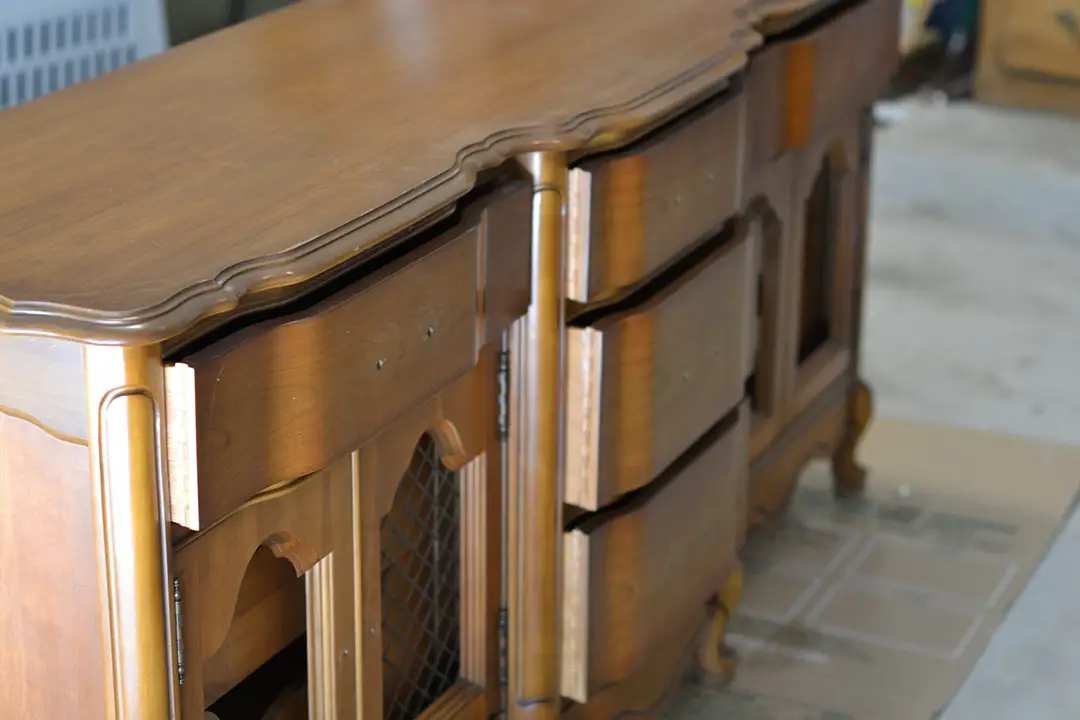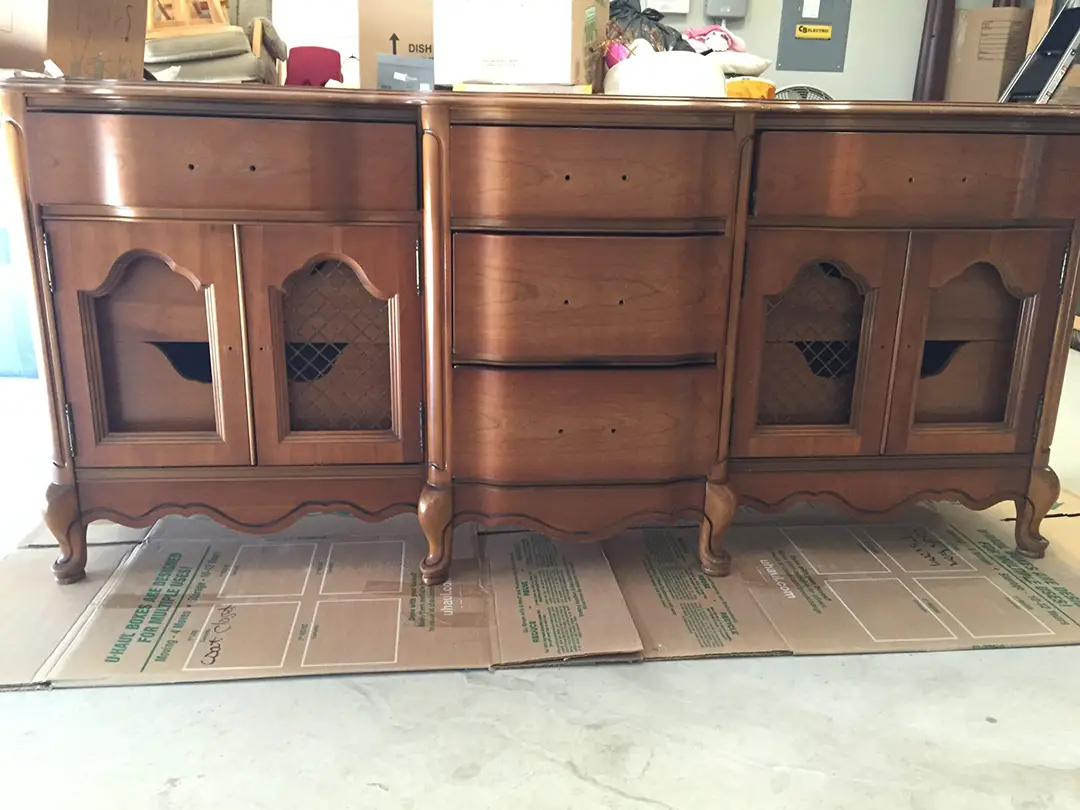 I rescued her from the estate auction at my mother-in-law's house earlier this year. Sadly she's been neglected in the garage for months – the topic of much conversation from my husband who seemed to think that HIS life would be forever changed if I could just paint it and move it into my office. Ha!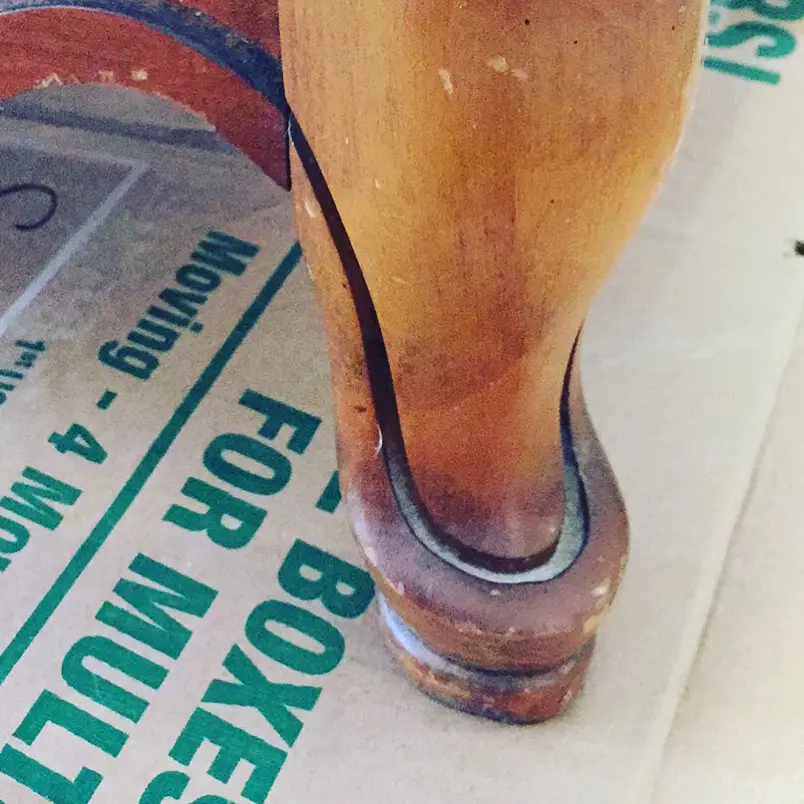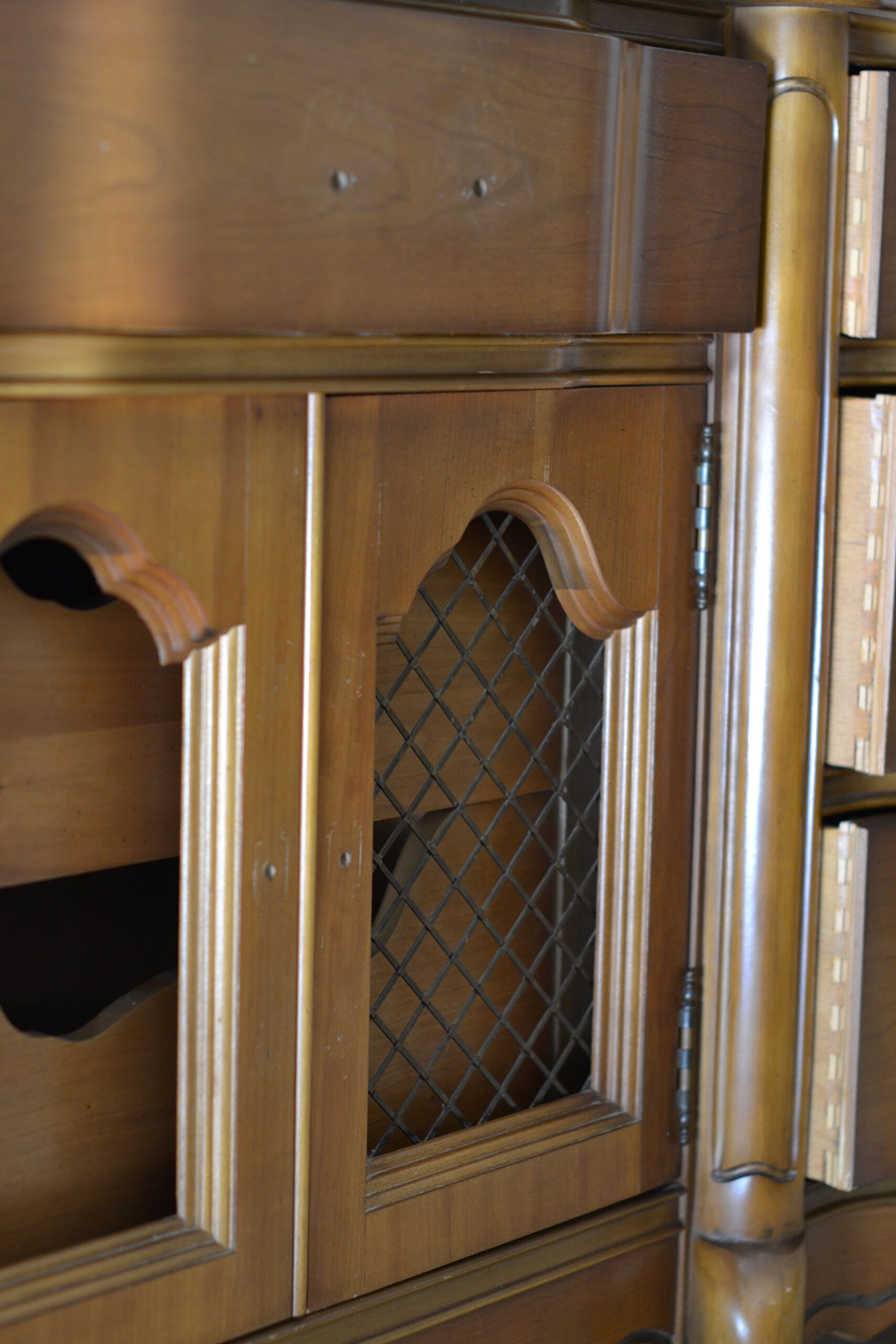 I started with my favorite chalk paint from Annie Sloan. I've previously painted my office desk, a computer table, two filing cabinets and an antique display case in Country Grey, so she was destined for the same. I love Annie Sloan Chalk Paints because they seemingly cover everything without any prep work. I just cleaned her off and put two coats on. As you can see below, that's just after one coat!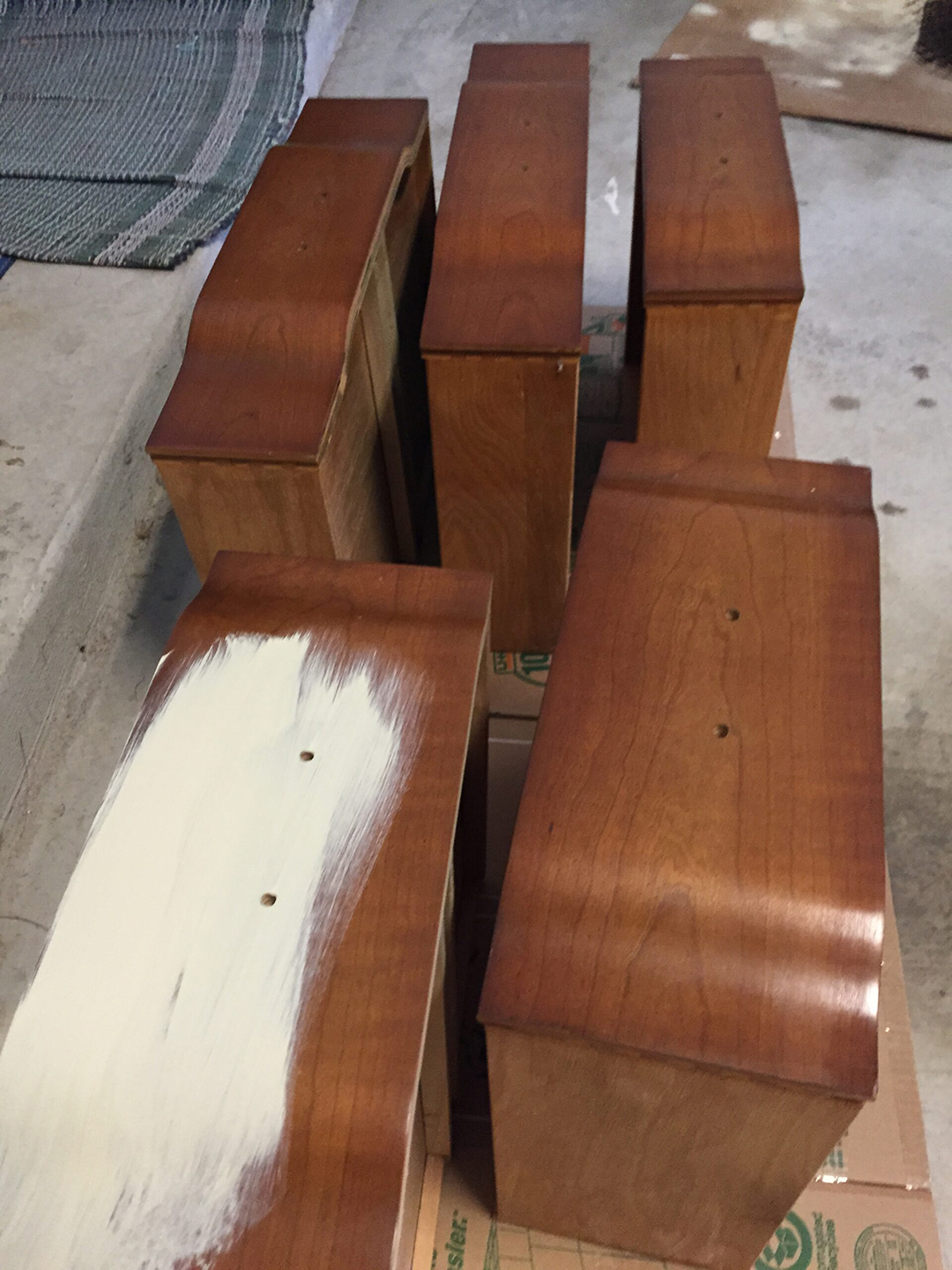 That was the easy part.
Next I got the idea that I wanted to accent it with some striping in Graphite (also an Annie Sloan paint color). Yikes! I do NOT have a steady hand – even when I'm not highly caffeinated (which is rare) – so this was nerve-wracking for me. I painted the striping, then repainted them. Then I cleaned up the edges with the Country Grey. Then I cleaned up my clean up with Graphite and finally on the edge of madness at 11 p.m. at night, I backed away and said… it's just for MY office. It'll do.
Of course, over coffee the next morning I continued with this black and white back and forth, but finally around noon called it done. 🙂
I chose a flat black Rustoleum spray paint and gave the tarnished hardware a little upgrade as well.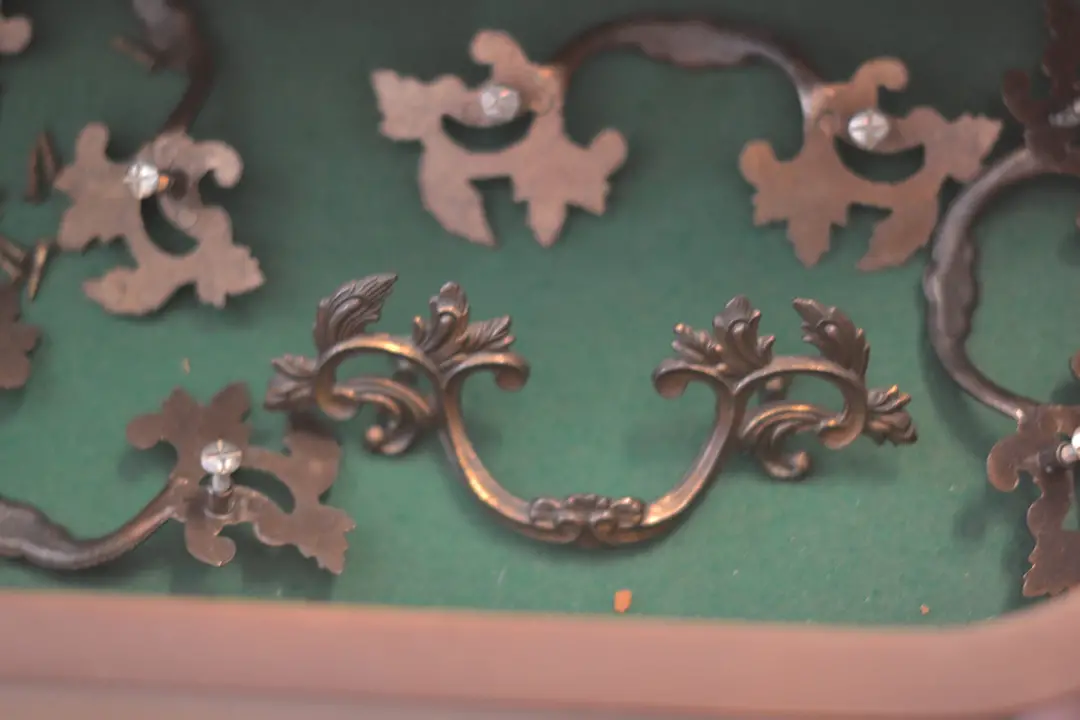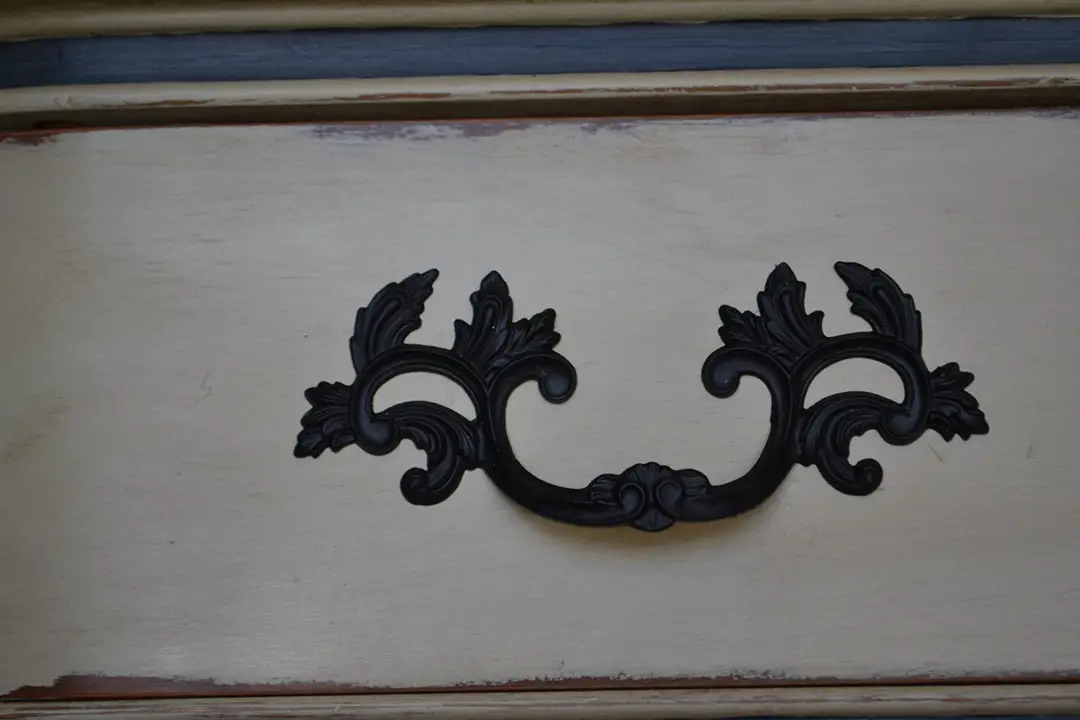 Once I was satisfied with the paint on the dresser, I distressed it with a medium-fine sandpaper. That's always so fun, and seems a bit silly to me after I spent so much time trying to get paint into every nook and cranny, and my pinstripes completely straight. I figured out quickly that I could diffuse some of my mistakes with a bit of sanding.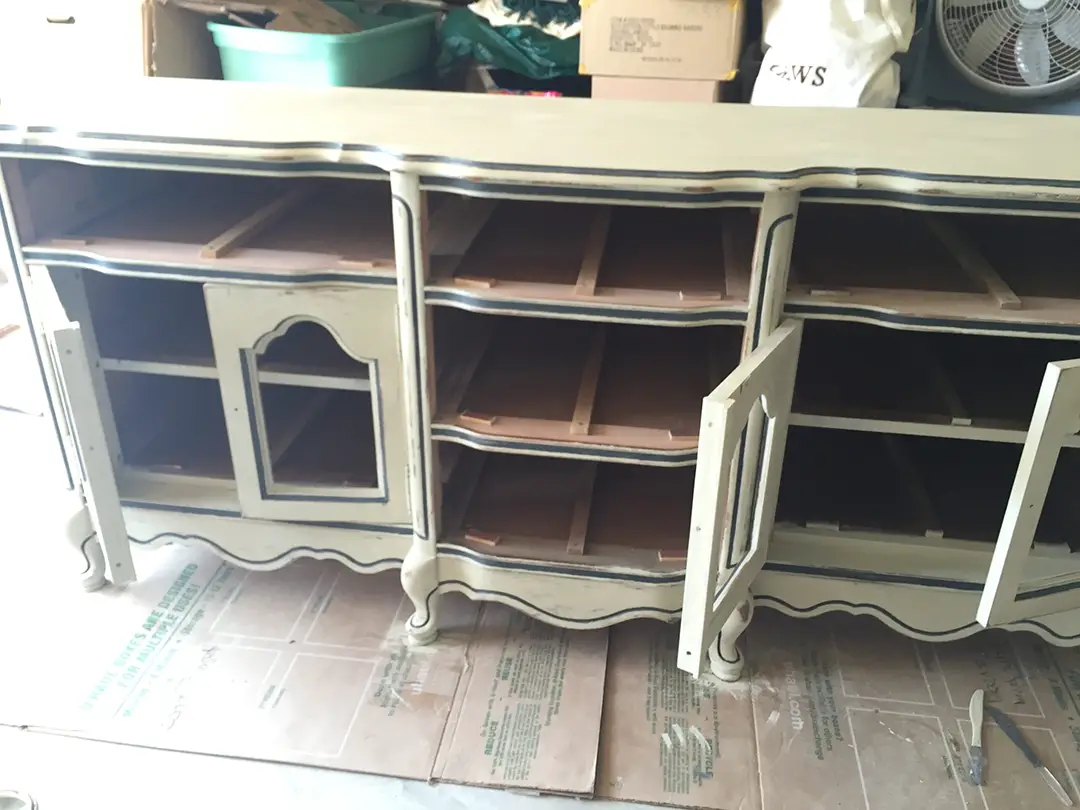 Next up was the clear wax. I also use Annie Sloan waxes to seal the paint. The clear wax will deepen the color slightly as it sinks into the surface. After the clear wax was dry, I used the Annie Sloan Dark Wax to give it more dimension, especially around the edges (and to further hide any wobbly lines).
I decided to ditch the metal criss-cross off the doors and replaced them with a solid panel painted in Graphite.
Note to self… pugs and paint do not mix.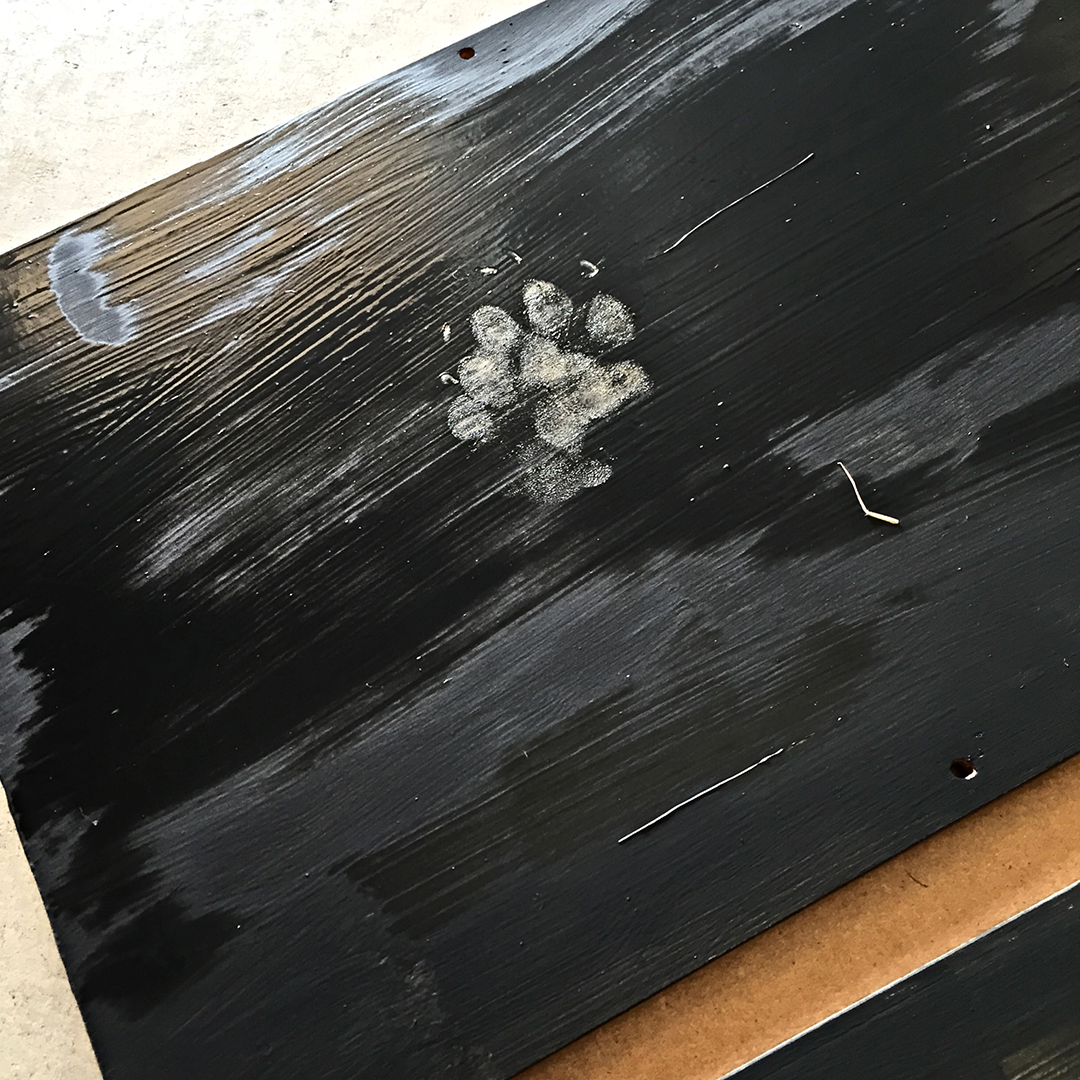 Next I stenciled the damask pattern onto each panel with the Country Grey.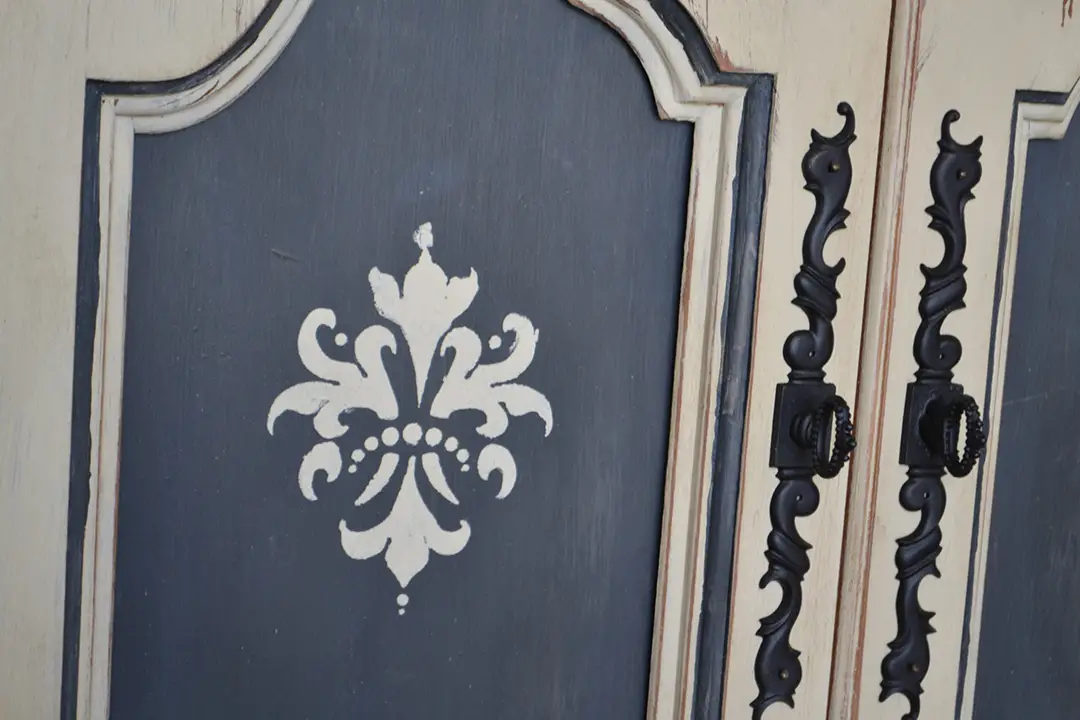 The fun part was putting it all back together. When it was done, I may have sat in the garage for an hour or so just looking at her and amazed at how beautiful she turned out. Thankfully my hubs was kind enough to help haul her upstairs and into my office (she's solid wood!) and now MY life is forever better because this beauty is now my office jewel – and the hubs is happy too. The sad part is, she's upped my office furniture game so much, I'm going to have to pinstripe everything else in there to match! NOOOOooooooooooooo……..
Here she is all done. (Note: Cupcake is still in the "must photo bomb every picture mama takes" phase.)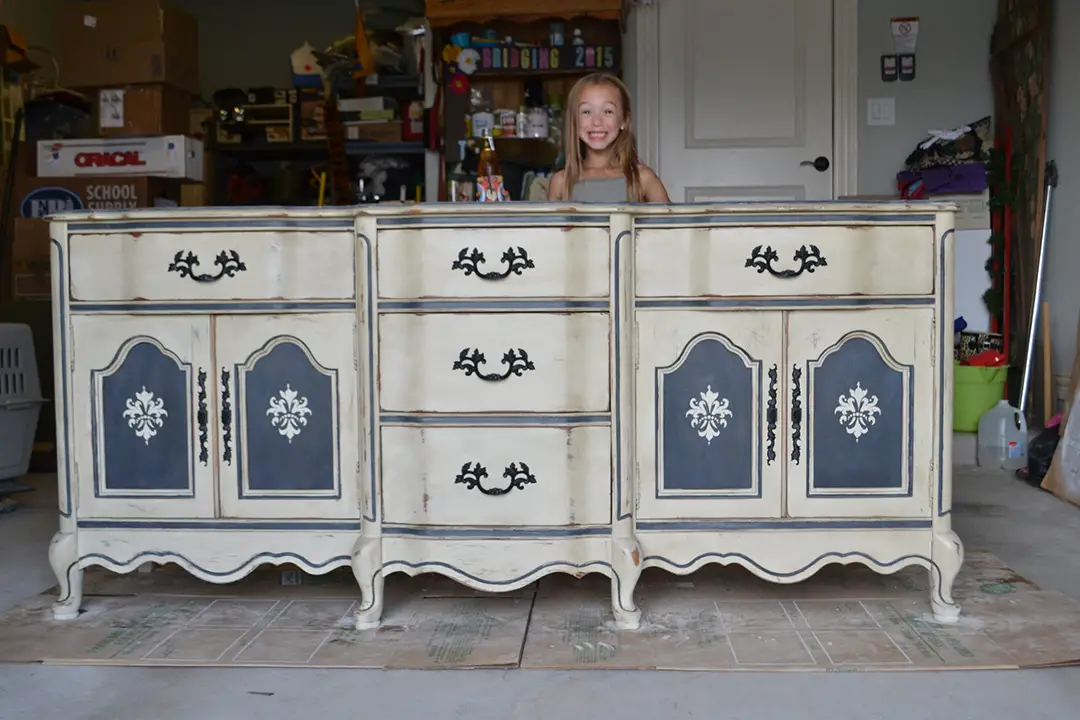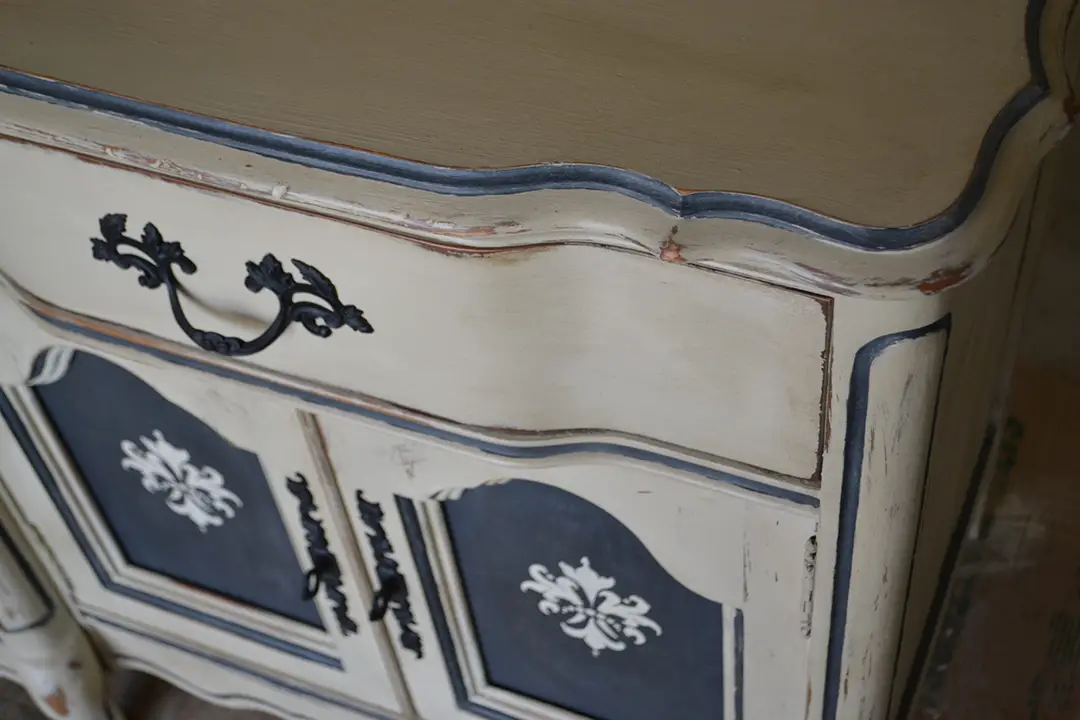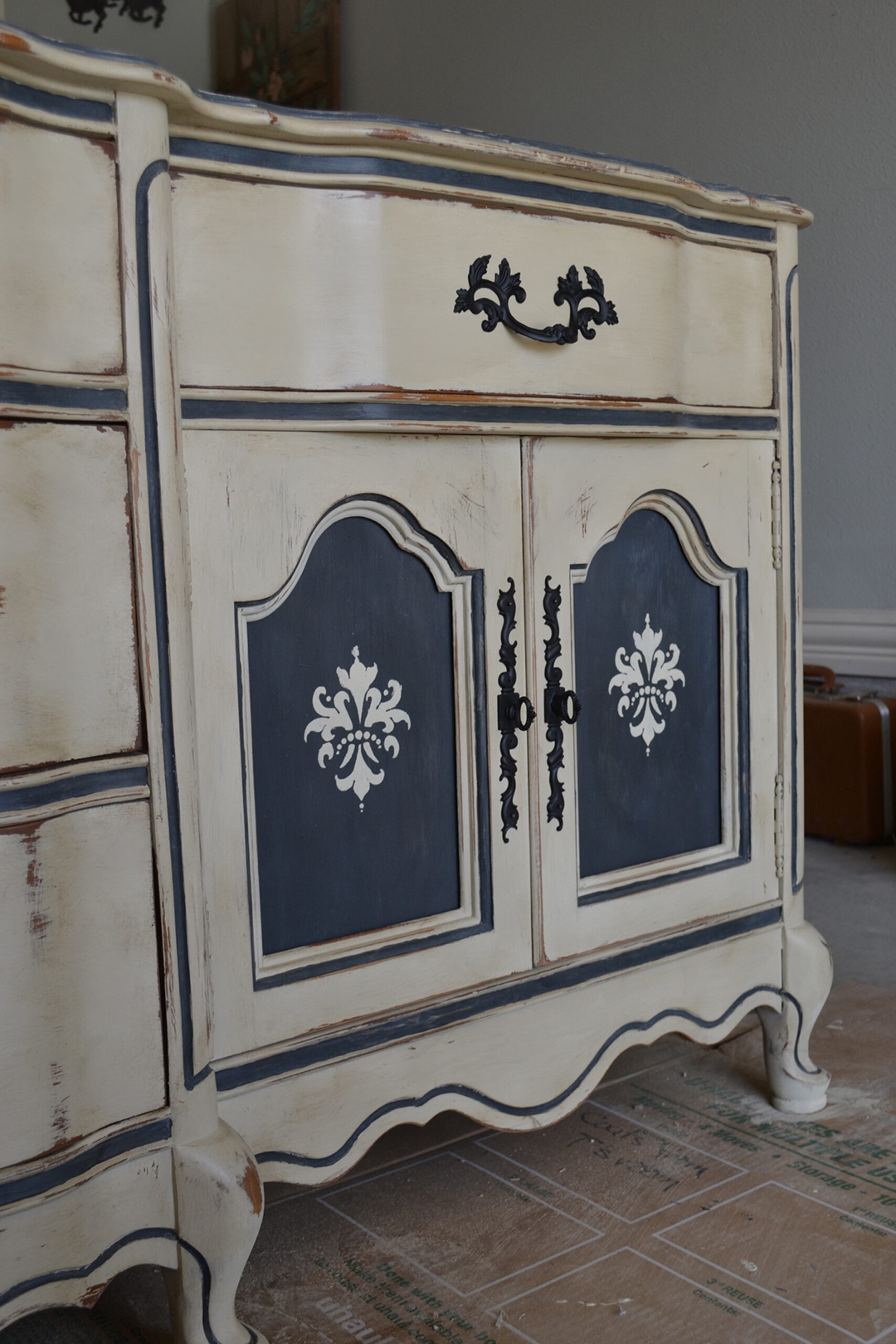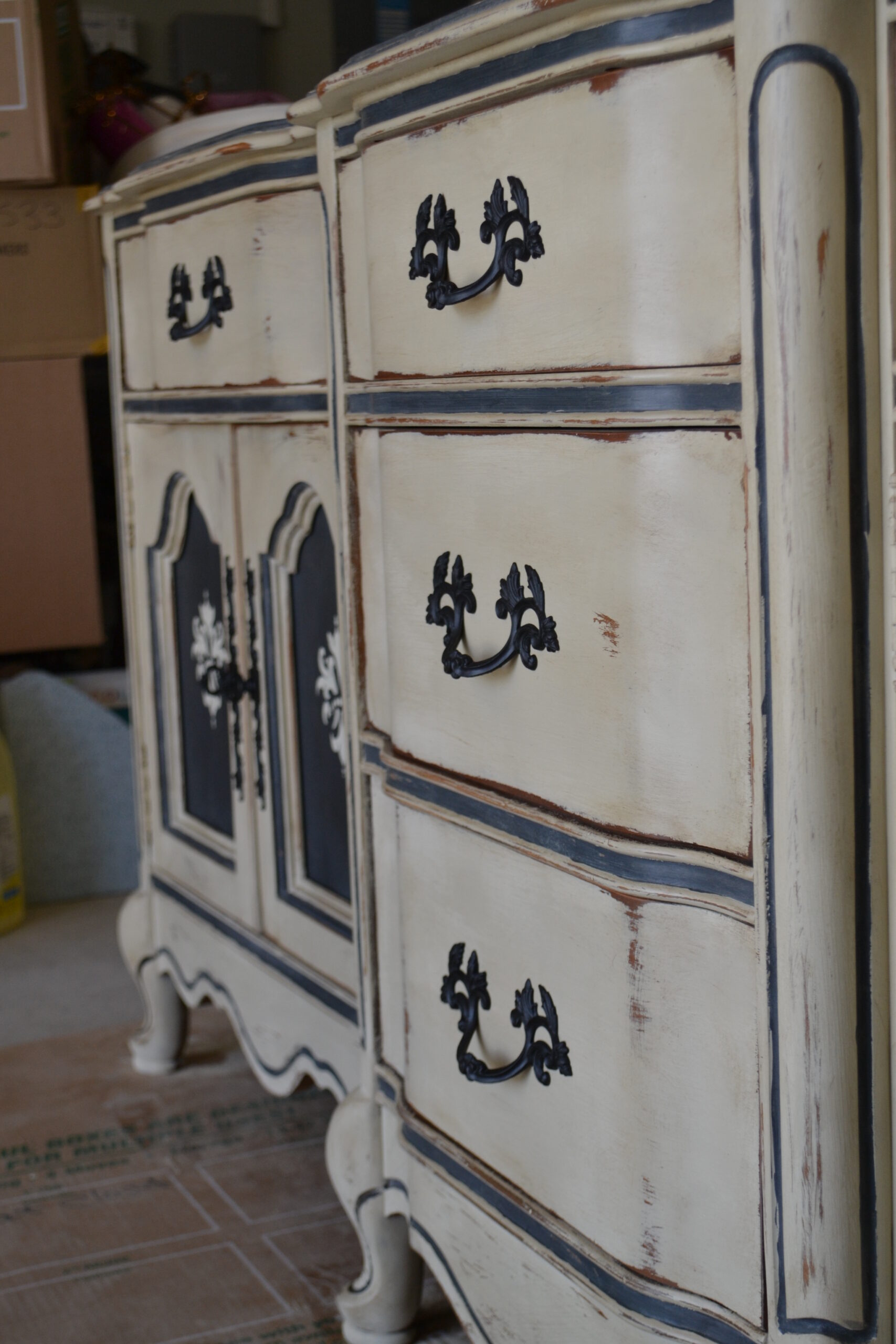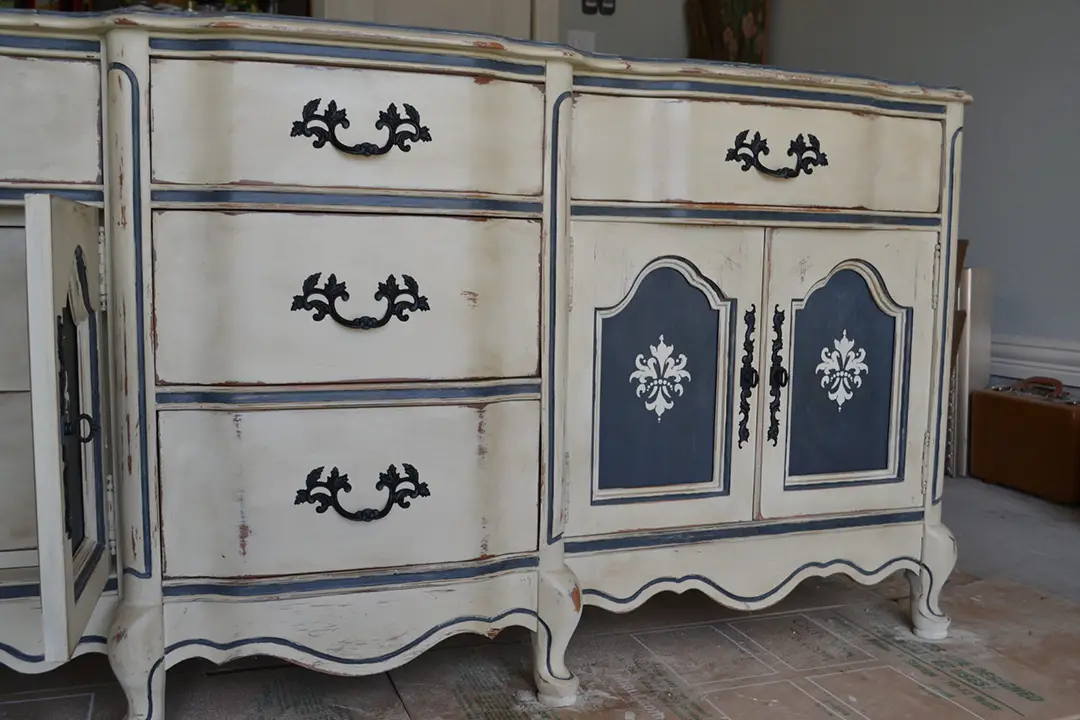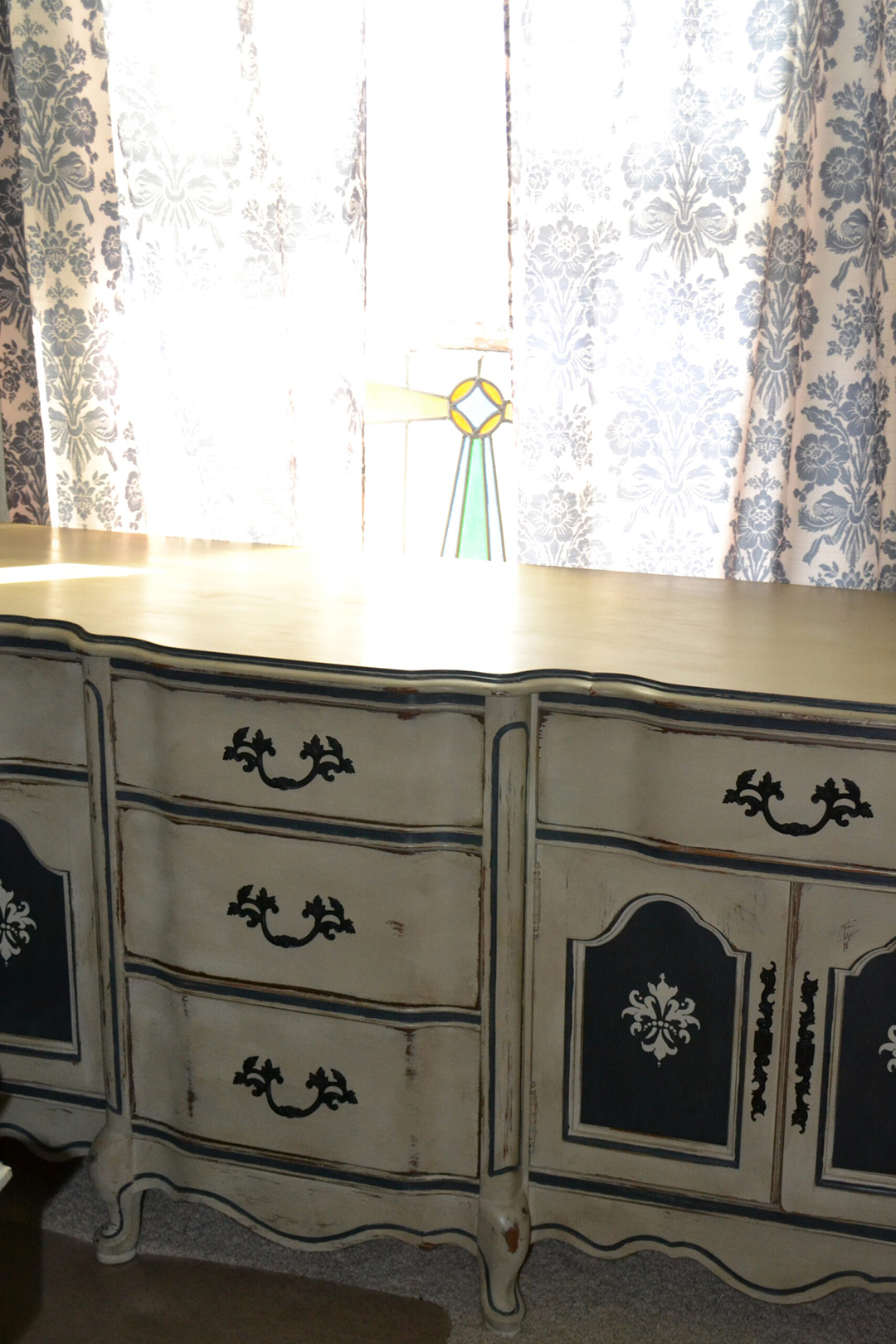 One last before and after.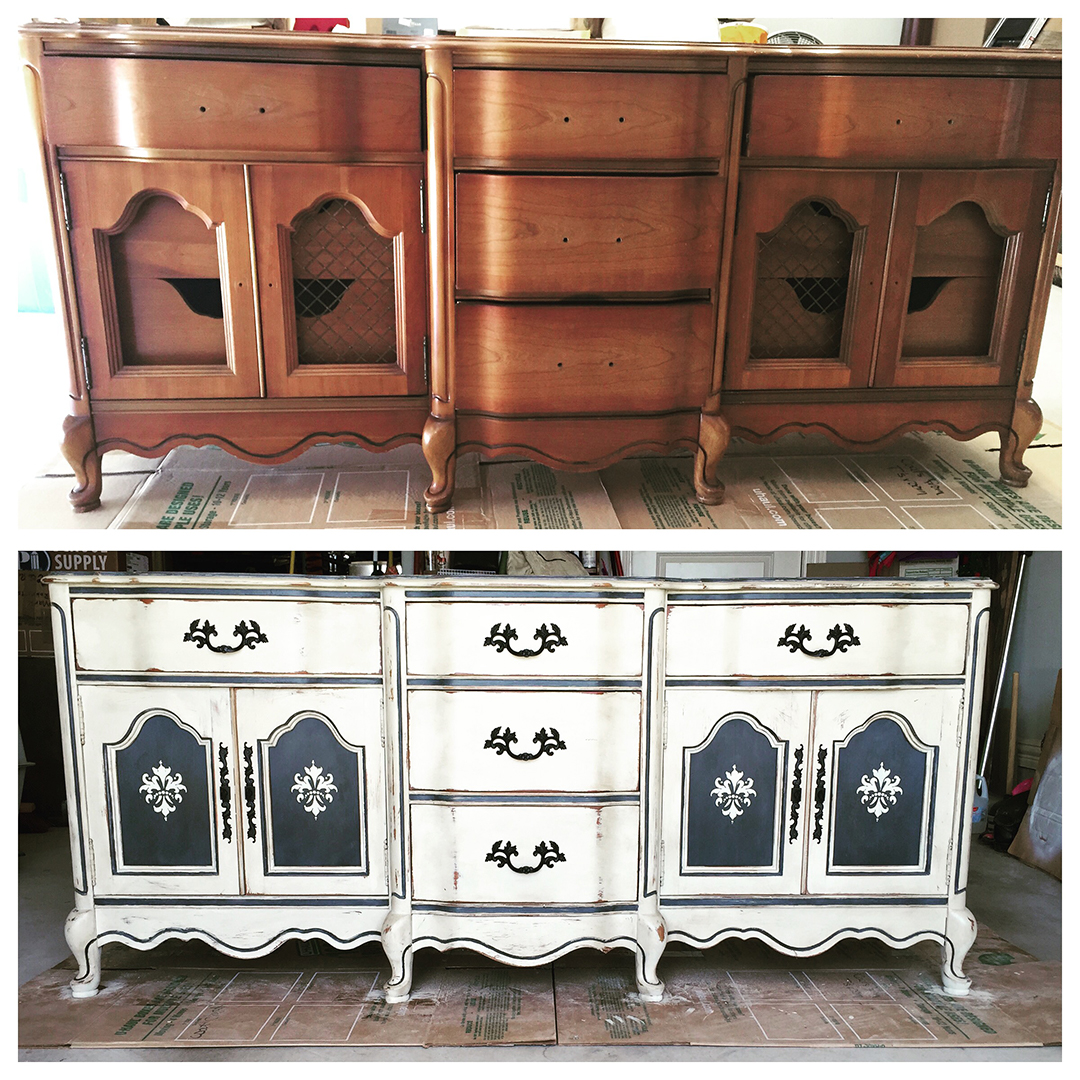 Have you used chalk paint? What's your favorite brand/color?
From small projects to large ones – have you ever thought about building your own home? If yes, then you'll love the New Build Checklist.